If you're like us, travel pages are some of your favorite scrapbooking pages to create.
We tend to take a ton of photos during our trips and we want to display as much as we can! That's why we've put together 12 pages that you'll want to scraplift for your summer travels!
Keep scrolling to get new ideas and inspiration for your next travel pages:
1. Use Items Inspired by a Specific Culture
Everything about Jodi's page makes you believe it's about a trip to an ancient Irish Castle ruin -- the green paper, the Celtic Knot, the green hills, and patterned paper.
She chose these things because that's how she felt when she was among the ruins in Colorado -- transported across the ocean into another time.
This Layout Features: Spring Green 12x12 grid paper and Celtic Knot Die Set.
2. Use a Pinwheel Pattern to Display Vertical & Horizontal pics!
The great thing about this pinwheel pattern is that you can show off both vertical and horizontal photos of the red canyons.
Jodi made sure to get lots of shots of the amazing hike -- up close shots of the hikers, distance shots with her hikers, an unusual shot looking down the canyon, and the epic large distance landscape of the Glen Canyon.
This Layout Features: Mulch 12x12 Grid Paper from In the Garden Collection and 2x2 No. 2 Numbers.
3. Make a Panorama of Historic Buildings
Paije made a panorama with two 3x3s and a 3x4 design spots at the top of her page.
She took a long distance shot of the main Mt. Vernon house and two shots of the other buildings from two opposite angles. When she cropped her 4x6 photos to place on her page she made sure her driveways lined up so it looks like a big panorama.
This Layout Features: Fields 12x12 Grid Paper from the Lazy Days Collection and Numbers 2 Die Set.
Jodi took pictures of the ancient mosaics she saw in Greece and added 1x4 close ups of the ancient mosaic pavers all around her page.
Many of these type of photos usually get left in a box, but there is plenty of room to show them on a Mosaic Moments layout. If fact, these type of photos are what make our pages magical!
Jodi was so clever to use the original historic art of mosaics for the Mosaic Moments system of scrapbooking.
This Layout Features: Mulch 12x12 Grid Paper from In the Garden Collection and Celestial Die Set.
5. Use that Spectacular Shot as Your Focal Point!
6. Use Colors from the Photos to Inspire Your Layout
Jodi took great shots of the city's street art - the blue, pink, and white wings are so cute!
The Angel Wings graffiti inspired Jodi's chosen colors on her layout. This ties the whole layout together and creates harmony. If you are stuck on color, use an object in one of your photos as inspiration.
Bonus: Don't forget to take photos of the signs - this makes great journaling!
This Layout Features: Tulips 12x12 Grid Paper from theIn the Garden Collection and Wind Spinner Die Set.
7. Use Embellishments Inspired by the Location
Paije created her own Southwest blanket pattern on the top of her layout - isn't it cool!
For her Grand Canyon layout, Paije used the southwest dies. This was a perfect fit for her Arizona photos. Plus she added some blue on her page, which was inspired by turquoise jewelry often found in the southwest.
While these embellishments are amazing, don't miss how her photos are balanced -- the canyon's ridge lines up, and the darker photos are above the lighter photos.
This Layout Features: Bright Fire 12x12 Grid Paper from the Renaissance Revival Collection and Southwest Border Die Set.
8.  Highlight Photos Taken at a Distance
Having lots of small photographs from your travels can look more interesting than one large photo.
Paije was able to fit 13 photos on her page and 7 are 2x2s of interesting buildings. She even highlighted three by centering them inside the center of the Encircle Die.
Objects, such as architecture, taken at a distance are tiny on a 4x6 photograph, but placing them in a 2x2 frame die helps highlight the main subjects!
This Layout Features: Gratitude 12x12 Grid Paper from the Happiness Collection and Encircle Die.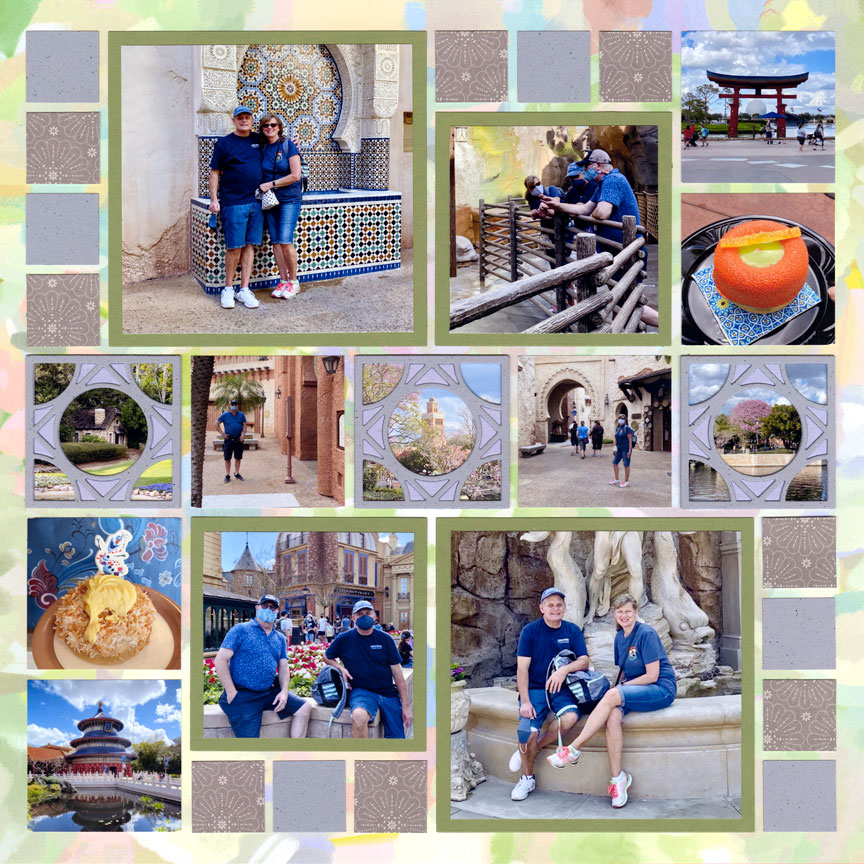 "World Showcase" by Paije Potter - Pattern #
___
9. Journal Your Travels in the Sand
Have your beautiful beach photos do double duty and write the name and date of your visit.
Tami wrote Acadia 2019 on the beach and snapped a great shot of her companion and the shoreline.  She'll always remember this trip.
When you make your layout at home, the journaling is already done!
This Layout Features: Weathered Pink 12x12 Grid Paper from the Dockside Collection and Film Strip Die.
Each photograph is so different on this page.
Jodi's casual off-center selfie, the Eiffel Tower with the sun behind it taken from below, a close up of the statue, the classic building shot, the brickwork texture photo, and a long distance shot of a tall monument all go with the overall theme of her asymmetrical page.
What makes Mosaic Moments pages stand out is the variety of photos you can fit on a single page.
This Layout Features: Cocoa 12x12 Grid Paper and French Quarter Die.
Fit in double the photos with dies on your summer travel layouts. 
Jodi fit 13 photos on this layout. She used the Hole in One Die to add an additional small photo inside each circle. Notice how she balanced her page with two monumental scenery shots on either side of her focal photo.
If you are like us you take a lot of photos during your travels, and you can fit them in with the right dies! 
This Layout Features: Fishermans Wharf 12x12 Grid Paper from the Dockside Collection and Hole in One Die.
12. Use the Detail Shots!
Next time you travel, be sure to take photos of a variety of items such as flowers, brick, stone, sand, clouds, etc.
We call these detail shots and they take a layout from bland to amazing! On this page, Jodi created mosaic details with photos of these beautiful purple flowers. Not only do they make a lovely detail, but they help tell more of the story.
Take more details shots and your pages will be enriched with beautiful memories from your trips.
This Layout Features: Right as Rain 12x12 Grid Paper from the In the Garden Grid Collection, Tropical Leaf Die, and Tropical Leaf Border Die Set.