Article by Candy Spiegel
Scrapbookers are already creating layouts to remember trips to the beach, amusement parks, bike rides, volleyball and baseball games, camping, and playing in the sprinkler. But there are many additional summer activities and events that can be preserved forever in a scrapbook. Because we want to preserve all of our stories, we created a list of summer memories you may not have thought of. Scroll down to get ideas: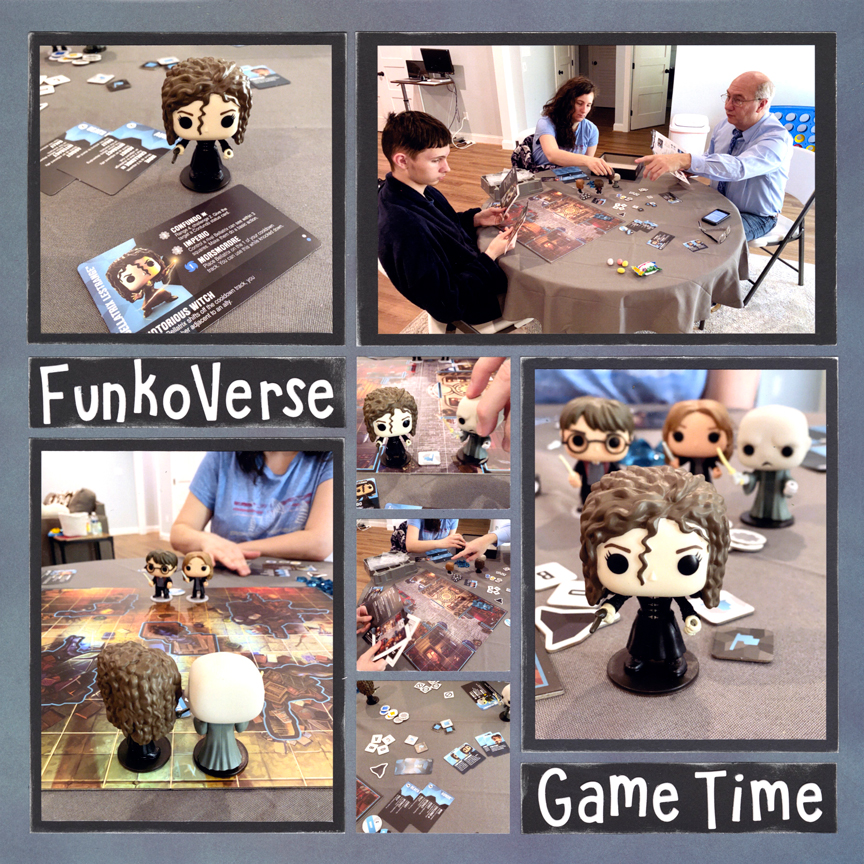 "FunkoVerse" by Paije Potter - Pattern #189
---
Take pictures of the family playing cards or a board game together. Show a stack of games they like to play, as well as some close-up photos of the current favorite. Record the person who seems to always win, the one who laughs the most, or the person who spends the longest strategizing.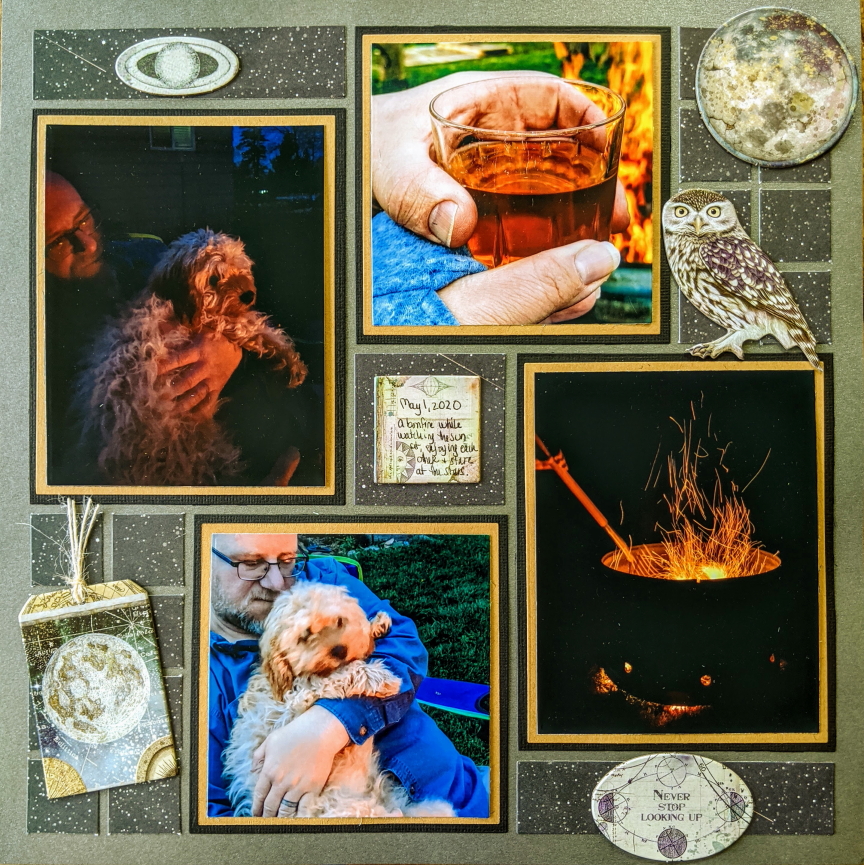 "Stargazing" by Candy Spiegel - Pattern #496
---
If you live in a rural area, spread some blankets on the ground, turn off the outside lights, and spend some time looking up at the night sky. You can find charts to help you know what you are looking at on your phone or online. You might see a planet, a shooting star or a constellation. It might be difficult to get a photo of the sky, but you can take pictures of the family and then use starry paper to record the event.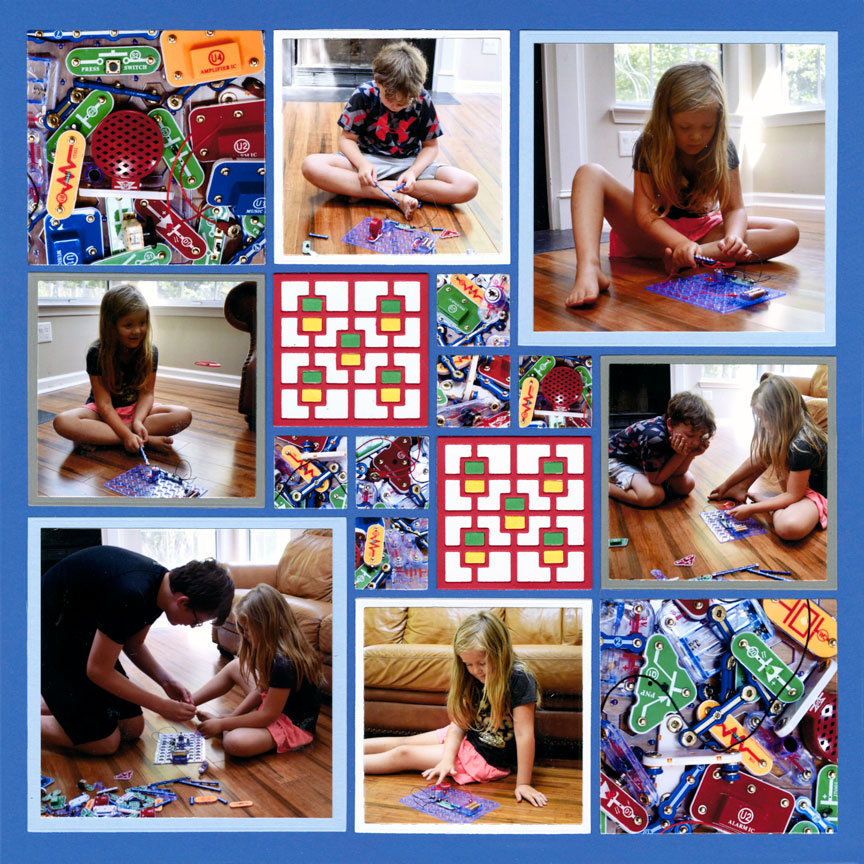 "Snap Circuits" by Danielle Lawson - Pattern #577
---
It's easy to create simple experiments at home using products already in the house. It could be something simple, like pouring baking soda and vinegar down the drain, or something more complex with food coloring. A quick internet search will provide a list of things to try. Document the process and the fun and then scrapbook it. If you want to get nerdy, explain why it does what it does.
4. Nature in the Backyard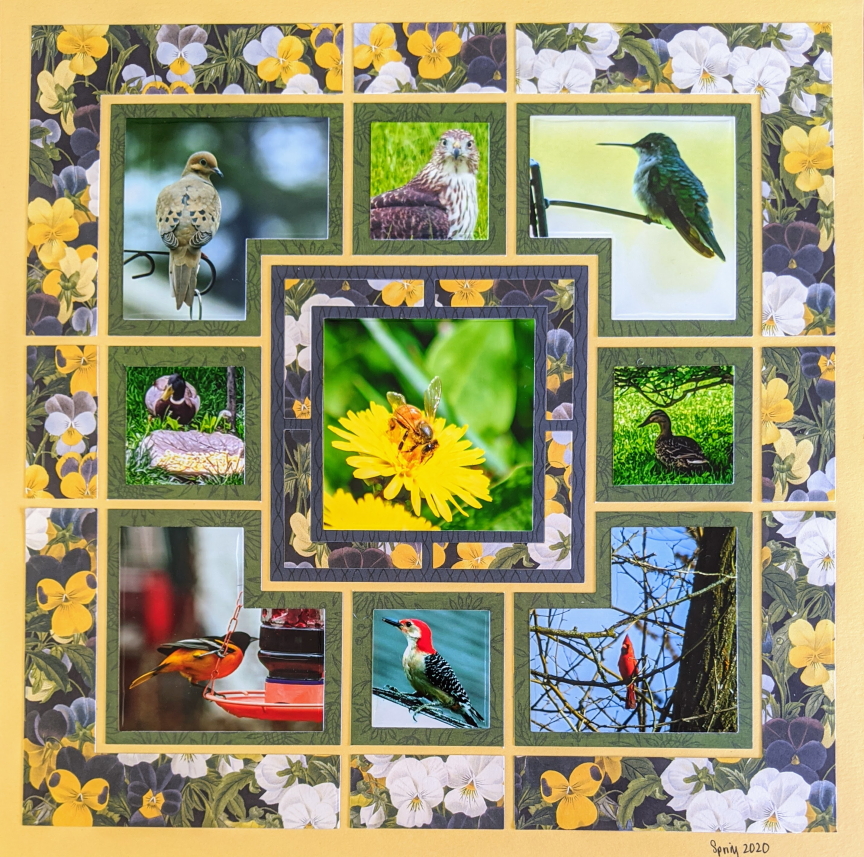 "In My Backyard" by Candy Spiegel
---
If you feed the birds, watch the squirrels jump from tree to tree, or spy rabbits, deer, foxes or raccoons in your backyard, take some pictures and scrapbook them. You might catch them doing something funny, impressive or surprising. You can identify them, tell stories about them, or include scientific facts about them, if you wish.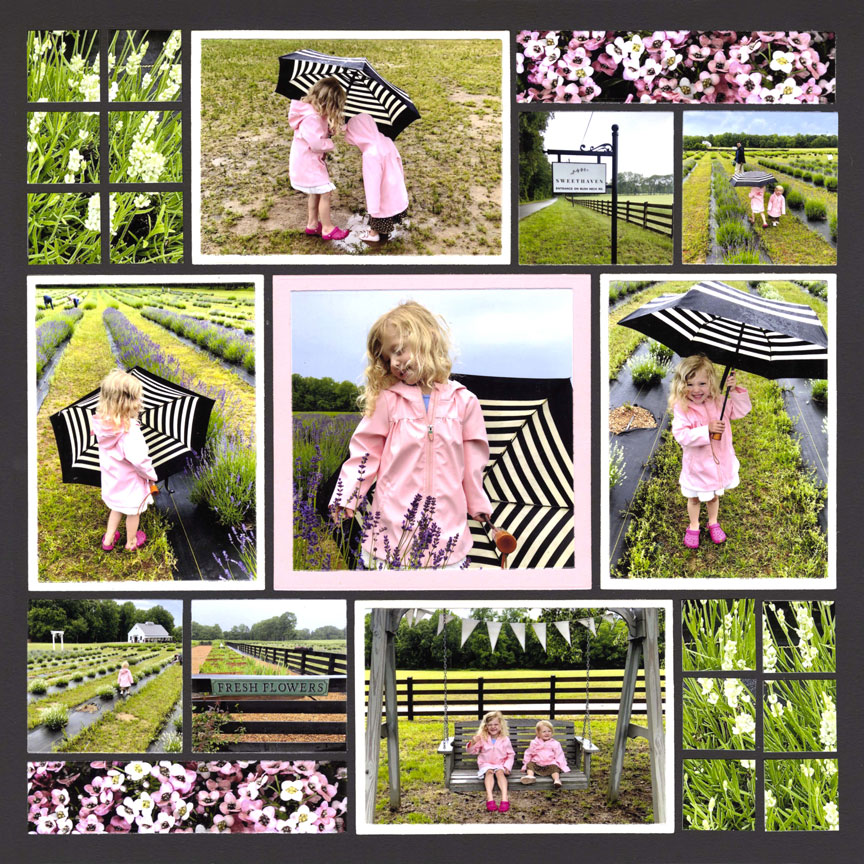 "Rainy Day" by Jodi Benson - Pattern #476
---
Show off some of the things you do on rainy days as entertainment. Perhaps you build a fort in the living room, put together a puzzle, bake cookies or color. Photograph it and create a page about rainy days.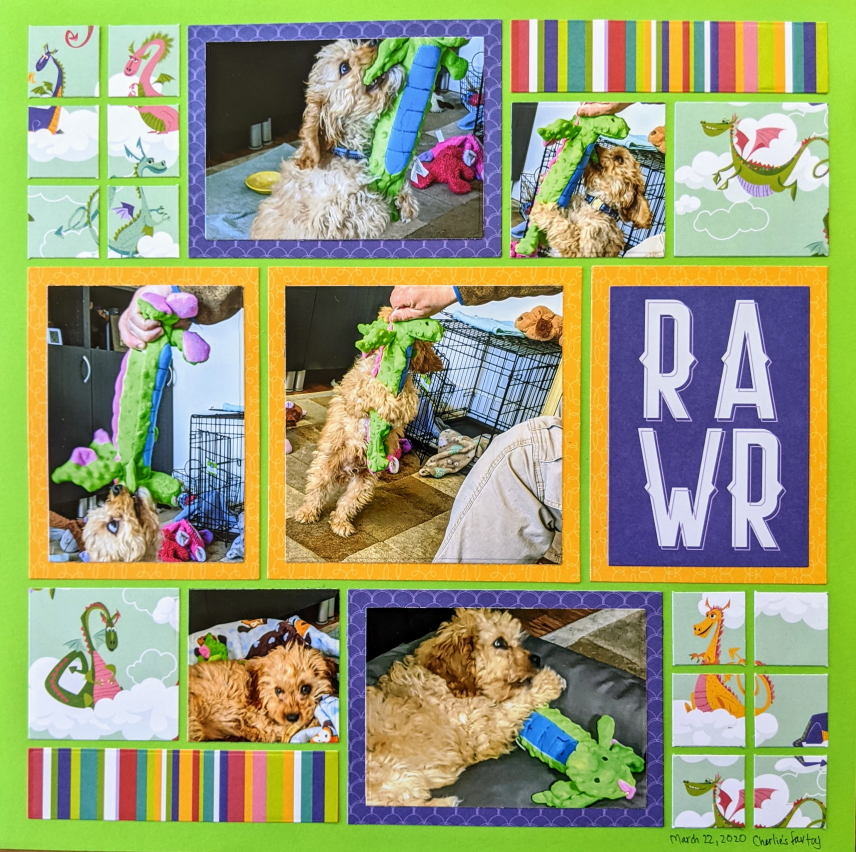 "My Favorite Dragon" by Candy Spiegel - Pattern #476
---
If you are the type who is always taking pictures of your pets, take the time to create a layout about them. Or, if you rarely take photos of your pets, spend some time taking them to create a page about them. You could show them playing with the family, laying in front of a fan, or sitting on your lap. You might record some details about them, like their favorite treats, toys or activities.
7. The Fruits of Your Labor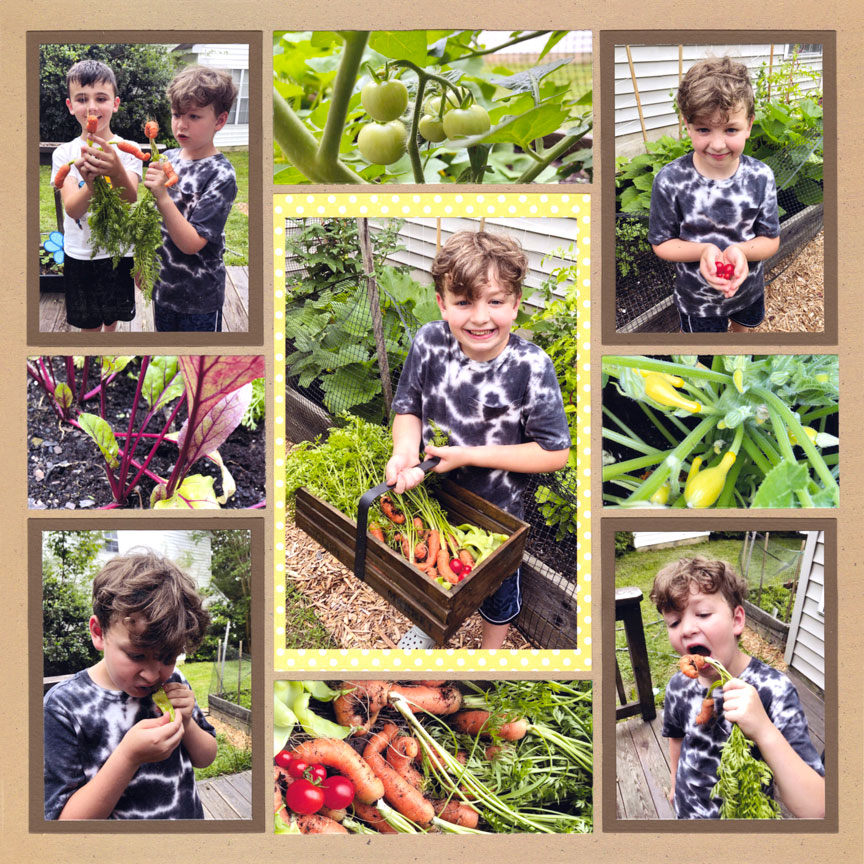 "First Harvest" by Danielle Lawson - Pattern #581
---
Take pictures of the tomatoes you grow in a pot on the patio or the wild raspberry bushes that grow in the backyard. Then take pictures of something wonderful you created using the produce and photos of the family enjoying it. You might even include the recipe.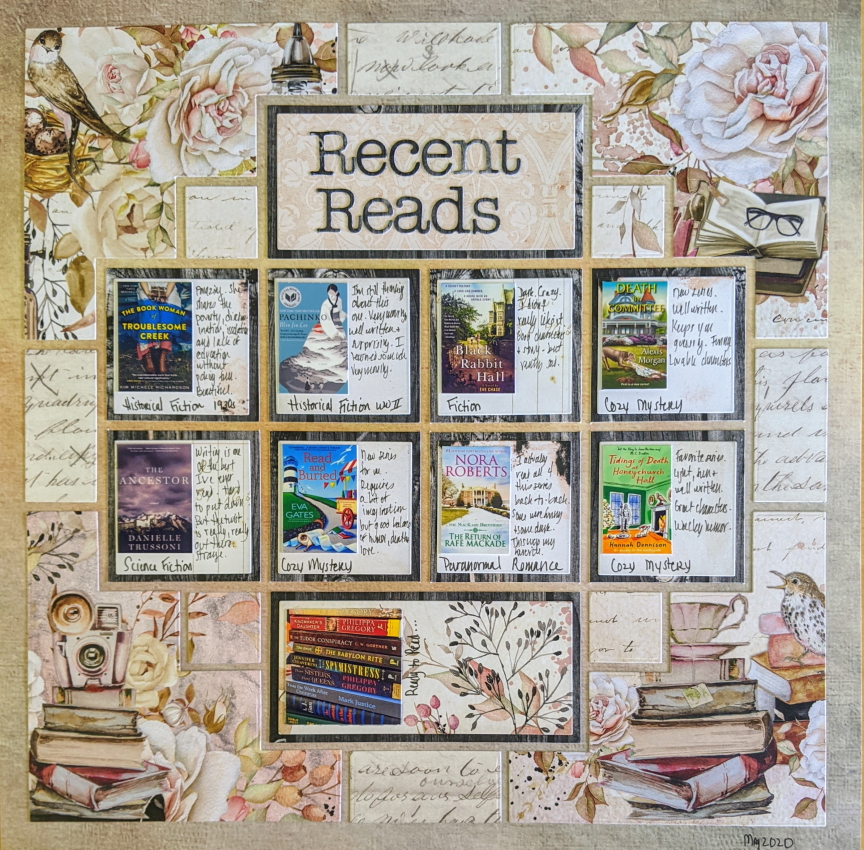 "Recent Reads" by Candy Spiegel
---
Record the books you read over the summer, or a single book you really loved. Include a photo of you reading in the backyard or just before bed. Download a photo of the cover and record a summary and review of the book.
Gather up photos around your neighborhood … they could be pictures of the park, lake or golf course you live near, the school, the houses and/or neighbors who are friends, the gas station on the corner, your favorite place for coffee, and your own house, of course. You could even use Google Maps to print off a picture of your neighborhood from above. This is a page you may wish to repeat every five or 10 years to show the changes that happen over the years.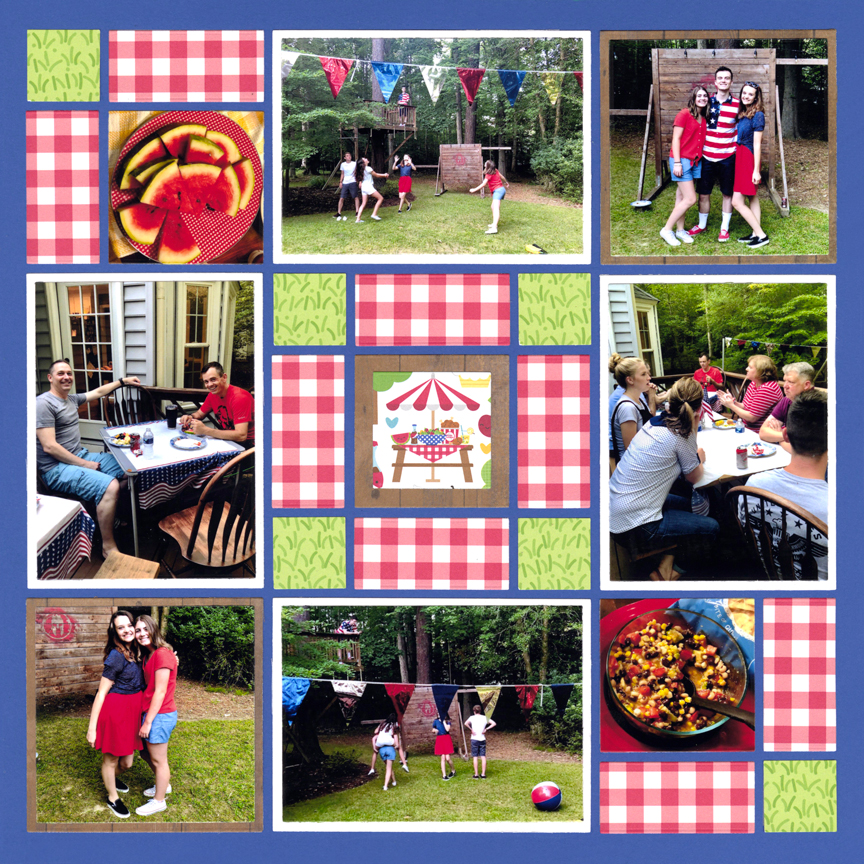 "July 4th Picnic" by Jodi Benson - Pattern #566
---
Go all out in the backyard by dressing the patio table or setting a blanket on the lawn and gather the family for a special meal outdoors. You could cook steak on the grill, make hot dogs over the fire pit, or just have sandwiches made in the kitchen. Take pictures of the food, the family and the fun for an adorable layout.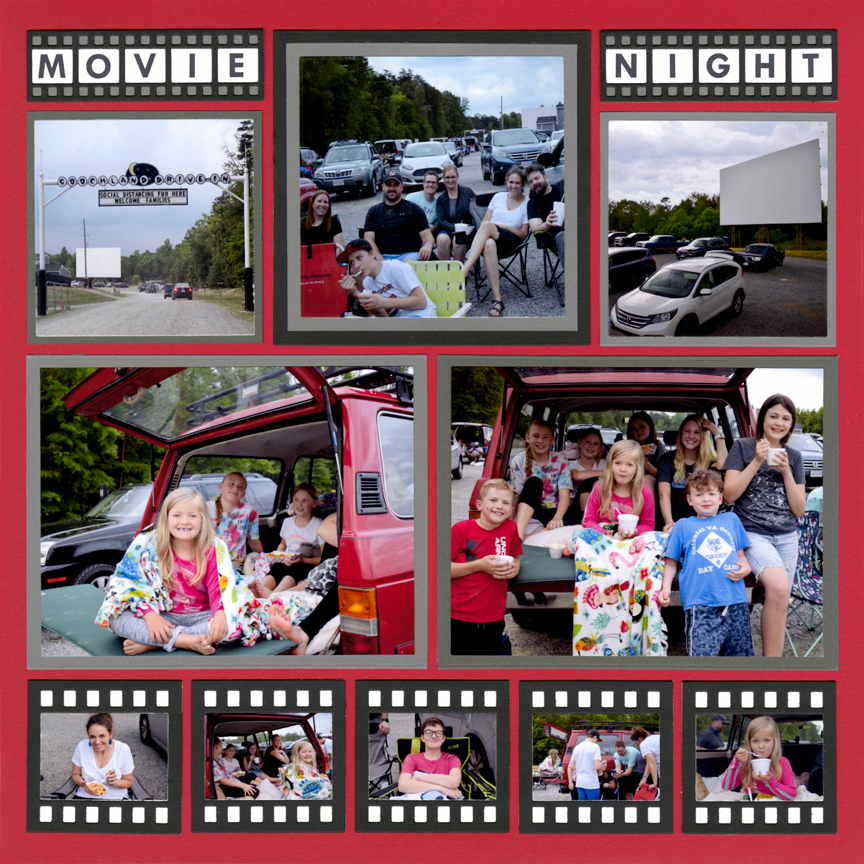 "Movie Night at the Drive-In" by Danielle Lawson - Pattern #522
---
If your family gathers to watch a movie together during the summer, get pictures. You might photograph the people lying on pillows on the floor, the family squished on the couch and the snacks. You can also show a cover of the movie and ask each person to rate it.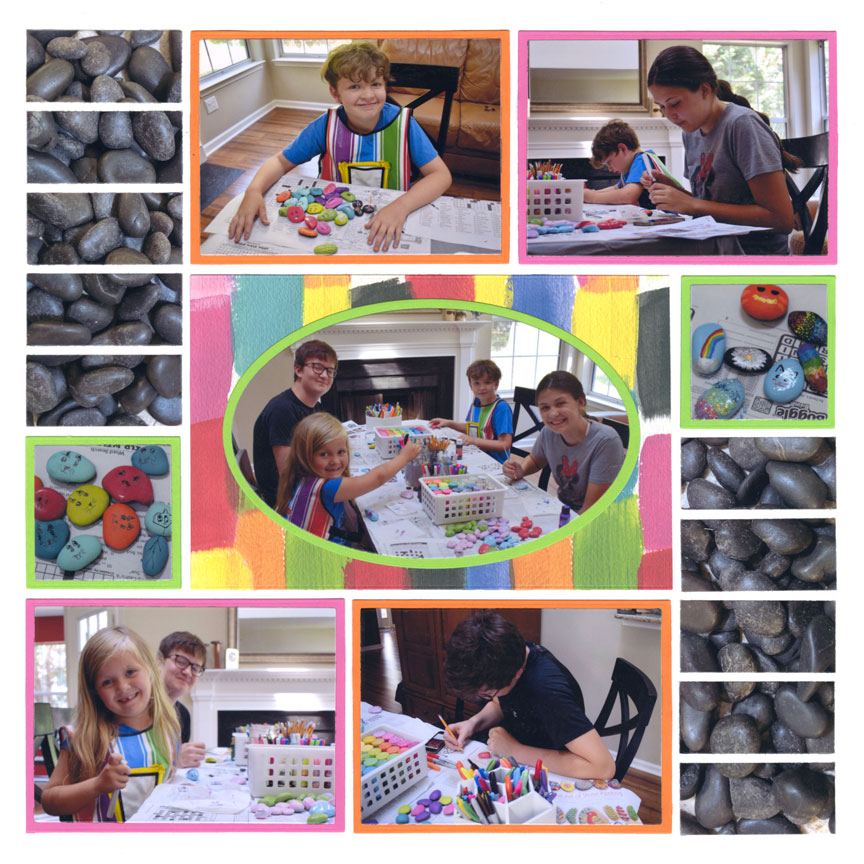 "Rock Painting" by Danielle Lawson - Pattern #593
---
Whether you knit, sew, paint, make miniatures, or scrapbook, take some time to photograph you working, as well as some of your finished products, and showcase them on a page.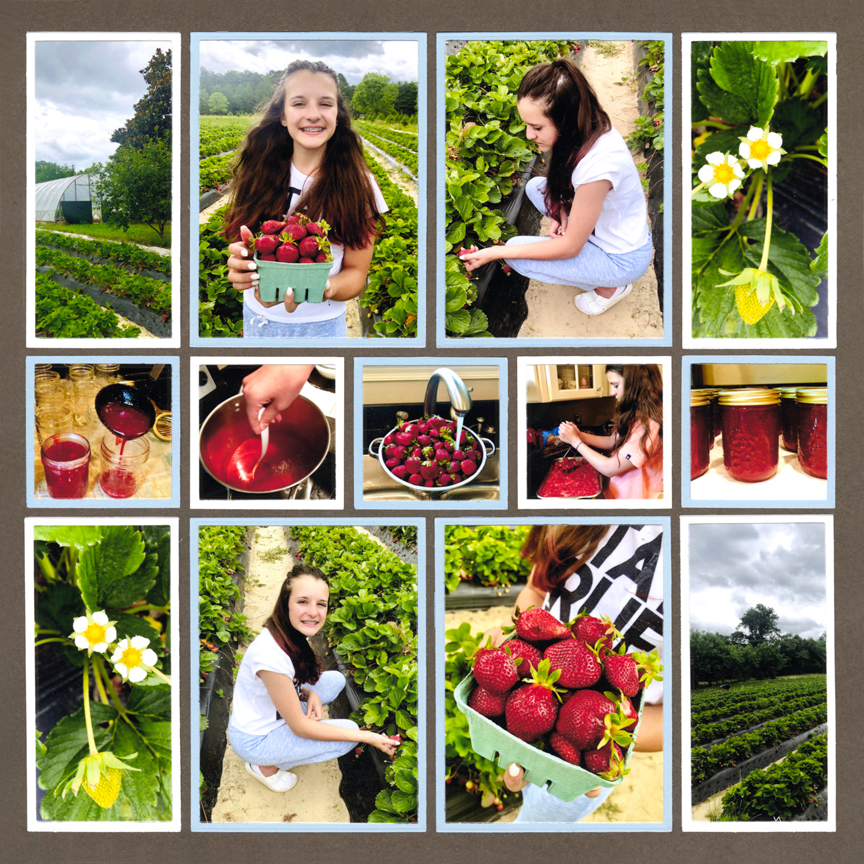 "Strawberry Jam" by Jodi Benson - Pattern #544
---
If you make pickles or wine, can tomatoes, freeze peppers, or dry herbs for later use, document it in your scrapbook. Show the plants your grow, step-by-step processes, and the jars or bags of the final product. You might also include why you do it, where you learned to do it from, tips or tricks you use, and perhaps even the directions and/or recipe.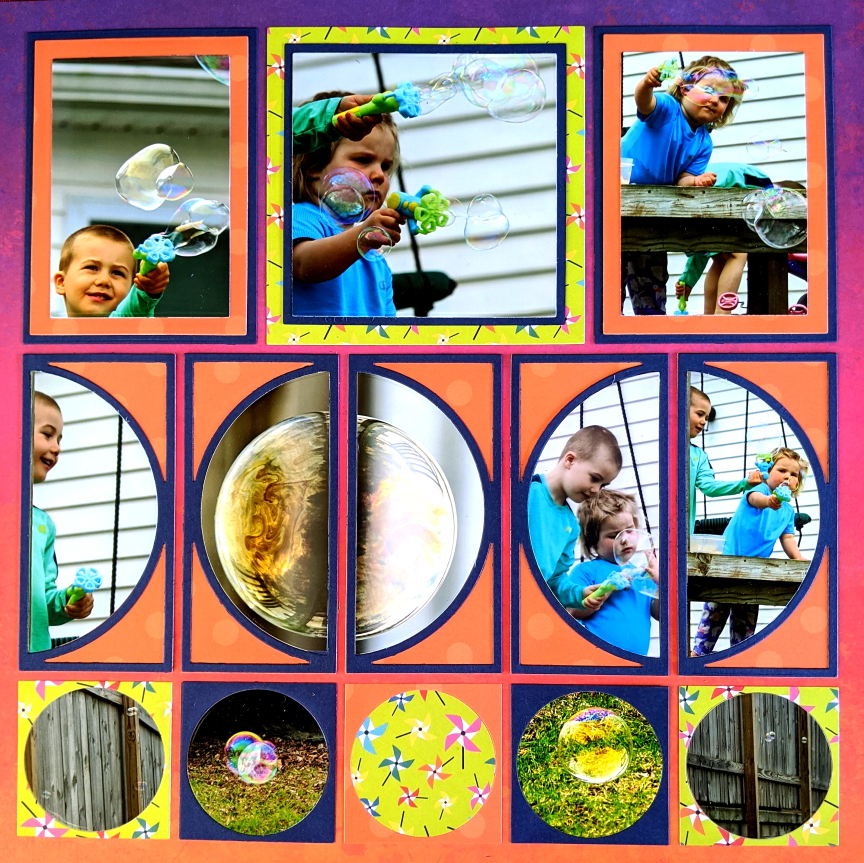 "Bubbles" by Candy Spiegel
---
Bubbles are fun for kids and pets – you can even get scented ones for dogs. But they are also fun to photograph – especially if you purchase some of the higher-end commercial brands. Get someone else to blow the bubbles so you can record the action. Then create a layout about the fun.
If there is a series you binge watch this summer, especially if you love it, make a page about it. You may be able to take a photo of the tv with it playing, as well as a picture of you watching it. You might also include snacks or drinks, if you enjoy them while watching. And, you can probably download pictures of it from the official page. Include journaling detailing what you loved about it, how long it took you to watch the entire series, what your favorite part was, or anything else you wish to share.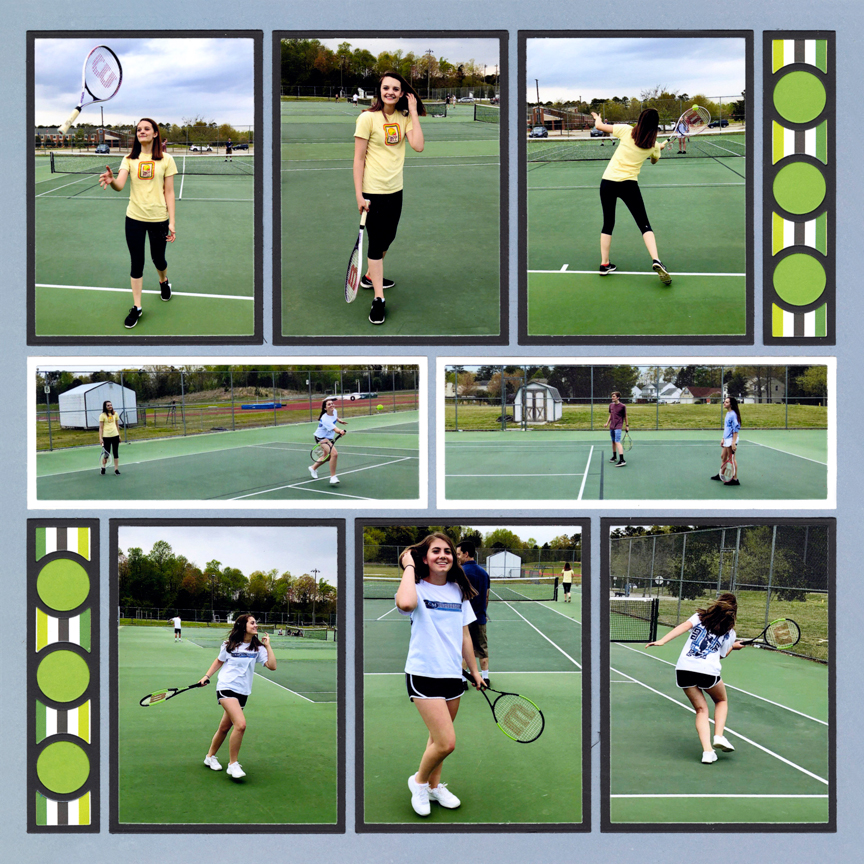 "Tennis Lessons" by Jodi Benson - Pattern #590
---
If you took a class, or attended a convention or seminar, document it. Whether it's the kids at Vacation Bible School, a cooking class, or the next step toward your Master's Degree, make a page about it. Record where it was, what you learned or made, how long it took and anything else you want to remember about the event.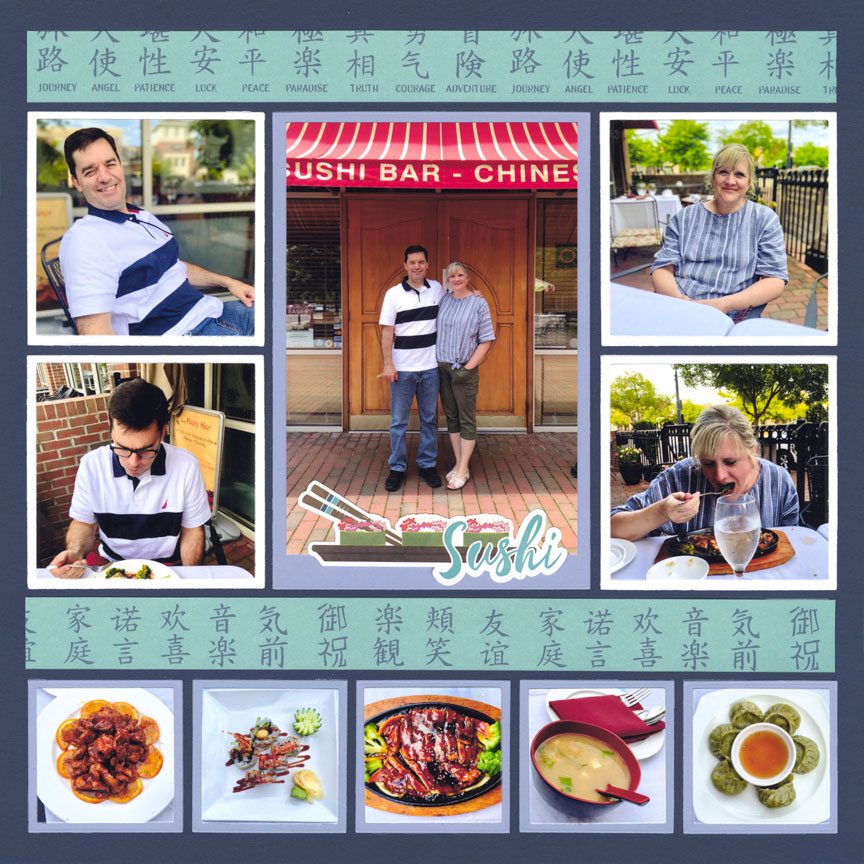 "Ichiban" by Jodi Benson - Pattern #490
---
Use the internet or books to find traditional recipes from Korea, Thailand, Cuba, India or other nations and create a special meal. You might create a centerpiece and table décor to match. Take pictures of the special grocery you went to for the ingredients, the table setting, preparing the food and, of course, enjoying it. You could print the recipes and tuck them in a pocket on the page.