Children make beautiful photographic models and adorable subjects for scrapbook layouts. The only problem is that they grow and change almost instantly. But, you can record those special memories in your scrapbook.
Here are 14 ideas to showcasing some of the cute things kids do, and some of the memories you might preserve.
Record the Momentous Event
Kids are always having momentous events. Whether they are losing teeth, taking their first step, heading off to high school. Scrapbooking is a perfect way to record these events.
We love how Tami used the space at the bottom of the layout to write about the occasion.
When your kids are involved in a fun activity, like hunting for bugs, take the time to photograph it and create a layout about it.
And, when you come across a really cute die, like this 2x2 Butterfly, you might even schedule an outing just so you can use it on a page like this.
Picture the Relationships
Whether it's a special relationship with a pet or Grandma, be sure to take a few snapshots to record the memories.
Here, Candy's neighbor always comes to pet her dog in the garden, so she included a few photos of the flowers, as well.
Kids change their likes and dislikes almost as often as they change their socks. Recording those likes in your scrapbook will be a cherished memory as they grow older.
We love how Tami used Cole's own handwriting to record these likes. What a treasure!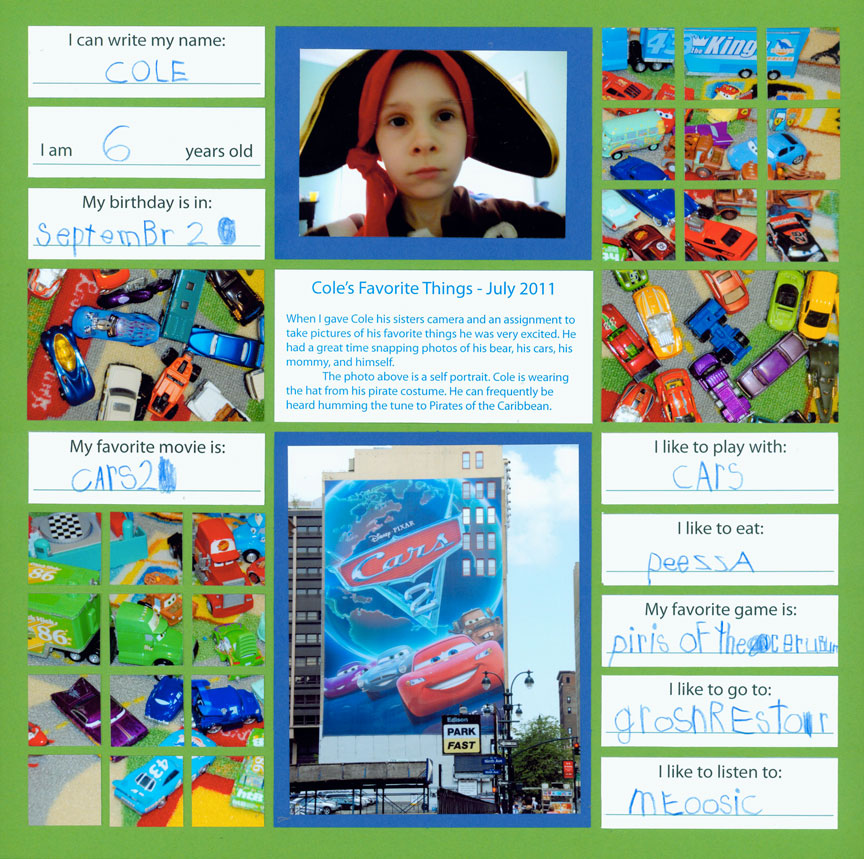 "Cole's Favorites" by Tami Potter - Free-styled Layout
Kids have big imaginations and they love to replicate what they see adults do. Don't let those imaginations grow up without recording those special moments. How sweet is this page showing a young girl pretending to be a mama!
The first trip to the dentist, doctor, or preschool is a big deal. Write down how you and the child handled it and include it on your scrapbook page.
Yes, this a fun day and these are beautiful photos, but Jodi took this page to the next level by taking a closer look. She used a photograph of the little girl's dress as pattern paper on the layout. What a fun way to remember the styles of the day.
This little boy is adorable and his chalk drawings are fabulous. But what really sets this layout apart is that adorable photo at the top of his toes sticking out of too long jeans.
Sometimes there is something precious about a certain part of the person that has little to do with the overall theme of your layout. Be sure to include it, as well.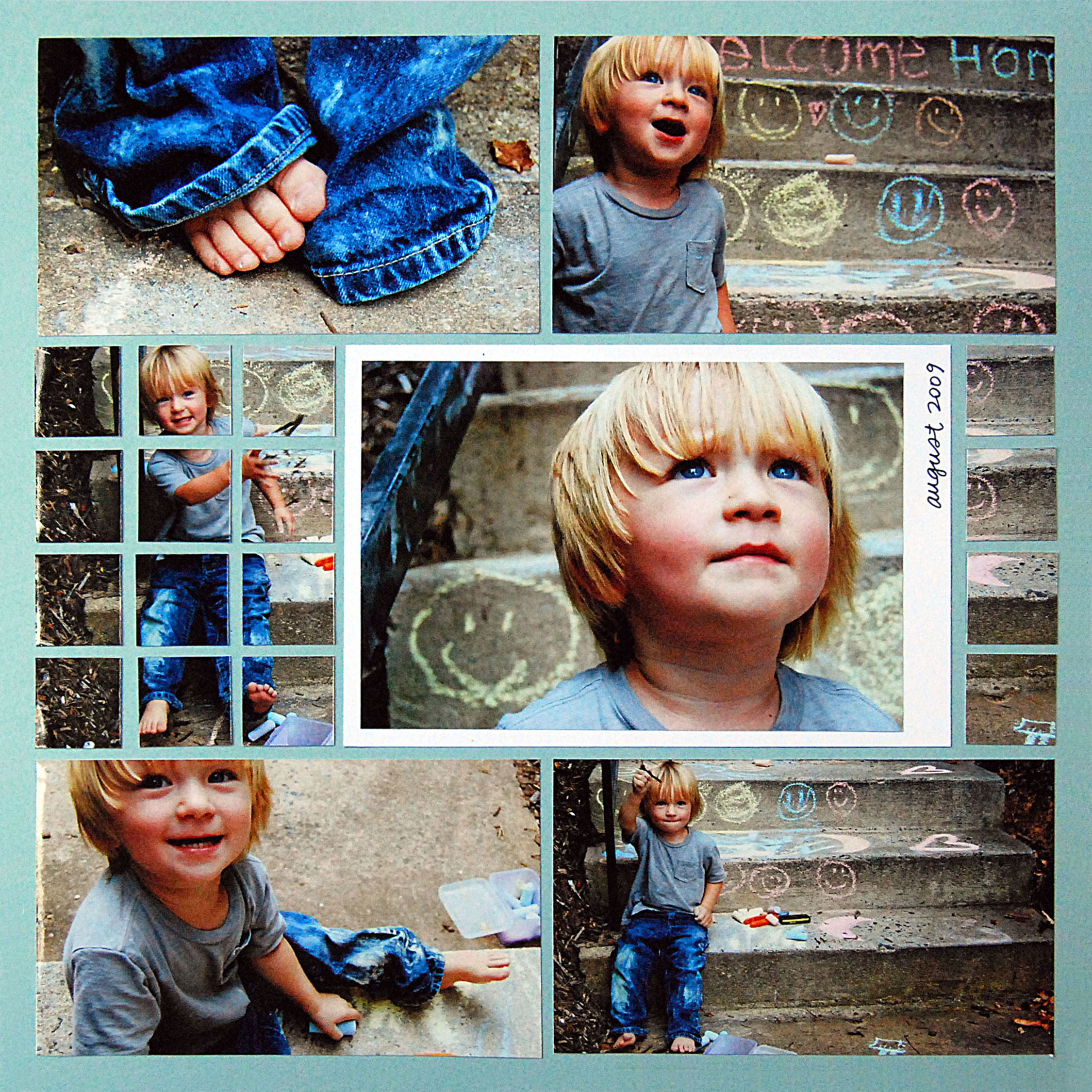 "Chalk Fun" by Elizabeth Moon - Free-styled Layout
Your child may play football or take ballet lessons for a single year, or they may turn it into a career. Regardless, take the time to record the activity. Imagine how much this page will be loved by this little ballerina when she dances with the Rockets in NYC.
The kids may swing in the backyard every single day, so you may not think it is worthy of a layout. But, someday, those kids will fondly remember swinging and will love to look back and see how little they were when they enjoyed it.
Sensationalize the Seasons
That first day of spring -- or the first day that feels like spring -- may be a momentous event all on it's own. Making that into a permanent memory by recording it in a scrapbook album will be priceless. Just imagine if you did this each year and put each page in an album all its own. What a fun way to watch a child grow!
As kids grow, everything changes, including their art. Snap a few memories of them creating, as well as their completed pieces of art and turn them into beautiful scrapbook pages.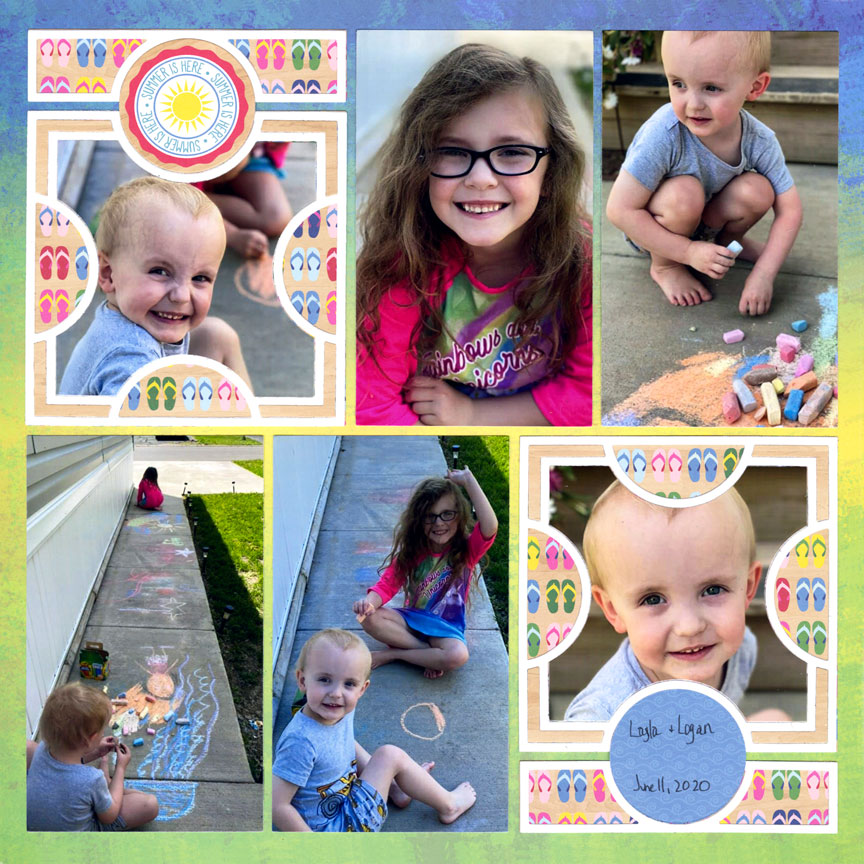 "Making Art" by Candy Spiegel - Pattern #531
Showcasing the before and after pictures never gets old. So be sure to snap photos before and after a haircut, before and after a school year, or before and after a room makeover. You will be glad you did.
Make Fun of the Imperfections
Scrap the unexpected with kids - Tami was hoping for lots of smiles from her son, but the bright light of the flash hurt his eyes. He ended up with these facial expressions and it seemed like a fail. But, Paije saw this as an opportunity to create a humorous and fun holiday layout.