It's All in the Squares!
I love the square patterns from the gallery. In fact, some of my favorite patterns are in this category. So in today's post I am going to show you my top favorite pages, and what makes them awesome! I hope the 'mostly squares' category will become one of your favorites too. So keep reading to get some great scrapbook layout ideas, and get inspired for your next scrapbook page.
Why Use Mostly Square Patterns?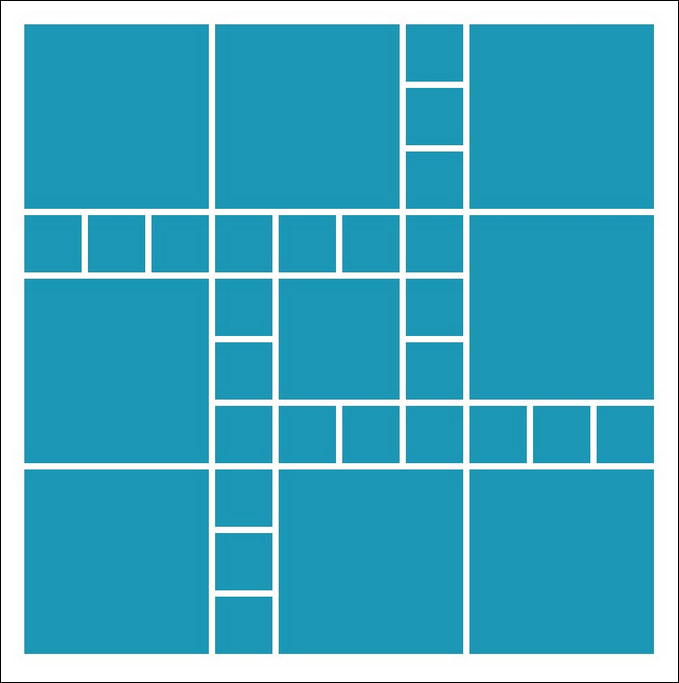 Pattern #124
Easily add lots of Photos – Many of these layouts have a lot of design spots. So if you want to use a lot of photographs on a single page, check out the square patterns!
Uses only 1 Die Set – Several of these patterns can by made with just die set A!
Easy to Make – If you have the 2.125×2.125 in or 1×1 in punches, you can make several of these pages very quickly!
Add Cornerstones – most of these patterns have 1 or more spaces to easily add a Cornerstone embellishment
Instagram Friendly – easily add photos taken on Instagram
Pattern 101 – It's All Squares!
What I love about pattern 101: It's completely made up of 2×2 squares! Also it's so easy to put together. You can cut up to 25 photos or paper with a 2.125 square punch! Super fast and Easy! This layout could be made entirely of photos or mix and match with patterned paper and embellishments. Check out the two examples below: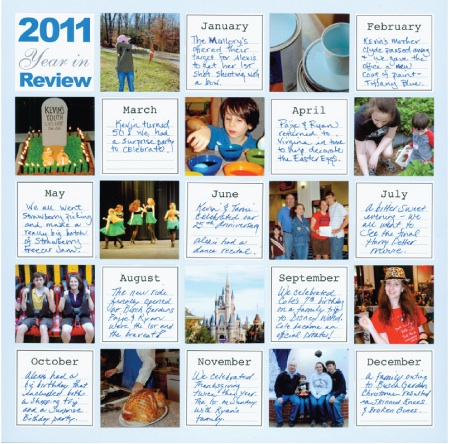 "2011 – Year in Review" by Tami Potter
Create a checkerboard look with this pattern. On this page, Tami alternated blocks of the free download, Basic Month Blocks, with photographs. This is a great way to add a lot of journaling. Another idea is you could alternate every other design spot with patterned paper.
"Puppy Love" by Paije Rodriguez
Take your page from ordinary to extraordinary! Get creative and get a hold of our Circle, Octagon, and Heart Tiles! I love using them for framing photos or patterned paper. I got black Circle Tiles to blend with the Black grid paper. This makes the patterned paper appear as if it was actually cut into circles.
Pattern 102 – Portait Perfect
If you need a pattern that can easily display multiple portraits, this is one of the pages I recommend. You can place photos of four different people or four photos of the same person (as shown below). Plus I really like that you can add a pop of color with some pattern paper along the sides. You can even place a cute embellishment in the center of the page!
Similar Patterns: pattern 104, 133, and 140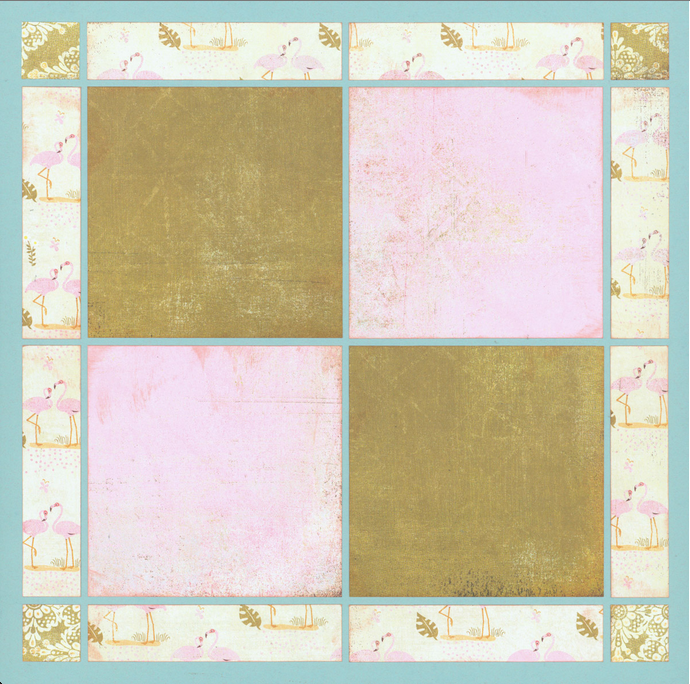 Before placing your photographs, use a few of your favorite coordinating papers to build the Page Pattern on your Mosaic Moments Grid Paper.
"Alexis at the San Diego Zoo" by Tami Potter
When you finish creating your pattern, add photos and embellishments as desired.
Page Pattern #128 – Punch It Out!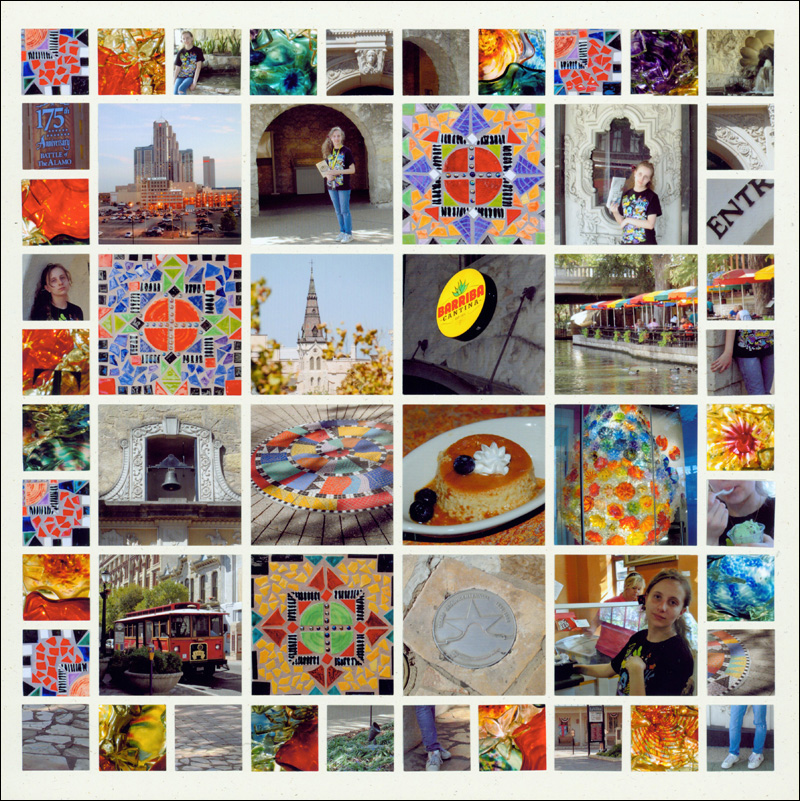 "San Antonio" by Tami Potter
Pattern #128 has the most design spots on the gallery. In fact it has 52 spots! Would you believe me if I said this is one of the easiest layouts you could make? This is why I think the punches are a necessity! I love using patterns with the 2×2 and 1 in. squares because it's so easy to punch everything out.
Sometimes we take a ton of photographs while we are on vacation and it's really hard to choose only a few to put in our scrapbooks. With this layout, you can place so many photos on one page and it looks like a colorful collage. There is no need to choose only certain photographs for your album – put them all in!
Similar Patterns: #122, 152
Page Pattern #144 – Four Large Squares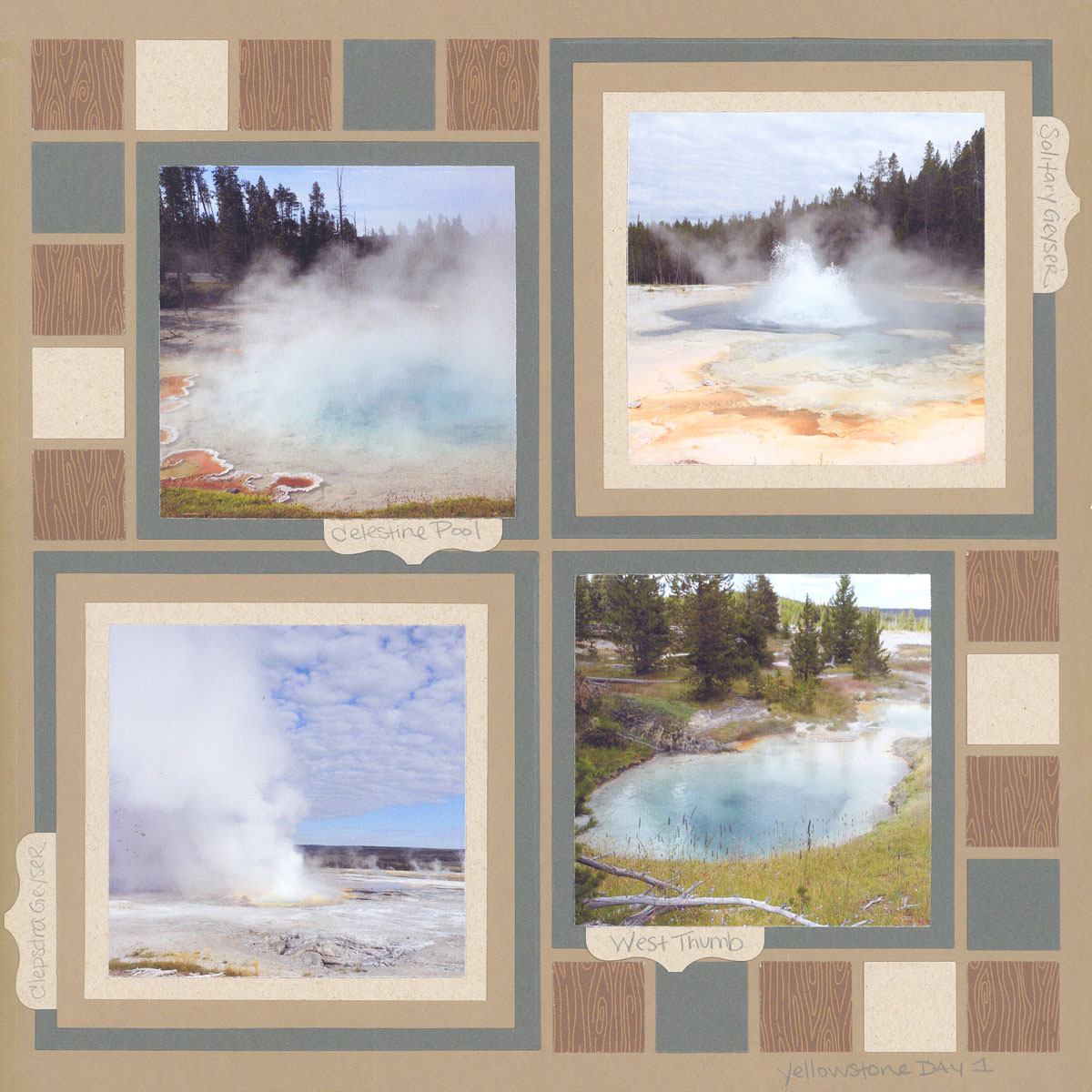 "The Sites of Yellowstone" by Paije Rodriguez
I love the four large squares on this pattern. The two different sizes makes a unique layout. Also, this is a great pattern if you want to use a little patterned paper to embellish the corners. If you are making a two page spread, this layout would be fantastic as the the 2nd page (the right side).
Layering Tip: You may notice that there are two 5×5 squares on this layout. I only use 4×6 photographs, and they are a little two small for this space. So, I decided to use Candy's tips on using the dies to easily create layers. You can see her video on our Youtube Channel. Check it Out!
Page Pattern #175 – A Border of Squares
Pattern #175 is one of my favorites! First of all it is very Instagram friendly. I like to add some photos with my camera and mix it with ones I put together with the Instagram style. I also love the border since you can mix up your photos with cute Cornerstones or patterned paper. Plus this layout has a variety of sizes. There is space for large and medium sized photos, plus there are smaller spaces for embellishments and mini photographs.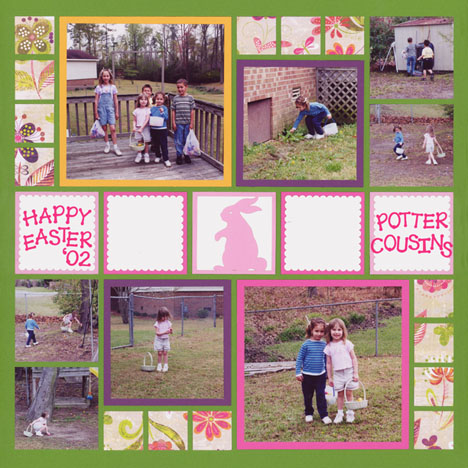 "Easter with the Potter Cousins" by Paije Rodriguez
Did I mention that I love Borders? On this layout, I made a simple border with some pink Paper Tiles and I found some cute scalloped mats. This is a great space to add a little journaling, plus I was able to fit in the cute Rabbit Cornerstone.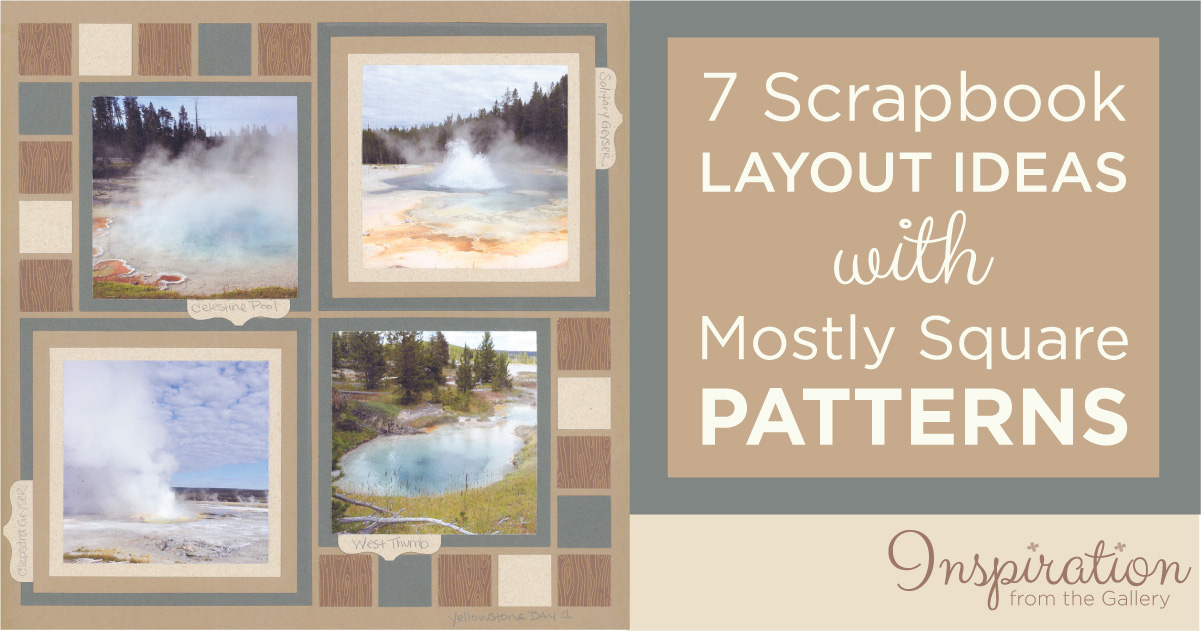 "The Grands" by Andrea Fisher
Don't you just love this page from Andrea? She took the opportunity to add some Heart Tiles to her layout. Also, you may have noticed that there are two rows of three 1 in. squares on the top and bottom of this layout. Andrea filled this space with two Heart Line Cornerstones (from the Heart and Flower Die set) instead. Don't be afraid to adjust the pattern to fit certain embellishments.
Pattern #178 – A Puzzle Pattern
This is also one of my other favorite patterns. Even though it is mostly made of squares, you could also consider this a puzzle pattern. In my opinion, this is the funnest pattern in the square category. I love this asymmetrical layout with it's variety of sizes and how it beautifully balances out.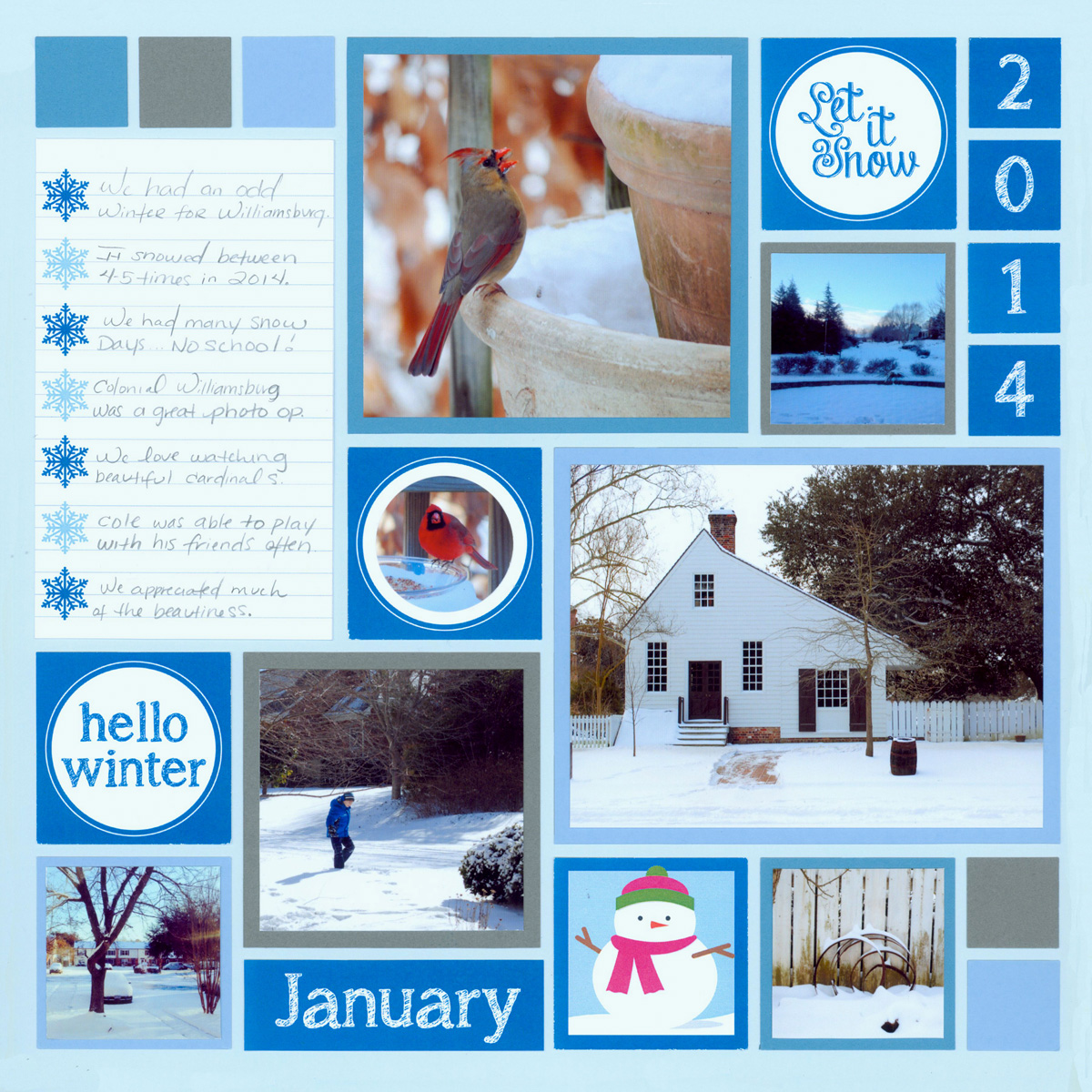 "Hello Winter" by Paije Rodriguez
This pattern works well with many of our Free Downloads. The 2×2 squares are perfect for adding different embellishments, whether it is patterned paper, Cornerstones, or a cute sticker.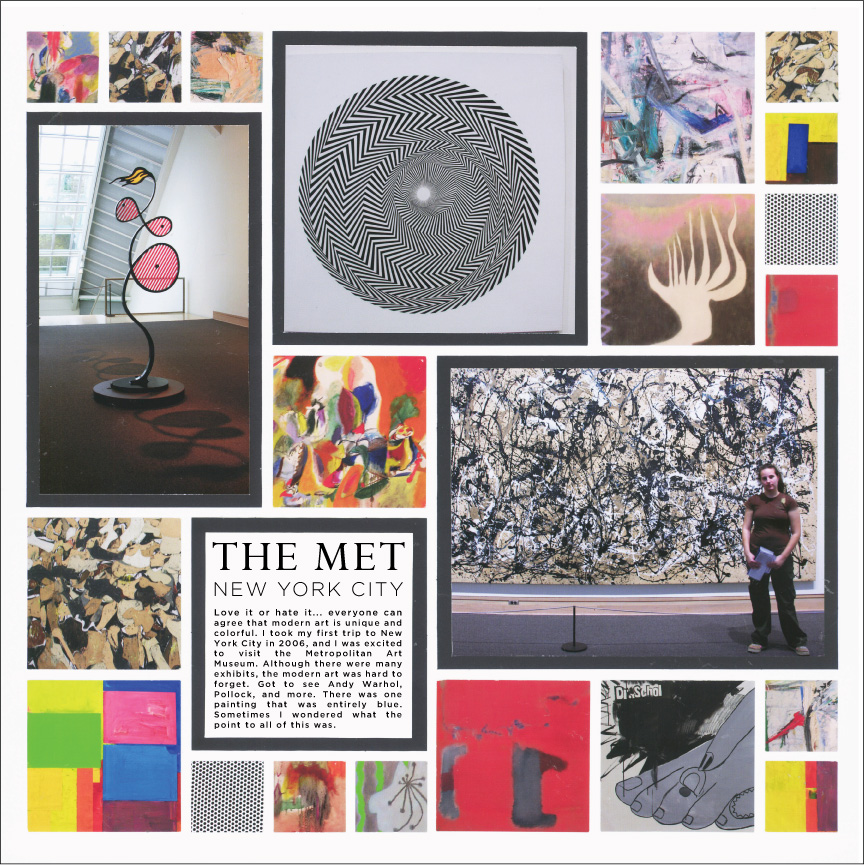 "The Met" by Paije Rodriguez
If you have seen modern art, you may know how crazy it might be! So a puzzle pattern was a great choice for creating a page about the Met. Plus I made this page pretty quickly since I just punched out most of the photos.
Pattern #191 – A Space for Embellishing
If you love using embellishments on your page, definitely consider this square layout. Now this square is so large, (measures 6.625 x 6.625 in.) you will have to fill it with more than just one photo. Find some embellishments you love and start playing around with the larger space!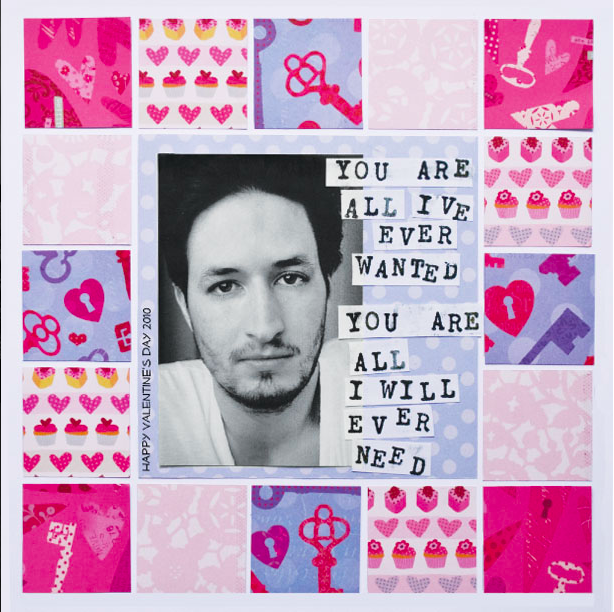 "All I Want" by Elizabeth Moon
Elizabeth did a lovely job with this pattern. She got several bright colored patterned papers to surround the focal point, and they look really good with the simple Black and White photo. With the large space, she was able to place collage-like words next to the photo. Love it!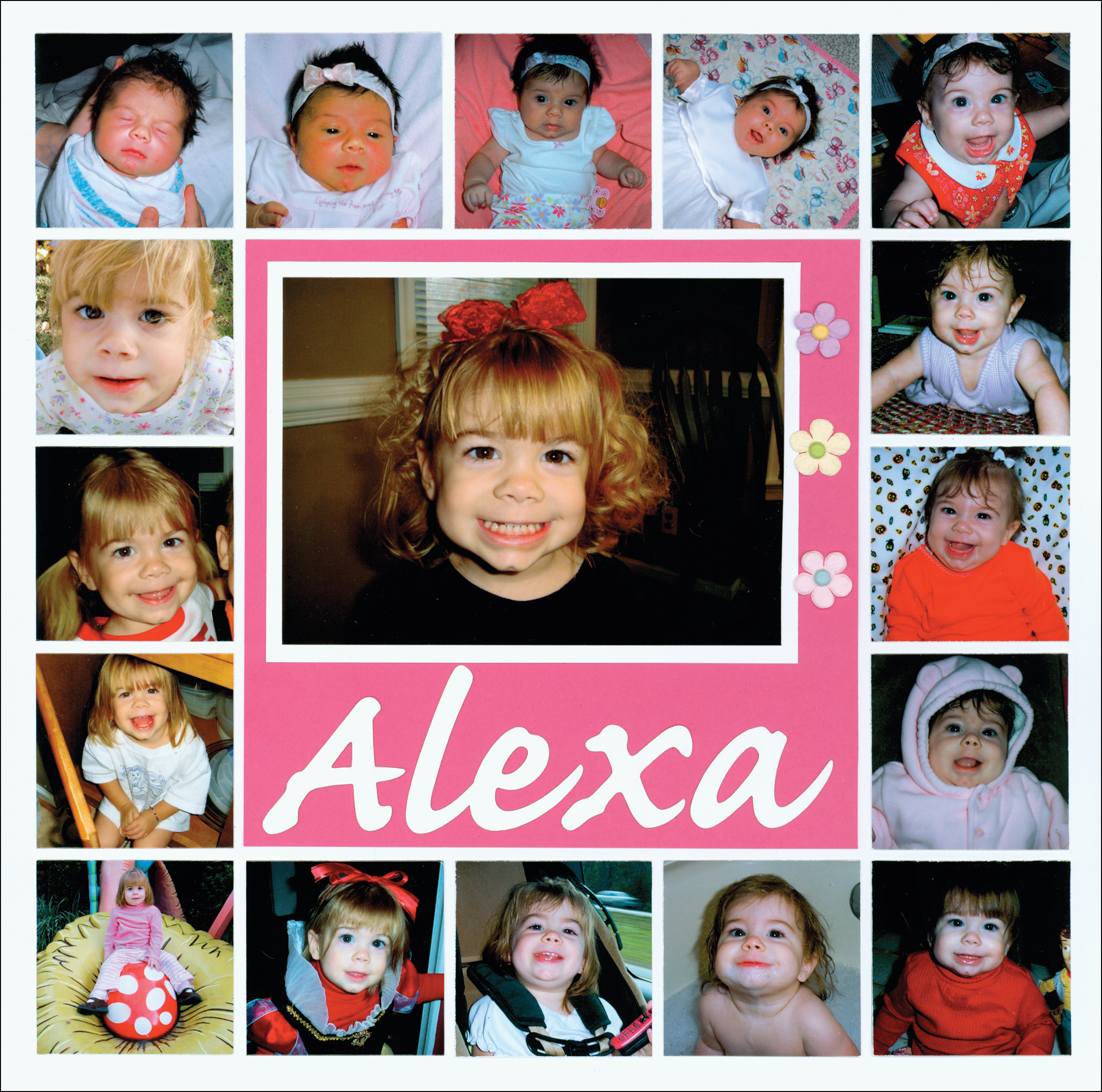 "Watch Me Grow" by Shannon Johnson
This is a fabulous layout to show off a child/grandchild. I love how Shannon used all the squares to show her daughter growing through out the years. You could also use this layout for a senior in high school or the first year of a baby.
I hope you gathered some scrapbook layout ideas today! I love the mostly square patterns and I am sure you will too. If you saw any patterns you like, be sure to sign in on the gallery to easily print them for yourself! Also, go to Snapncrop.com and see Die Set A! If you are interested in the dies, this was primarily used for today's featured patterns. Happy Scrapping!