It's the first day of fall! So why not begin the season with a lovely fall page pattern? This page was introduced on Facebook and it was hug hit! But, there was never a post made for it, so I took the opportunity today. This lovely autumn scrapbook layout features journal blocks which allow a lot of room for journaling. Today's post features this week's page pattern, plus some ideas for adding journaling to your pages.
Pattern to Create Autumn Scrapbook Layout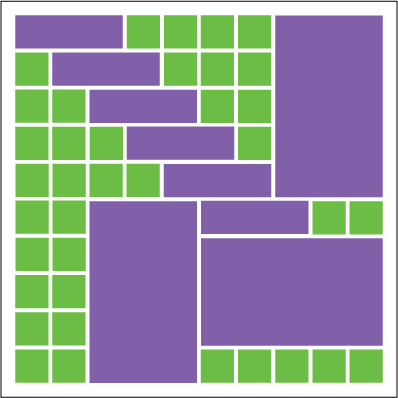 Today's pattern can be created with die set B and 1 in squares set.
This is a unique mosaic page with six strips for journaling. The areas of 1 in. squares are perfect for 'mosaic' photos. For my page I used close up shots of the berry-like things on a fall tree. I thought it turned out beautifully on the page! You can also take close ups of plants, flowers, leaves, textures, etc. This page is wonderful if your want your photos to have a mosaic look.
The six 1h x 3.25w strips run diagonally along the layout. These provide a lot of space for journaling. We also have a couple of Free Downloads that will fit in these spots (one of them is on the page above). If you do not have much journaling to add, you can use more photos here or have fun adding pattern paper.
This page also has three 3.25w x 5.5 w blocks (one is turned sideways). The blocks give you room to add some larger photographs you do not want to make into mosaics. To add more interest to the page, add some Paper Tiles (or other card-stock) as mats for your photos.
Simple Journaling Ideas
Journaling is very important to scrapbooking. Why? It is for documenting when and where a certain event or vacation happened. If we don't write these things down, it's very likely we will forget! I have heard many people look through their photos and ask themselves what year was this? or where was this [photo] taken?
You don't necessarily have to add a lot of journaling, but it's nice to at least put a year or a small title on your page. Here are some simple ideas to add journaling to your layouts:
Add the year – Use stamps, Year Cornerstones, or use a Free Download (all are available on snapncrop). There are also many alphabet stickers you can get from you local craft store. The nice thing about adding the year is it doesn't take up a lot of space. I used a free download to create the 2011 year on the autumn scrapbook layout. If you have seen many of our mosaic pages, we add the year a lot since it's a simple way to add journaling.
Create a Title – I usually add a title to show a place I went to. It's also great to add a title to show the theme of your page. Add alphabet stickers to a Paper Tile or print the title from your computer. Here a few examples you can look at: "Disneyland" (example of large title with Alphabet stickers), "Colonial Williamsburg" (smaller title, typed)
Journaling – We can't capture everything through photos. Add journaling to describe how you felt, who was there, the full story, etc. If you want to add journaling, we have several Free downloads, such as the lined journaling blocks, you can place on the grid (it's fun to see your handwriting too 🙂 ) . You can also type it on your computer and print it. If you feel like there is not a lot of room on your page, you can add some hidden journaling by creating a pocket that hides behind a photo or Paper Tile. If nothing else, you can always write on the back of your 12×12 sheet.
Sometimes we want to create a page that is strictly photographs. In this case, I usually write the place and the year in one of the corners on the 12×12 sheet. Here is an example: "Palm Beach Shores" (title shown on bottom right).
Materials for Creating this Autumn Scrapbook Layout:
Mosaic Moments™ 12×12 Tangerine Grid Paper (Currently unavailable 🙁 Check back!)
Bamboo card-stock
Autumn Free Download (printed on Ivory card-stock)