Today I am featuring a lovely beach day scrapbook layout. The photographs were taken at Palm Beach Shores, Florida during fall 2010. This page is one of our most re-pinned on Pinterest – Due to its popularity, I decided this would be a great pattern to show on Mosaic Moments.
Part of the reason why I love this particular page is the tranquil feel. The Petal Pink grid paper, along with the pastel Paper Tiles are a calming color scheme that makes you feel as if you were relaxing by the shore. Whenever you create a page, think of the "feel" your photographs give, and apply it to your overall page. My beach day scrapbook page, for example, represents a nice, relaxing evening stroll on the beach. The layouts you create should make your viewer feel as if they were on the trip or event with you.
The colors you choose should play into the theme and 'feeling' of your page. Here are a few examples to help you:
For a FUN and exciting vacation or party – Choose bright colors such as bright pinks, yellows, greens, blues, and reds
Weddings, Graduations, or other FORMAL events – Choose Blacks, White, and Grays, maybe some pastels to add color
A NATURE trip such as camping or vising a national park – Mainly neutrals such as brown and earth-tone greens
"Palm Shores Beach" was created with Page Pattern #70: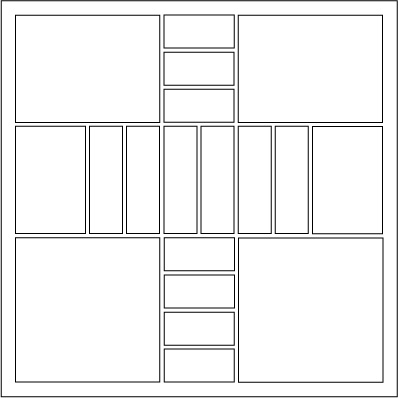 This is a lovely strip pattern with four larger photo spots. The center row on this page has six 1 x 3.25 strips (this will fit a whole 6 x 4 photograph). This is the focal point of the page and it certainly stands out. The beach photograph worked lovely as strips since it shows nice scenery of the ocean and the fun footprints. TIP: I do not recommend this spot for a family portrait or a close up shot – the people in your photo will look distorted. My brother was photographed from far away and fit perfectly within the space to make a strip, so keep this in mind when choosing a photograph.
The focal point also has two 2.125w x 3.25h blocks on both sides of it. These are good spots for adding a pattern paper or other embellishments. I love the seashell photographs on the page above. It really adds some great texture to the page.
The other part of this page that stands out is the column of 2.125w x 1 in. blocks going down the center of the layout. You can add detail shots, such as seashells, here. Don't have a photograph in mind? Add Paper tiles or Pattern Paper.
This layout also has two 4.375 squares on the bottom. This is where you can add portraits of people. On the top row of the page is two 4.375w x 3.25h blocks which allows more room for larger photographs.
Here are the supplies I used for my Beach Day Scrapbook Layout: