Inspiration from The Very Hungry Caterpillar by Eric Carle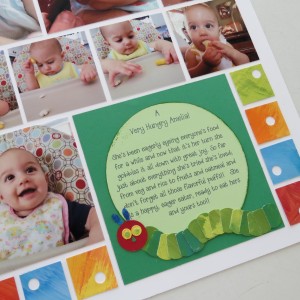 This innovative children's book has sparked the imagination of so many, children and adults alike. While the story itself is engaging, it has spawned a whole range of products, decorating and party ideas. Teachers have lesson plans for students based on the story too! So, when we take on this story for our September Literary Challenge there is a wide variety of ideas to choose from. Let's see how many ideas you can get from these lists.
The simple story is many things in one…
 It's a counting book, one apple, two pears, three plums, etc.
 It's a day of the week story, "On Monday…, On Tuesday…, On Wednesday…"
 It's also a story of foods, chocolate cake, ice cream cone, pickle, cheese, etc.
 It's a story of ravenous hunger or a big appetite.
 It's a story of transformation and change, from the egg on a leaf, caterpillar, cocoon  and butterfly.
 It is a shape book that was fairly unique for its time and it is one that kids just love!
 It is colorful; Eric Carle's bold and bright colors and distinctive style are easily recognized.
So how do we create a scrapbook page inspired by the book?
Style:
 We can use color
 We can use shape
 We can imitate the style of painting
 We can make it a layered page with flaps
 We can use a punch to take out pieces (did you know a hole punch inspired the  book?)
Subjects:
 We can do a page of activities for a whole week, the everyday or a vacation
 We can do it about food, things we love to eat, that we grow or that we bake
 We can do it about transformation, moments that changed your life, renovations or  makeover
 We could do it about growth of a child, a family, a business
 We can document a food eating contest, the local food bank's ministry or family  reunion picnic.
 We can use photos from a trip to a butterfly garden
 We can do it with photos of a baby eating those first foods.
 We can do it about a hunger for learning, reading or sport.
Color:
 Bold, bright, and primary colors.
 Shades of green and red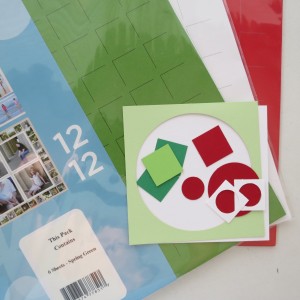 Things to use:
 Circle frames and the out pieces
 Bright colored grid pages
 Bright colored paper tiles
 Painted paper
 Crayon art
 Flip books of RTC paper
 Punched paper
Items the caterpillar ate in the story:
 1 apple
 2 pears
 3 plums
 4 strawberries
 5 oranges
 1 piece of chocolate cake
 1 ice cream cone
 1 pickle
 1 slice of Swiss cheese
 1 slice of salami
 1 lollipop
 1 piece of cherry pie
 1 sausage
 1 cupcake
 1 slice of watermelon
 1 green leaf
Other elements in the story:
 The moon
 The sun
 The cocoon
 The butterfly
The subject of the page I have prepared has been my granddaughter who has just begun to get solid foods…baby foods and apples and plums when she can get away with mooching from the rest of us. She really has loved just about everything she's been given and can't seem to get enough. We have been calling her the hungry caterpillar, so it seemed perfect to use her for the topic.
The page pattern is #118. I've used a couple of series of photos and clustered them together on the top, middle and bottom. I liked this pattern because it also allowed for a variety of photo sizes.
I chose a white 12 x 12 grid after trying other shades out with my photos. I liked the white as plain as it may be because it shows off the photos and allows the bright and bold colors I wanted to use really stand out.
There were a few incarnations of the page as I played around with a few ideas. The original idea morphed a bit to what I finally did do, but before I got to that I tried going just with the shades of green and red tiles. I liked it, clean and simple and I thought reminiscent of the caterpillar, but thought I'd try a few other things before sticking it all down.
Here's the trial page:
And the actual final page: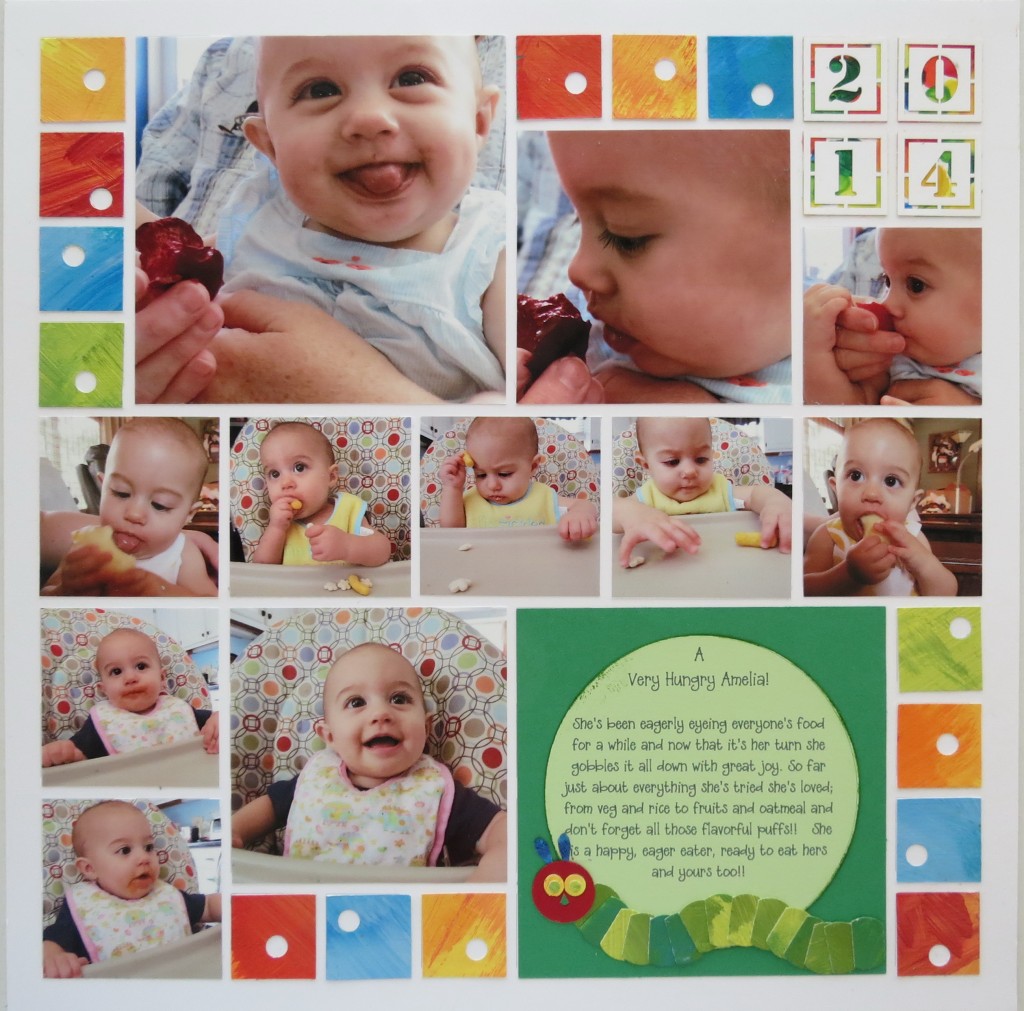 I began with our sheet of 1″ paper tiles so I could do a whole section at once. I tried several melted crayon techniques from using a blow dryer to melt and drip; or taking shavings or scrapings of the melted bits between wax paper and ironing onto the tiles. And then the technique I liked the best, using a small hot pad, the kind for keeping your beverage warm. Place the paper onto the heated surface and then hold the crayon on various spots around the paper until it melts and then change the colors and fill in as much as you like. This was by far the easiest and the best results. I topped it with the white date block tile. (to see some of the other technique results check my blog post at Five Pines Designs).
The remaining tiles were cut from the various painted pages I made using acrylic paints and a sponge brush blending a series of shades to create multicolored tiles. I finished the pages with a layer of Mod Podge to seal the color in and it gives a shiny surface. I chose to use 1" square tiles of the bright colors even though I could have repeated the colors in punched circles like in the book and mounted on white tiles, but decided I liked the squares. Each tile used was punched with a hole punch, the very thing that inspired Eric Carle to make his book!
I used an Apple Crush circle center from our circle tiles for the journaling and mounted on top of a 4×4 Tile block in Green.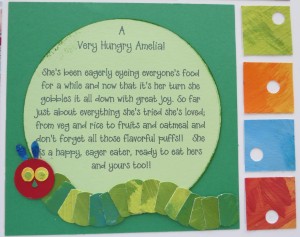 To make the tiny caterpillar, I cut 3/8" strips of the green sheet and used a 5/8" circle punch to cut the segments by centering the strip. If you move closer to the sides you will get a slightly different shape. Layer them in a pattern to create the caterpillar body and top with a red circle (also from the circle tiles) and added a few punched hole out takes for eyes and trimming scraps for the other parts.
I hope I've given you a few ideas to try on your own pages. Be sure to post them on Journella's Story Board so we can see what inspired you from The Very Hungry Caterpillar.
Thanks for stopping in this week…
Andrea Fisher
UPDATE: See our Pinterest board with more ideas to inspire your A Very Hungry Caterpillar layout HERE.