Scrapbooking your whole family is a breeze with Mosaic Moments.
 We have put together 12 layouts to show you how simple and easy it is to get the photos of the whole family, whether taken at a large gathering or reunion, on one layout.
There is plenty of room wherever you family photos are taken and we show you below:
1.  Get 'Scattered' Shots on One Page!
The family beach vacation is notoriously hard to get a picture together.
Everyone hits the beach and they scatter to their desired activities. No worries with Mosaic Moments! Just take photos of each individual grouping and activity. Take one photo of the kayakers, one of the sand babies, and one of the loungers.
Put them on one scrapbook page it's like they were all together in one photo!
2. Fit in Multiple Family Portraits
Those family photos are so difficult to scrap aren't they?
How to choose just one of your gorgeous family?
Well, with Mosaic Moments scrapbooking you don't have to choose. You can fit all of your family photos on one layout.
Here, Jodi was also able to add gorgeous flower photos beside her gorgeous family shots.
3.  Use the Most Scenic Photo as Your Focal Point
When you have many pics of the whole family, which one do you use as your focal point?
If you don't have a photo of the entire group, use a pic that shows the most scenery. For instance, Jodi's focal point shows more of the lake and the mountains behind her main subjects. This gives a better idea of where the reunion took place.
Don't forget to take photos of where your reunion takes place - everyone will appreciate the memories!
Featured Dies: Alphabet 4 Die Set, Fishy Border 1x5 Die, Waves Border Die Set, Layering Die Bundle, Basic Die Bundle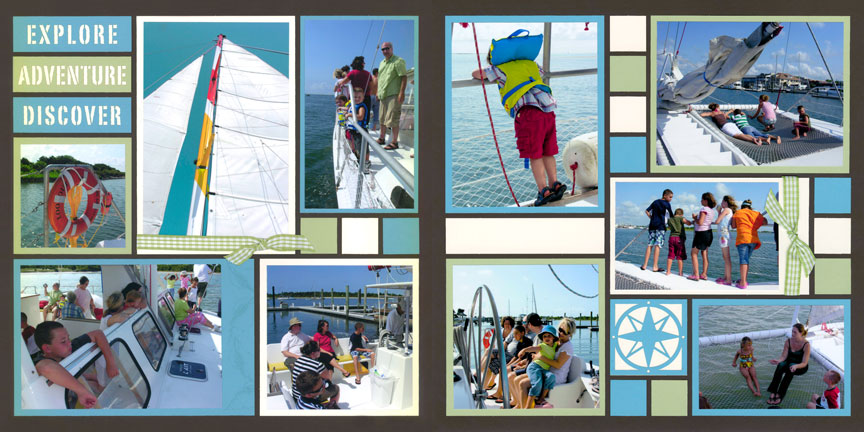 ---
When everyone is doing a specific activity together, such as sailing on a boat, there may not be any time to get that group shot.
Tami was able to walk around the boat and capture many moments that you could not possibly fit in a single photo. Get that shot of grandma kissing the new baby, two cousins laughing together, or an Aunt holding her sweet nephew.
You will be grateful to have these wonderful memories and you can place many of them on a two page Mosaic Moments spread!
FYI - You can pick up a similar compass Page Kit or Die here.
5.  Capture the Cousins Playing
Do the littles in your family give you a hard time when you try to get a photo?
Maybe a nice photo with all the cousins will work out, but it might only be in one shot! So, take the time and enjoy taking photos of them playing and laughing together during the reunion. Kids grow up so fast, so capture them in these moments!
Tami took a bunch of pics of her great nieces and nephews - how wonderful will it be for them to see this layout of when they were little!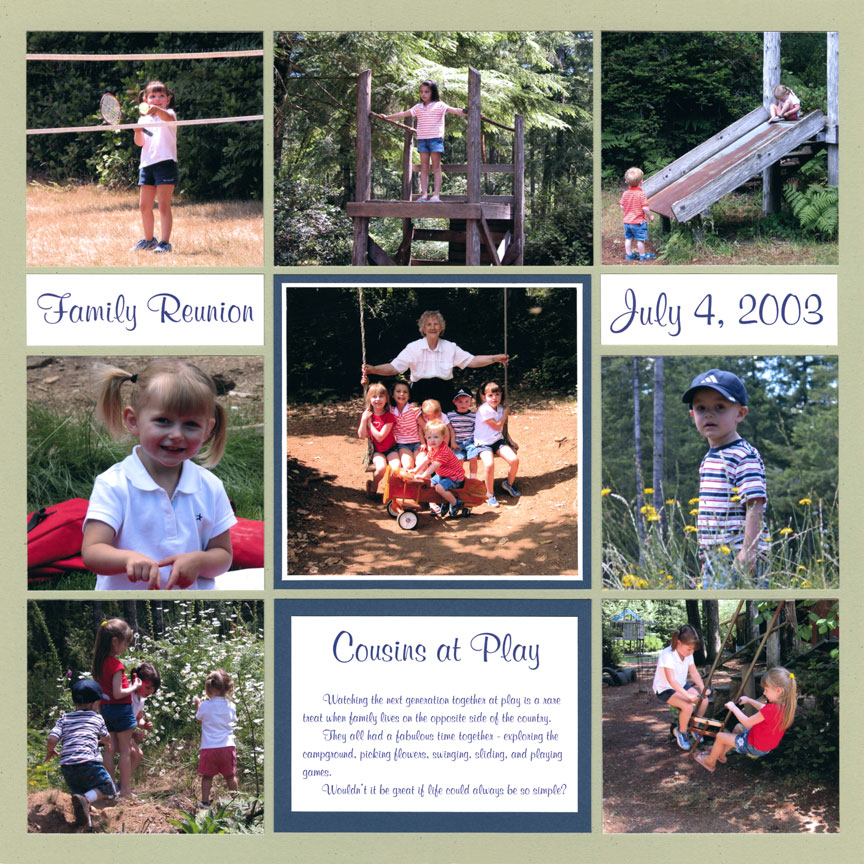 "Cousins at Play" by Tami Potter - Pattern #187
6. Fit in that Group Shot
When you have a group photo that cannot be cropped, make sure to use a pattern that will fit it in!
Danielle found pattern #437, which has a spot on the top for a full 4x6 photograph. Be sure your chosen pattern also has lots of design spots to fit more pics of the family! Danielle was even able to fit in the Fir Tree Die Set for embellishments!
And that is what we call Mosaic Moments Magic.
7. Lots of Photos? Use Patterns with Lots of Squares!
At a reunion or family vacation, you will probably end up with lots of photos.
You will also want to make sure everyone makes it in the family scrapbook album. If you are looking for page patterns with lots of room for many photos, take a look at the "Mostly Squares" category. One of these patterns has 52 design spots - wow!
Jodi fit in 8 photos on this page, but you could print your photos 1x1 inch. and you could have 33 pics!
Items used on this page: Cruise Ship Die, and 12x12 Berry Grid Paper from the Fresh N Fruity Collection.
8. Show the Action with a Panorama!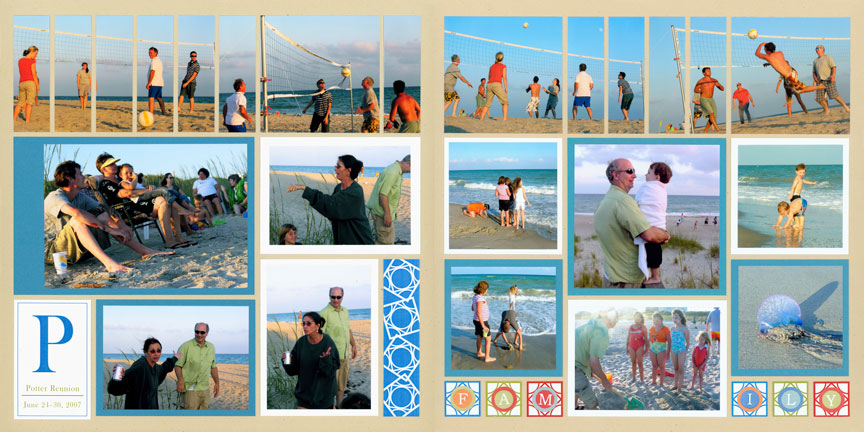 ---
If you are making a lot of reunion pages, you may need to change things up!
Give the panorama look a try! Look at how Tami was able to fit in multiple moments and family members across the top of the layout. Show everyone who participated in a game of volleyball, who went swimming in the lake, or hiked up a mountain.
Whatever activity you are doing, you can fit in the family with a fun panorama design!
9. Fitting in Close Up Photos
At a family reunion, you might have an object that fills up a good chunk of your 4x6 photos - such as this giant beach ball!
In this case you might need a layout that requires larger design spots. Even though Paije has less design spots, she filled the page with pics showing multiple family members in the same shot.
Take a look at the 1-9 category on the pattern gallery for page ideas with larger design spots.
10. Show the Entire Family in Action with a Mosaic!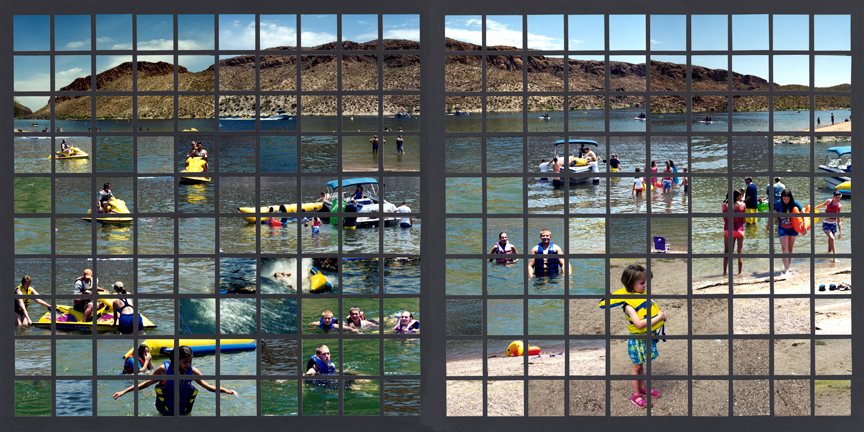 ---
Here is one of Tami's very first all mosaic pages.
Mosaics allow you to add nothing but photos to a layout. And a LOT of them! They are perfect for family reunions at the Lake or beach. They can show all the action going on. You can use the One Inch Grid Die for 4x6 Photos or hand cut with the Mosaic Moments Double Sided Self Healing Mat, ruler, and a Kraft knife to make a full Mosaic of your own!
Believe it or not - this is not one giant photo. This is actually multiple 4x6 photos blended together on one layout!
11. Fit in the Family with the Specialty Dies
Believe it or not, you can fit in the family with a specialty die layout such as Horizon, X Factor, or Sweetheart.
Be sure to take a mix of vertical and horizontal photos at every family event so they will work with the specialty dies. Since this layout shows a family gathering at a wedding, Jodi appropriately chose the Sweetheart Dies.
Jodi took photos of not only her beautiful family and friends but the scenery. It's amazing how much she was able to fit on her page!
12. Highlight the Group Photo
The best part about this layout is the blue paper going around the center photo.
Jodi was able to fill the rest of this crisscross die layout with photos of her family playing at the beach. But, she also wanted to emphasize that group shot - the most important one to show who was there!
To highlight the focal point, use a color paper that is not used anywhere else on the page. You will love it!
Add in the information with a beautiful title!
Make sure your children and grand-children know which side of the family is showing in the photos. That is why adding in a title is perfect! Even if you don't use the family name, it might be important to say the destination of the reunion and the year it took place.
The alphabet and number die sets are the perfect fit if you want to add in a title.
Featured Dies and Paper: Alphabet 4, Wild Flowers Die Set, Bleached Wood 12x12 Grid, Basic Die Bundle
14. Use the X-Factor 4x6 Die for a Group Shot!
Even with Adventure Level Dies like the X Factor and Crisscross Dies you can fit your whole family!
Jodi has shown us how it's done with this layout of her family reunion at the lake. She used the X Factor 4x6 for her larger group shot! If you want to use a specialty die - this is the one.
You can make a page just like this one and use the largest design spots of your Adventure Dies for your family photos and the smaller spaces with patterned paper or your texture photos.
Mosaic Moments naturally creates room for the whole family. There are design spots for all of your photos.
And room to make your scrapbooking pages epic!