Floral page kits are one of the most versatile type! You can use them in so many different ways. We have put together 12 ideas for using Floral Page Kits below - maybe you will see an idea you haven't considered.
Please Note: some of these kits are no longer available, but the ideas and tips still apply!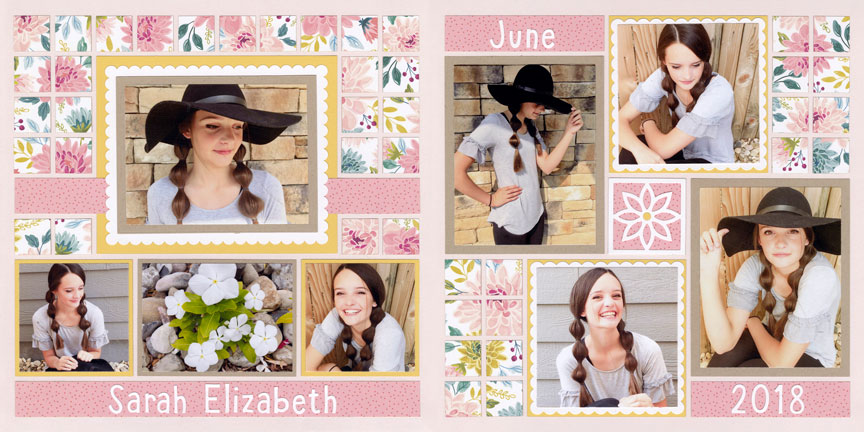 "Sarah Elizabeth" by Jodi Benson
---
Maybe the most obvious way to use floral page kits is for your feminine layouts. Flowers have always been a girl's best friend. This kit is called "Courage and Kindness".
Here Jodi added an extra mat to her focal photo. She used the Star Flower Die, Alphabet 3 Caps and Alphabet 3 Lowercase, and Numbers 3 for her title and date.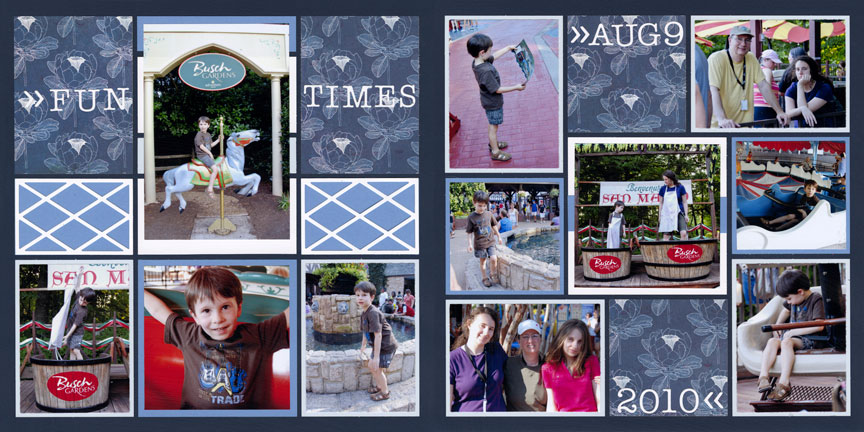 "Fun Times at Busch Gardens" by Paije Potter
---
Have you ever used a dark floral as a masculine layout? Blue is great for a boy. This page kit called "Moonlit Flowers" is darker and has cooler florals for a great masculine look. Paije used the
Tudor Die
and
Alphabet 4
and
Numbers 4
to embellish her pages.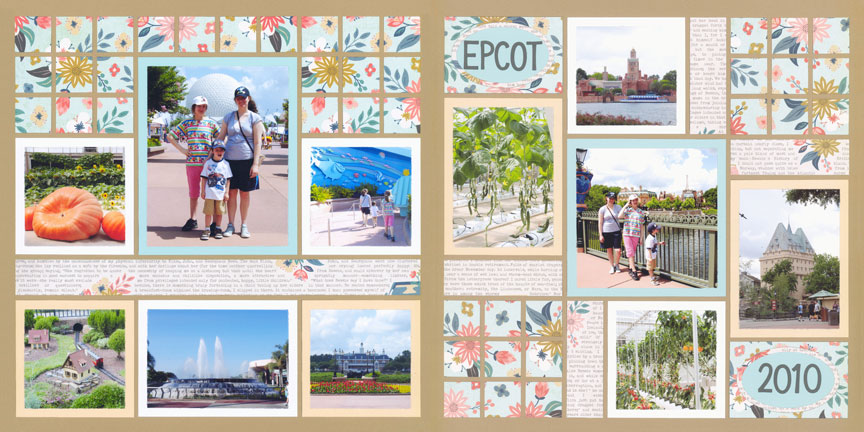 "EPCOT 2010" by Paije Potter
---
Floral Page Kits can even work for Disney Trips! The page above has photos from EPCOT at Disney World. You don't have to stick with the usual red, black and yellow for your Disney trips, florals can work too!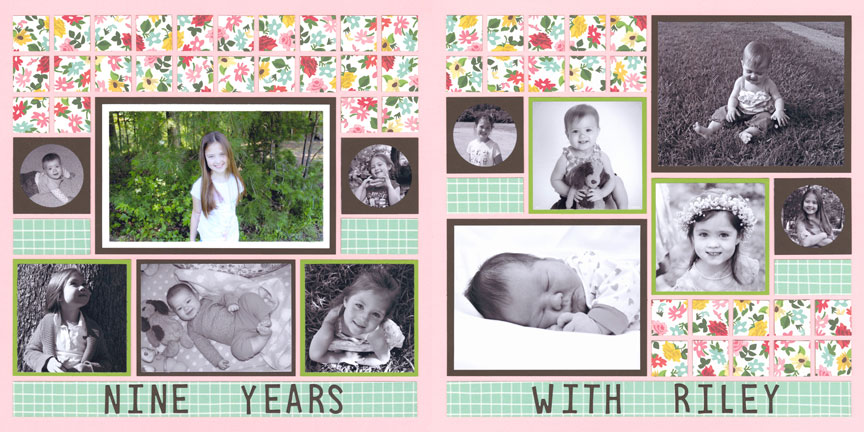 "Nine Years with Riley" by Lauren Jones
---
Floral page kits can be used for a Throughout the Years layout. Lauren used this floral kit to show Riley's 9 years. She added
Alphabet 3
for her title. This is a wonderful way to showcase the children in your life.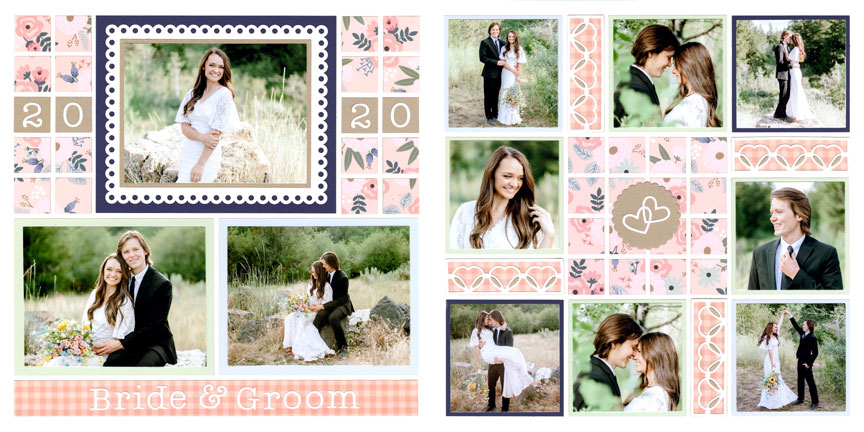 "Bride & Groom" by Jodi Benson
---
"Out in Nature" by Paije Potter
---
Hikes and Nature Walks are a great way to use floral page kits.  This kit with its green grid paper looks great for  Paije's "Out in Nature" layout.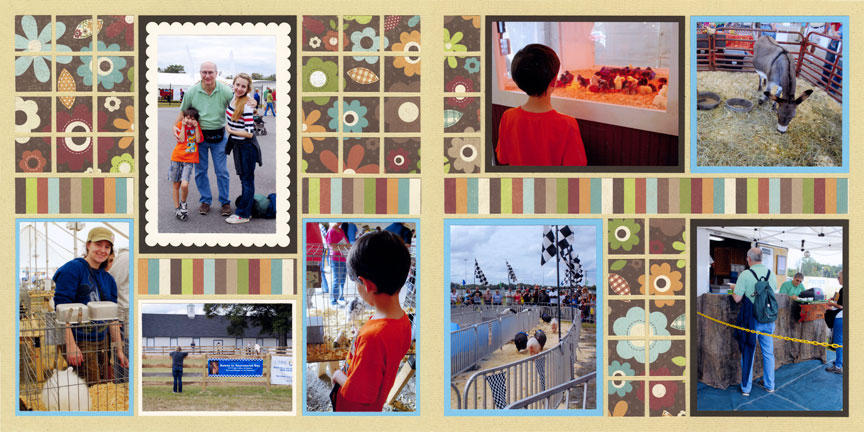 "Virginia State Fair" by Paije Potter
---
Trips to the State Fair look lovely on floral page kits. The muted colors of this page kit really match the muted farm colors.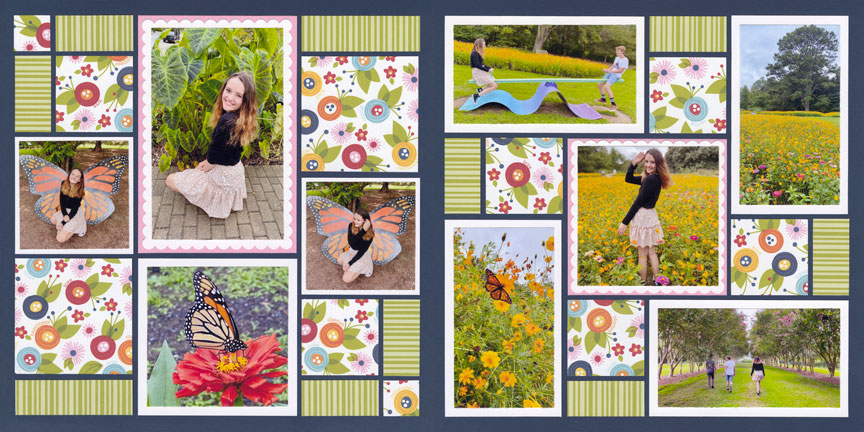 "Sarah in the Garden" by Jodi Benson
---
It's obvious that floral page kits look great with garden pictures. What's also obvious is how great Jodi made this layout with her garden pictures!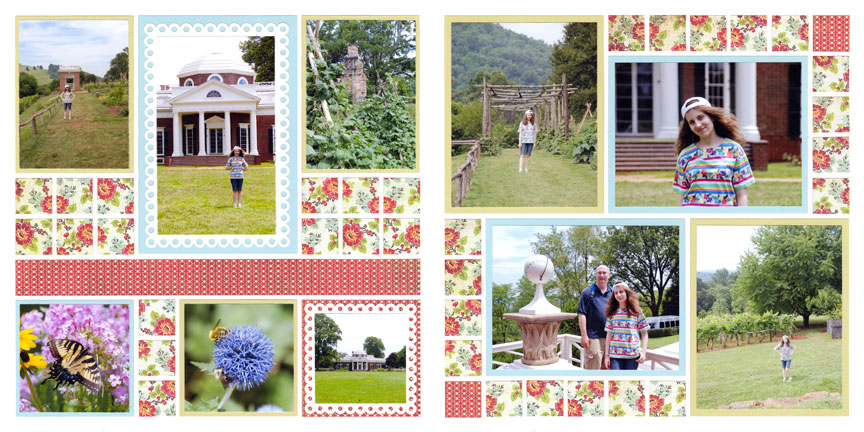 "Alexis at Monticello" by Paije Potter
---
Visits to historic sites are a wonderful way to use floral page kits. Paije filled this page kit with pictures from Monticello. They look stunning next to the floral patterned paper.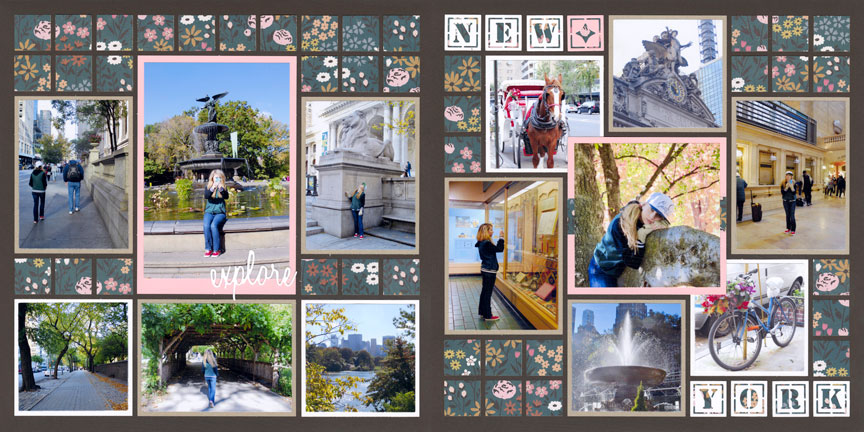 "Explore New York" by Paije Potter
---
A great way to use floral page kits is for travel photos. 
Paije took the Page Kit called "Field of Flowers" and added Alphabet 1 Dies for the title, New York, and the 'explore' die is from Sizzix® as an embellishment. The embellished two page layout looks amazing!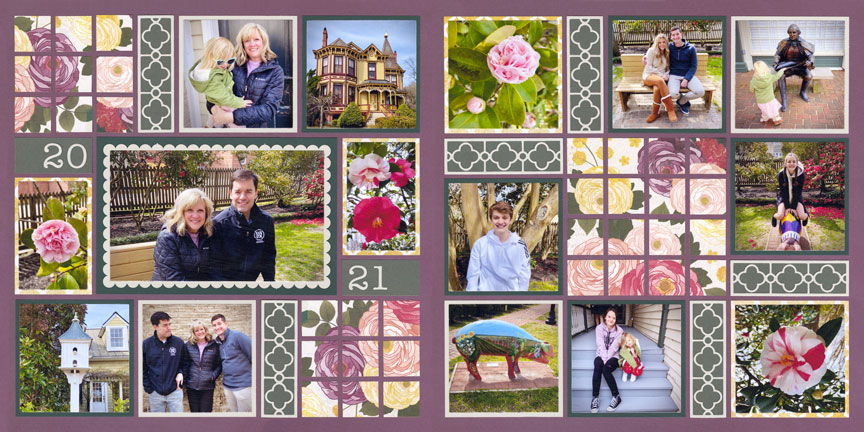 "Springtime in Smithfield" by Jodi Benson
---
 Floral page kits look great with historic Downtown photos. Look at this layout of  historic downtown Smithfield. 
Jodi started with the Page Kit called "Floral Medley", she added the 
Quatrefoil Die
 1x3 and
Numbers 4
for the date. She had enough pictures that she even used some of the patterned paper design spots for her photos. It all looks great together and uniquely hers.
12. Use Florals for Kids!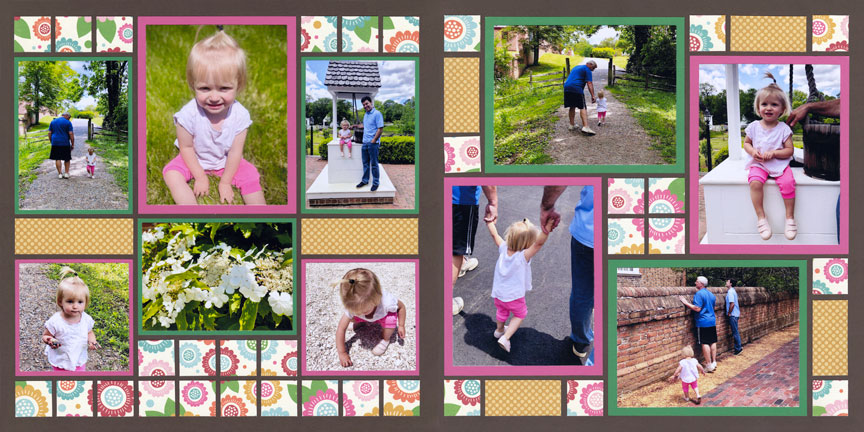 "Grandpa, Papa, & Charly" by Jodi Benson
---
If you have a page kit with bright and whimsy florals - this is perfect for showcasing a child in your life. On this layout, Jodi shows photos of her granddaughter and the florals on this kit fit in perfectly!
This concludes our ideas - we challenge you to think outside the box when it comes to Page Kits. You might be surprised how truly versatile they are!