Yum! We have a sweet scrapbook layout to share with you today. This is a new pinwheel pattern we added to our page pattern collection. It also has a couple of spots for the mosaic style, and there is a variety of different block sizes. I created my page with photographs taken during my sister's sweet 16 birthday trip in New York City. She and my parents went to several different yummy places and I wanted to scrap it!
New Page Pattern #126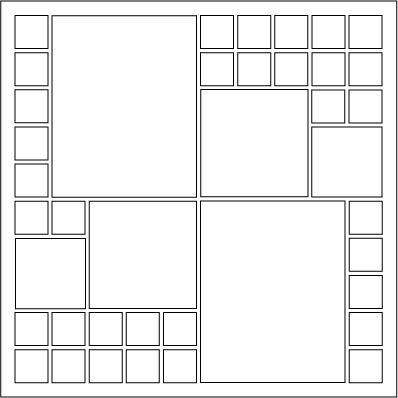 The layout, shown above, is a fun pinwheel pattern, and it's unique since there is not a 2.125 in. square in the center. This time I placed the corners of the large blocks right in the middle. The pattern is also different because the two 3.25 in. squares are much smaller than the two 4.375 x 5.5 blocks (usually all four blocks are about the same size). I like the variety of block sizes. The two large spots are great for portraits, photos of buildings, close ups, and the two 3.25 in. squares a great for detail photos or journaling.
This layout also has two 2.125 squares, which is great for little Instagram photos, pattern paper, or embellishments. Many of you probably use Instagram while on Vacation, so these two spots are great if you want to add them. Don't have Instagram? Use these squares to add Cornerstones.
The rest of the pattern is made up of 1 in. squares. There are two areas on the top and bottom for mosaics. For my page, I used photos of treats from the bakery, but you could place photos of flowers, or textures (like brick, wood, fabric). You can get some photo ideas on our Pinterest board: Great Photo Ideas for Mosaic Moments. Also, along the two 4.375 x 5.5 in blocks are columns of 1 in. squares. You can use a photo or pattern paper in these two areas. I thought these were good spots to add pattern paper and stickers to spell "Sweet Treat".
A Sweet Scrapbook Layout: Get Viewers Drooling Over Your Page
I absolutely love mosaics for photos of candy and treats. These photographs are very appealing since they are colorful and add texture. I love the shot of the macaroons since they are cute and colorful – I knew I was going to turn it into a mosaic when I first saw it!
An important part of a bakery page is getting a few different types of shots. Get some photos of all the rows of treats (example shown on the bottom left of my page). Plus, get some close up shots of some of the treats that look the most delicious – it's nice to get a close up of the one you actually purchase too. You want your viewers to drool when they see the photos, so take them up close!
Bonus: Bakeries are the cool thing right now. There are so many cute shops, so take some photos of the store as well. Most of them have an adorable sign and use cute tables, chairs and colors. This is a great way to remember the atmosphere.
Items Used for "Sweet Treat – New York"
Here is a list of items and products I used with my sweet scrapbook layout:
I have one more comment about my layout: You may notice the journaling around the edges of my page. I wanted to list all the bakeries my family went to so they could remember. I didn't have enough room within the grid, so I added it to the outside. Keep this in mind when creating pages – there is always room to be creative with journaling. Thanks for stopping by!