The next big thing on the scrapping calendar is fall layouts. Yes, it's time for all those family events enjoying the fall foliage and the great outdoors before we are cooped up for another long winter. We want you to be planning those warm fall moments to keep you busy scrapping on those cold winter days. We'll be bringing some tips and techniques for fall in the next several posts to help you get the most from the days ahead.
What do you think about when you think of fall? Is it apple cider, pumpkins or multicolored leaves? Is it flannels, wools, or soft quilts? Are there family traditions, local celebrations? Make a list! You might be surprised at how many things your family has going on in the fall! How do you want to remember all those events?
The very nice thing is that there are so many styles and colors that can be applied to your fall pages, you'll never run out of ideas, in fact, you just might have trouble making the decision of where to start and what to try first! I certainly did! There were so many things I wanted to try, let me share just a few styles with you.
TECHNIQUES
Trending: Canvas and Watercolors: an Artsy Style
Having your photos enlarged and printed out on canvas is a popular trend that many printers are now offering as an option. It is a nice artsy look. With that in mind, I purchased a product to print photos on canvas that I tried in a project at Easter, but I was less than thrilled with the results and abandoned the ides. However, I recently saw a greeting card that got that canvas look, by printing on cardstock, so I thought I'd try again!
I used Core'dinations Canvas Texture Cardstock in Ice Cream with a matte premium paper setting to print. Looking at it closely I was impressed at how nicely the color takes to the cardstock in all the ridges and valleys.
The overall appearance is a bit more muted look. The photos are mounted on Bazzill cardstock shades of green, then on our Black 12×12 grid. Page Pattern #25 was used to accommodate four large photos.
The fall cornerstone center is a new color, tropical, and is left totally intact only the backing panel is removed while the square is applied directly to the black grid.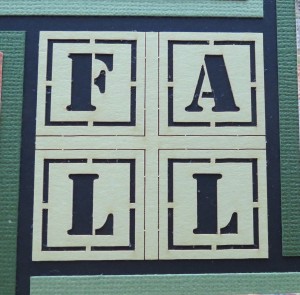 For the outer smaller tiles I used Twinkling H2O's Watercolors to do a few sheets of watercolor styles. There's a bit of gold and copper in the watercolors and it gives a nice shimmery rich feel to the page. Several 1" strips were cut and selected the sections to use in the 1" squares and the 1×2 block sections to compliment the photos.
Traditional: Leaves and Quilts: a Homespun Style
The next photos are from an outdoor Pioneer in the Park event held annually in our County. The old timey event and abundance of leaves and color drew me to an old quilt patterned paper for inspiration. Beginning with a 12 x 12 Ivory Mosaic Moments Grid, I've used a large section of the patterned paper to form a vertical border with a few title strips on top.
For the top left and bottom right corners a quilt tile copied directly from the patterned paper was made with fall color cardstock squares.
The nine patch quilt patterns were perfect for the corners here; in fact the Mosaic Moments grids are perfect for doing quilt patterns as a part of the design! Our photo corner tiles in the regular and now large size will come in very handy streamlining this pattern. Hand stitching with matching fine tip markers is added for a more authentic look.
The center column of the page allows for three 3×4 block size photos and a 1" strip of color where an ivory date strip was used. Because it matches the color of the base grid it almost floats, or looks like it's been cut out of the green.
A large photo in the third column balances the large border section of the first column and brings in a lot of color and close up detail of the ears of corn; I love the swirls of color variation in the individual kernels of corn that you can easily see in this oversized photo.
For this historic event this homespun look is in keeping with the photos.
I remembered, after the fact that I had also played around on Cropdog.com with these photos last fall and pulled out that layout to compare then and now. I found it interesting that I had used a nearly identical layout!
TIPS
Tip: Start with what you already have. Look through old scrapbook papers that you've accumulated and see what catches your eye and gives you inspiration. Incorporate it into your next layout, a little will go a long way!
Tip: Don't forget that even plain cardstock is very versatile and goes a long way in a design.
Tip: Specialty papers add interest
Enjoy scrapping your fall layouts, be sure to check back again for more on this subject in the days ahead.
Andrea Fisher