Fall is just around the corner! I really love the autumn season, and can't wait to get my sweaters out. A few years ago my family and I took a trip to the Shenandoah National Park. The fall colors were gorgeous. The photographs of the landscape were perfect for creating a panoramic scrapbook page. Of course Mosaic Moments™ is fantastic for panoramas since you can blend multiple photographs together.
Pattern for Creating a Panoramic Scrapbook Page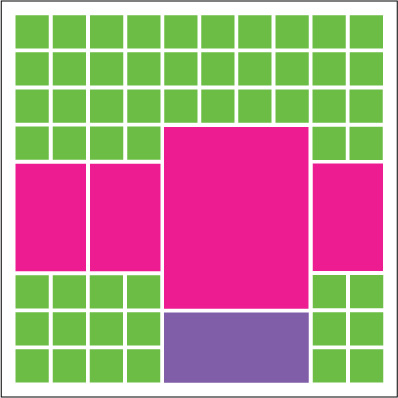 Quick Note: The image above is color-coded for those of you who have the new Mosaic Moments™ dies. We are currently working on the Mosaic Moments Patterns gallery that will show more images like this one. So while you are waiting for the gallery to launch, I will be making the patterns with colors. This pattern would use the 1 in. grid, plus sets B and C.
This is a mosaic pattern with 5 blocks. This layout has two sections for panoramas. For the top half you will need at least two 4×6 photographs (or if your photos are portrait orientation you will need 3 photos). For the bottom half of the page, you will only need one 4×6 photo to fill in the 1 in. square areas.
The center row of this page has one 4.375w x 5.5h block, and three 2.125w x 3.25h blocks. The larger block is the focal point of this page. Place your favorite photograph or one you feel needs the most attention in this spot. The other three blocks are great for little portrait or detail photographs. For my page I placed portraits in these spots to show who was on the road trip. If you don't have portraits, show photographs of animals you saw, close ups of flowers and plants, or other details.
The bottom row of this layout has a 4.375w x 2.125h block. This is a great spot for a title or other journaling.
Materials to Create this Panorama Layout