Libby's Baby Shower

It's time to pair up another set of patterns from the Pattern Gallery! This time we are featuring the Point the Way Die set and our Lilac Grid Paper, it's a nice fresh color for all your spring layouts. I'm also going to be using the filmstrip die so our search will include patterns that will accommodate both dies. Because the Point the Way Die includes a 1"sq and a 1×3 die, if I can also find a pattern with either or both it would be beneficial.
I've whittled my choices down to these:



These three patterns all have a central square and multiple 3x5spots in which to use the featured die. Only one includes a 1×5 spot in which to use the filmstrip die.



These two have a diagonal series of squares, spots for both dies and several 1" square. Visually I wanted to have the diagonal on both pages to run into a "V" shape so I used a mirror image of Pattern #214. It helps to carry your eyes from one page to the next.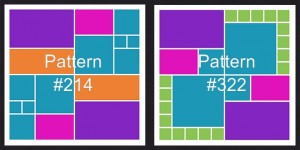 Initially I thought I'd go with one pattern from each set, but the more I thought about what would work with my photos and the way I wanted to embellish I decided on these two: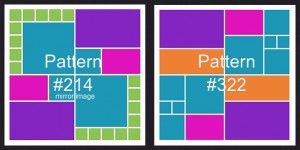 My pattern choices leave me several options for the dies and now it's up to me to customize according to my photos.
The photos for the layout are from my daughter Libby's baby shower for Emmi. It was held at a hall downtown that used to be a theatre where the décor reflects an art deco style theatre, so we went with that theme in our invitations and decorations, and Libby just happens to be a real film buff of old time movies so it was a good match. I've tried to keep that in mind as I completed the page.
The 1" border on the first page is achieved with the 4"x 6" die of 1" squares and the Cornertiles die to mimic the iconic clapper board border. On page two I've filled my 1" squares with the 1" die from the set and showed a way to create another arrow within the pattern using two dies and two colors.
I tried the 1" die for a portion of the border but I didn't care for it. Had it been a straight section of border and not a wraparound it might have worked better.
The film strip allows me to add several photos of the event and of course fits perfectly with the movie theme.
The Point the Way die with a cardstock fill allows for a place to make note of the people in the photo. Others are fit with photos cut with the die.
These two pages cover the cake, food and people while an additional page holds all the gift opening photos. My color combinations including the grid are drawn from the cake and movie theme.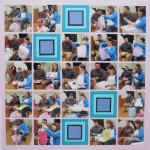 Try out some new patterns this week as you try out your new dies. Hope we'll see the results on our new Facebook page Crop & Share: Mosaic Moments. See you there!
Andrea Fisher