Be Inspired by Lewis Carroll's tale: Alice in Wonderland
Alice in Wonderland began as a story first told to children of close acquaintance to the author. Later it would find its way to paper and the hearts of children and adults alike. Written at a much simpler time, when to be a child with an imagination and innocence to enjoy the whimsy and wildness of a tale of nonsense was far more common than children today with all our technology and gadgets come to life from another's imagination. While all the modern amenities have a place, the loss of innocence takes a toll on society.
These Literary Challenges Tami has been giving us this year are providing us all with a new pair of glasses to see things differently and to bring more meaning to our scrapping instead of just documenting a day, a time, a place, like we may have always done in the past. This will bring more interest to our pages and stimulate our creative juices. This month we are to be inspired by Alice in Wonderland.
Whether you have read the book or are more familiar with the various stage and movie presentations, no doubt you will have certain images pop into your head right away. Maybe you begin with those ideas and develop from there; maybe you try something a bit more adventurous as there are so many options to choose from this story. After all, the story is about Alice's adventures!
Characters:
This is a list of a few of the main characters from the story: Alice, the Playing cards, Caterpillar, Flamingo (used by the Queen to play a game of croquet), Mad Hatter, White Rabbit, March Hare, the Cheshire Cat, Queen Of Hearts, and Tweedledum & Tweedledee.
These are a few items associated with each one that may spark an idea to scrap:
 Mad Hatter: over sized hat (hats, fascinators, baby head wear, ball caps, The many 'hats' you wear)
Tweedledum and Tweedledee: [Noun. two persons or things nominally different but practically the same; a nearly identical pair. (any twins? A best friend who is a kindred spirit? )
White Rabbit: wears a waistcoat, carries a watch, "Oh dear, Oh dear I shall be too late." Or "I'm late, I'm late for a very important date." (fashions, time, clocks/watches, special dates?)
March Hare: the host of the tea party, "un"birthdays (special moments that aren't "official" but turn out extra special…)
Caterpillar to a butterfly: any transforming event: faith based event; growth stages: baby to toddler, teen to adult, Life changes: single to married, married to widow, young to old, kicking a habit, achieving a life goal, graduation.
Flamingos, birds that are used in the croquet game as mallets. Do you have something you use for a purpose other than what it was created for? Do you play sports like croquet or bocce ball in a family gathering? Capture the fun on a page!
The playing cards: They are loyal servants as well as guards for the Queen of Hearts. The spades are gardeners, clubs are soldiers, diamonds are courtiers, and hearts are members of the royal family. Who are these people in your life? Is there a soldier, a nurse, a service animal, a gardener or caretaker that is special?
And of course Alice and the Queen herself!
Icons and Images:
Cake (the "eat me" cakes that made Alice grow and shrink)
Tarts (stolen from the Queen of Hearts)
Direction signs (the Cheshire cat confuses Alice about directions, after which she reaches the Mad Hatter's party)
The Tea Party, Tea cups and Tea pot
Key (used to open doors when she falls down the rabbit hole)
Rabbit Hole
Tear drops (when Alice is twice her size, she begins to cry and a pool of tears is created)
White Rabbit's watch
Mushroom (on which the caterpillar was seen)
White roses painted red
The croquet game
Quotes:
A quote from a story can give you an idea for a subject to photograph and develop. Our Pinterest Board will have more quotes, but here are a few you might like to build around:
"I can't go back to yesterday because I was a different person then."
"Begin at the beginning," the King said, very gravely, "and go on till you come to the end: then stop."
"Would you tell me, please, which way I ought to go from here?""That depends a good deal on where you want to get to." "I don't much care where –" "Then it doesn't matter which way you go."
"Curiouser and curiouser!"
"If you don't know where you are going any road can take you there"
"No wise fish would go anywhere without a porpoise."
"What a strange world we live in…said Alice to the Queen of hearts"
"Imagination is the only weapon in the war against reality."
"You're entirely bonkers. But I'll tell you a secret. All the best people are."
"Everything's got a moral, if only you can find it."
And from the Disney version a ditty oft repeated: – "I'm late! I'm late! For a very important date! No time to say hello, goodbye! I'm late! I'm late! I'm late!"
Typography/Fonts:
There is a font 'Alice in Wonderland' that is inspired by Tim Burton's version and is available for free download here, however, I find it a bit edgier than my idea of a perfect font for the story, I want something a bit more fairy tale-like, so I thought I'd include a few other samples, some are free others are not, but you'll get the idea and you can search through your own stash of fonts and try them out. I opened a page in WORD where I printed Alice in Wonderland out several times and just changed each to different fonts from my collection (I'm sure you have one too!) to see what I liked. To find these suggestions to download just Google them!
Not only does a font have to work with the story type, but also the layout you are doing. A font for a title can be fancier, but a font for journaling must be easy to read, pick what is best for you.
Here are a few samples of my favorites: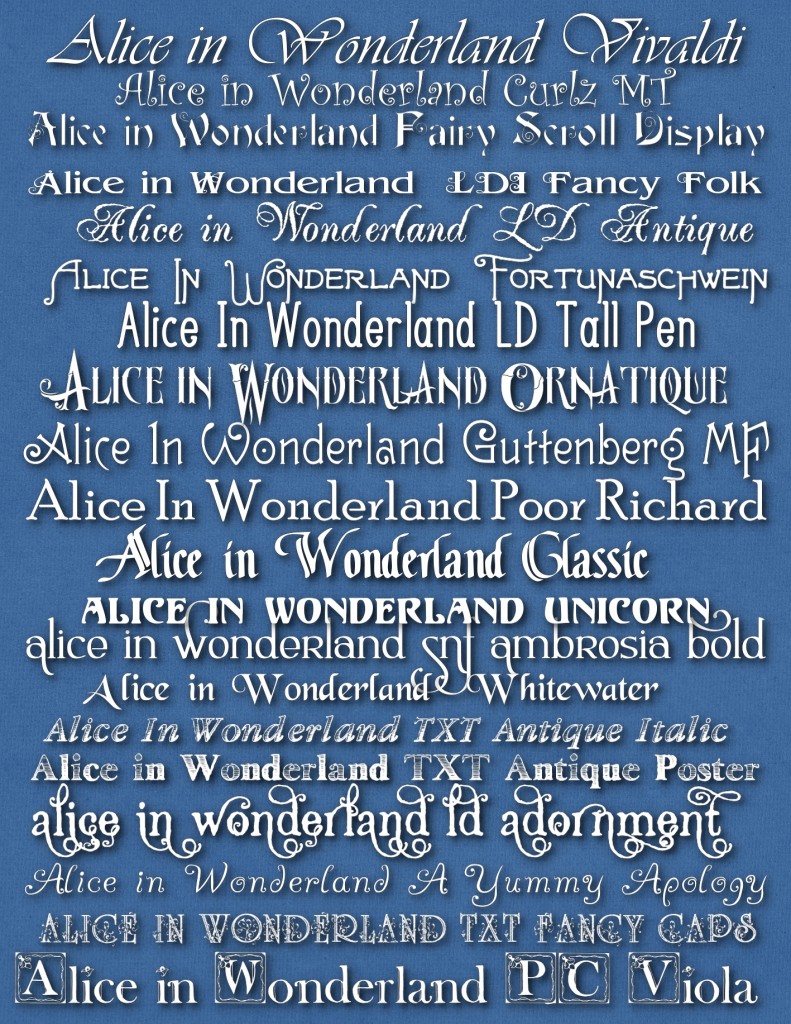 Colors:
Back in February Tami gave us the "Become the Queen of Hearts" Challenge where we were to incorporate hearts. When given that assignment, my mind went right to the Queen in Alice and the color scheme of red, black and white.
It isn't the only color scheme you can find in Alice…as the outfits of the characters and their settings provide tons of choices. Aside from the Queen of Hearts in red hearts, red roses, playing cards, there's the Cheshire Cat in shades of purple and Alice in classic blue and white.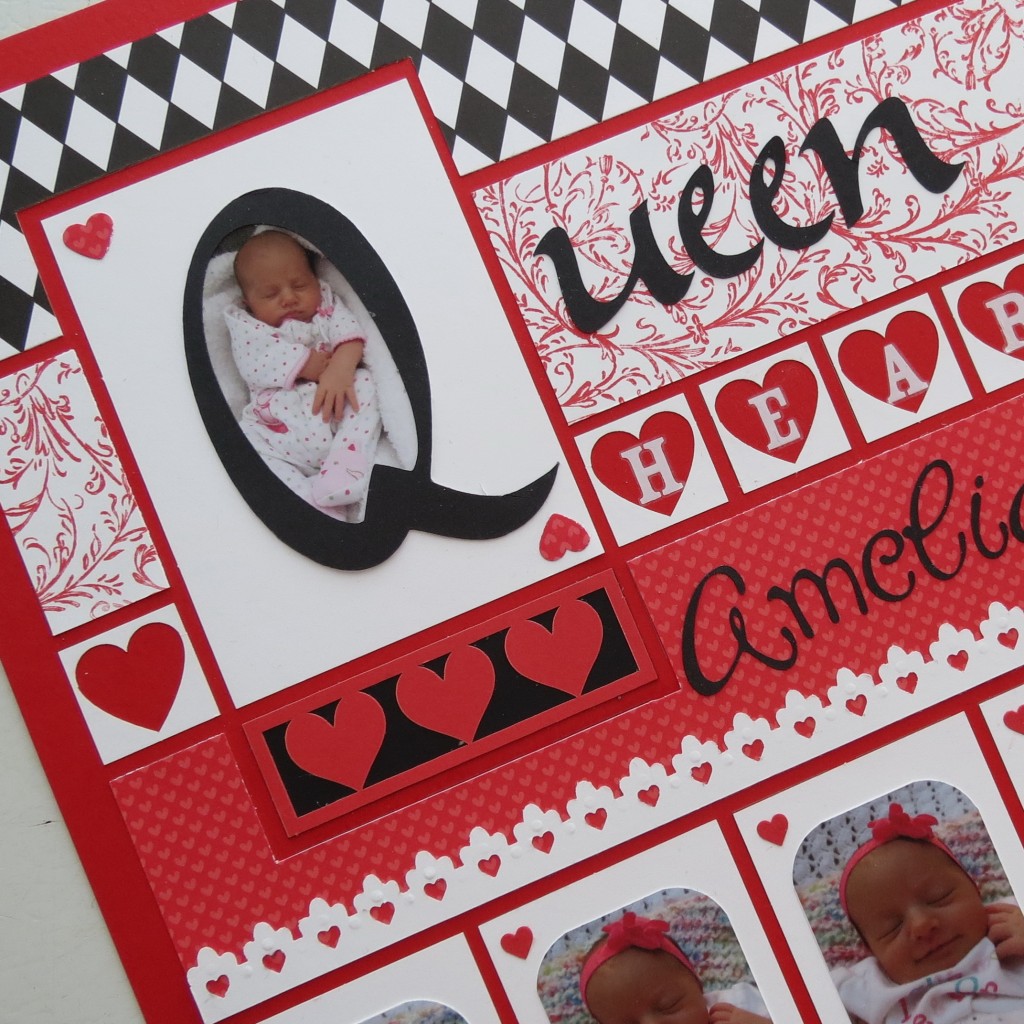 You can see my Journella challenge and more details HERE. The elements I have used in the layout do include the color theme of red, white and black; the images of playing cards as photo mats and hearts as accents, trims and titles; The character of the Queen of Hearts as my title and subject; and the black and white paper to suggest the chessboard in "Alice Through the Looking Glass."
Elements/Design:
Because this is a literary challenge, the design of the book, in its borders and flourishes can become elements you use for embellishments. The scroll-work in the borders is often very ornate and can be something to dress up your journal blocks and pages. Incorporate elements from the story like hats, and flowers, mushrooms and tea pots in unique ways like tags, journal blocks and brads.
For this Alice in Wonderland Challenge, I have put together a two page spread. Let me tell you a little about what I chose to use and why.
PAGE ONE
I began with a large photo panel with a quote from the story, in several of the fonts I suggested. For the title/quote, Fortunaschwein; Lewis Carroll in LD Tall Pen; and book title in Guttenberg MF. On each of the fonts I picked a color from within the photo to be the font color and then chose a golden color to outline each letter to mimic the china's gold trim. The journaling was done in a shade of brown and the font was Poor Richard. The teapot image was a shade of green that I took down to a 20% tint in Print Shop 20. The photo was of my own tea set and edged in gold ink.
PAGE TWO

For the journaling on page two I printed the teapot image and then printed the journaling on top. I divided the sections and then mounted each to the inside edges of a paper tile that I had run a line of metallic gold marker on the outer edges only so that once together the journal section shows a gold mat below. The four photos in the corner are each mounted on a white paper tile with the metallic gold edge. This gold edging was to work to repeat the gold in most of the tea cups. A photo of each individual appears next to their tea cups.
Embellishments on both pages of key holes and keys seemed a perfect inclusion to relate to Alice's story, but also the idea that each key would unlock a story.
In the end, I used only a few points from the Inspiration Story, but they were ones that worked well with the topic I had chosen. The end product was one that I didn't feel had been forced but represented the history of the china cups well. I suppose I could have labeled this article more accurately with the title "I'm Late, I'm Late, for a very important date!!" because of how long it's taken to finish, but it's now complete! To see more of the details of the page and the story behind it HERE.
Stop by our Pinterest Design Board Alice in Wonderland for more ideas, but I hope this will give you a few things to spark your imagination for the Alice in Wonderland Inspiration Challenge. I can't wait to see what you come up with and be sure to share with us on Journella!!
Andrea