Depending on the type of summer vacation you are planning you might spend more time working out details of how far you will travel in a day, where you will stay, what you will see while you are at that stop and maybe even pick out some great eateries to visit. If you are staying close to home you may have a few 'spur of the moment' road trips plans that will develop as you explore the open road.
Then the fun continues once you have your newly printed photos of the trip in your hands and you are ready to scrapbook! Now, you have a story to tell…how do you get that summer vacation down in pictures and include the story? Let's see if a few of these tips will help.
First, like most scrapbookers, you will tell your story in pictures. Planning for the types of pictures (like a panoramic) or beautiful flowers along the trail (close-ups and macro shots) or maybe even a sandy shell-strewn beach or cobblestone road (texture) are things to add to your list of pics to take.
You will want to remember to take pictures of your subjects in both a horizontal and vertical orientation to make it easier to include in the patterns you might choose to work with when you scrap.
Then there's scale to consider. At times it's difficult to grasp how big or immense, something you are shooting is, without having something or someone in the photo to compare it to. When you tell your story, you'll want that to be a big part of your page with big, bold photos.
Then, be sure to take lots of photos…and I do mean lots. You can always select only the best of the best to print and use.
Second, you will tell your story with details, facts, dates, names, and places. You might consider carrying a small notebook where you can jot down some of those tips to remember, how to spell the places you visit and to make a list of photos of things and places you hope to capture. You can easily get caught up in the excitement of the trip and have things slip your mind only to regret those forgotten details on your return home.
Are you in a town that has some type of street art on display like Buffaloes, Penguins or Moose? This can be fun activity to see how many of the different creations you can capture as you explore the area and create a page documenting your finds, and telling the story of why they have them and what other things you discovered about the town that you may have otherwise missed if you had just driven by.
That note book also comes in handy to write the names, places and dates of where you visited and details from signs or notes about the pictures you took that day. This helps you when it comes time to write your journaling for your pages. You may remember and think you won't forget, but maybe time will pass and you will be delayed in scrapping the memory and when you do, find the details a bit sketchy. It's better to have a back-up plan and a small notebook can be invaluable!
Third, you will tell your story with first impressions and emotions. How did your first glance at the Rocky Mountains make you feel? What was your first thought putting your toes in an ocean for the first time? Did you take a cruise…where were you, what was the food and entertainment like was it better than you expected? Being able to put that on a page in the form of journaling will help to build the story of your summer vacation adventures.
Fourth, you will tell your story by including extras like maps, travel brochures, ticket stubs, and ephemera, (those bits and pieces of interest you picked up along the way that might ordinarily get set aside once you are home), will add a different type of color to your summer vacation stories. Some of these things will have dates and times on them, brochures may have maps and may include a trail you took or even historic details you will want to make note of.
These days we may have the internet at our fingertips to search for info about our vacation destination, but don't overlook stopping at the visitor centers along the highways as you enter each state. You just might find things you didn't find online, that will make a photo opportunity you won't want to miss!
Finally, you will tell your story when you bring all these things together and put it on a page or two or more and preserve those memories in a way that those who will see them will enjoy them and feel like they've been right there on the trip with you.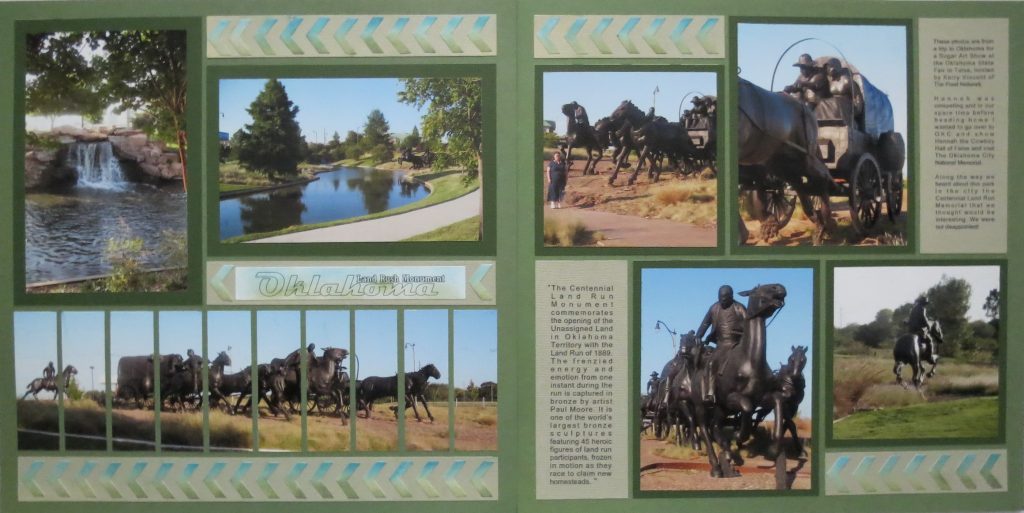 Land Run Memorial
The page I share with you today is from a trip to Oklahoma for a Sugar Art Show at the Oklahoma State Fair in Tulsa, hosted by Kerry Vincent of The Food Network. Hannah was competing and in our spare time before heading home I wanted to go over to OKC and show Hannah the Cowboy Hall of Fame and visit The Oklahoma City National Memorial. Along the way we heard about this park in the city the Centennial Land Run Memorial that we thought would be interesting. We were not disappointed!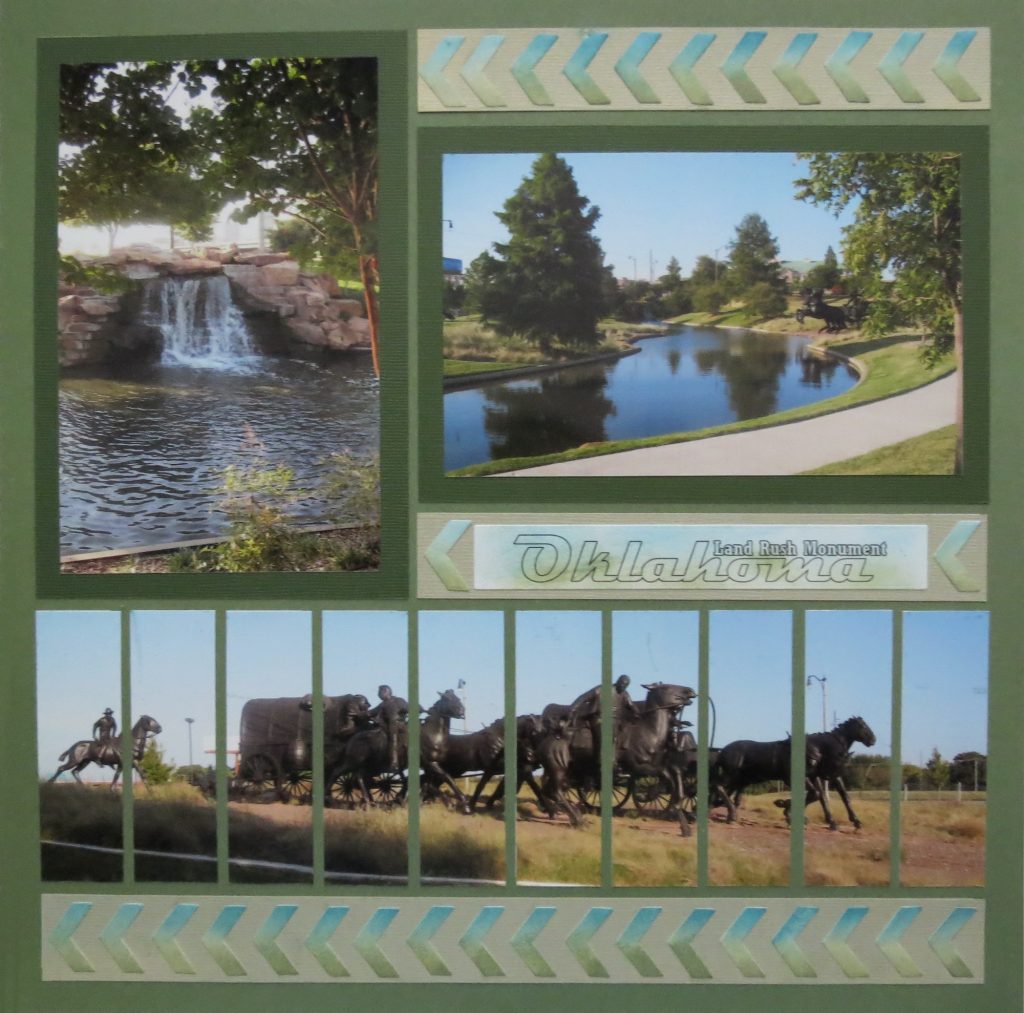 The photos used on page one includes a portion of the Run in a panoramic strip across the page. I used 3 of 7 photos I had taken planning to use as a two-page spread, but there were many other photos I wanted to include I decided to keep it on one page. Included are a few photos of the park overall, and then a few close-ups and one to show the scale of the monument pieces by including Hannah in one shot.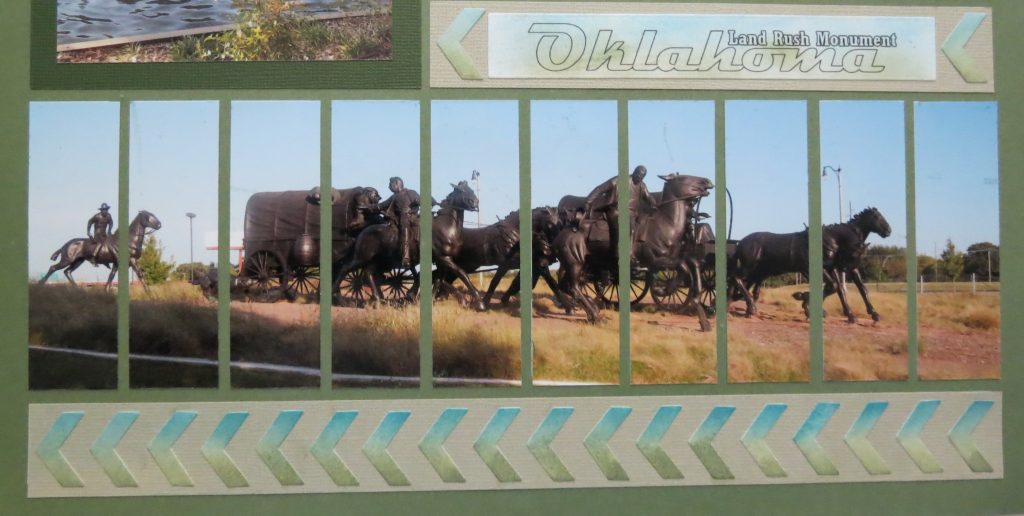 I've used the individual chevron portions of the Action Die set for embellishing my page and fit them on the 1x sections on both pages. I decided to ink blend strips of white cardstock with coordinating inks before cutting, then used the 1×3 die section for the proper placement on each strip.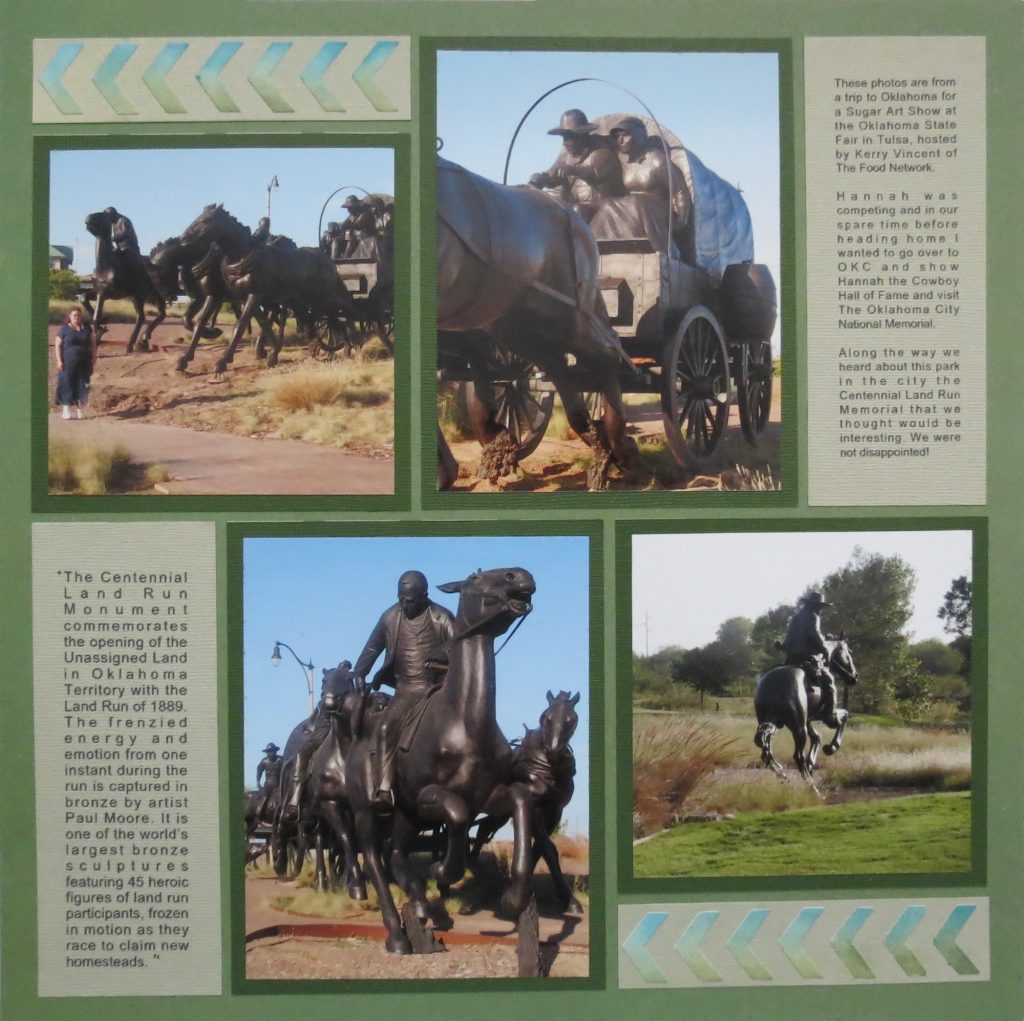 My journaling is printed right onto the cardstock 2×4 section. One section is copied from the website and fills one section of the journaling blocks. It has the details about the Land Run Monument. The second section contains my own portion of the story.
For the title, I printed an open face font on photo paper and then used Tim Holtz distress inks to blend the same colors used for the Chevrons onto the title. A 1×6 section was cut and became the spot to mount the title cut with Basic Set E, an added chevron at the front and back finish it off.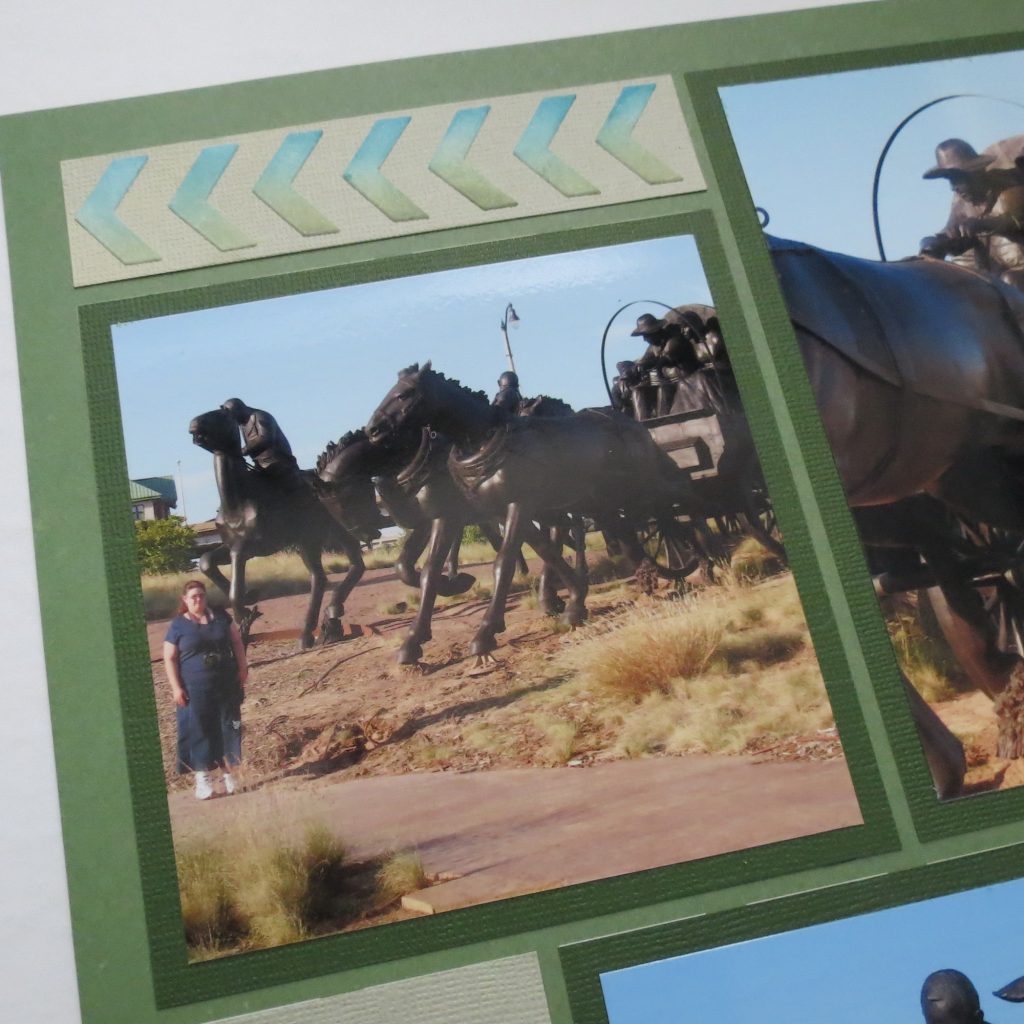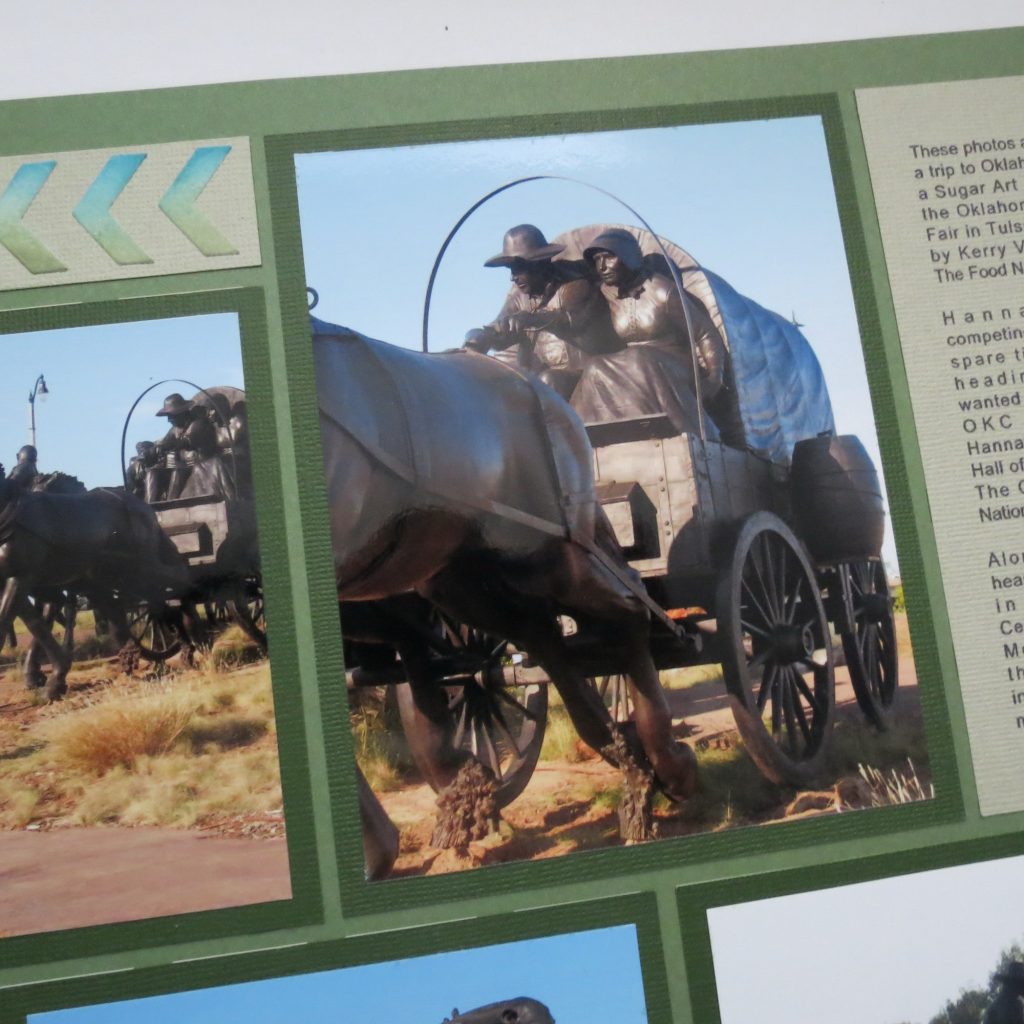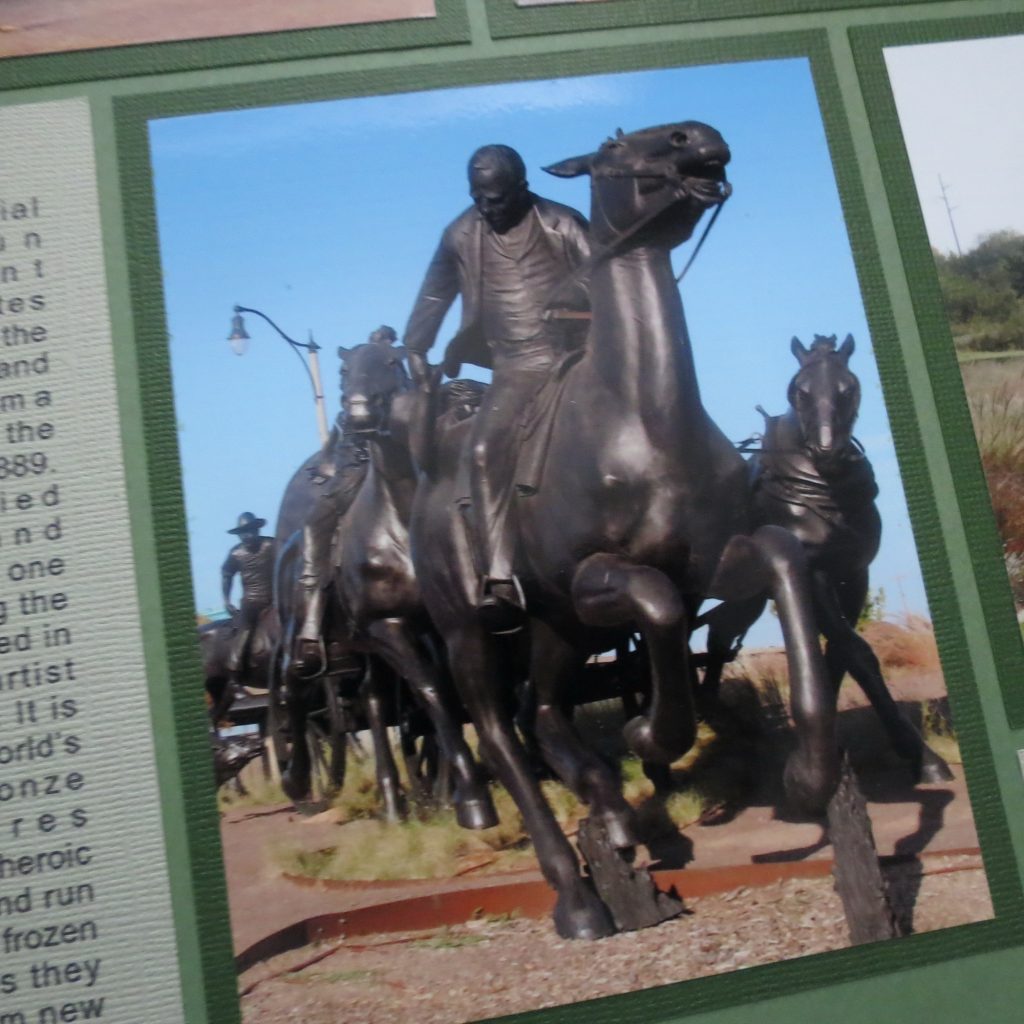 I've put off scrapping these photos for years, just waiting for just the right way to pull a layout together. I remember the day being hot and dry, all I could think of were desert colors, but a portion of the park is so green and lush! I was pleased to see how the Meadow Green from the Trailblazer Grid Collection worked with the Forest Green mats and Otter strips to bring the pictures to life. Inking with Tim Holtz inks in Bundled Sage and Broken China to blend in with photos complete the page. It finally came all together for me!
The patterns I used were #261 & #334. I turned pattern upside down so that I could have my panoramic section at the bottom of the page.
I hope you'll be prepared for your next summer vacation with a few of these tips in hand. Be sure to share the results with us on Facebook!
Andrea Fisher