Many of you take epic vacation and travel photos during the summer across the globe.
But, what about the memories for when you are staying local?
We have put 12 photo ideas together for "WOW" summer pages. You don't need to go on a major vacation for great layouts - you can take amazing shots right in your own town or state!
---
Flowers are pleasing to the eye. They add seasonal texture and beauty to your pages.
Go around your neighborhood or town and get photos of the local foliage and flowers for a "wow" summer page like Jodi did.
Look at how gorgeous the new Bloom Die Set looks on Jodi's page! Twilight is the 12x12 Grid she chose from the Ombré Grid Collection.
Does your state or town have an iconic spot?
Icon spots are usually eye catching and include something of interest or a good design element.
Here's a photo of Tami and Kevin at one of the "Love" signs located throughout Virginia.
Paije chose Rain Grid Paper from the Lazy Days Collection and The Diamond Ring Border.
Take some shots of your town to create those "WOW" scrapbook pages like this one.
Every state has at least one college.
Visit your nearby university and take shots of the buildings, signs, landscaping, and architecture.
The buildings usually include interesting architectural design and textures like the brick designs here. The surrounding areas are professionally landscaped and there are usually statues and great photo spots. That all makes for excellent looking scrapbooking pages.
Jodi used the Strip Frame 3x4 Dies on Rain 12x12 Grid for her layout about her local college, William & Mary.
Take photos at your favorite scenic spot in your area!
Find the nature spots in your area and take some shots of the landscape. There are plenty of textures, colors, nature and different sites where ever you are to create the awe-inspiring summer scrapbook pages like Paije did here.
Paije took shots that included the sky and horizon, the water and sand, as well as close ups of the foliage and wildlife she spotted.
All of these elements make her layout a "WOW" scrapbooking page. She used 12x12 Sea Glass from the Nantucket Collection for her grid background.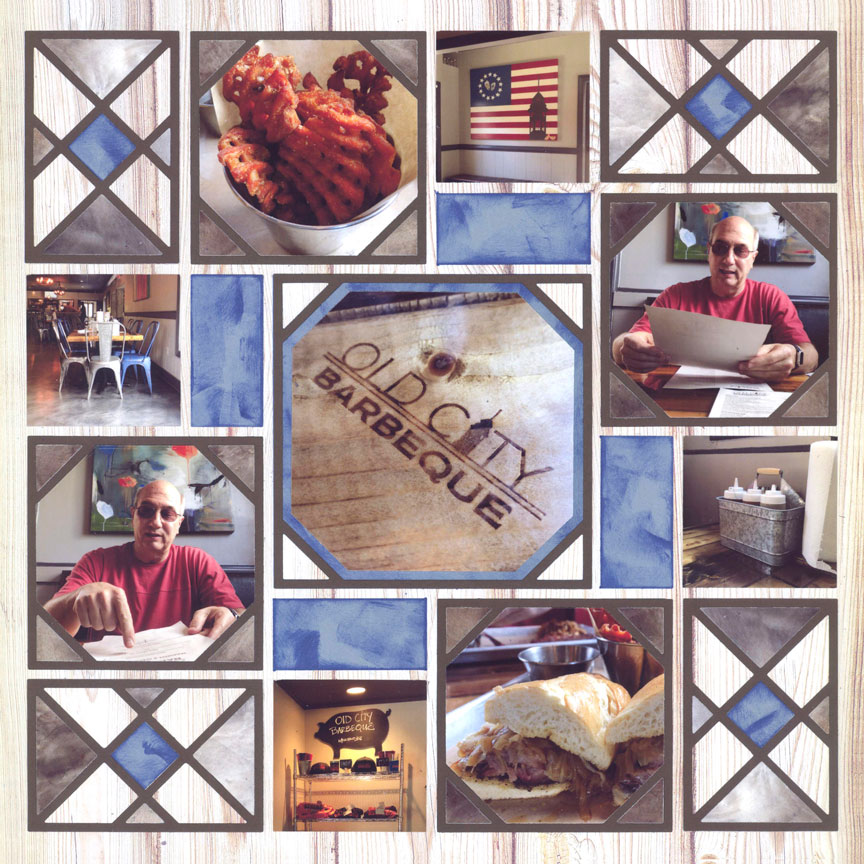 "Old City BBQ" by Paije Potter - Pattern #340
Is there a local restaurant that you love?
Take photos next time you are there. Remember to take shots of the building, decorations, the sign , the people you are with, the food, and any thing else that strikes your eye.
All of these photos will help make your scrapbooking go from "eh" to "wow".
Paije used Bleached Wood 12x12 for her grid and the X Factor for her dies. I love how she used the Bleached Wood and blue pattern paper to fill in the 2x3 X Factor design spots!
It's that special little touch that makes her page say "WOW"!
Go to a local nature park - don't forget food for a fun picnic!
The local park is a great place to make wow summer scrapbook pages. Take photos of the landscape and your favorite people like Lauren did here.
Lauren also picked a mosaic style pattern  and used a cute rustic patterned paper. Her grid is Meadow Green which looks perfect for woody park pictures.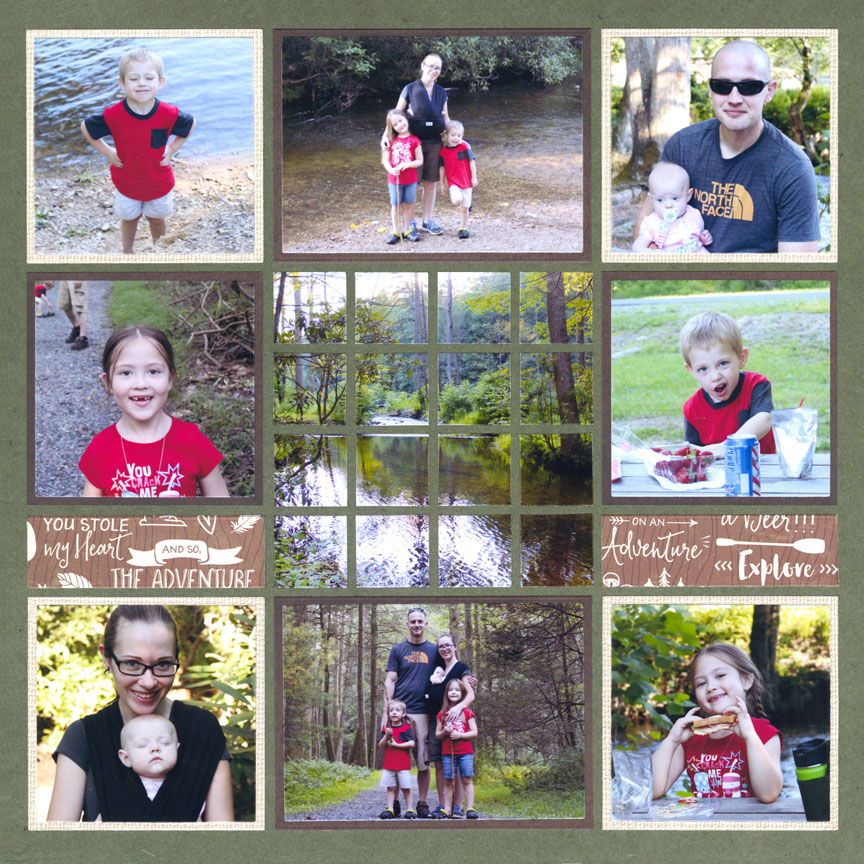 "Caldonia Hike" by Lauren Jones - Pattern #487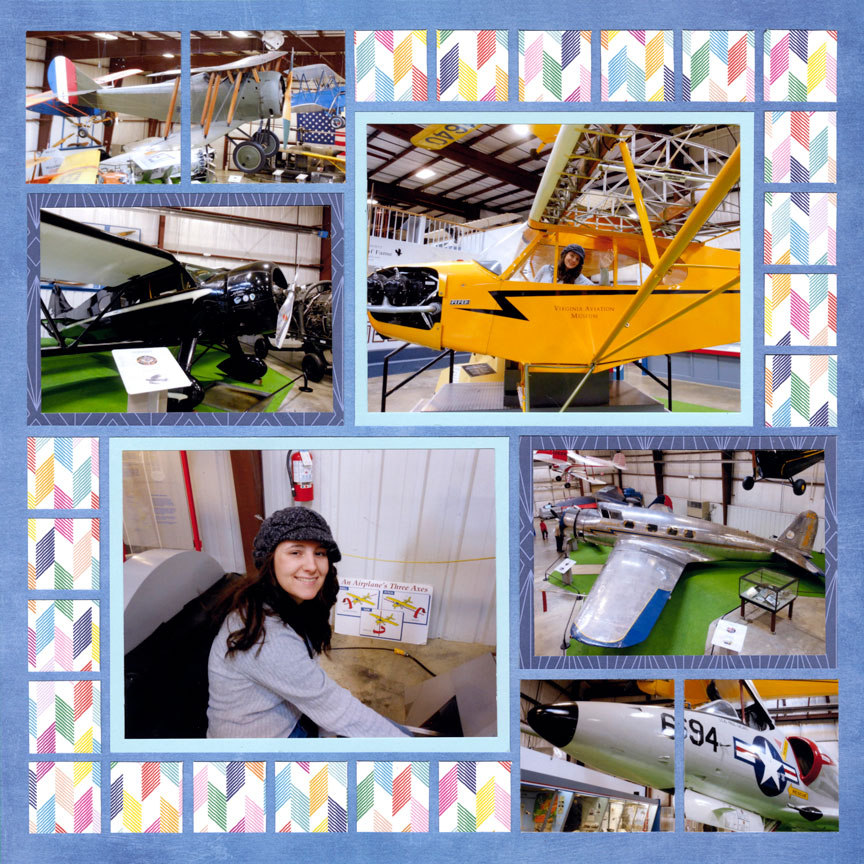 "Virginia Aviation Museum" by Paije Potter - Pattern #570
The local museum is a terrific place to take photos for a wow summer scrapbook page.
Museums are meant to show interesting things to the public - that makes for interesting pictures and interesting scrapbooking pages!
Here, Paije made sure to get lots of photos of the airplanes as well as a great up close shot of herself in the exhibit. I love how she used one picture on two 2x2 design spots side by side together. Wow!
Visit a local farmer's market for wow photos.
Farmers markets have do much vibrant colors and textures. There is an opportunity to get lots of great shots of produce and the people you are with.
Jodi took advantage of her Virginia farmer's market to make this wow scrapbook layout. She used mosaics of tomatoes around her pinwheel pattern. She made sure to get a lot of different shots and colors of produce and photos of the activity around the market as well.
She remembered to get a pic of the sign too!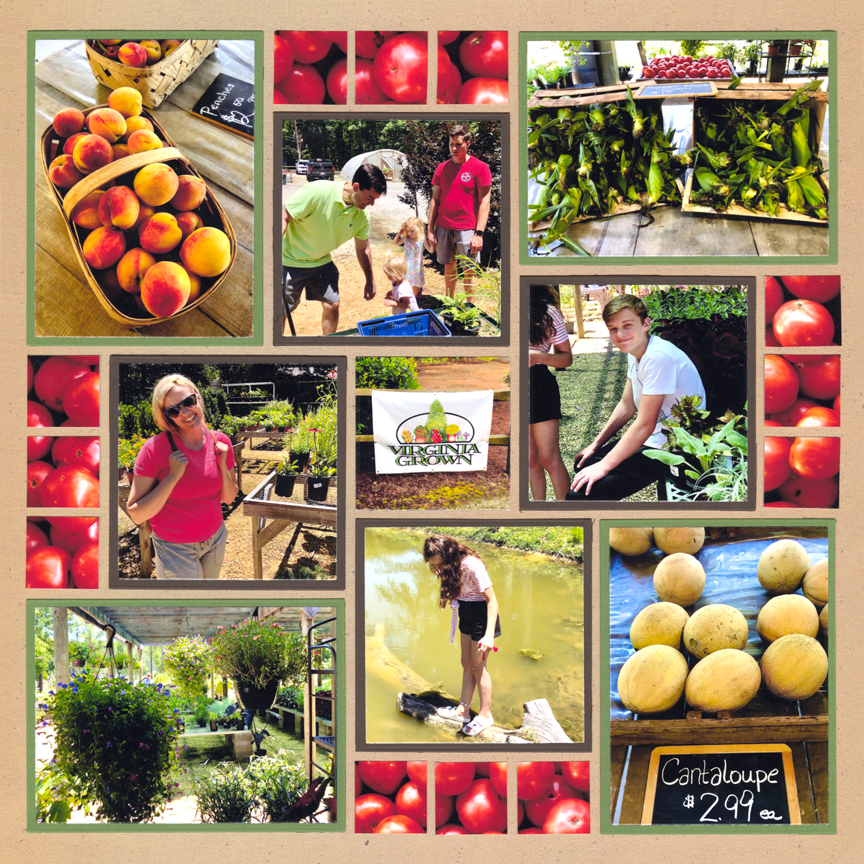 "Virginia Grown" by Jodi Benson - Pattern #576
Go see your town's or state's history!
Many historical sites have perfect photo spots. Here Tami shows you how to make a wow scrapbook page from Colonial Williamsburg.
The gardens and architecture add interest and texture to her layout. The colors and activities she caught on camera give her layout dimension and movement -
Your eye naturally travels around the page.
Another "WOW" Summer scrapbook page!
Go Shopping - or window shop - at cute shops in your town.
You can make a wow summer scrapbook page from your daily life. Stores naturally set up their shops and windows with displays to catch your eye and your interest. That makes for wow photos for your scrapbooking!
Paije put together this page with  Hearts Dies like these. I love how she used dark card stock and 12x12 grid, Olive, and a woodgrain pattern paper in her hearts to really make her photos stand out!
Then she added a bright contrasting pink card stock to mat two photos and now her layout is all "WOW"!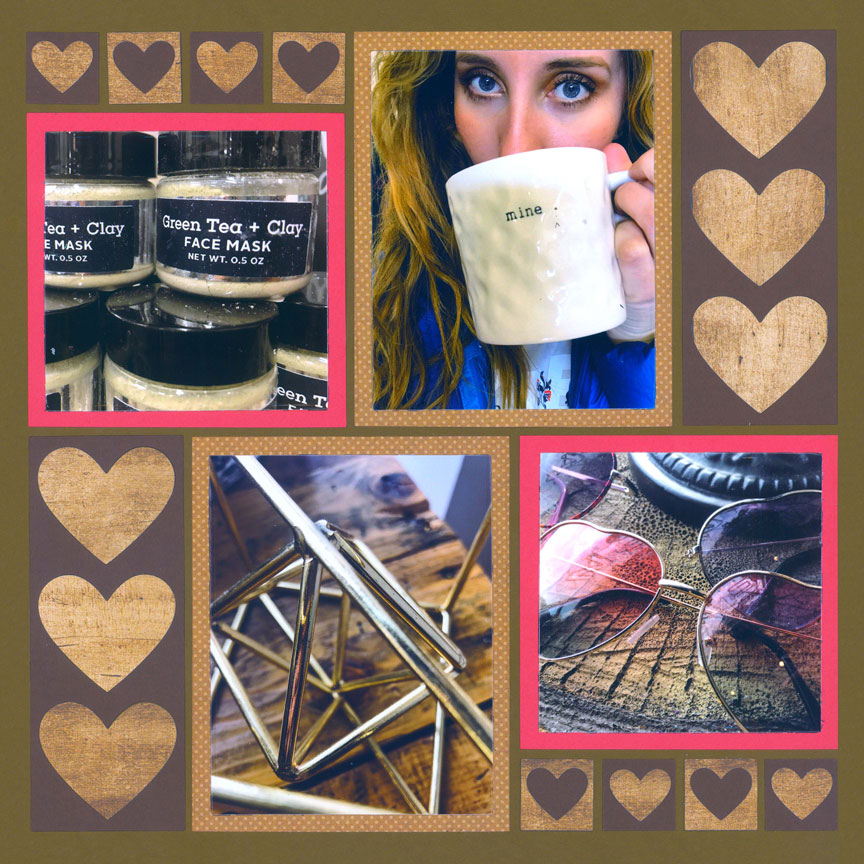 "Olive Ave" by Paije Potter - Pattern #334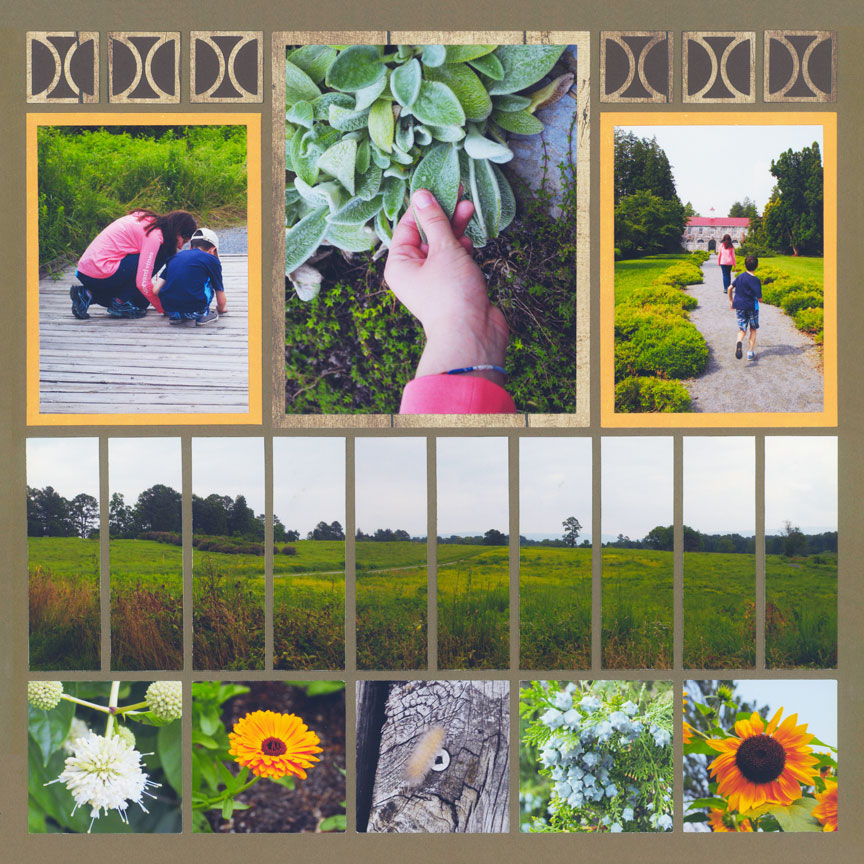 "Lamb's Ear" by Paije Potter - Pattern #315
Visit a local garden or your state's arboretum.
Botanical gardens are a great way to practice your photography skills and create wow summer scrapbook pages.
Everything around you is picture worthy in a garden. Choose your favorite flowers and shots of your family like Paije did here. She used the Half Circle Set on Sage 12x12 grid paper.
The 1x3 Strip moasic really bring the wow factor to this scrapbook page!
Go to a wildlife reserve or go to your local park and take photos of the wildlife.
Animal photos are great for scrapbook pages. There is something exciting about being able to capture a picture of a bird in its natural habitat. Not to mention a wild horse!
That's a wow on its own!
But then Paije created a wild animal mosaic layout on 12x12 Dark Skies from the Trailblazer Collection. The whole layout looks so scenic and peaceful.
"WOW" summer scrapbook page!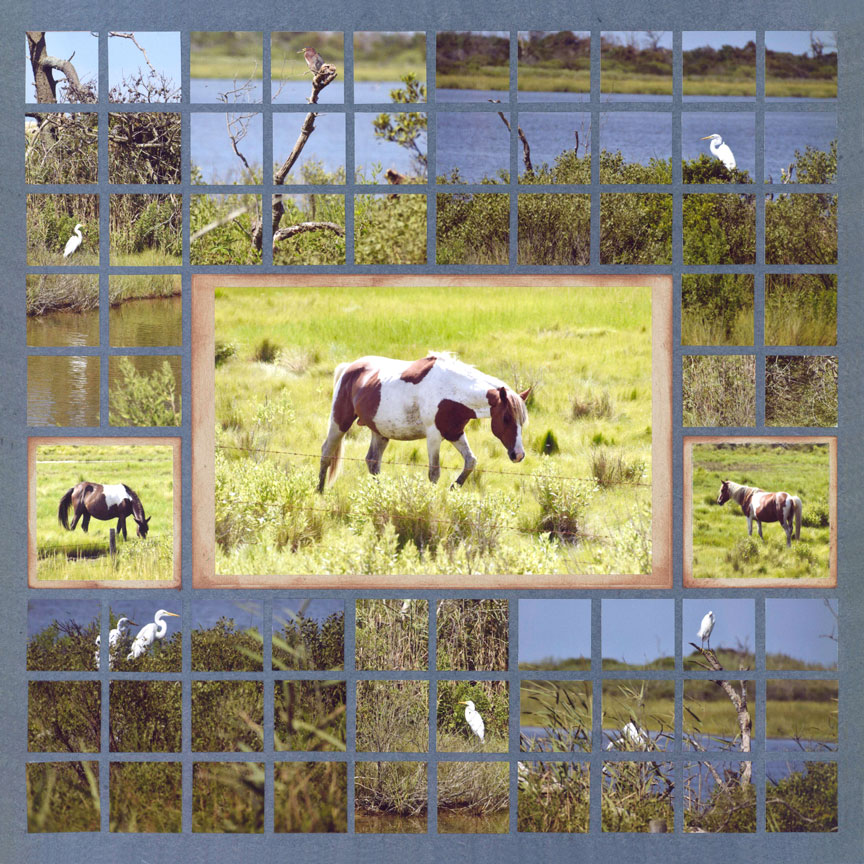 "Chincoteague Island" by Paije Potter - Pattern #271 (re-arranged)