It's Back to School Again!
Theme: Quick
As the summer rushes on and the prep for back to school has invaded our local stores your days are busy with so much to do. Here's an idea for a quick scrapbook page that will allow you to accomplish a lot in a little amount of time. We've covered several ideas for easy scrapbook pages in our recent posts that could apply here as well, but let's take a look at accomplishing a quick scrapbook page, where time is at a premium in your busy life.
SUPPLY LIST:
• 12×12 Mosaic Moments Grid Paper: Cocoa
• Mosaic Moments Die Sets A, B, C, D
• Pattern Paper: "Alphabets" by Recollections
• Embossed Cardstocks: Recollections Aqua, Yellow and Green; Bazzill: Fireball
• Bazzill smooth cardstock: Walnut Cream
• Balsa Wood
• Chalkboard paint
• Tim Holtz Distress Ink: Antique Linen
• Apple punch
• Foam mounting tape, Washi tape, glue dots
• China Marker
Begin with INSPIRATION
An alphabet paper recently found in Michael's was the inspiration for this page. Additionally, there were several cardstock colors, muted primary colors that matched nicely. Together they had a retro feel to them, and I just happened to have a couple of old photos I've wanted to tell a story about…my first day at school!
Choose a PATTERN
Now a pattern was needed that would significantly feature the alphabet paper, two photos, and a journal block. I also thought I'd like to incorporate a chalk board.
Looking through the Pattern Gallery you are able to search by the amount photo spots you need or the pattern style you preferred. Plus there are plenty of beautiful layouts to inspire you!
Both of my photos were vertical photos but one had a lot that could be cropped off and used as a square. Pattern # 174, a column pattern was able to accommodate all my needs. Making one photo into a square gave me the large block for journaling the story I wanted to tell.
Cutting the cardstock for all the spots was very quick with the use of the dies, but would be equally quick and easy with our craft mat and an X-Acto knife, that will be needed in order to hand cut the side strip. Dies made cutting the photos a breeze too.
Tell a STORY
The story was formatted in a text block in WORD and printed directly to cream colored cardstock. Then the layering die was used to cut it to fit the journaling mat. Printing allowed a lengthy story to fit neatly into the allotted space.
So far, things are moving swiftly and there is only one remaining spot that needs attention.
Add EMBELLISHMENTS
This is the only portion of the page that will require a few extra steps. I occasionally like incorporating balsa wood into my layouts and this time it is cut to fit the final block as my chalkboard. The balsa is easy to cut, a rotary cutter, an X-Acto knife or even scissors are likely able to accomplish the same thing.
Washi tape a narrow edge to leave an exposed wooden border; paint the center with two coats of chalkboard paint. The edges of the balsa wood are inked for an aged look then a China Marker is used to write on the board.
You can also make a chalkboard with cream cardstock and either black cardstock or chalkboard paper if you wish; using a corner rounder on the black paper is optional.
So far, the only thing that took a little extra time was waiting for the paint to dry. If you go with paper there's no wait!
What school layout couldn't use an embellishment like an apple? Mine was created with an apple punch and three apples. I used a brown pencil to darken the stem on each. Then I hand cut a couple of leaves and applied to the back of one apple along with a square of foam mounting tape then put the two apples together. It's ready to add glue dots to adhere to the chalkboard. I managed to put the glue dots on the wrong side so that's where my third apple went to…to cover up my mistake! It made the apple look a bit more substantial (that's my story and I'm sticking to it!) Make mistakes work for you if you can.
Now the layout is complete and it was quick too!
If you usually spend lots of time planning and working on a layout why not try one that is quick? The change of pace might just be the very thing you need in the midst of a busy summer. You might be surprised at how much you will accomplish!
WAIT! 
As I finished writing my post, ready to tie it all together,  I was trying to figure out how much time it actually took to put together. For me, I knew it went quick, but what was that in real time without the interruptions, time with the grands, running to the store and back, you know, the normal day…could I guess and let it go at that? No, I wanted to be honest with what I was telling you. If it was quick…let's see how quick it was to do!
So…I set about remaking the page from the start and using my timer/stopwatch to document the time I spent. In full disclosure the story was already written and formatted and a pattern already chosen so that process time is not represented here, but that is such a variable depending on personal habits.
I stop the clock to snap the time of the step being completed. Additionally, I stopped the clock to travel from the kitchen where I set up my workspace for shooting to my studio where I usually work to print the photos and journaling.
Join me now in my version of "Beat the Clock."
The Set-up: Everything to work with was assembled in one spot, it wasn't my normal pattern for working so it was a bit of a handicap in having to think about where something was, but it still turned out to be quick.
My main work space with a second area behind me with additional products for working quickly.
I also left my items to print up on the computer, ready to access to print.
Beginning Time: 00:00 
1. Cut the papers into the sections. Time: 4:38. 
2. Cut mats and attach all pieces to the Grid. Time: 12:18. 
3. Print the photos and journal block. Time: 15:16 
4. Cut the journal block. Time: 16:28 
5. Cut the photos attach to mats. Time: 21:12 
6. Cut the Balsa wood to size. Time: 21:46 
7. Use Washi tape to mask edges. Time: 24:58 
8. Paint the center let dry. Time: 28:36 
9. While the paint dries punch three apples out of red cardstock. Time 29:35 
10. Assemble the apple. Time 33:33 
11. Second coat of paint. Time 35:52 
12. Paint dried remove tape. Time: 39:34 
13. Ink outer edges of wood. Time: 40:19 
14. Attach chalkboard and apple embellishment, add message. Time: 40:32 
15. Page completed. Time 40:32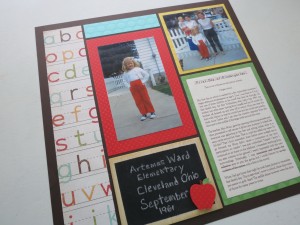 This is a project that you easily can complete in under an hour…so, is that quick enough??? I hope so. You will be more likely to begin a project knowing that it can be accomplished…how's that for motivation? 
Quick! It's time to get Scrapping! 
Time: 00:00
Andrea Fisher
Our Pinterest boards have lots of ideas. Be sure to add this pin too,find it here!