Updated: May 2020
They say a picture is worth a thousand words. But, sometimes we need more to help tell the whole story. This is why journaling is an important part of scrapbooking. Journaling blocks add a little more substance and detail that the photos may not be able to fully capture. But you might be asking, how & where can we fit journaling onto Mosaic Moments® pages? We have the answers! Scroll down to see how you can add journaling blocks:
1. Add Journaling Blocks Where You Can't Fit a Photo
You may find a pattern you really love. Most of your photographs fit, except for one spot! You don't want to leave it as a blank space. Don't worry! This is a great opportunity to add some journaling. Check out our examples below: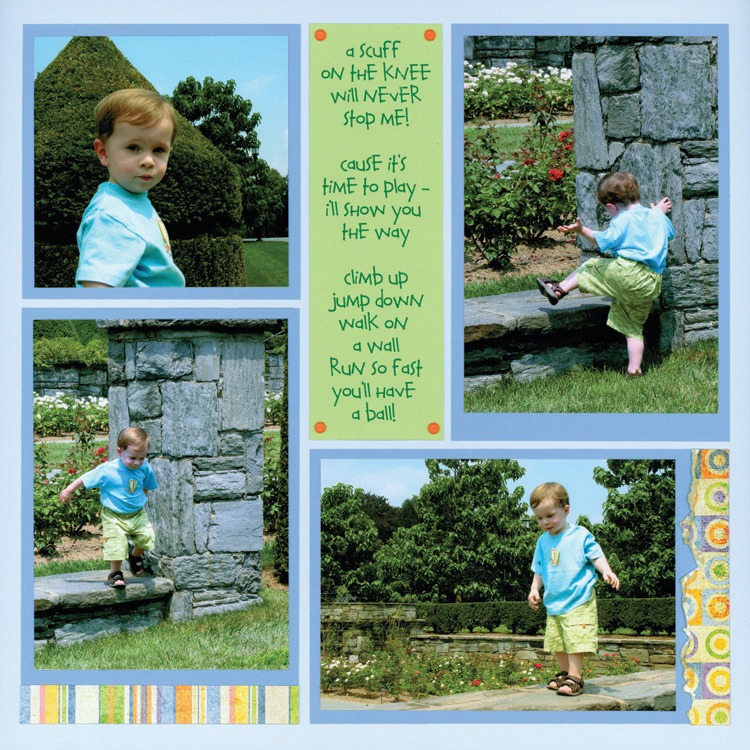 Pattern #257 – Scuffed Knee by Tami Potter
This layout has a long 2×6 strip and most photographs probably will not fit here. But it provides a fun journaling opportunity! Have the journaling go vertically down the page for a unique look from the usual journaling blocks.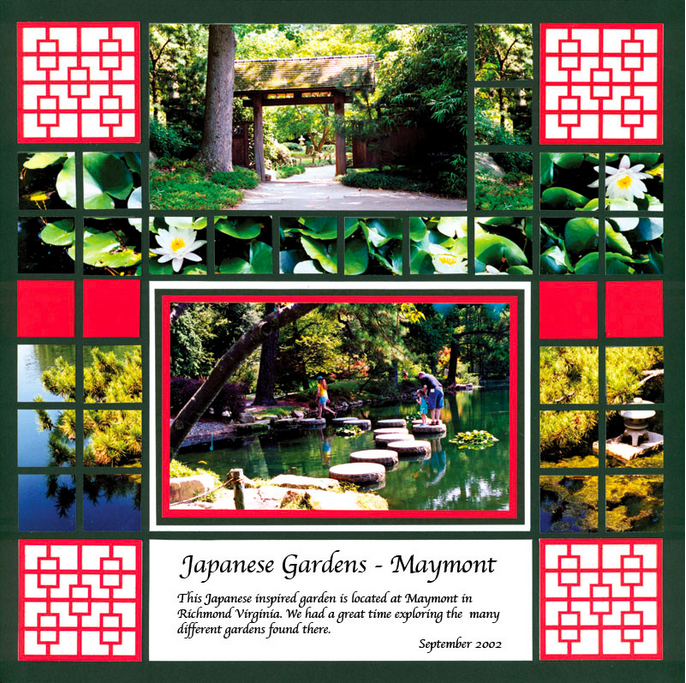 Pattern #126 – Japanese Garden by Sandi Keene
This pattern also has a 6×2 spot that may not fit any of your photos. But, it is a great journaling spot because you can fit a title and you only need a few sentences to fill the space.
2. Patterns for Small Amounts of Journaling
You don't have to use a large design spot to add journaling. Sometimes a little spot is all you need! Check out the two pages below that have very little journal space.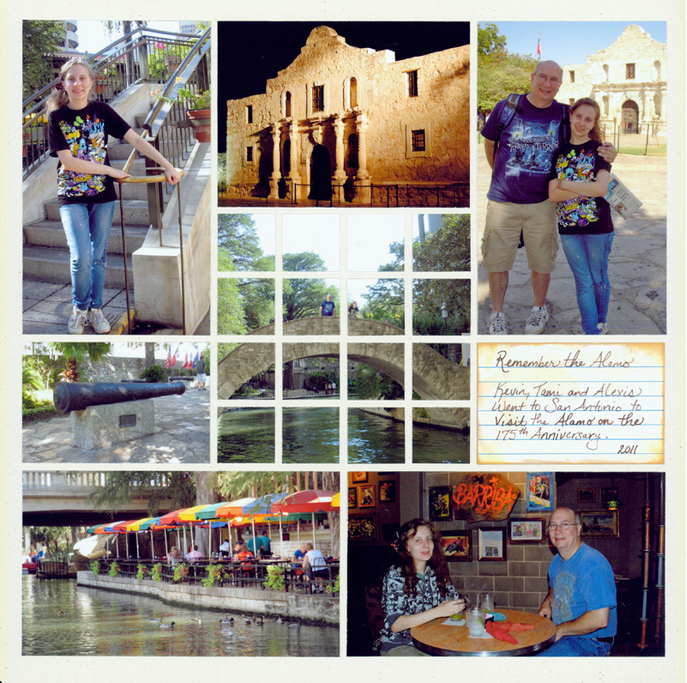 Pattern #154 – "Remember the Alamo" by Tami Potter
Instead of using a photo,  Tami added journaling to the small spot on the right side of the page. Consider using your hand writing as the journaling. This is a nice, personal touch!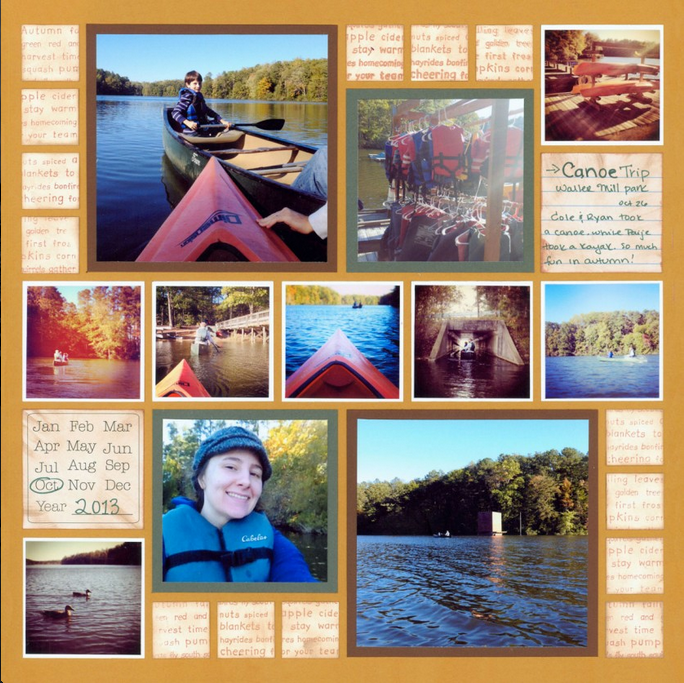 Pattern #175 – "Fall Canoe Trip" by Paije Potter
I wanted to add some journaling to this page, but I didn't want to use any of the large design spots. I also didn't want the journaling to be the main focus of the page – so, I put it on the side as a little tidbit about that day.
3.  Using the Journaling Block as the Focal Point
Sometimes you may want your journaling spot to be the most important part of your page. Here are a couple of great examples where we put the journaling blocks right in the center of the layout: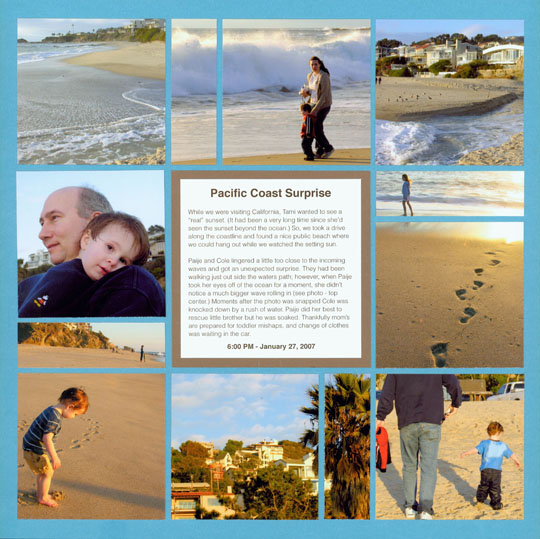 Pattern #100 – 'Pacific Coast Surprise' by Tami Potter
This is a nice pattern for when you want to tell a story. You can create a sequence of events with your photographs in the outer design spots. Since the journaling is placed in the center it grabs your attention the most and it emphasizes the importance of reading through the whole story.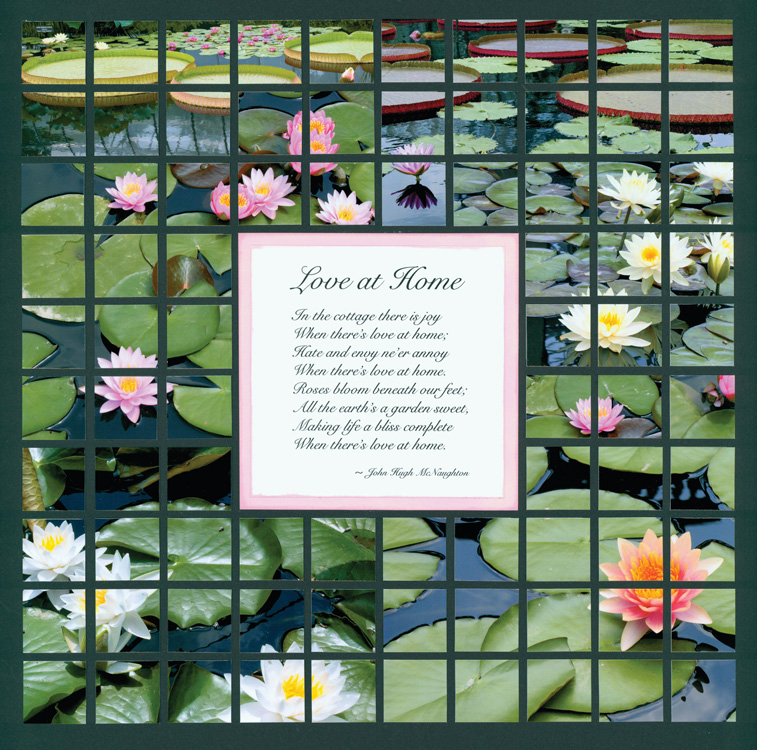 Pattern #247 – 'Love at Home' by Tami Potter
This pattern is great when you have a lot of mosaic shots! This page has a poem in the center and the surrounding photos are decorative. Place a page like this in a frame as a home decoration or give away as a gift.
4. – When you Can't Fill the Entire Space
Sometimes you do not have enough journaling to fill an entire block. Or maybe you have a smaller photograph that doesn't entirely fill a design spot. Below is a couple of solutions you can use without having to change the pattern.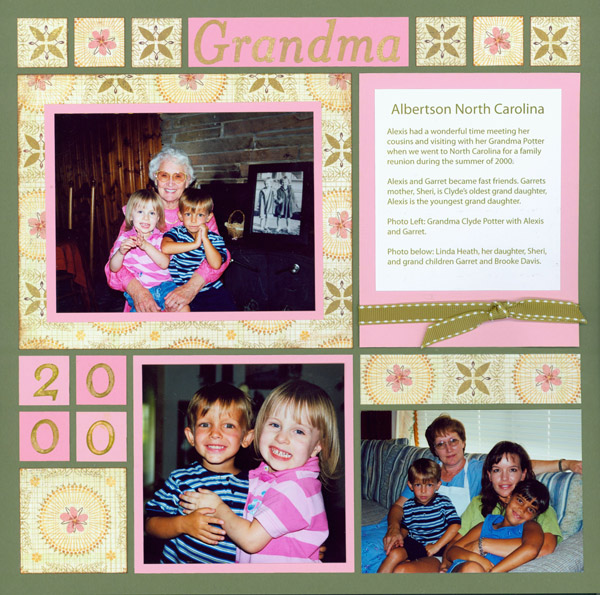 Pattern #111 "Grandma" by Tami Potter
On this pattern, the journaling was added on a large design spot. It didn't fill the entire space, so a ribbon was added as a decorative element.
Pattern #117 – "American Girl" by Tami Potter
The photo was a little short here, but a great filler is adding your own handwritten journaling.
5. Use your Journal Block as Part of the Scenery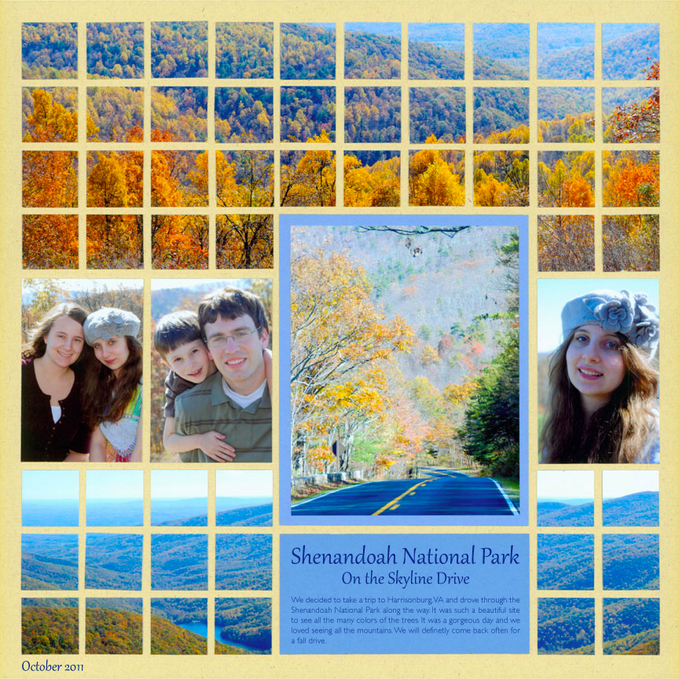 Pattern #148 – "Shenandoah National Park" by Paije Potter
I love this pattern! It's wonderful for landscape photos. There is also a spot right underneath the focal point for journaling.
If you look at the scenic photo on the bottom of the page, you will notice the mountains have a blue hue. I intentionally chose a color that was similar so it would flow with the blue in the photos. Use your journaling blocks as part of the photos to tie the entire layout together.
All of the pages on this post have the page pattern number below them. Be sure to visit the Page Pattern Gallery so you can get the full details of each one such as which Mosaic Moments dies to use and the measurements of each design spot. We also have a pattern book you can purchase on snapncrop.com.
I hope today's post helped inspire you to add more journaling to your page patterns. It's a great way to tell everyone the full story or to add poems that relate to your page. Happy Scrapping!