The Circus
featuring the Circle Center Frame Die Set
Our features this week are the new Circle Center Frame Set and Emerald Grid Paper. The Patterns are #153 a row pattern and #225 a strip pattern. This week's story for the Tell Your Story feature was inspired by the recent announcement of the closing of the Ringling Brothers and Barnum & Bailey Circus after 146 yrs. in business. I've used the large frame as a spot for featuring a logo and the smaller Circle Center frames to fill in the 1" square areas in the pattern on both pages.
I have modified Pattern #153 to accommodate my photos, but first I began with using it as a mirror image pattern. Then I had a series of photos that I could not trim to fit the 2×3 block without losing a lot of the content of the photo so I expanded those blocks to 2×4 which left me with a column of 1" squares on the outside.
The Emerald Grid is a bold primary green that helps to lighten up some of my darker photos, blend with my outdoor photos and plays well with the slightly subdued red and blue cardstock and confetti paper tiles I have used for the mats and embellishments.
I used the 1"x 3.25" strips die to cut the red strips for the "tent" sections. Scallop Banners Die was used to cut in red cardstock and confetti paper tiles then layered and placed at the top of each strip section on page one.
TIP: If you save memorabilia from your trips or events one way to incorporate them into your layout is to use them as embellishments or as in this case, a title. I've taken images and scaled them to the size I need then printed, cut, matted and mounted a section on each of the "tent" sections.
For the other portion of the title I've filled the center of the Large Circle Center Frame with the logo "the Greatest Show on Earth." You may be fine using the original, but if you aren't or if you need to tweak them to fit, it is easy enough to accomplish by scanning, resizing and then printing.
I've added white star brads to the journal block below the banner section that is mounted on a blue base to imitate the circus rings in the photos. The journal section is double matted red and confetti on blue.
The block I chose for journaling wasn't really large enough to include my whole story for this one, so I decided to add it in a hidden spot. However there wasn't a spot in the pattern that I thought I could use so I took my pocket die (Papertrey Ink) and attached it to the backside center of the layout near the top with a tassel that hangs over the top to allow easy access.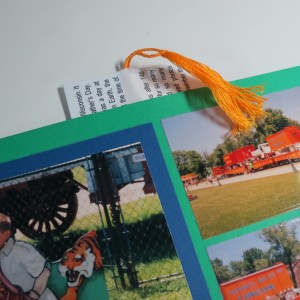 I thought about just adhering it to the back, but unless you know there's more there, you won't pull it out to read it, but it is still an option if you want. Ideally I try to get it on the front side in the layout, but not this time. I suppose I should have considered a pattern with a larger spot to use, or written something shorter!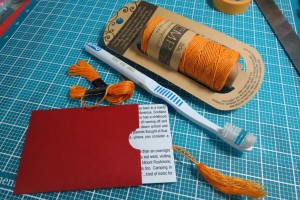 I printed on regular printer paper and used a piece of tag to place between the front and back with the hemp cording inside. I used floss to form the tassel as the cording wasn't working the way I wanted it to, but the floss did just fine. I brushed it out to be smooth and fluffy.
The smaller 1" Circle Center Frame tiles have been cut in red, white and blue. I've inset some of the colors and used Pineapple Bliss tiles to match the title color for some of the centers.
Finally, here's my story about these photos.
I'm not a real fan of the circus per se; maybe it goes back to a rowdy camel and a small circus in the countryside near Montrose, Scotland as a child. However, I met and married a man who had a childhood dream and if we're really honest, an adult fantasy of running off and joining the circus. He had the dream of going to clown school and becoming a clown. You can imagine what his parents thought of that. However, it's a dream that went unfulfilled, unless you consider a wife and five kids just about equal to that!
Our first vacation as a family that consisted of more than an overnight camping trip visiting family we were taking the kids out west, visiting the Little House on the Prairie sights. We'd take in Mount Rushmore, S.D. and Devil's Tower, WY as our furthest points too. Camping in tents however, was really not my husband's "thing"…kind of ironic for someone who wanted to join the circus!
Our first full day out our destination was to be Madison, Wisconsin. It was to be an easy ride into the town of Baraboo for Father's Day. The surprise the kids and I had planned for their dad was a day at Circus World, the winter home of The Greatest Show on Earth, the Ringling Brothers and Barnum & Bailey Circus. We had the time of our life!
Just this week news came of the closing of the circus after 146 years. It was a sad thought. So many happy memories for so many people, I'd learned so much from our visit and had so many misconceptions challenged and changed. So I gathered photos together to see what kind of page I can get made to remember that day we did something just for dad.
Why not see how many ways you can find to feature the Circle Center Frame Set?
What story do you have to tell? This is one that I've overlooked for a long while, but a recent event sparked my interest in getting the photos out and getting it down to remember. What's been on your mind recently? Got Photos? Tell Your Story!!
Andrea Fisher