One Pattern Tied Together with Two Celtic Knots
How to create a focal point with 2×2 Dies
Eilean Donan Castle
• Featuring the Celtic Knots Die set
• Mosaic Moments Grid in Forest
We'll get March off to a great green start with a Forest Grid and our Celtic Knots Die Set. I've chose a pinwheel Pattern #228 and its mirror image for this layout.
I wanted to add a section to my castles of Scotland section in my scrapbook and decided to expand my previous Tell Your Story layout of Eilean Donan Castle with a double page layout where I could use the Celtic Knots Dies in the center focal point of this pinwheel design.
I used Forest Paper Tiles to cut both knots out and then mounted them on burnished copper metallic paper 2.125"sq. tiles. The tone on tone allows that copper to really pop against the dark blue-green of the Forest Grid Paper.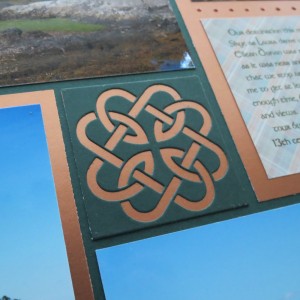 The burnished copper has been used for several photo mats on each page with the remaining photos printed at 5"x7" and slightly trimmed to fit the 4×6 block section for a nice full photo.
One of the copper mat sections was perfect for a title/journal spot and included a photo with the sign from the castle for the title. Mounting both on the copper mat keeps the pattern visible and allows for a variance with the mounted photo and journaling.
The border section excess on the matted photos became a place where several copper liquid pearls were added for interest.
This is an easy page to put together fairly quickly and you can include larger photos as well as matted 4"x 6" photos. The mirror image page allows the copper to alternate along with the horizontal/vertical orientation of the pictures. While the Celtic Knots are particularly nice with a Celtic theme you'll find them to be a nice design element on a wedding page too, be sure to give it a try!
Andrea Fisher