Some patterns do not fit into other categories. They may be created to fit specific photos or have varying sizes of blocks that do not lend themselves to one of the other categories. We like to call these patterns "freestyle."
Freestyle patterns add fun and additional variety to an album. Check out some of our examples below.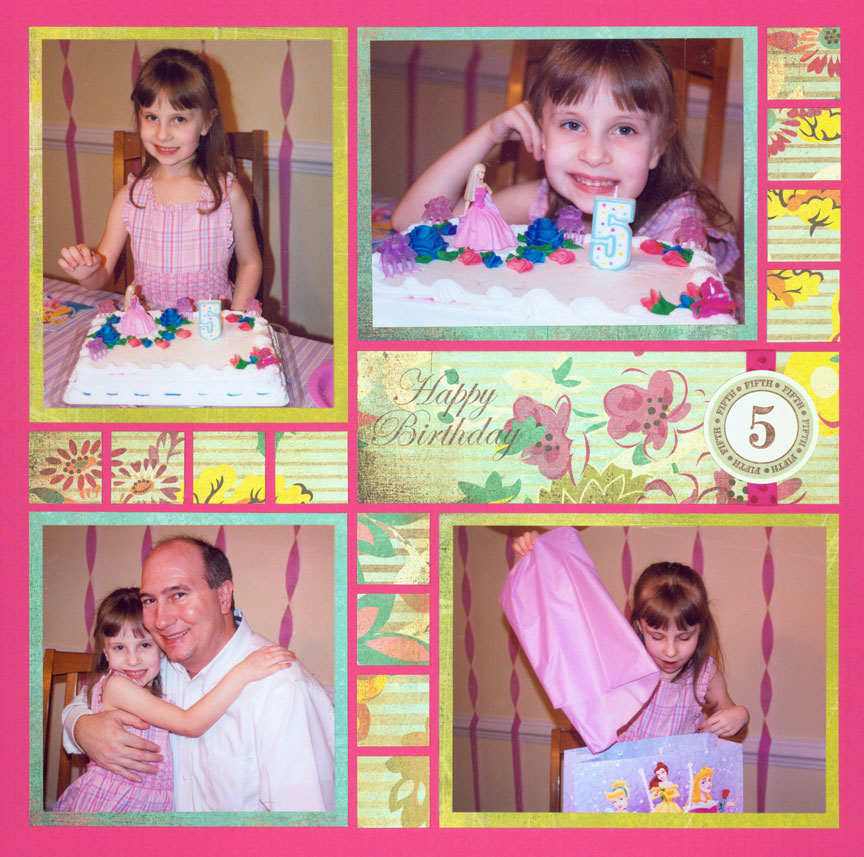 "Alexis is 5!" by Tami Potter - Pattern #129
There are lots of ways to add a title using the Mosaic Moments® system.
In this layout, creator Tami Potter used a piece of patterned paper with the words, "Happy Birthday" on it as her title. She added a stamped No. 5, but you could use a sticker or a number die cut, as well.
When you have two photos that go in different directions, but you want both to be the focal of your page, this page pattern is ideal.
Here, both a vertical and horizontal close-up photos of Alexis are featured, with smaller photos above.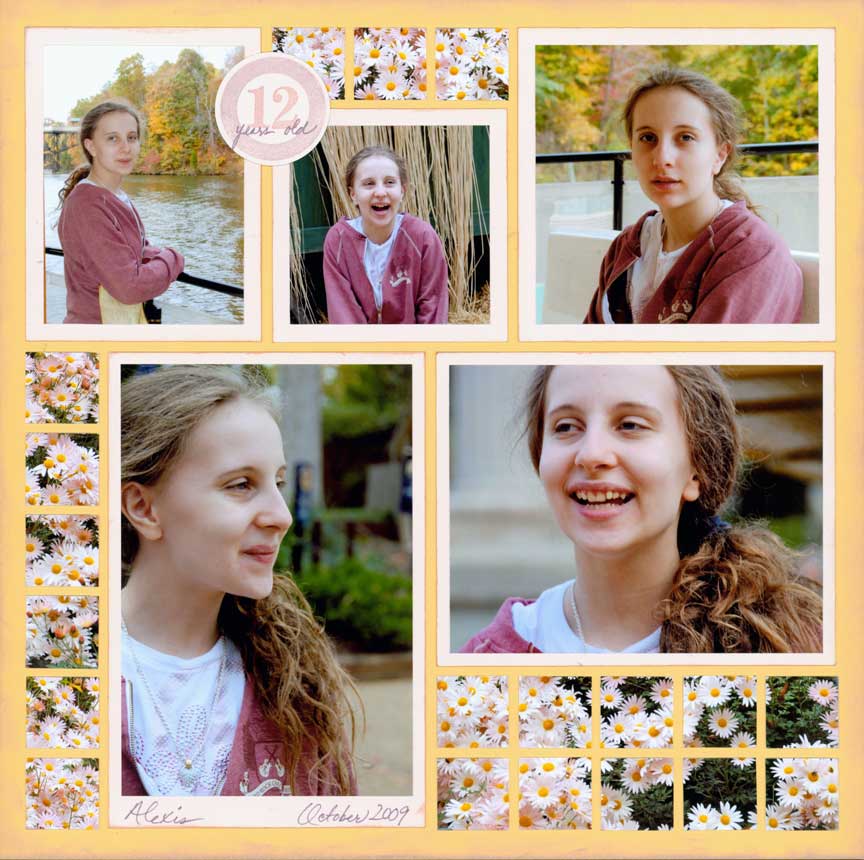 "Alexis 2009" by Tami Potter - Pattern #132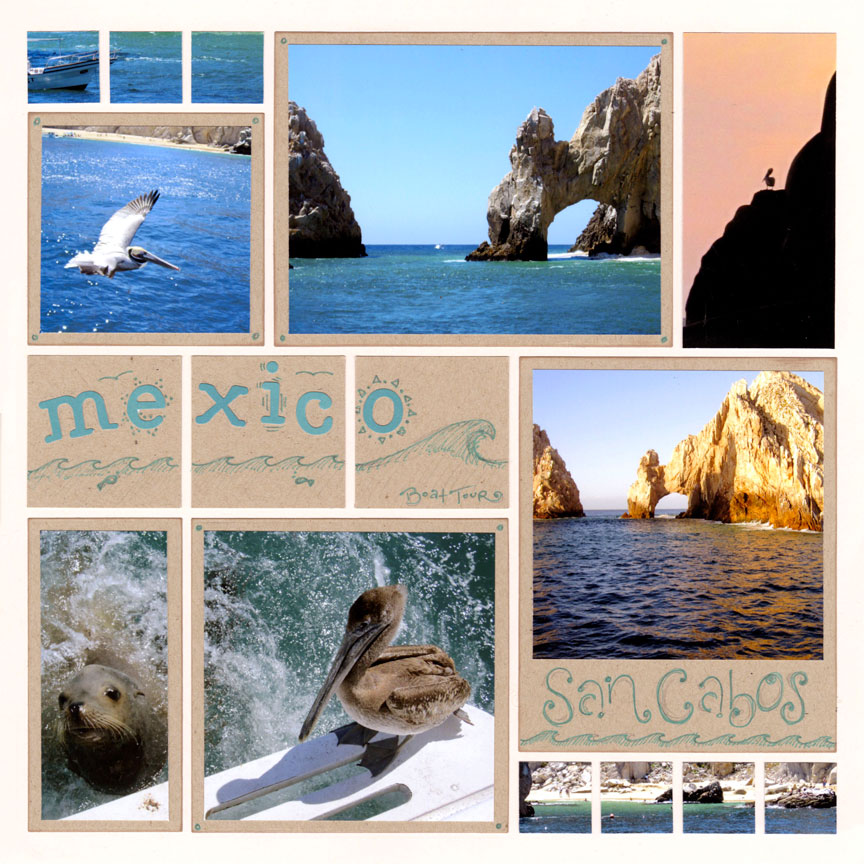 "Mexico!" by Paije Potter - Pattern #155
This page is not symmetrical, but it the sizes of photos are still balanced.
Note how there are 1-inch photos and long, narrow photos in opposite corners.
The titles are also staggered at on each side of the layout to balance each other out -- even though they are different sizes. Cutting the title, Mexico, into three pieces helps break up the space and it visually takes up less, helping it balance better with the much smaller San Cabos.
Put Small Photos Together
This whimsical layout is always fun when you have a few large photos and a lot of little ones. By placing all of the little photos to one side, they balance the larger photos on the right.
While this pattern works great with people, you might also try it with contrasting distance and close-up photos. Picture a field of strawberries and baskets of picked berries on the right and extreme details of the strawberries on the left. The same could go for flowers, pine trees and more. This is the perfect layout for fun and creativity.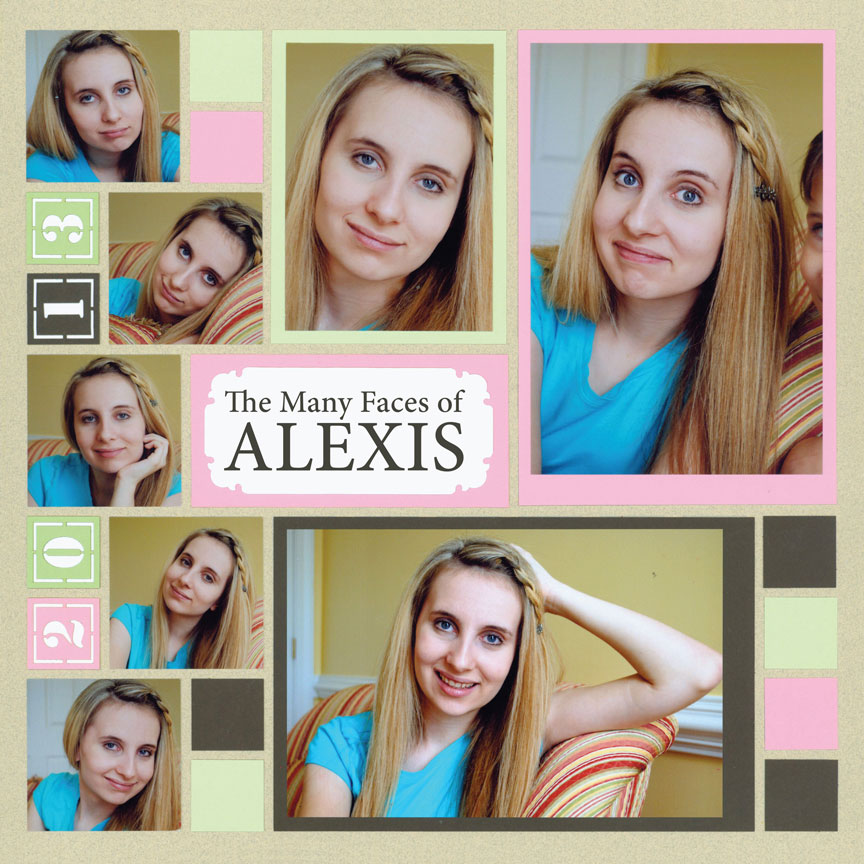 "The Many Faces of Alexis" by Paije Potter - Pattern #210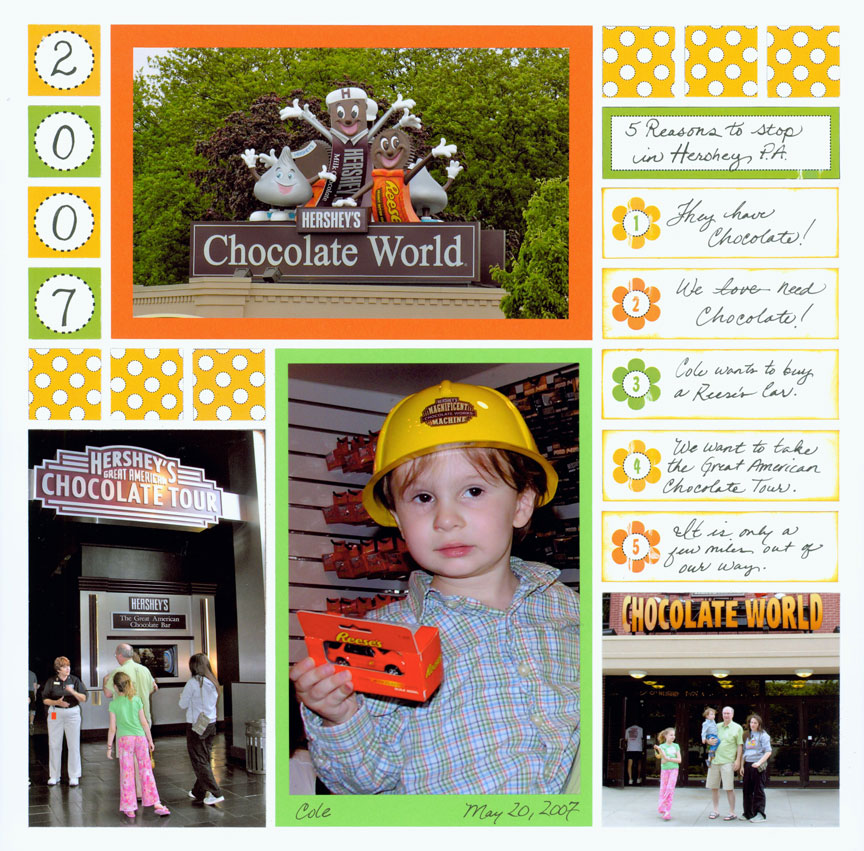 "Hershey's Chocolate World" by Tami Potter - Pattern #218
There are a couple of patterns that were designed to be used with bullet journaling and this is one of them.
The page works because of the matching numbers in dots across the page from the journaling blocks.
You can find free downloads, like these journaling blocks, in the Mosaic Moments® store, here.
When you need space for a handful of large photos, this is a great layout. It offers five spaces for big pictures, along with a little room for embellishments.
Keeping the same colors and patterns of paper, like Jodi did here with the sunflower and date block, makes the page balanced and pleasing to the eye.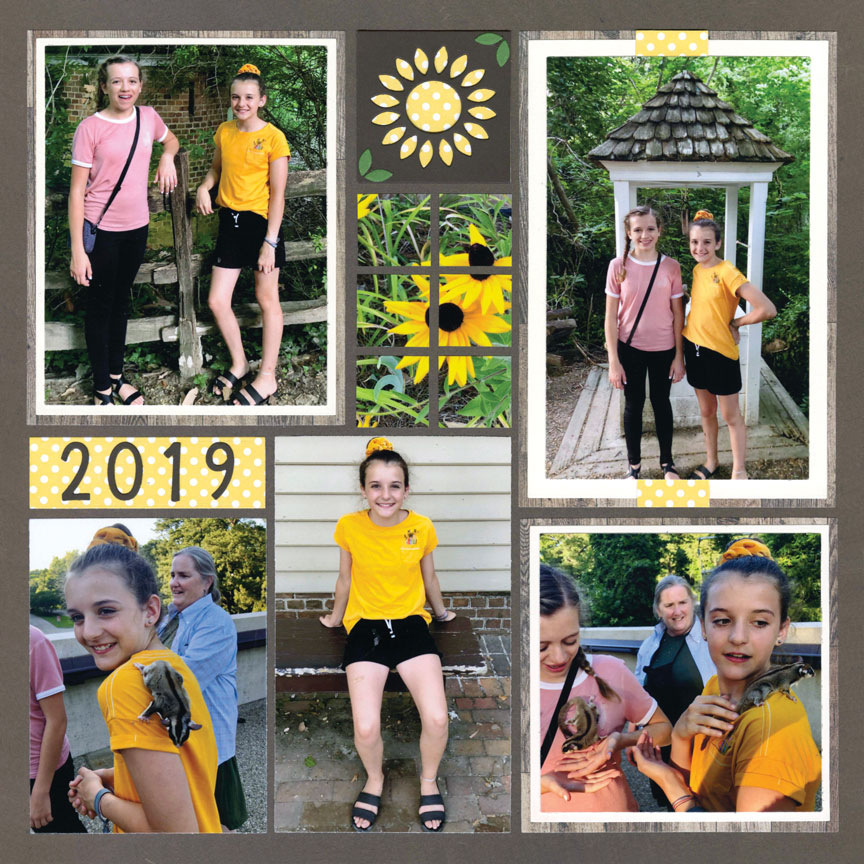 "Sugar Gliders" by Jodi Benson - Pattern #244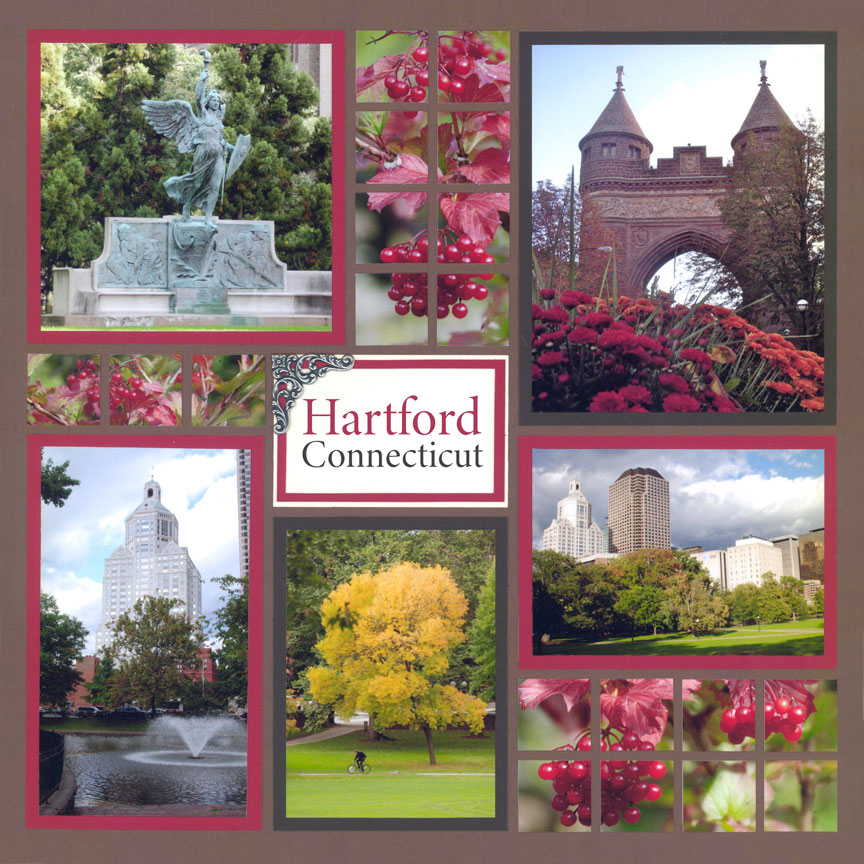 "Hartford" by Paije Potter - Pattern #263
Sometimes, pinwheels do not work with the photos we have. The better we get as photographers, the less there is is to crop out or make smaller.
When that happens, opt for this design. It is similar to a pinwheel, with a strong center point, the sizes of the photos are not identical. This allows for the pictures to dictate the size and shape of the elements.
This layout also allows for three large photos. The white journaling block and white title strip help to draw the eye around the page and make it pleasing and balanced to the eye.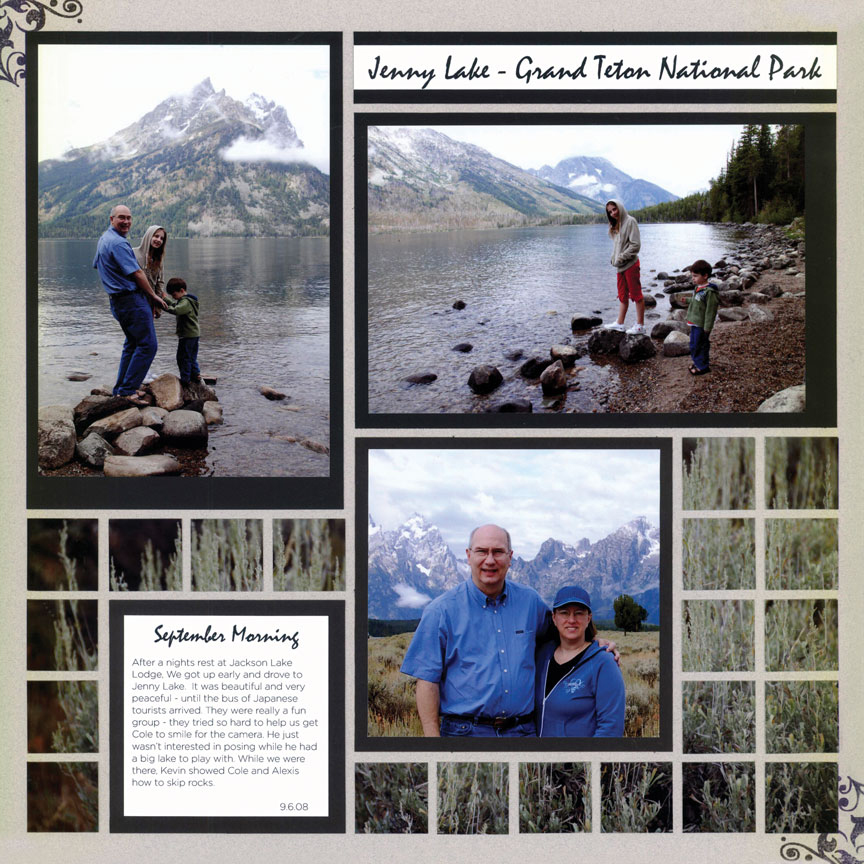 "Jenny Lake" by Tami Potter - Pattern #268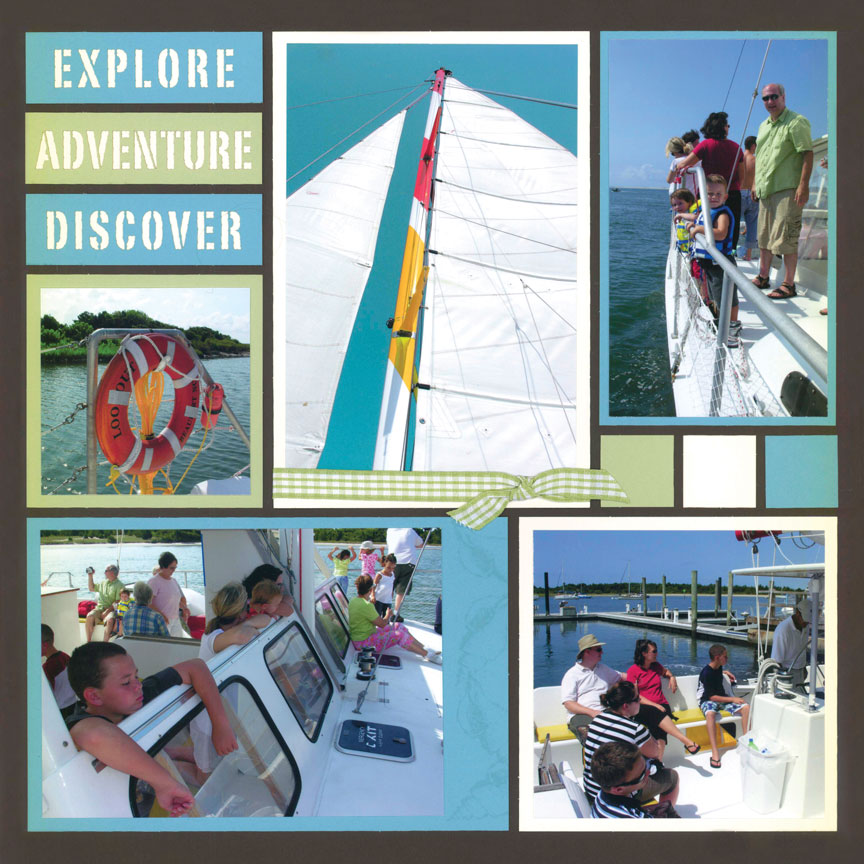 "Catamaran" by Tami Potter - Pattern #303
With five large photos, there is not much space for anything else. However, by placing the same colors on the words as the three 1-inch squares, and then repeating those colors around the layout on photo mats, the eye is carried all around the page, examining each photo.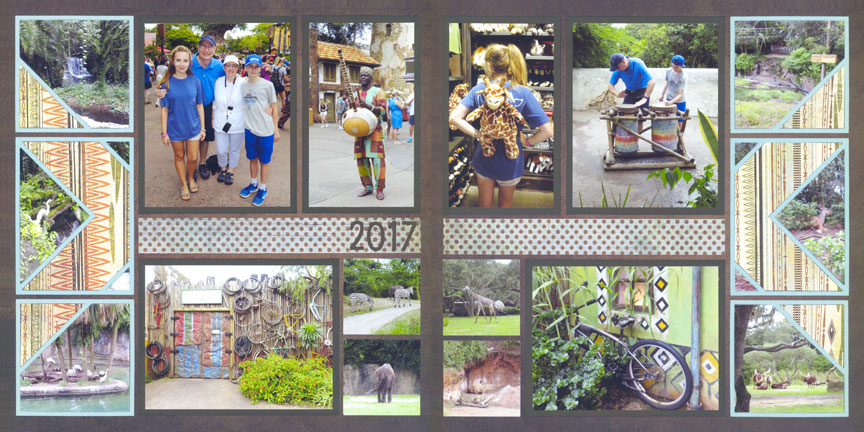 "Disney's Africa" by Paije Potter - Pattern #404
---
When you need a two-page spread, try mirroring the same freestyle pattern. The mirror-effect creates a symmetrical layout with lots of interest.
---
---