Mosaic layouts, those made by cutting photos into 1-inch squares, can make some absolutely amazing photos. Check out these 10 examples below.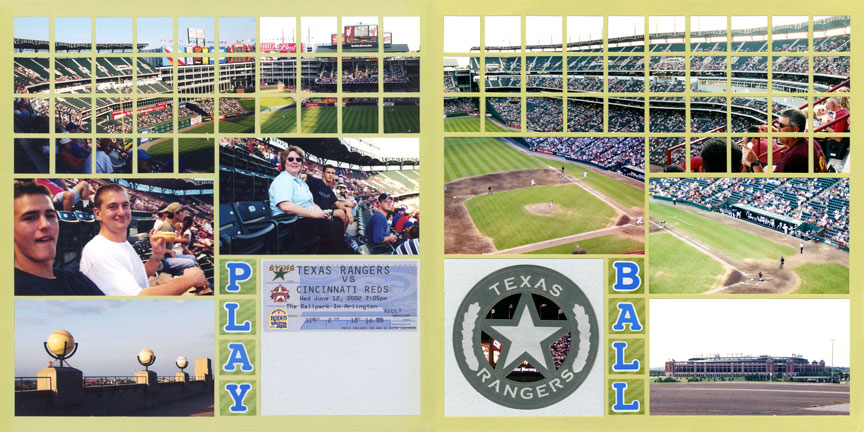 ---
Look closely and you will see the view of the ballpark is actually made of multiple photos. When you cut them into 1-inch squares, you can line them up so they appear to be one huge panoramic photo. We call it Mosaic Magic.
2. Combine Multiple Photos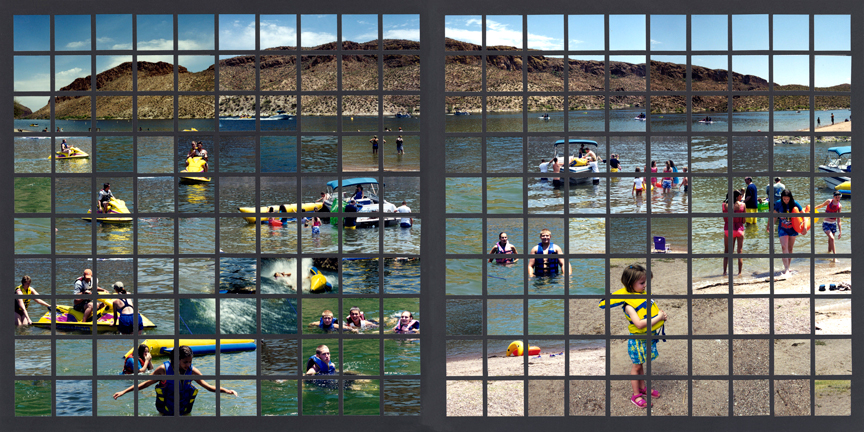 ---
Using the same technique as above, you can turn an entire day of photos into one giant picture -- or two, if you want a two-page spread. It is absolutely amazing.
The trick is to keep similar colored photos next to each other. So, those with green-colored water should be near each other. Likewise, those with light-blue water would be side-by-side.
3. Surround a Larger Photo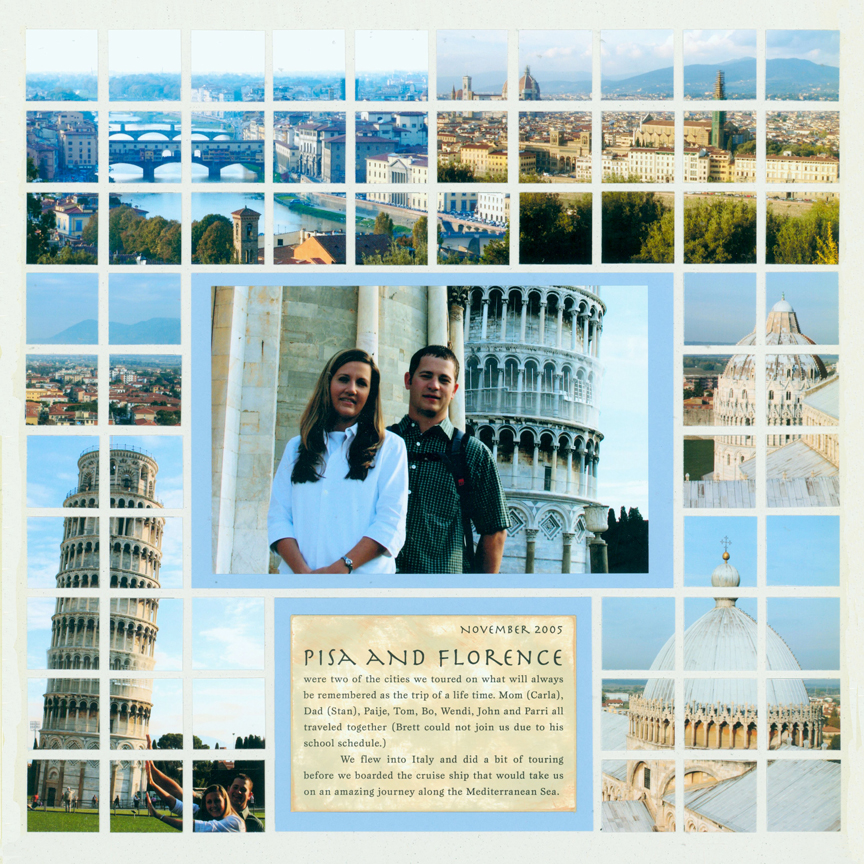 "Pisa & Florence" by Paije Potter - Pattern #
You can also use mosaics around a larger photo. In this case, the mosaic photos become almost decorative, like patterned paper, but help to tell the story.
Patterned paper can also be cut into 1-inch squares to create all kinds of patterns.
In this example, the patterned paper resembles the tiles found at the aquarium and makes a great backdrop for the special title.
Surrounding a few photos with detailed images is another beautiful way to use mosaics. It allows you to see both the people doing an activity, and the magnificent things they saw.
Here, Paije used close-up photos of the flowers seen along the trail, but you could also try shells, sand and rocks along the beach; ornaments on a "forest" of Christmas trees; or even architectural elements in a city.
By cutting all of your photos except one into mosaic pieces, you can easily turn that one photo into a focal point. Adding a mat around it enhances the effect.
Cutting some photos into mosaics and leaving some whole, creates interest on the layout.
On this example, Paije used photo mats on some of the pictures so your eye knows where to look first.
Sometimes, layouts need just a little extra touch and an accent of mosaic photos is the perfect solution. These little details help to set the mood or create the theme on your page.
On this layout, Paije used close-up photos of a flowering tree. You might also try fall leaves, brick paths, stone walls, or beach sand for this technique.
Mosaic Moments® alphabet and number dies are designed to fit into 1-inch spaces, making it easy to incorporate them as a title on your layout. Some of the dies, like
Alphabet 3
, shown here, can also be used without the 1-inch square, so you can place them close together on a longer strip of paper, like Paije did here.
Take the time to set the scene of your photos by including a panoramic at the top of your layout. You can easily do this by taking a picture, turning slightly to the right and taking another and repeating. Then, use a bit of Mosaic magic, aka cut the pieces into 1-inch squares and line then up, to create a topper to your layout. This way, you can remember the entire view, as well as the fun you had.
In addition to beach photos, try this with cities, mountains, forests, National Parks, and anywhere else you have a magnificent view.