Hello 2016! Andrea and I are back to give inspiration and ideas. We have so much planned this year, and we hope you will enjoy everything that's coming. Most of us have to the deal with a cold and dreary January. Although it may be hard to get outside, it's a great time to create some Winter Scrapbook Pages.
The layouts I will be showing today are some of my favorites! The winter season can be absolutely breath taking and these photos make fantastic and beautiful pages. Check out the winter ideas below: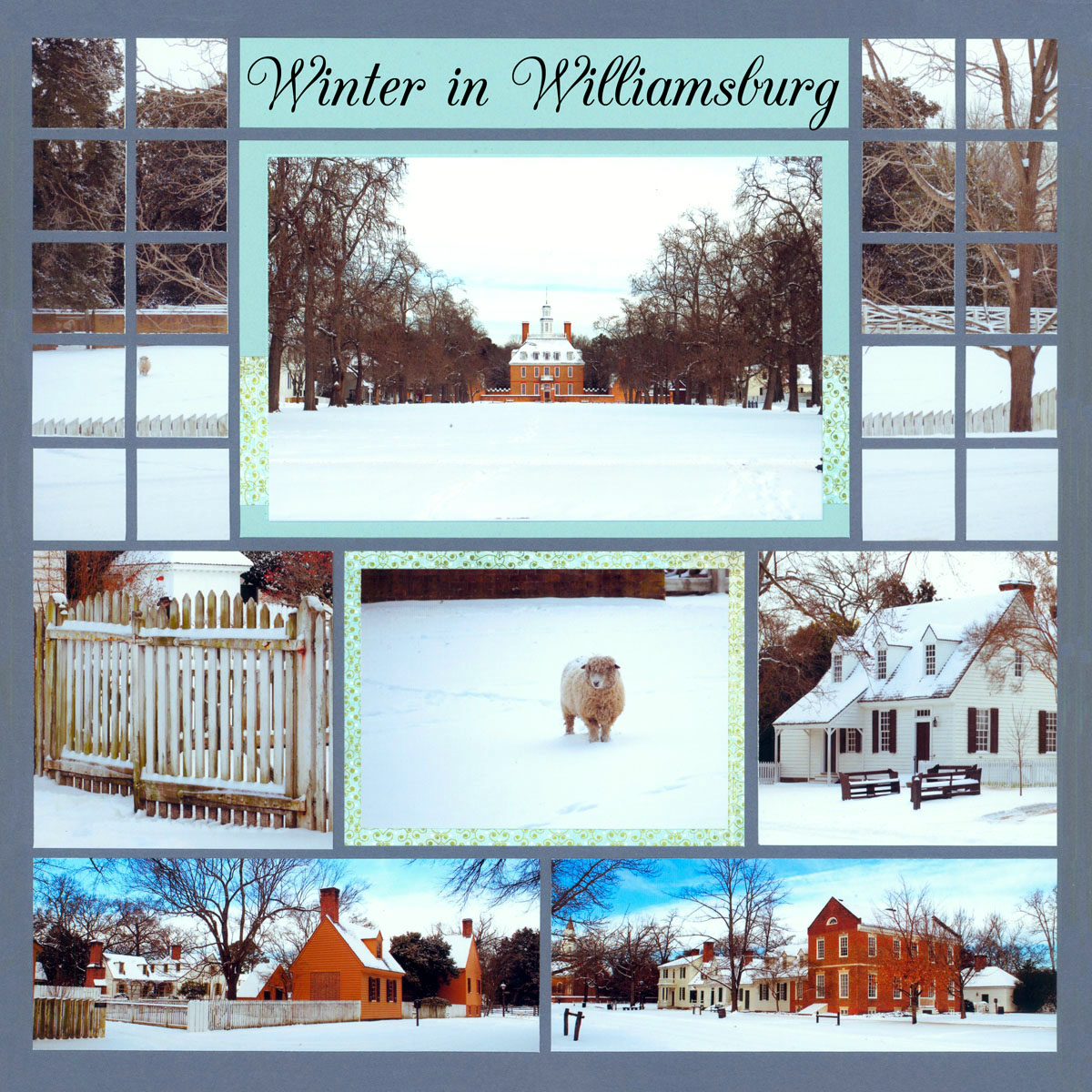 "Winter in Williamsburg" by Paije Rodriguez
This is one of my favorite winter scrapbook pages! It shows lovely snow covered scenery from Colonial Williamsburg. The mosaic sections show off this landscape beautifully. Also, I love the appearance of a panorama on the bottom. It makes you feel like you are right on the street!
Winter photographs might look a bit dull due to the grey sky and lack of color. To brighten up my page, I used some lovely patterned paper in a couple of spots. I created a Paper Tile to place behind the photo of the sheep to help it stand out. Plus, I added a strip behind the main photo, the Governor's Palace, which helps tie the whole page together.
2. Using a Large Photo as the Background
Tips from Theresa Amlong: For the last page I used this photo of a close up of some snow taken recently by my sister Trish Collins. Printed once at 10×12, it makes a beautiful background for my own snow photo.
Now who says scrapbooking has to be about only happy times? I was truly not happy when I woke up and saw snow outside my window last year while living near the Tokyo area. Once again my Cricut provided the page décor and I love how this page turned out.
Give it a try – go out and take some full view shots with the idea that you can build a background out of it.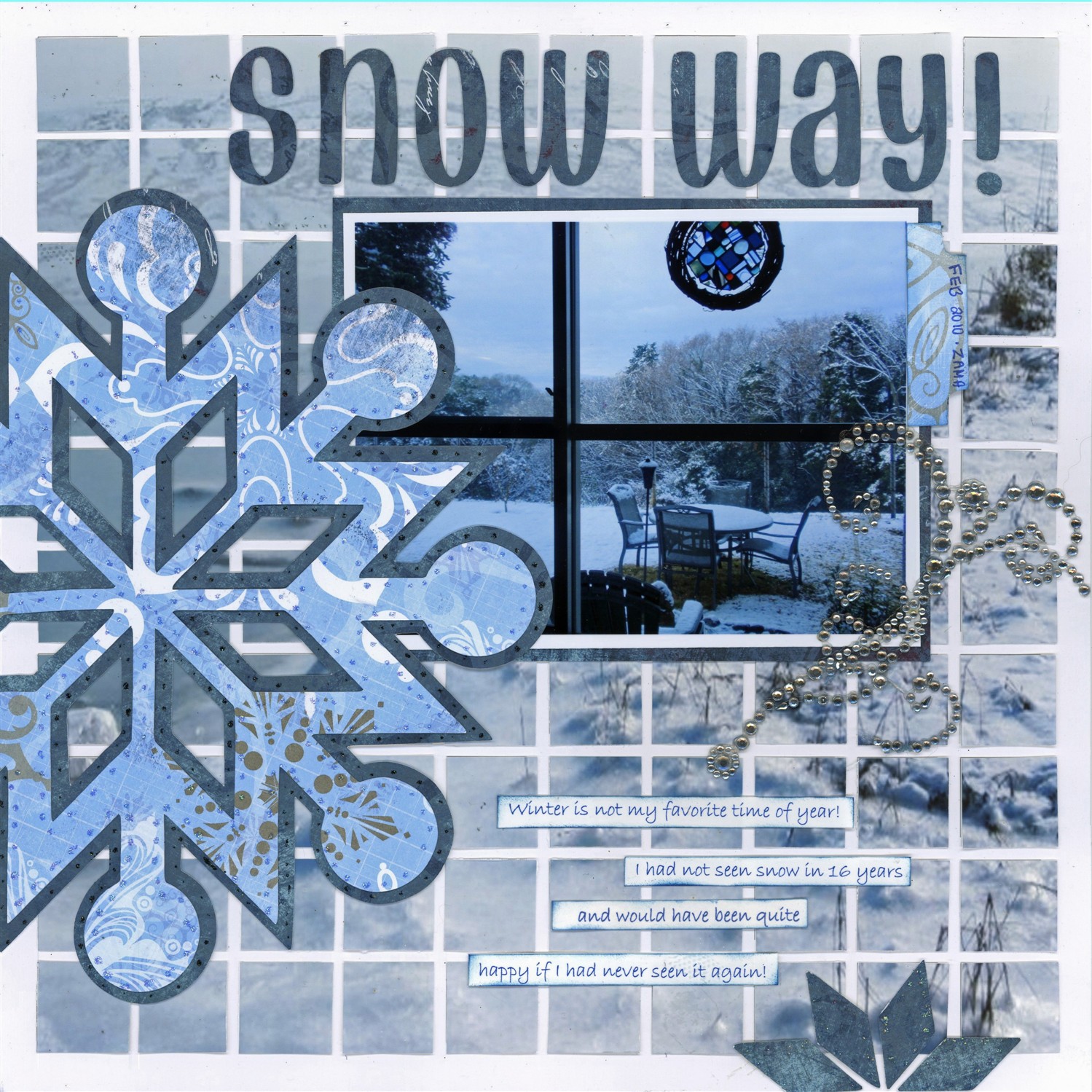 "Snow Way!" by Theresa Amlong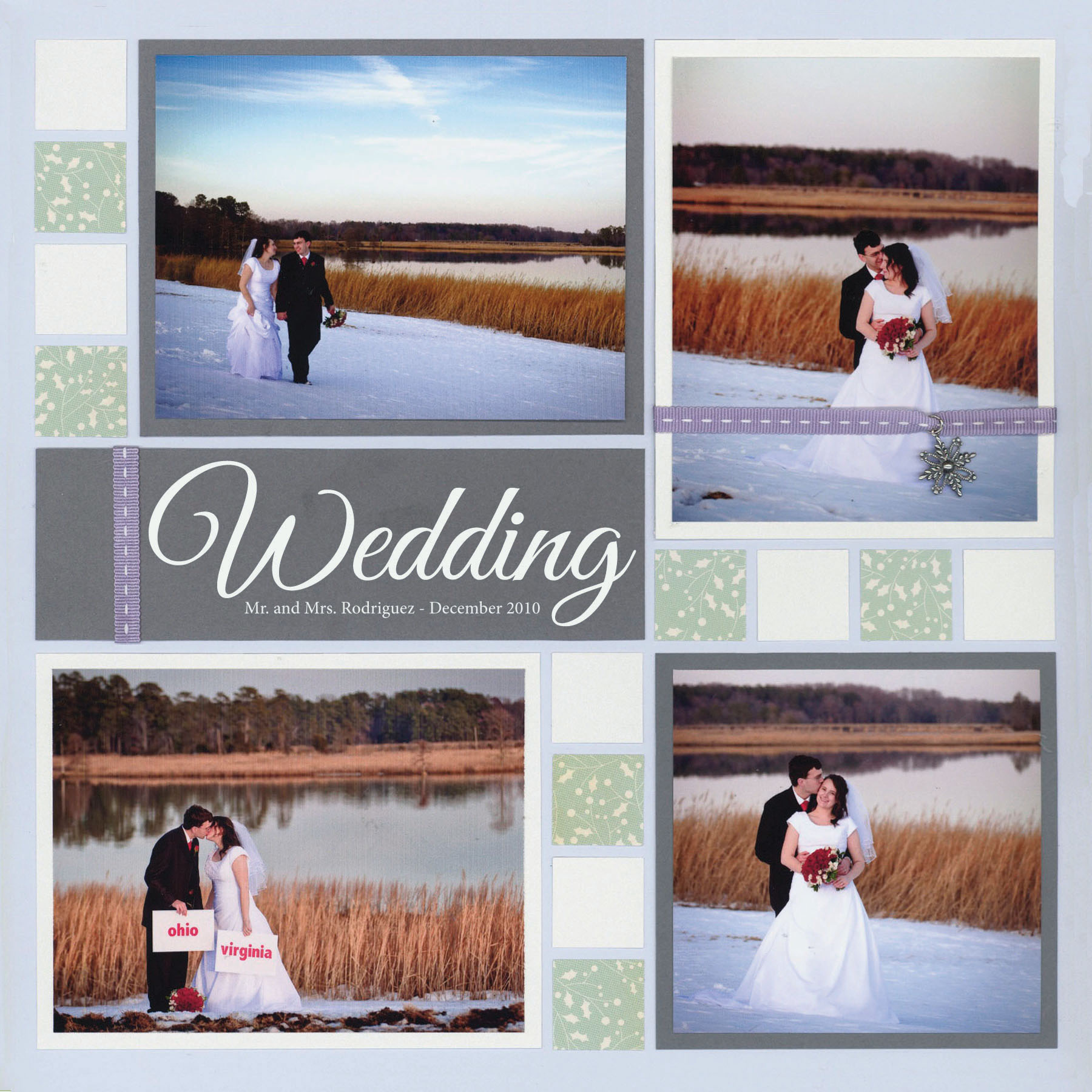 "Winter Wedding" by Paije Rodriguez
I know many people don't want to get married during the winter. But, the snow covered ground makes it one of the most gorgeous times of the year! I love this page because of all the lovely pastel colors. I was inspired by the winter sky – which is one of my favorite things about this season!
I didn't have a lot of 'mosaic friendly' photos from this occasion. But, the great thing about the Mosaic Moments™ system is you can create simple and clean Collages. You can add some decorative elements with pattern paper or a ribbon for a pop of color if it seems too boring.
Tips from Elizabeth Moon: To help capture the glittery splendor of fresh fallen snow, I decided to create my own patterned paper.  Using photo safe glue, I made swirly lines all over a white piece of cardstock.  Next, I covered the glue in clear plastic glitter. I pressed down gently using a clean sheet of paper and then let it dry while I  composed the rest of my layout.
I really like how the scenic photo looks larger in mosaic form and it also reminds me of looking out the window.
Brrrrr!  Makes me want to bundle up!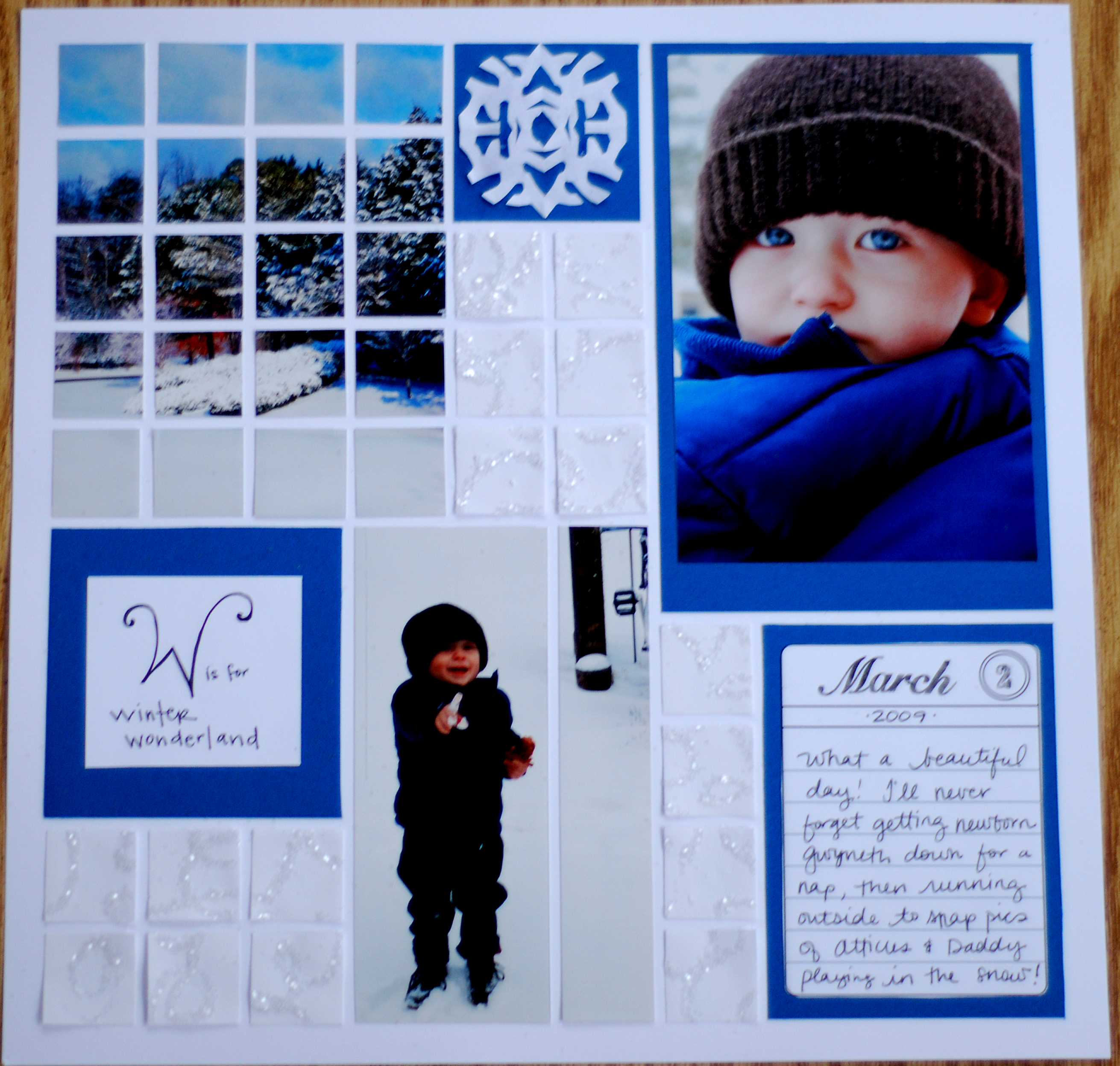 "Winter Wonderland" by Elizabeth Moon
5. A Portrait Perfect Winter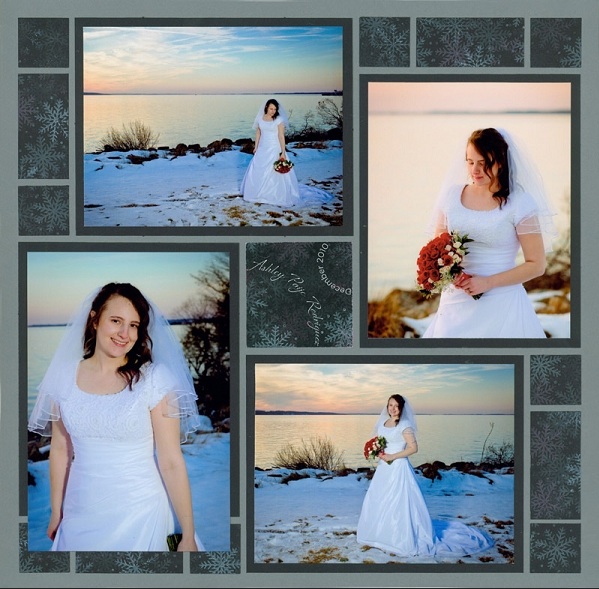 "Winter Bride" by Paije Rodriguez
I had so much fun making this page! First of all this is a very portrait friendly layout because you do not have to crop your photos to a much smaller size. I didn't want to crop these photos because I wanted all the scenery to show. Also, in a couple of them I am closer up.
Originally, this looked like a very boring layout. I knew I wanted the Grey Background because it looked good with the pastel sky in the photos. But, I also used black Paper Tiles and they looked very bland. So, my solution was to use a snowflake stamp and put multiple colors on the smaller tiles. It really brightens up the whole page!
6. Make It Fun with Embellishments
This is one of our newest winter scrapbook pages! It features our New Free Download, Scandinavian Winter. I couldn't have a list of winter layouts without including one with kids playing in the snow. It looks so fun right?
Even though the photos are the main focus, you can also add more interest and color with embellishments.
Make sure the embellishments you choose match the overall mood of your layout. I think these blocks work great with this page since it has fun elements, such as the bright colors and cute icons. But, I probably wouldn't place these on a formal wedding page since it wouldn't fit well with the theme.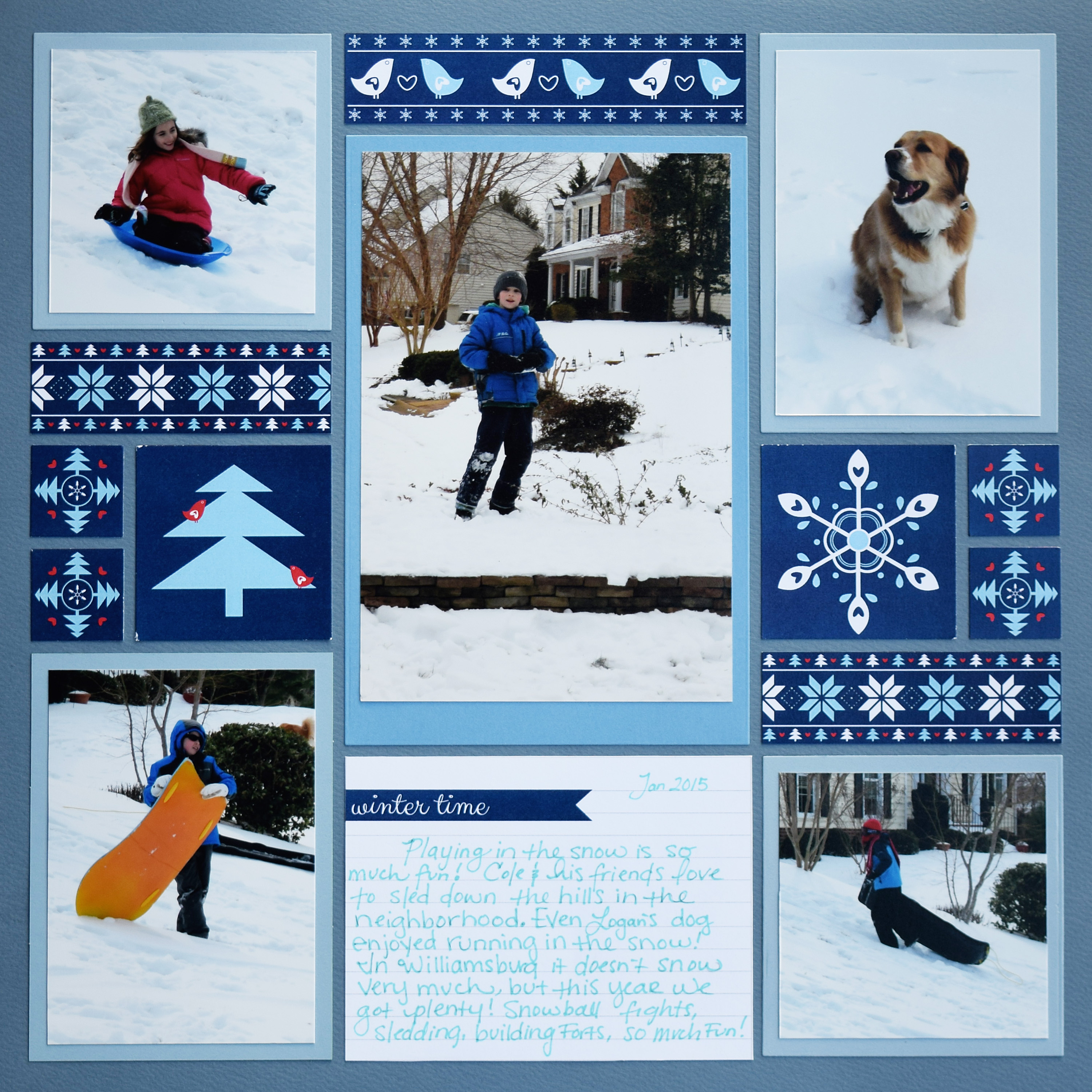 "Snow Fun" by Paije Rodriguez
I hope today's post inspired your winter scrapbook pages. Winter is a very beautiful season with all the snow and I think it can make some of the prettiest layouts. You can get more tips for winter pages in our post "Winter Scrapbook Page – It's Too Cool". Check it out, and I hope you have fun taking many photos and enjoy scrapping this winter.