We have another great layout to show you today! We created this winter scrapbook page that is just too cool! Generally, when you create a scrapbook page for the winter season, you probably use a cooler color scheme. These colors consist of various blues and certain greens and purples. For my page, I also added some dark grey as my 'cool' neutral. I really like the color blue so I enjoy creating pages during this time of the year since I get to use a lot of it!
For many of you who live on the east coast , you probably remember last year's very long winter! In Virginia we got higher amounts of snow than usual. We had many school days off and lots of time to take unique photographs. I appreciate the beauty snow brings when it first covers the ground. I especially love how it can make the trees sparkle!
This page shows the month of January last year when the town got dumped with snow. Of course we took a lot of photographs! My mom took photos at Colonial Williamsburg in the morning before the snow became messy with footprints and dirt. I especially love how cardinals look in the snow and added this to the page. I created this layout to show January 2014, but I also wanted to display the beauty snow can bring.
Color
I mentioned earlier that a cooler color scheme mainly consists of blues, greens and purples. It also includes grays, and black. My layout is mainly made up of various shades of blue. I also added a bit of gray which looks very nice with the blues. The snowman on the bottom adds a pop of color (pink and green), along with the two photographs of the cardinals.
Page Pattern
There are many patterns to choose from! Many of my winter pages are a mosaic look since I like to show a snow dusted landscape. But, for today's page I decided to do something a little different. This is a mostly square layout. Lately, I have been really fond of this kind of pattern – I think Instagram has been a big influence! There are certain types of patterns we keep using in our albums. If you notice yourself doing this – change it up! Try a pattern you have never used before to freshen things up!
Materials and Embellishments
Want to create a similar page? Here are the materials I used to create my winter scrapbook layout:
12×12 Mist grid paper – This is my 'go to' color for Winter. It's a lovely pastel blue and fits with many cooler colors. I also like to use Pewter for winter pages since it makes the pastel sky stand out!
Paper Tiles – I used Bermuda Blue (this is is a gray-blue color), Light Ocean Blue, and Pewter Paper Tiles. This was the first time I combined these colors together and I really like this combination! I would use it again for future pages.
New Hello Winter Free Download – This is my introduction to Tami's new free download and I love it! The snowman is super adorable. I specifically chose this page pattern (Pattern #178) because I was able to use many of the elements from the printable. I like the snowflake list (I wrote about things that happened in January) and there is one square where you can put a circular photo on top. Just use a circle punch to cut it.
More Winter Scrapbook Layouts
Here are a few more pages with cooler color schemes. I hope these give you some fun layout ideas and color combinations you would like to try.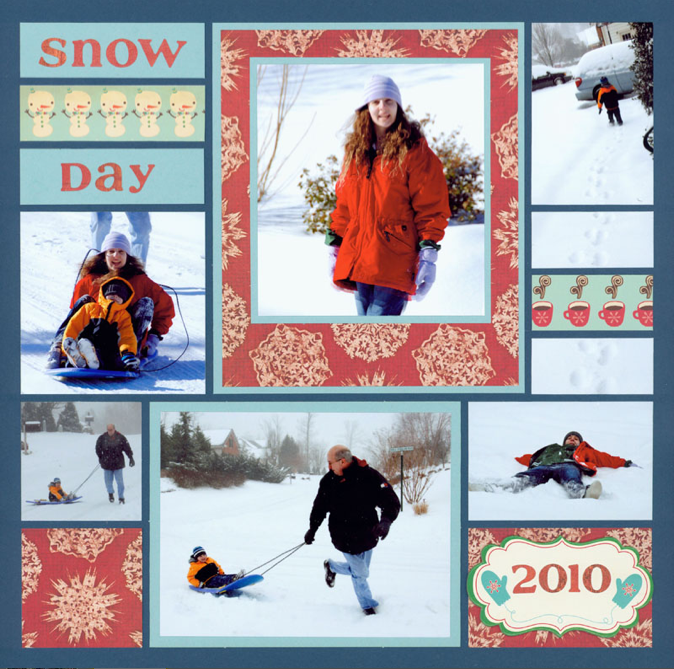 Snow Day 2010 By Tami Potter
I really like this layout. This is an example of a cool winter color scheme with some warmth. The red colors stand out from the cool colors.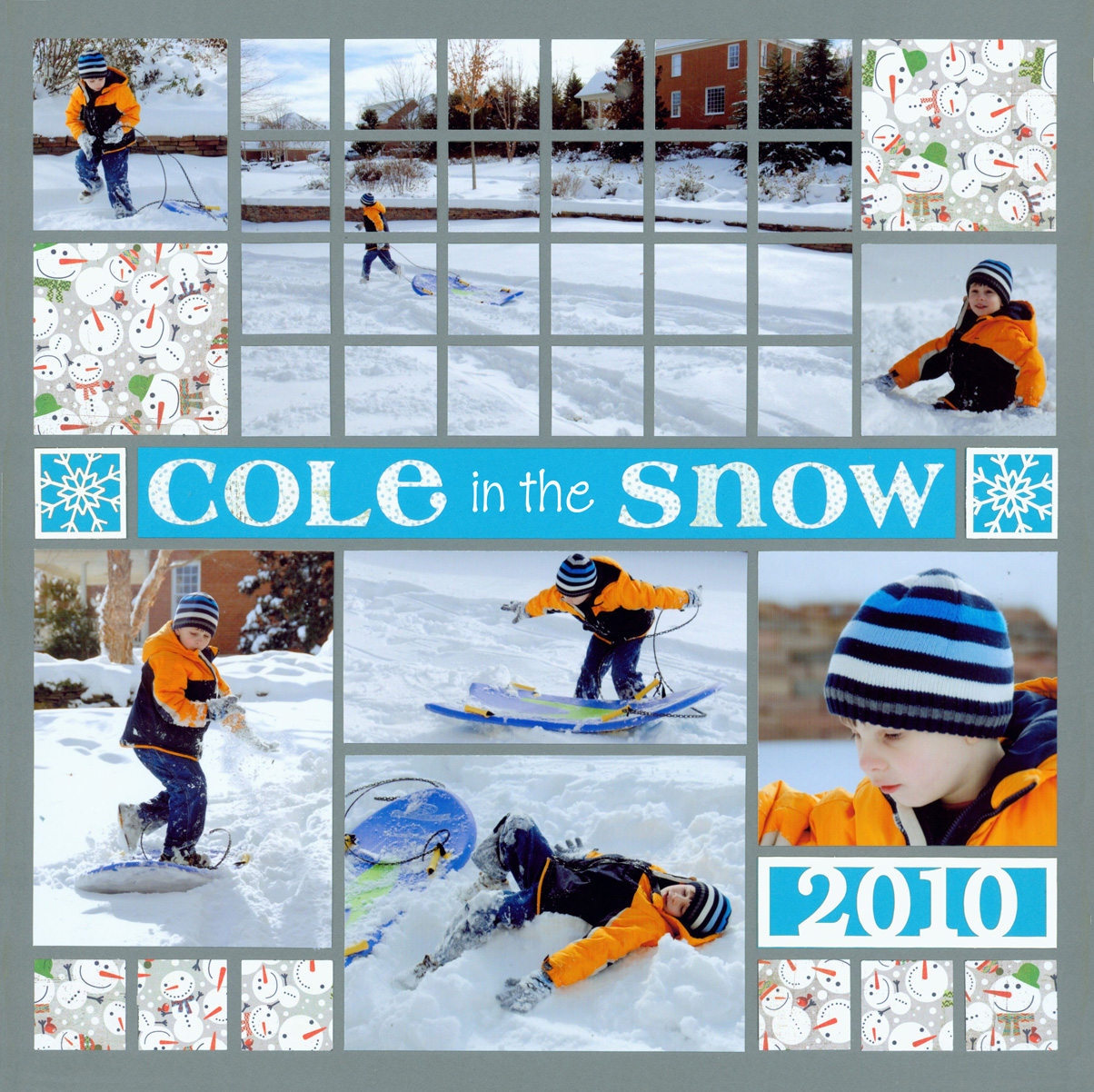 Cole in the Snow by Paije Rodriguez
If have photos of kids playing the snow, choose brighter hues. I used a brighter blue since it adds a bit of fun while also fitting in with the winter. I also like the colorful snowman patterned paper which contains a little bright green.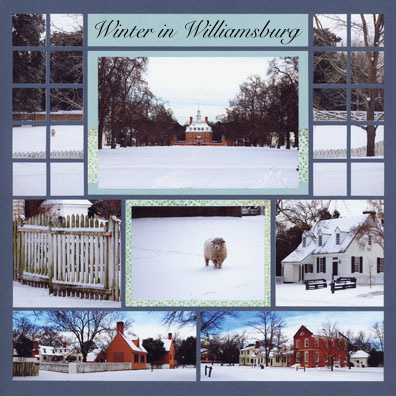 Winter in Williamsburg
I love this page! It shows winter very well without looking too dull. Robin's Egg blue is a great color to use with cloudy winter day photos. It helps brighten the page.