We love how we can incorporate so many photos into a Mosaic Moments® layout. But what happens when we only have one photo? Well, those work as well.
Here are 10 unique ideas to get you started scrapbooking single photos.
Use stickers, stamps, your computer or a pen to describe the subject of your photo, like Paije did here. The big, bold descriptive words tell viewers at a glance all about the person, or dog, in the picture.
Large school photos are always a challenge to scrapbookers. Here, Candy simply surrounded the photo with patterned paper cut into 1-inch pieces and added the date.
The coordinating layout might include more details, smaller photos, report cards and other information.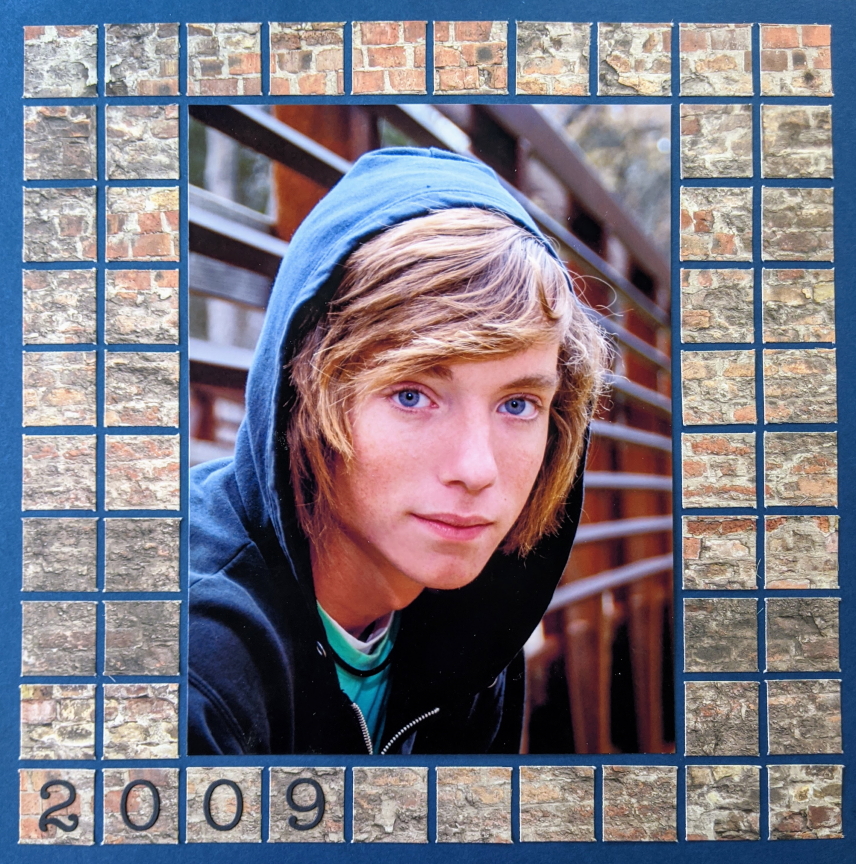 "Christopher" by Candy Spiegel - Free-styled Pattern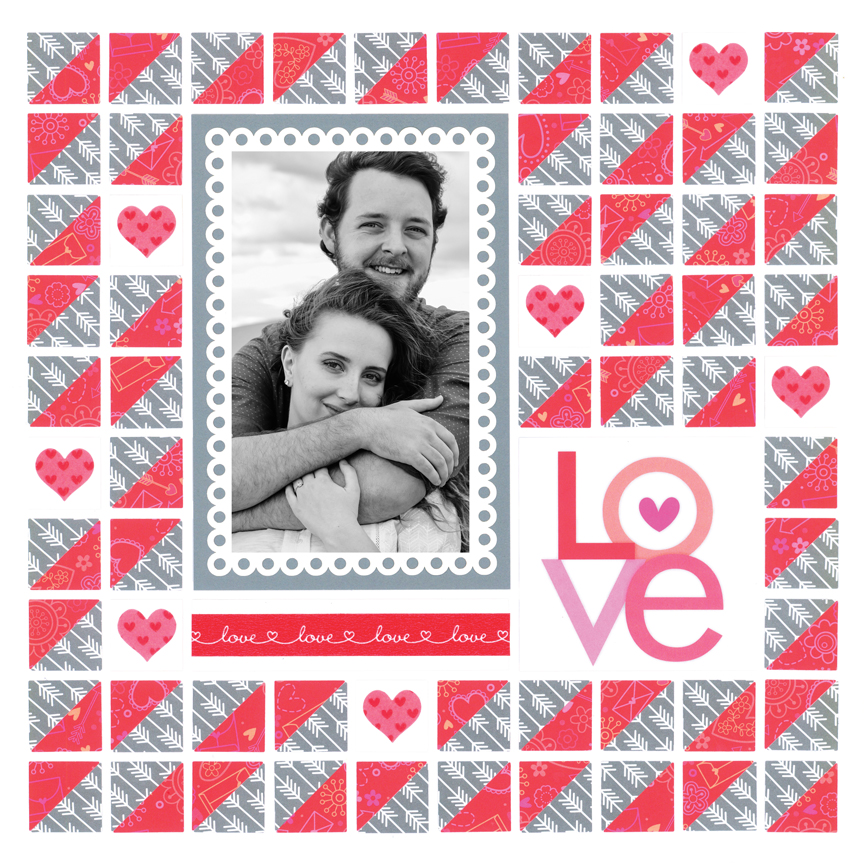 "Love" by Paije Potter - Free-styled Pattern
You can also fill in the extra space by making stripes or other patterns on your layout.
Here, Paije used the Corner Tile Die to make stripes from two different patterned papers. She added hearts, from the Heart & Flower Die Set, as accents.
Sometimes a quote, phrase or simple sentence is all that is needed.
Here, Elizabeth added a quote to her photo and surrounded it with patterned paper.
Here, Elizabeth surrounded a photo of a child with art from the child. Just take a picture, or scan in the art, and then cut it to fit.
This idea would be great for school work, too, preserving it without having to keep all of it.
Single photos also allow room to include decorative die cuts. This is an opportunity to have fun and play with pattern, color and shapes.
For this one, Jodi used the Hex-A-Daisy die to make unique little flowers as accents on her layout. Precious.
This adorable baby photo is framed by a photo mat and patterned paper squares. To keep it from getting too busy, large strips of pink paper at the top and bottom of the layout calm it all down. And the stamped flowers tie everything in together. Adorable!
Create an Oversized Mosaic
Rather than cutting a photo into 1-inch squares, Theresa cut this one into 2-inch squares. This keeps the head and shoulders intact and allows space for a frame. A photo like this is best cut by hand using the
Mosaic Moments® Self-Healing Double-Sided Mat.
Play up the theme of the layout with lots of embellishments.
Here, Candy used both purchased stickers and embellishments and lots of die cuts, made using the Chevron Die and the Action Border Set, to highlight this random photo.
The
Corner Strip Die
is an easy way to frame out a single photo. It allows you to use photos or a variety of patterned papers, like Paije did here. Note: Paije used a 5x7 photo in the center of this layout. Photo was cut 5x5 inches.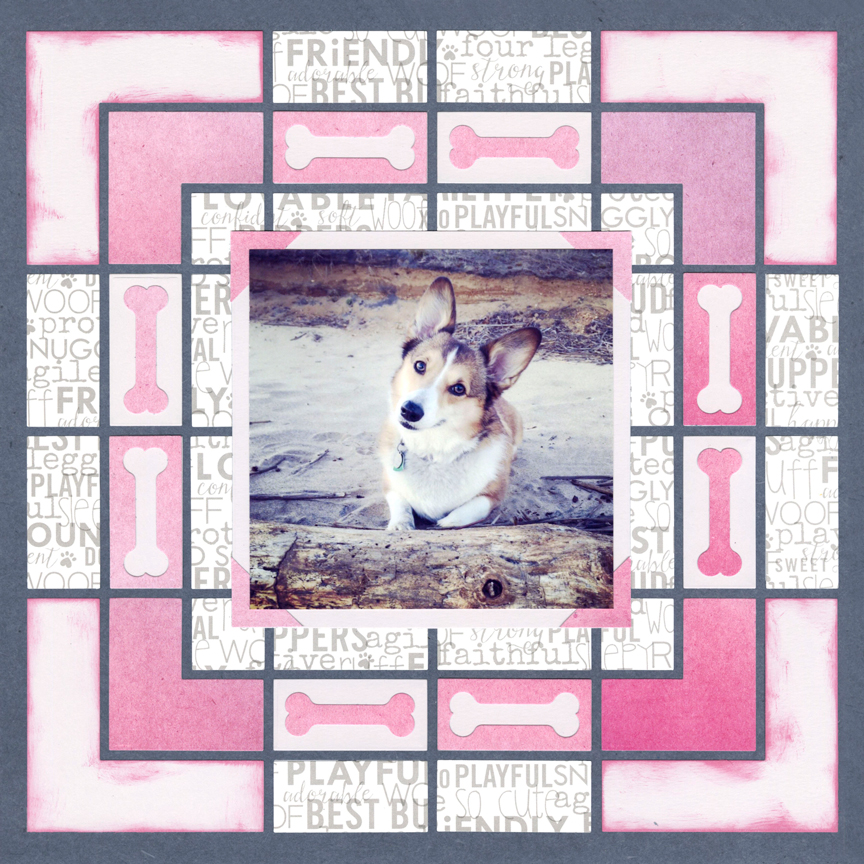 "Sadie 2019" by Paije Potter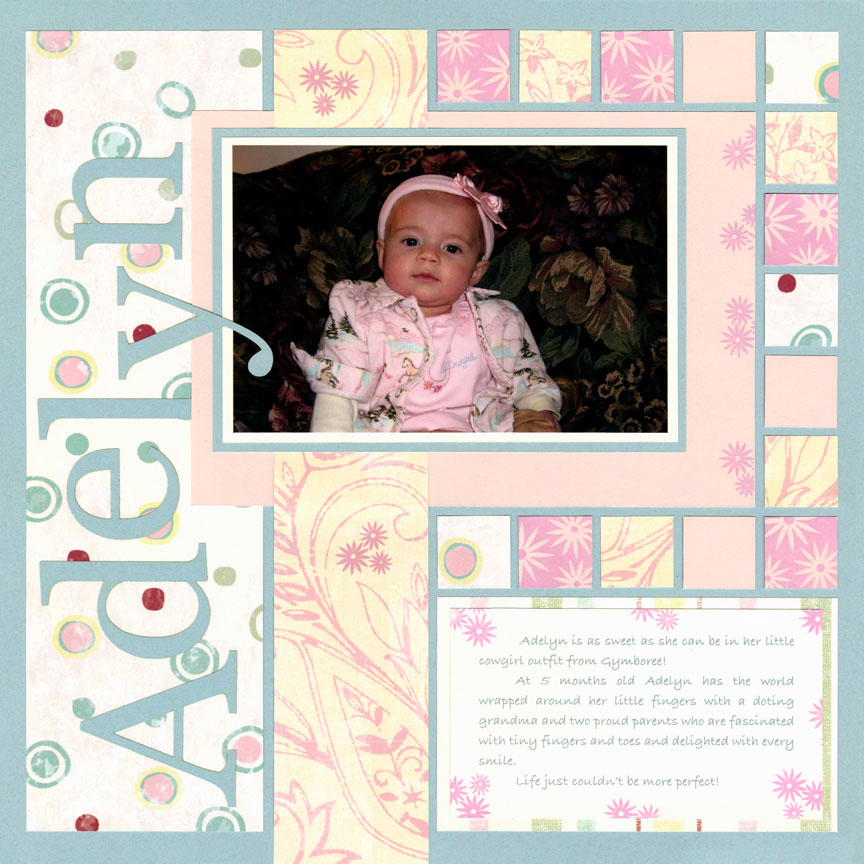 "Adelyn" by Tami Potter - Free-Styled
If you have a pattern paper collection you just love, create a layout with large strips and some mosaic squares! This is perfect for decorating a layout with only one photo.
On this layout, Tami also fit in a large title, plus a journaling block. Often a single photo does not tell the full story, but you have room to fit in the journaling.
Since there is only one photo on the page, Tami had room to create this nifty basket weave technique. It's easy!
Just hand-cut three 1 x 11 1/8th inch strips of a colored card-stock. Then hand-cut or use the strip dies to make 10 1x3.25 inch strips with another color. Once everything is cut you can weave them together.
See the full directions here.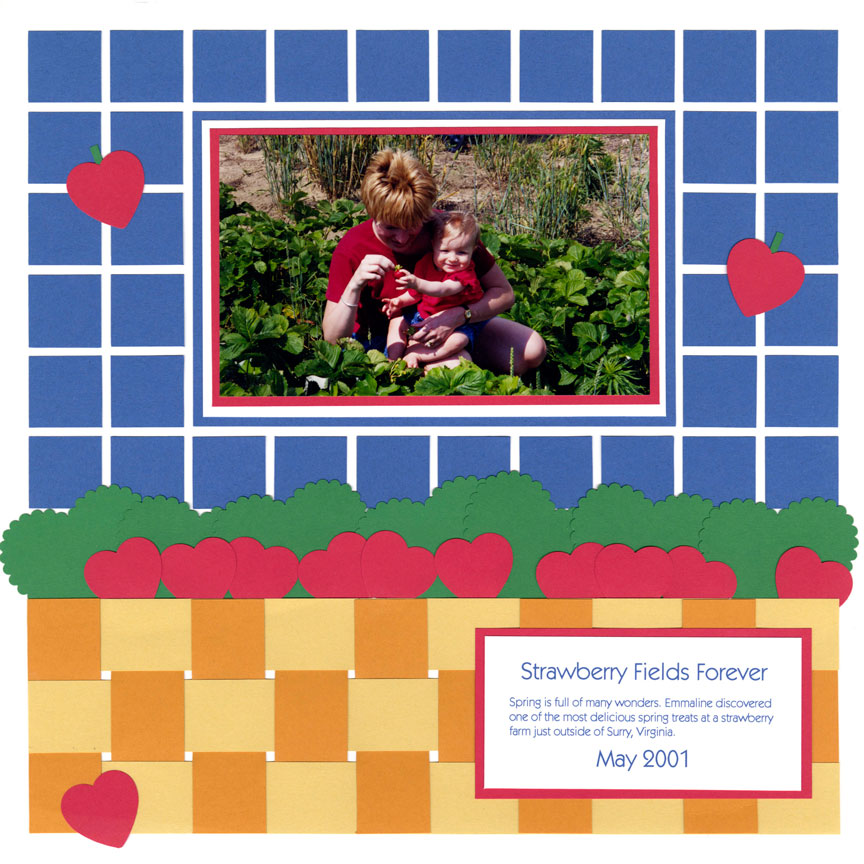 "Strawberry Fields Forever" by Tami Potter