Updated: June 2020
Photographers and guests take a ton of photos at weddings. Hundreds (if not thousands) are taken of the lovely bride & groom, the amazing venue, the beautiful flowers, & more! So of course, you end up with enough photos to fill an entire album. This requires a lot of wedding scrapbook pages, which means you need a lot of ideas! If you're stuck & need some inspiration, check out these Mosaic Moments® pages you will want to scraplift!
#1. Wedding Colors
Need ideas for the a color scheme? The easiest choice is to use the bride and groom's chosen wedding colors. Not only will this make your paper choices simple, but it's a great way to remember the wedding.
---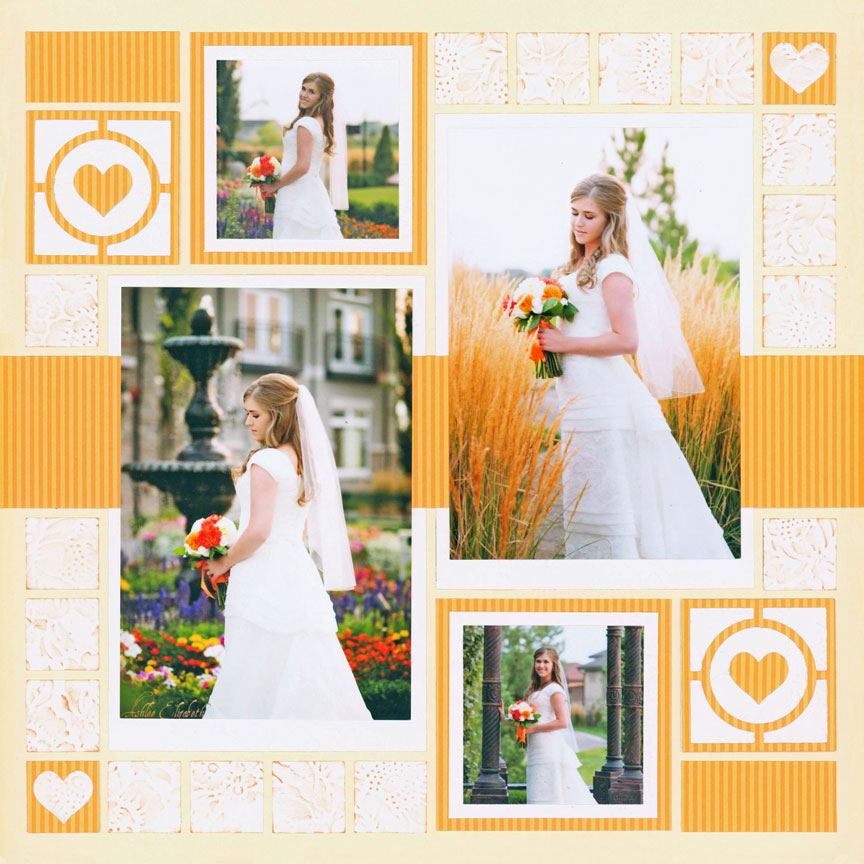 "Summer Bride" by Paije Potter - Pattern #301
This bride used colors based on the sunset. So there were lots of orange, peach, & cream colors. We found some orange striped paper that fit perfectly. Fresh Cream Grid Paper & Ivory Card stock gave this page an elegant feel and toned down the bright orange.
This bride and groom chose Navy, green, and pink for the wedding colors. On the left side, Paije used the loop border die set to create an interlocking ring design. The inner circles have an ivory and pink floral paper. The outer parts were embossed and then green chalk ink was added on top.
A dash of blue was added on the right of the layout, which matches the groom's suit.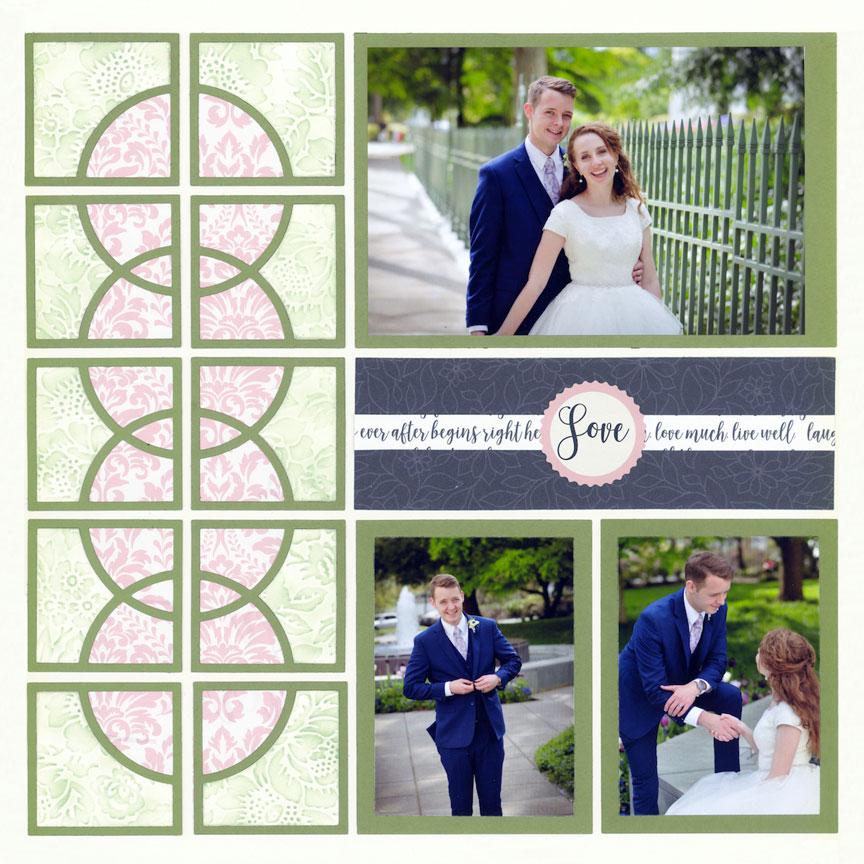 "Alexis & Matt" by Paije Potter - Pattern #416
#2. Wedding Items
Do you have any items from the wedding - such as invitations, thank you cards, or decor? You can place them in your wedding album to make the memories last!
---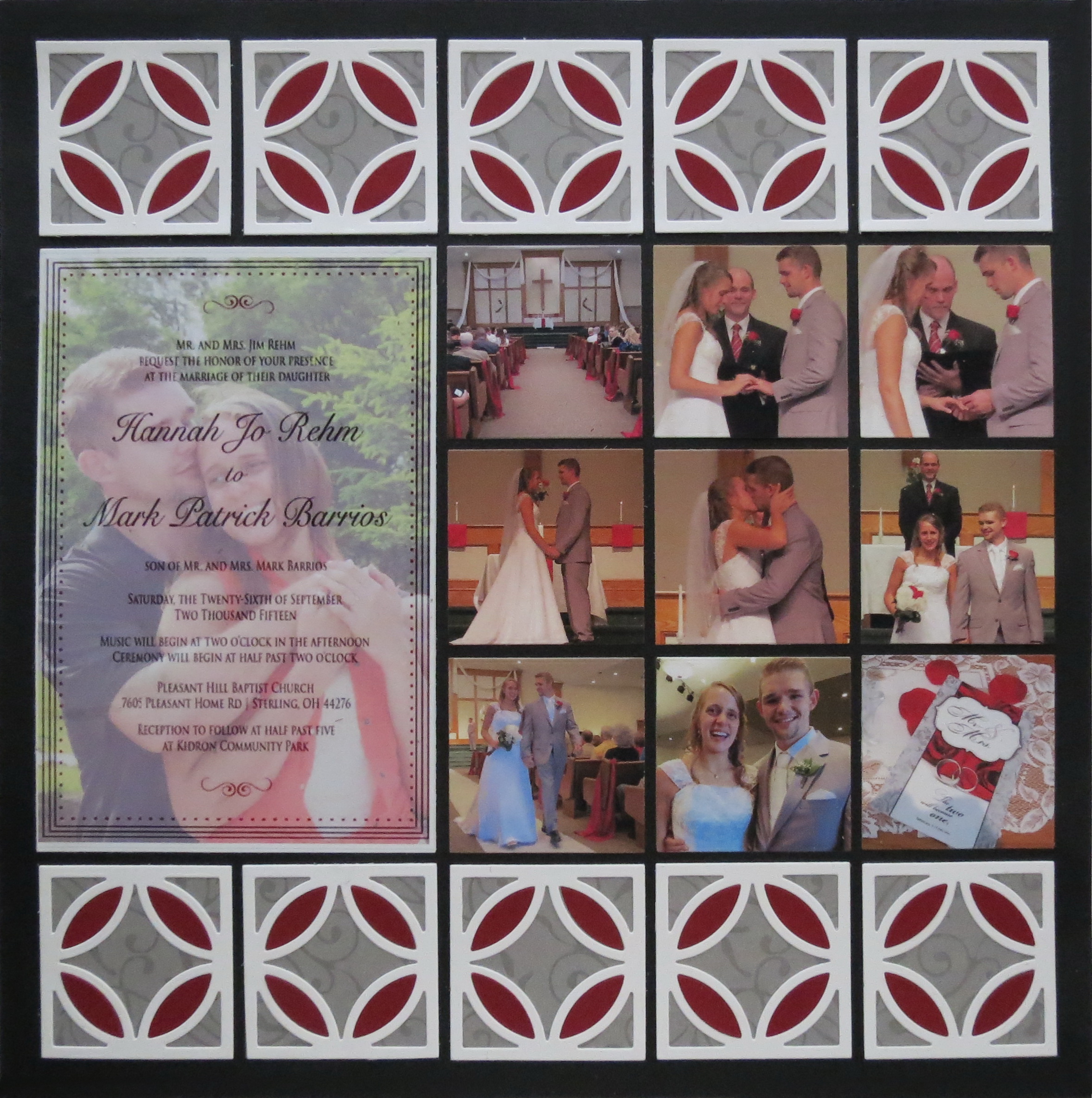 "Wedding" by Andrea Fisher
Andrea placed a two-sided invitation on this wedding scrapbook layout. You can learn more about this page by visiting her article
here
.
The heart and flower stickers shown on the layout were used for the guest book at the wedding reception. This was a simple way to decorate the layout and added a little sparkle.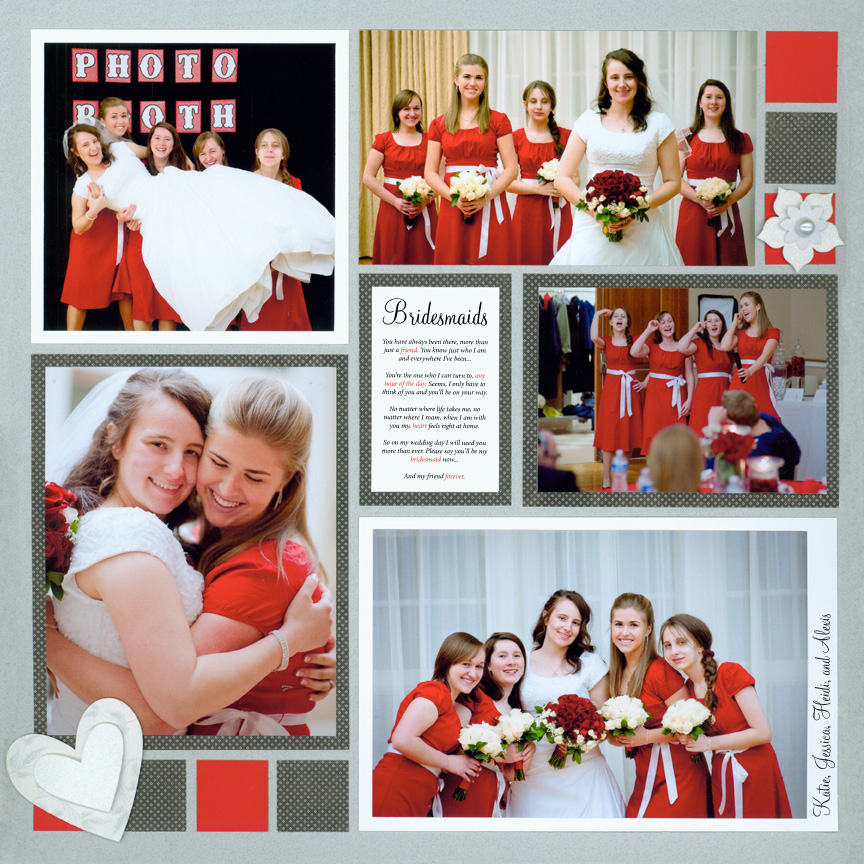 "Bridesmaids" by Paije Potter - Pattern #211
#3. Wedding Theme
Incorporate the theme of the wedding by choosing colors and embellishments that help tell the story. Here are a couple of examples:
---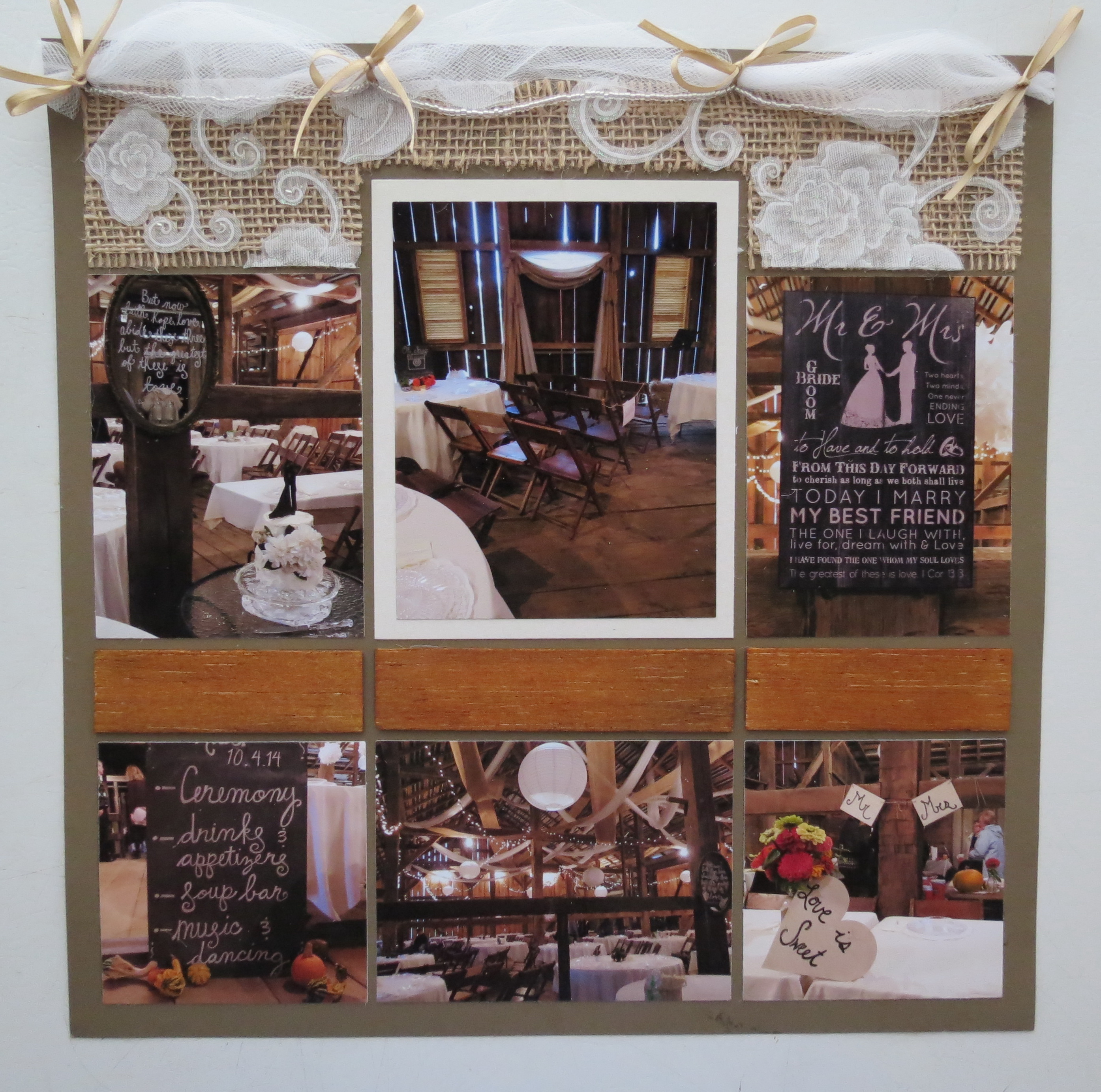 "Wedding" by Andrea Fisher
When you look at this layout do you automatically think 'rustic wedding'? Andrea did a great job decorating her layout with burlap and wood grain paper. Her layout also was created with lots of neutral colors, which fits with the wedding's rustic theming. Learn more about this page and get her tips
here
.
This wedding's theme was based on a cottage garden. So, the sweetheart dies were chosen since they create a flower shape when used together.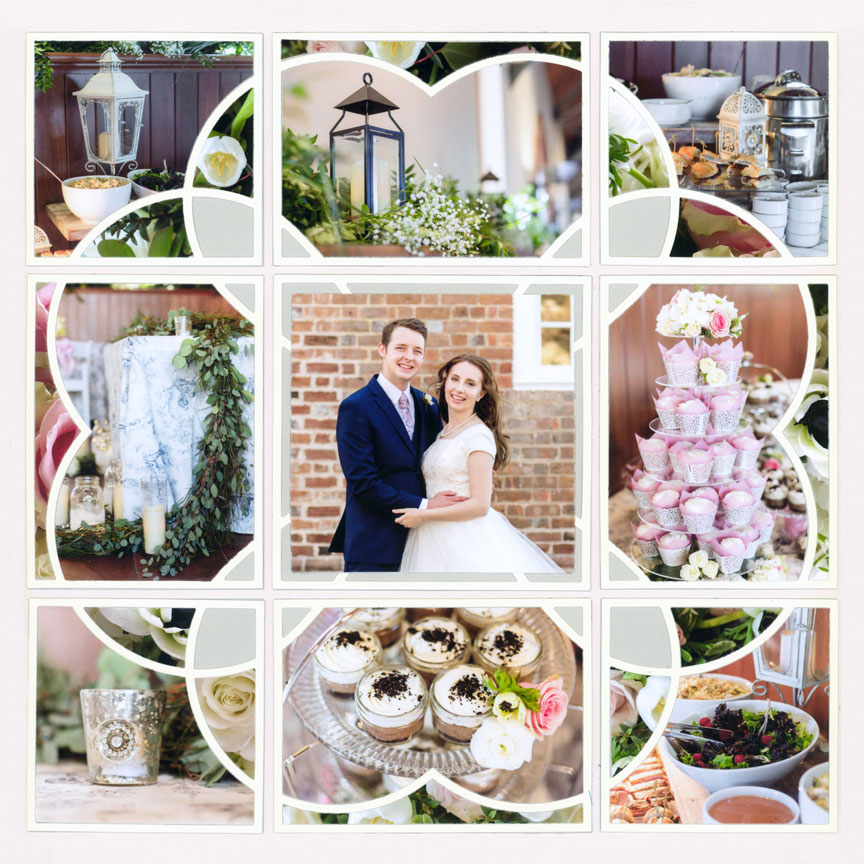 "Reception Details" by Paije Potter - Pattern #344
#4. Keep it Simple
Sometimes pages just need to be simple. So many photos are taken at a wedding and creating a whole album can take awhile! So to save on time, skip the fancy embellishments & paper. The photos are the most important anyway 🙂
---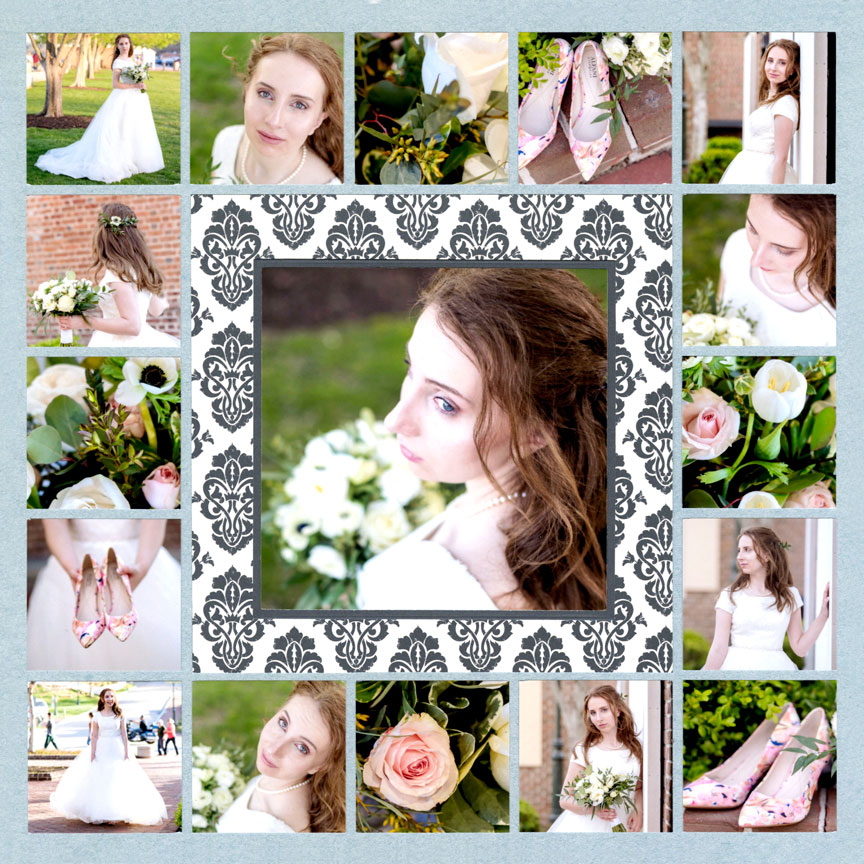 "Bride" by Paije Potter - Pattern #191
On this layout, all of the photos were cropped to squares. This page is great if you have a lot of detail shots to show.
Here the layout was kept simple since the designer, Paije, wanted to keep the photos close to the full 4x6 size. She also simplified the page by only using one color mat. To add some interest, she used a snowflake stamp on the decorative blocks.
"Winter Bride" by Paije Potter - Pattern #116 (slightly adjusted)
#5. Make the Details Mosaic
If you love the mosaic look, here are a couple of fabulous ideas for you! We don't recommend cutting the bride & groom into mosaic pieces (the bride will thank you
😉
). But, the beautiful details, such as the flowers and decor, can be made into a lovely mosaic page.
---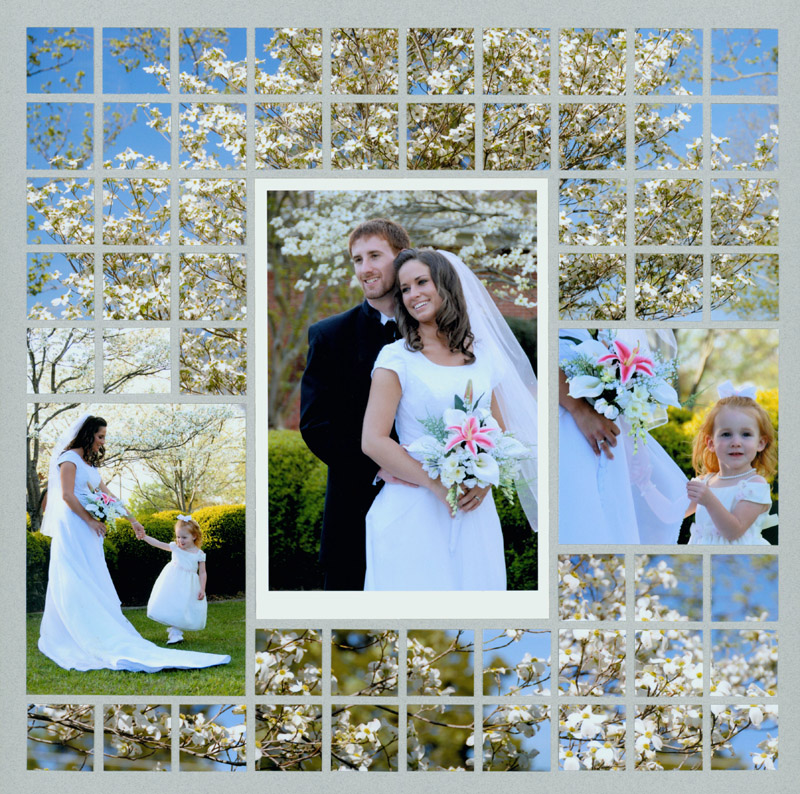 "Spring Wedding" by Tami Potter - Pattern #295
Wow! Isn't this layout just breathe taking! Tami took photos of a blossoming tree and created it into a mosaic. The trick is to take multiple shots of the tree and then blend the two or more photos together. This is a wonderful detail any bride and groom will love!
While the bride and groom were getting their photos taken, Tami explored the area to capture the flowers and scenery. Generally, the professionals are busy getting shots of the couple and don't think to get the surrounding details. So, when you attend a wedding look around and photograph the beautiful venue. Later these photos will make a fabulous mosaic!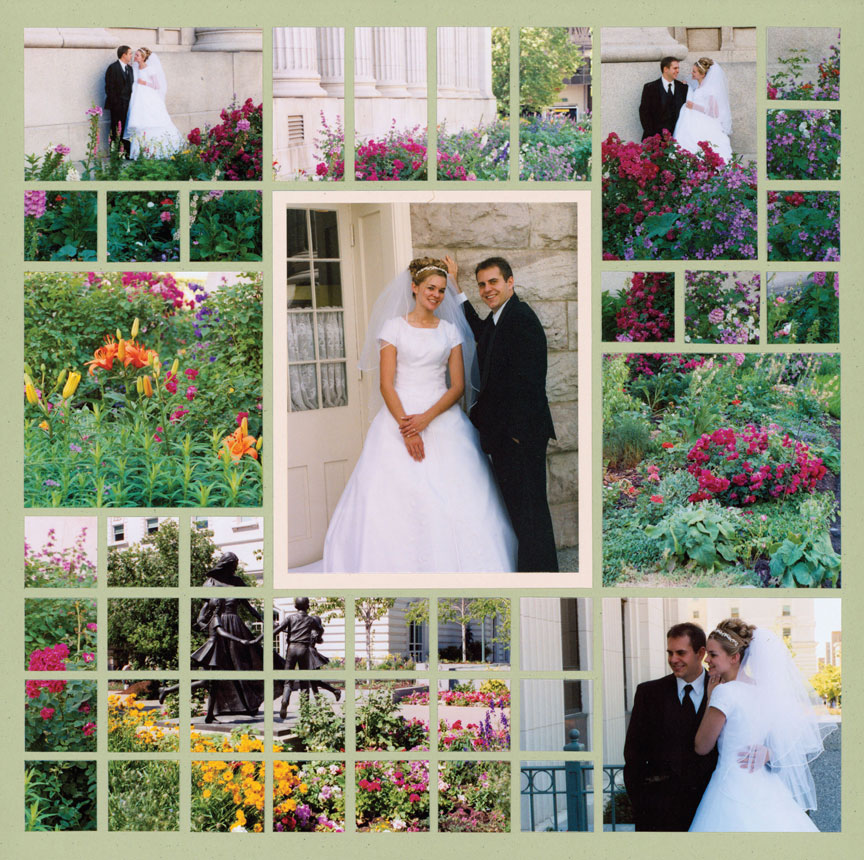 "Moon Wedding" by Tami Potter
#6. Be Inspired by the Season
After several pages, you might be tired of using the same wedding colors over and over again! So, try making a wedding page inspired the season. It helps tell the story of the wedding and with the right embellishments, your pages will look elegant.
---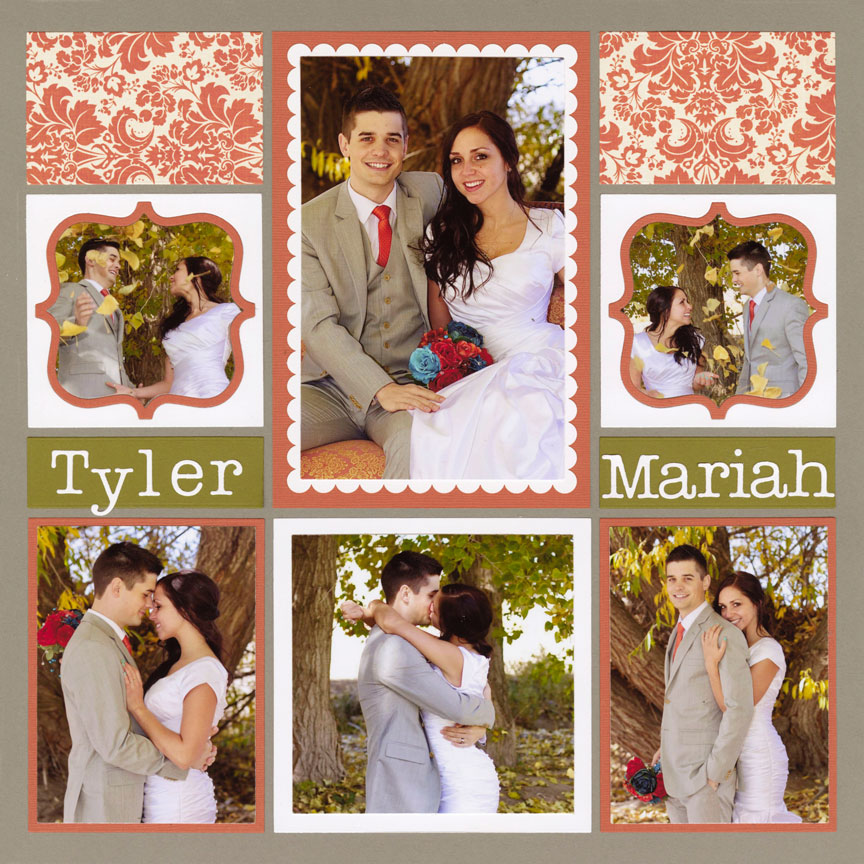 "Tyler & Mariah" by Jodi Benson - Pattern #343
Here, Jodi found lovely burnt orange and greens for this fall wedding layout. The pattern paper is very elegant and the 3x3 scallop die was a wonderful choice for a wedding page.
You don't have to use wedding themed paper for all of your pages. Here, Lynn used beautiful winter patterned paper. Winter designs are often very elegant and beautiful which is perfect for a wedding!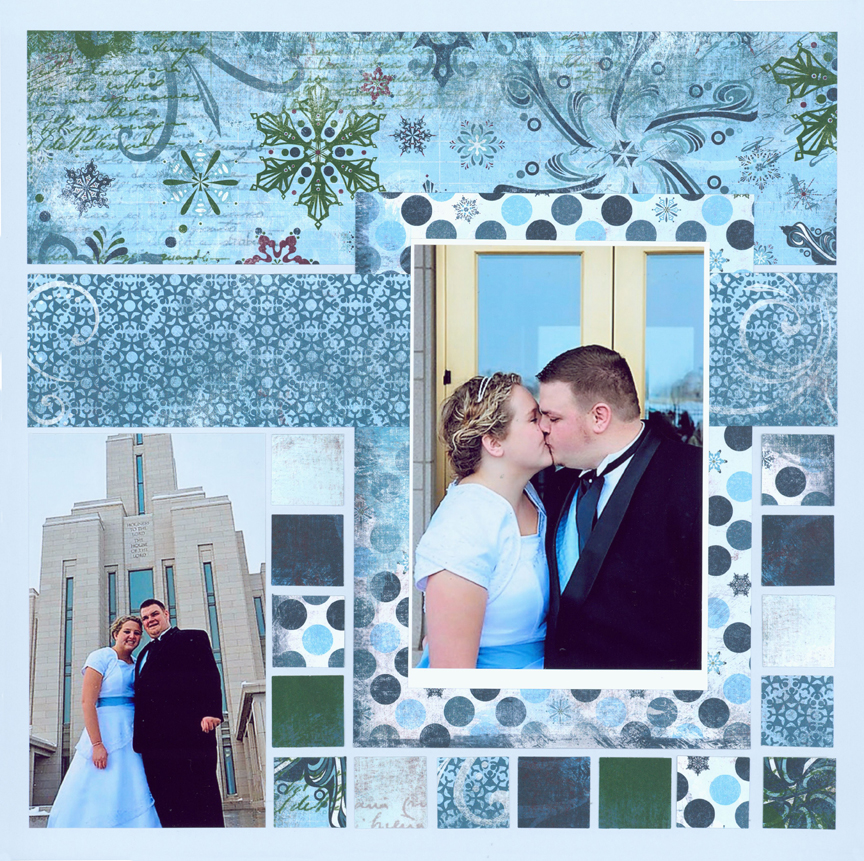 "Winter Wedding" by Lynn Wardell
#7. Change it Up with Fancy Designs
You might be wondering how you are going to fill a whole album of pages that look very similar. So, add variety by using some of the specialty dies. Here are a couple of ideas you can scraplift:
---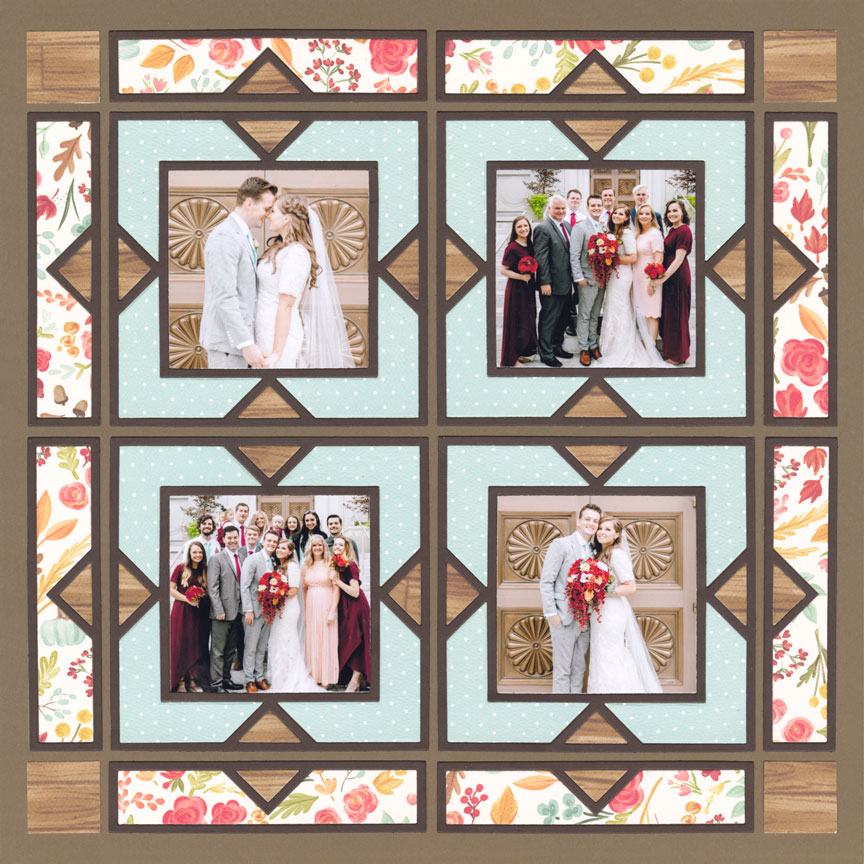 "Forever Families" by Jodi Benson - Pattern #102
Jodi framed each of these photos with the 4x4 dynamic die. She also added the 1x4 die, so each space creates little diamond designs. This is a great layout if you have four formal photos you would like to feature.
If you really want an adventure, try the bliss dies with your wedding photos! The best part about the bliss die is the petal designs that rotate around the layout.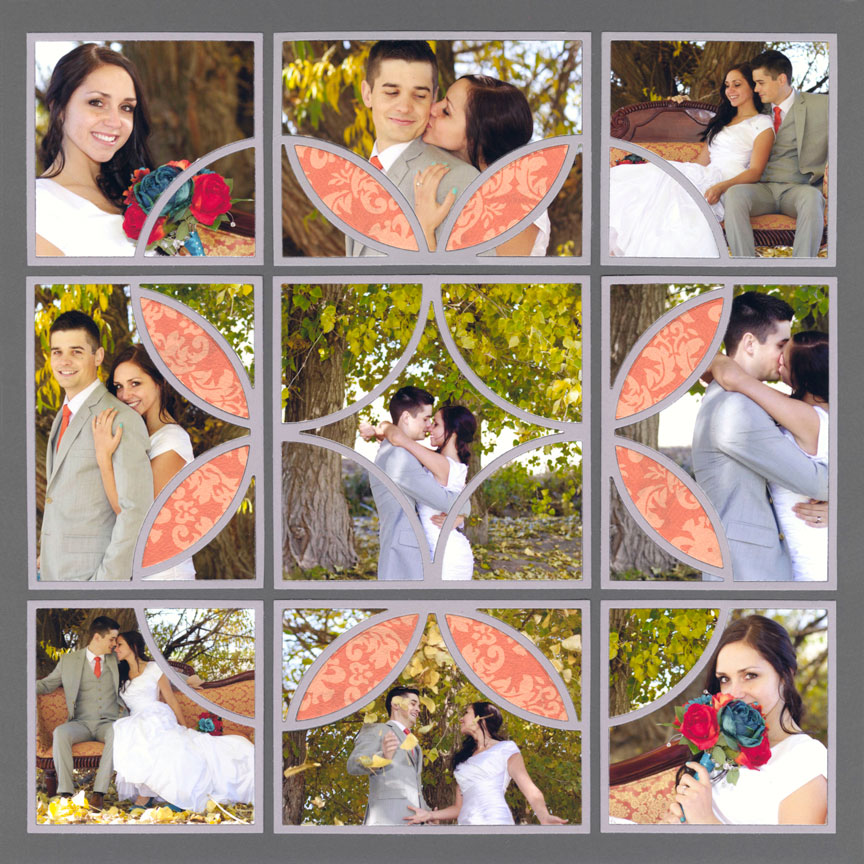 "Fall Wedding" by Jodi Benson - Pattern #344