Scrapbook Pages Inspired by Treasure Island by R.L. Stevenson
Avast ye mateys! Prepare to board the August Literary Inspiration Challenge with Robert Louis Stevenson's Treasure Island! This classic tale of a search for buried treasure and the map where "X" marks the spot will hopefully send you searching for some of your own buried gold in photos you have stored away on your SD cards and computers and not printed yet!
I read a quote the other day that said: "in fifty years the most photographed generation in history will have no pictures. Print what you want to preserve." (Missy Mwak) I think we have gone from storing our photos in the developer's envelopes to the organized storage containers that are acid free and labeled to the photos discs, SD cards and computers, we have learned how to store well! Digital photography allows us to snap more and spend less. Yes we get some great shots we may have missed before but we fail to edit out what we don't really need. We are overwhelmed my how much we have and we fail to print anything. So let's look at some ways Mosaic Moments Grid Papers can help you get more of your photos out of storage and into a layout!! Dig into the buried treasure of your photos and put together a page that will be priceless!
The Story:
Scottish writer, Robert Louis Stevenson, wrote this adventure tale to appear in serialized form for a children's magazine in 1881 before it was published in novel form in 1883. At a time when pirate tales were popular in English literature Stevenson's Treasure Island stood out as one of the greatest works of storytelling. So one of our key points for this Challenge will be the story we are going to tell about the photos we will use and the elements we include.
We begin with a young boy, a treasure map, a ship, the captain, the crew, pirates, the ship's owner, the doctor, and the cook, a.k.a. the pirate's captain. These are the characters we have to work with as we begin this voyage.
Set in the mid 1700's the style of dress is one we would compare to our country's colonial period. Tri-corner hats, knee breeches, long jackets with large cuffs and tons of braiding and brass buttons. Think Colonial Williamsburg and you've got it! The pirates would have variations of this style looking more like odds and ends picked up the Goodwill store, but more likely off of the bodies of their victims. Let's not forget that pirates then as pirates now were evil cutthroats, blood-thirsty and barbarous. While some more modern renditions of pirate tales tend to romanticize them, there is nothing worthy of emulating in the pirate life…well except in the way of clothes as costumes for some fancy dress ball. Oh, and lest I forget, there are a few pirates that may indeed be worthy of emulating…the Patch the Pirate club has gone a long way to redeem the pirate image and character with songs and scriptures for kids to learn, maybe your kids, like mine, have been a part of the club at some time or another, and maybe you have photos too!!
How will you tell your tale? Will it be a few simple lines or detailed account of the events on your pages? Have you thought of a new way retell the story that will create interest? A ship's log with entries would work well for a ship themed page. A travel page might include postcards with brief notes "home" in 'wish you were here style.' Try something new!!
Featured Images:
The Treasure map is central to the telling of the tale. It is the impetus to the main characters, the Squire, the Doctor and Jim Hawkins to chase after the unknown riches to parts unknown. This would be a perfect challenge to have a scavenger hunt, draw a map that leaves clues to collect and a spot to finish where the payoff is made. Maybe you've been on your own great adventure, a vacation of a lifetime, so pull out your maps and think about including one in your design.
The Ship is the mode of transportation they used…did your vacation include camping, RV-ing, a flight or a cruise? What was your gear? What were your tools? What was packed away in your sea chest?
The Treasure Chest overflowing with gold doubloons, pieces of eight, pearls and jewels is how every imagination would conjure the discovery at the end of the tale. What fills your treasure chest? Whether it's the tchotchke's you've collected along the trip, or precious mementos over the years, maybe family heirlooms you cherish and will pass on to the next generation…something fills your treasure chest, share it and the story!
The Island, the remote tropical island far from the western shores of England where the story began has a few key elements beyond the buried treasure. Old Ben Gunn has been marooned for five years on this tropical paradise here he has built himself a fortified dwelling with a lookout point to observe incoming ships to the bay. He has a handmade boat of bamboo and goat skins and knows all the ins and outs of the island. He knew Long John Silver when both were aboard Capt. Flint's ship the Walrus.
Do you have a DIY project you've crafted like Ben Gunn's boat? Why not share the process and the end results. Maybe you've been to some fantastic island with lots of out of the way of the tourist stops that make it special for you. Maybe just a day at the beach building sandcastles with the kids! We used to camp in Florida and visit the town of Treasure Island enjoying the white sand beach, maybe you have too?
The Sea, while most of this story takes place on the land, is a powerful component to the story. It is at sea that the plot of the pirates comes to fruition, where Jim Hawkins learns of the duplicity of his friend John Silver, and his plans for the overthrow of the captain and stealing of the treasure map. Our travels today are rarely as long and fraught with danger as sea going journeys were in those days, but the ocean holds many enjoyable pleasures. From snorkeling, to surfing and all sorts of water sports, even fishing for one of the more relaxing activities, the ocean still takes us to places of fun and enjoyment.
Colors, Textures, Patterns and more Images
I suppose the first Colors we associate with pirates is Gold, Red, White and Black and with all things nautical, also navy blue. Textures will vary from the heavy woolen jackets, felted tri-corner hats, leather belts, steel swords and jeweled scabbards. The ship's shiny brass, wooden planks, rope riggings, and sails unfurled can also be represented on the page, and with chests overflowing with gold and jewels, don't forget to bring the bling! A little will go a long way. And water, don't forget the water. Patterns would include the stripes of pirate shirts or pants, wood grain, and Images that include the parrot, skull and crossbones, and crossed cutlasses, anchors, the ship's wheels with 8-10 spokes, spyglasses and the Jolly Roger. We have our Treasure Island Pinterest board that the team has been contributing to in preparation for the challenge where we hope you may find additional items to inspire you!
Fonts: Treasure Island, Blackadder ITC, Black Chancery, Pieces of Eight, Pirates Gold, Pirates Bay, Baby Pirate, Nue Tattoo Script, Windlass, Bleeding Cowboys, JSL Ancient, Caribbean, Treasure Map Deadhand, and Shipped Goods are a few fonts that may fit your pirate inspired pages. The samples can be found on our Pinterest Boards with links to the fonts.
Here's my layout with my take on the story:
I decided to dig into my treasure box and pull out some older photos that I still haven't scrapped and heed my own advice! One of the downfalls is the time between then and now and my memory! My page suffers from only  a sketchy account of our day…so…write things down to remember if you won't be scrapping right away, but try to stay current on your scrapping for the best story possible!!
Here's what I began with:
MM Caramel, Caribbean Breeze and Tropical Breeze Paper Tiles
gold foil cardstock
gold brads
rope trim and bamboo cording
twine: oatmeal with gold strands
wave dies from Sweet'n Sassy
white and aqua glitter
black micron pen 002
Tim Holtz Distress Inks: antique linen, tea dye
Adirondack Ink: slate
Versa Magic Dew Drop Chalk: Aspen Mist
Fonts: Bleeding Cowboys (Title: Tall Ships), Black Chancery (journaling) and LD Fierro (Title: Cleveland Harbor)
aged parchment
a light box
Page One
To make the map I printed what I wanted from the internet, covered it with parchment adn used the light box to copy the details I wanted. A micron pen worked perfectly for this. I printed map from our Pinterest Board for the compass rose I wanted to use and traced some of the details. Distress Inks aged the parchment further.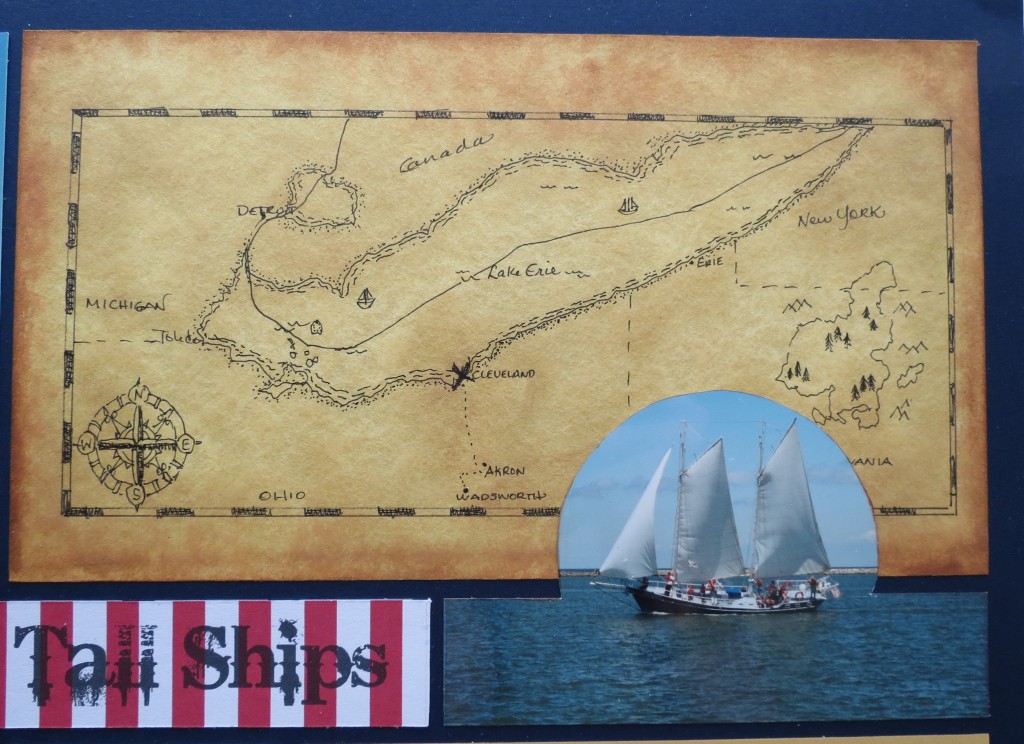 I thought about fussy cutting the ship around the sails, but didn't want to sacrifice the details so created my own out cut using a small cup and cut so a 1″ x 4″ tile strip base with a semi-circle with the ship inside. I allow the ship to overlap the map for a little outside the grid look.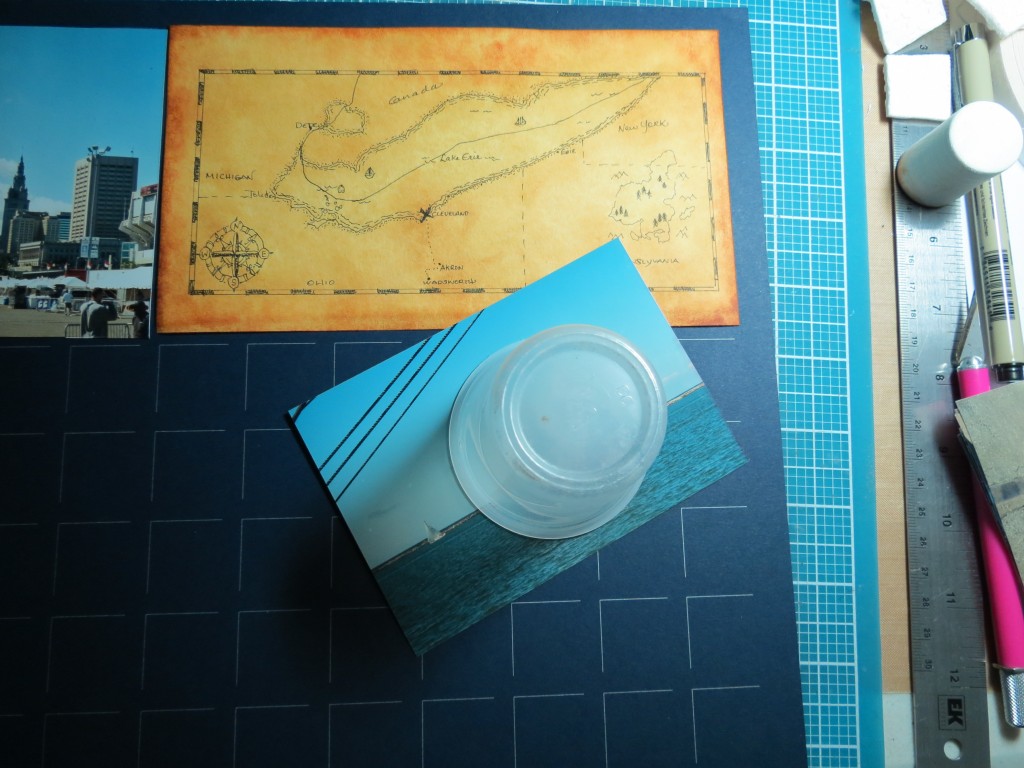 Page Two
using circle frames for porthole look, rope trim,gold brads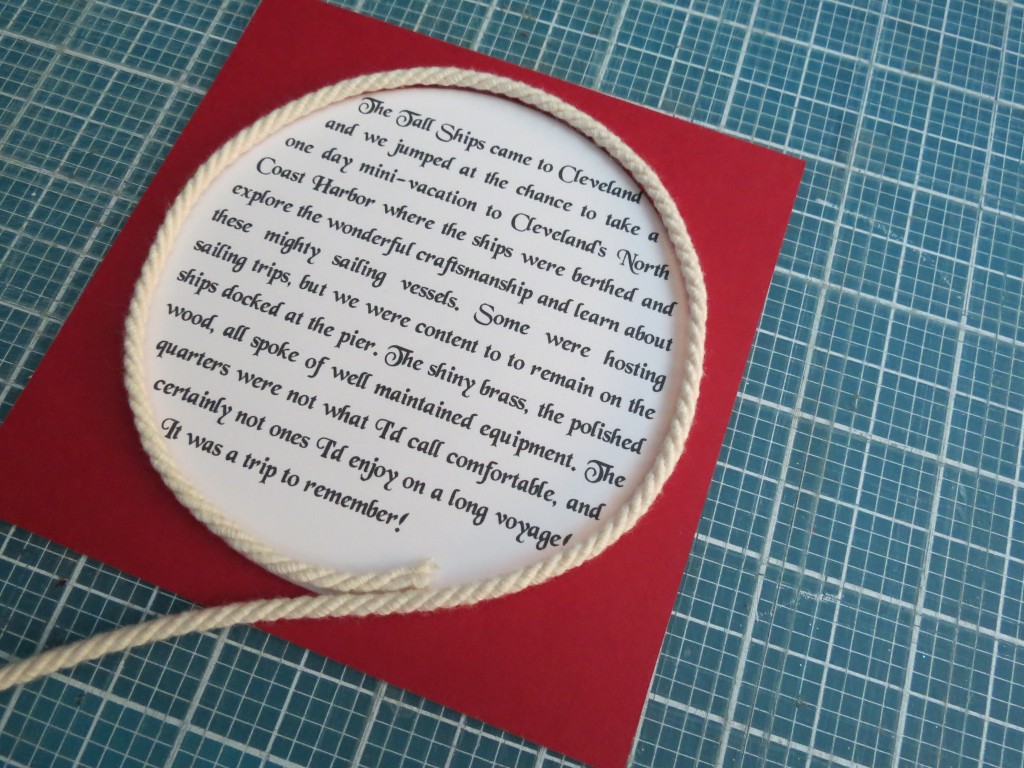 Finish the connection with a little bit of tape and wrap over tape with bamboo cording and secure end with glue (Aleen's) and attach to frame opening.
Page Three
On this final page I have re-used patterns from first page and added some bling too. They are not pieces of eight, but that's what they represent. In a banner form 3/4″ circles punched from shiny gold cardstock using twine to string and attach with glue dots arranged in directions and angles for life-like look.
Something to think about when you are taking photos is to get a variety of shots that include different angles shooting from above or below and with kids, getting down to their level for a good picture of them. Take close ups and distant shots and when taking photos of the people you are with get some of the color and activity in the background for added interest and context. Getting 'sailors' climbing the ropes adds perspective. I took close ups of knot work on the deck, brass bells and compass', the varied distances add interest to your layout.
I hope you've been encouraged to take a new look at a classic tale and see how you can be inspired by Treasure Island and incorporate a few elements to spice up your photos of your summer adventure story!!
Have a great summer!
andrea