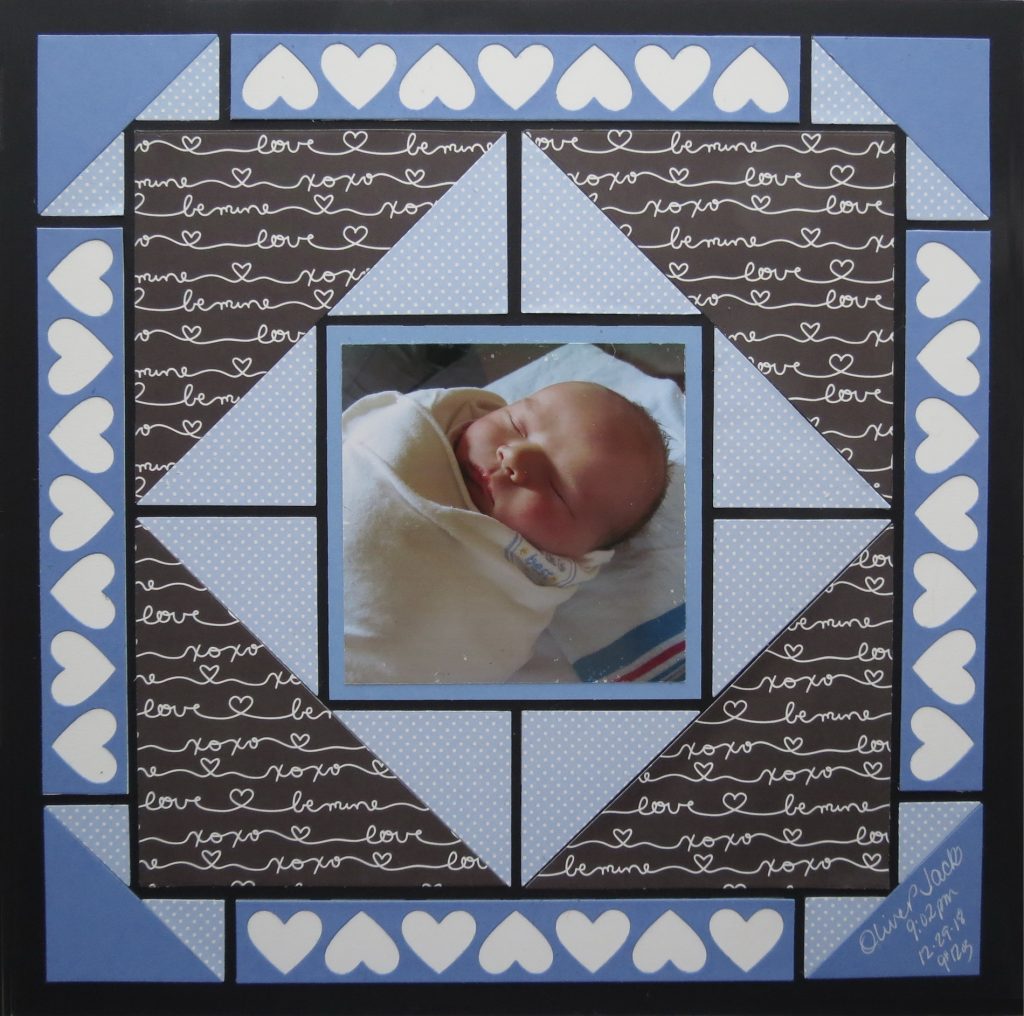 We have a new triangle die to add to our collection, the Corner Die 4×4 Set will cut two triangles AND two layers for the triangles. It joins the Corner Tile die set of 12, the Jumbo Corner Tiles and the 3×3 Corner Tile Die Sets. We'll use all but the 3×3 in this project.
I began with Pattern #348 and Mosaic Moments 12×12 Black Grid paper. I slightly modified the pattern when I placed four cuts from the patterned paper Love and Adore Collection from Simple Stories using the new 4×4 Corner die in each of the outer corners of each of the four center squares. This opens a large square on point in the center of the page. A 4×4 Square Tile, Die Set A, mat fits nicely and frames my 4"x 4" photo.
I chose to use the Jumbo Corner Tiles and cut 8 triangles in a blue Swiss dot patterned paper to fill in the surrounding space.
The border pattern allows for a 1×6 section in each of the borders. The Row of Hearts Border die fits perfectly.
All that remains to be filled are the outer corners. For this I again used the Jumbo Corner Tile die in a solid cardstock.
The Corner Tile die set of 12 cut me the patterned paper tiles to complete with the corners. (You could also use the smallest corner cut out die to complete the corner is you wanted a solid look.)
I don't often scrap only one photo to a page, but the combination of the new die and the paper I had it seemed it would be a good time to feature the first photo of our latest family member. Oliver arrived (finally arrived) December 29th. I haven't had the chance to do a proper photo shoot with him yet, but it will come in time. No doubt this page will be the first of many.
Andrea Fisher