Have you been to the pattern gallery recently? We just added some Christmas pages for you to enjoy! But, for this post I am showing you the top five Holiday Scrapbook Layouts that are featured in the gallery. I know this is one of the busiest times of the year, and you may not have a lot of time to be scrapbooking. But, I hope you can keep these ideas in mind whenever you start working on your holiday albums. Check out the layouts below and enjoy!
1. Pattern 177 – Holiday Stress?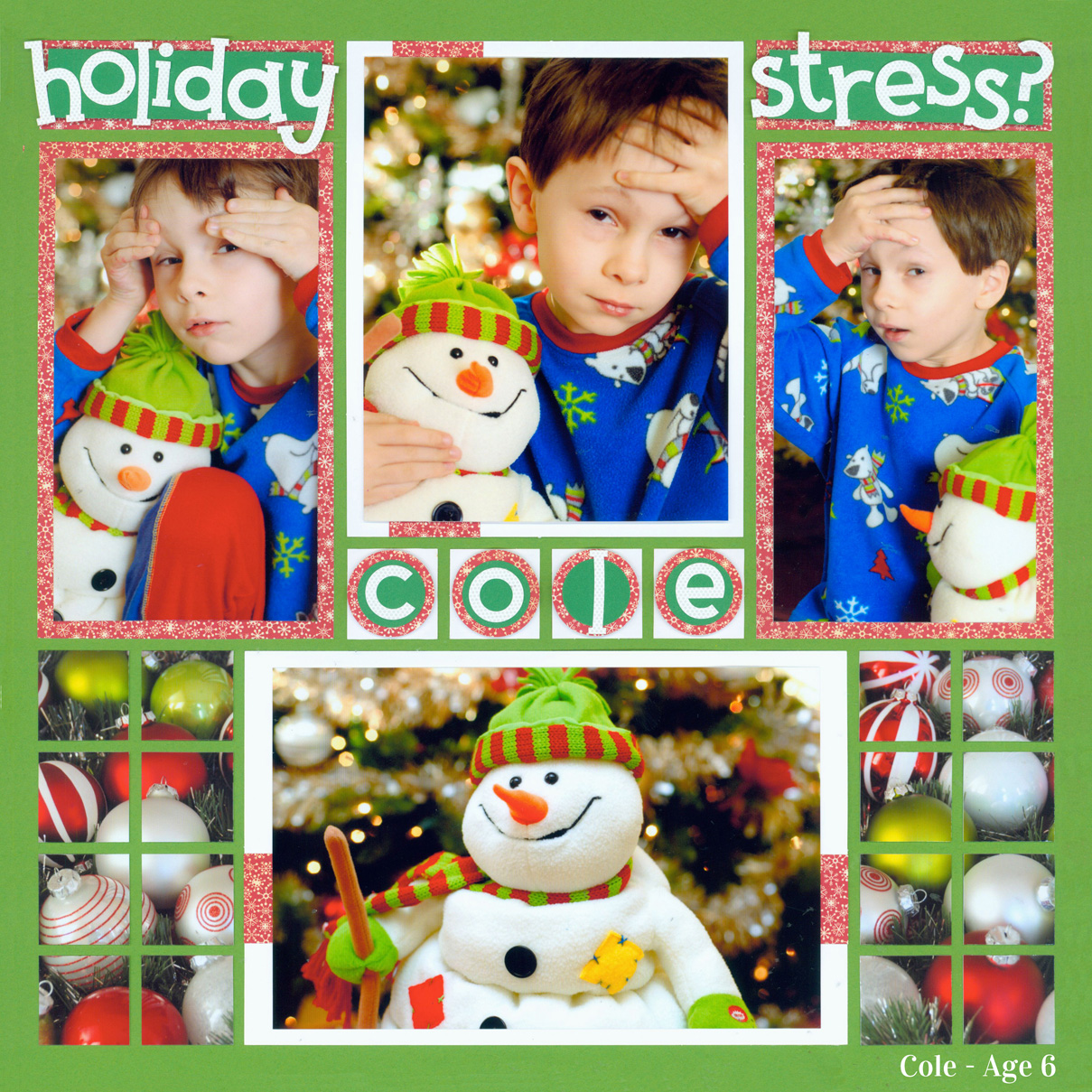 "Holiday Stress?" by Paije Rodriguez
Here is one of the most adorable Christmas layouts from the gallery! Pattern 177 has three large designs spots for portrait oriented photos, and one spot for a large landscape oriented photograph. These elements make this pattern a great option if you plan to use multiple shots of holiday portraits on a single layout.
Plus, the mosaic sections are great for adding a pop of color on your page. We added a picture of ornaments, but you could place a photo of holiday candy, cookies & other goodies, or lights.
Learn more about the story behind this page in our post "Christmas Photo Checklist for Scrapbookers"
2. Pattern #180 – Christmas Lights
I love the two square design spots on this page! It doesn't matter if you use portrait or landscape oriented photos. Both can be cropped into the square shape.
This is a good layout for 4×6 photos with larger subjects. This pattern has four large design spots, so you can easily fit your photographs without too much cropping. Plus, we added a bit of flair by adding mosaic elements. You could brighten up your page with some patterned paper or a colorful photograph.
Photo Tip: Do you like viewing Christmas Lights? If you do not have a tripod, take your photos right before it gets dark. This way you can still see the lights without your photos looking too blurry.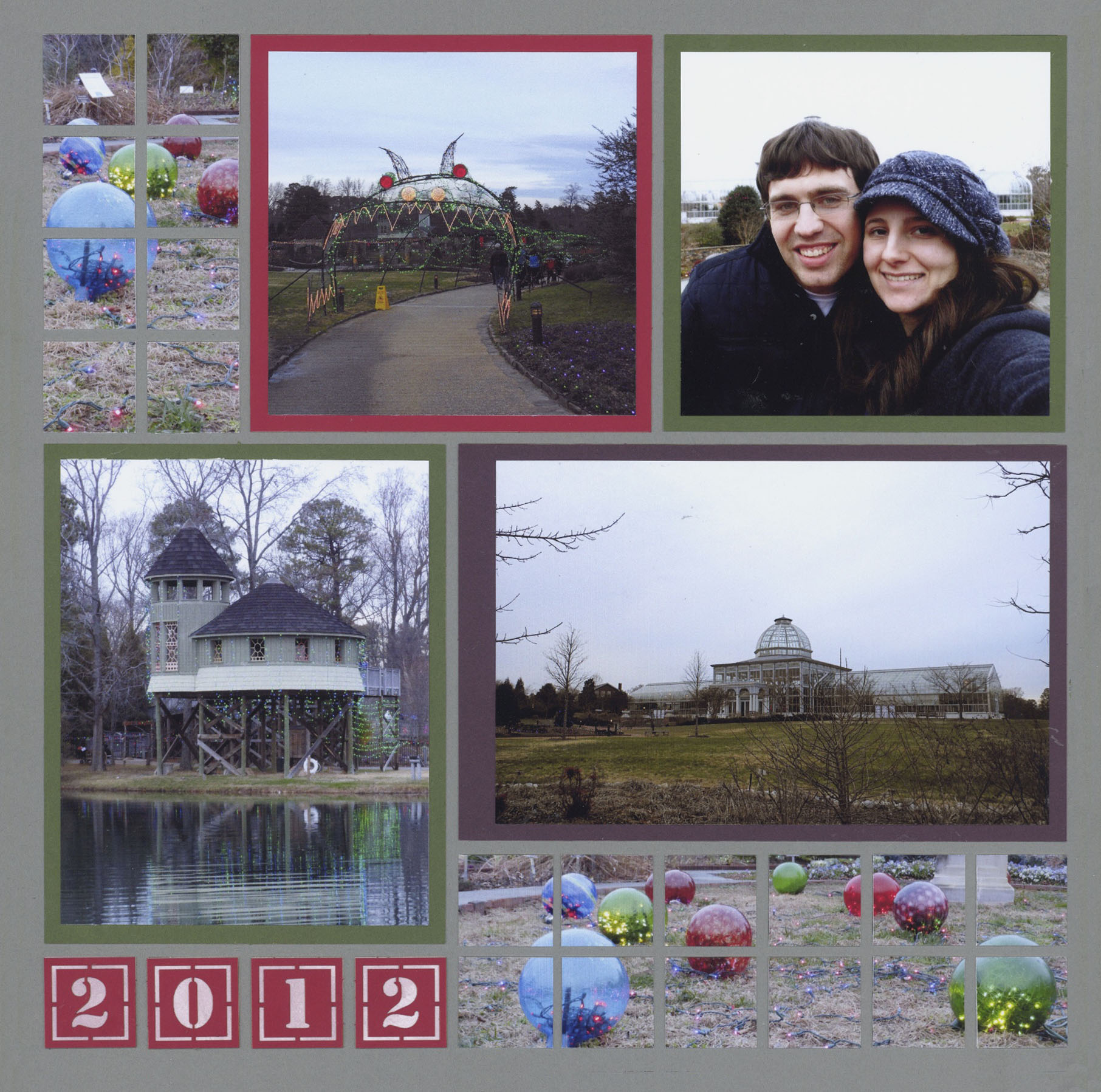 "Christmas Lights" by Paije Rodriguez
3. Pattern 281 -Christmas Around the Parks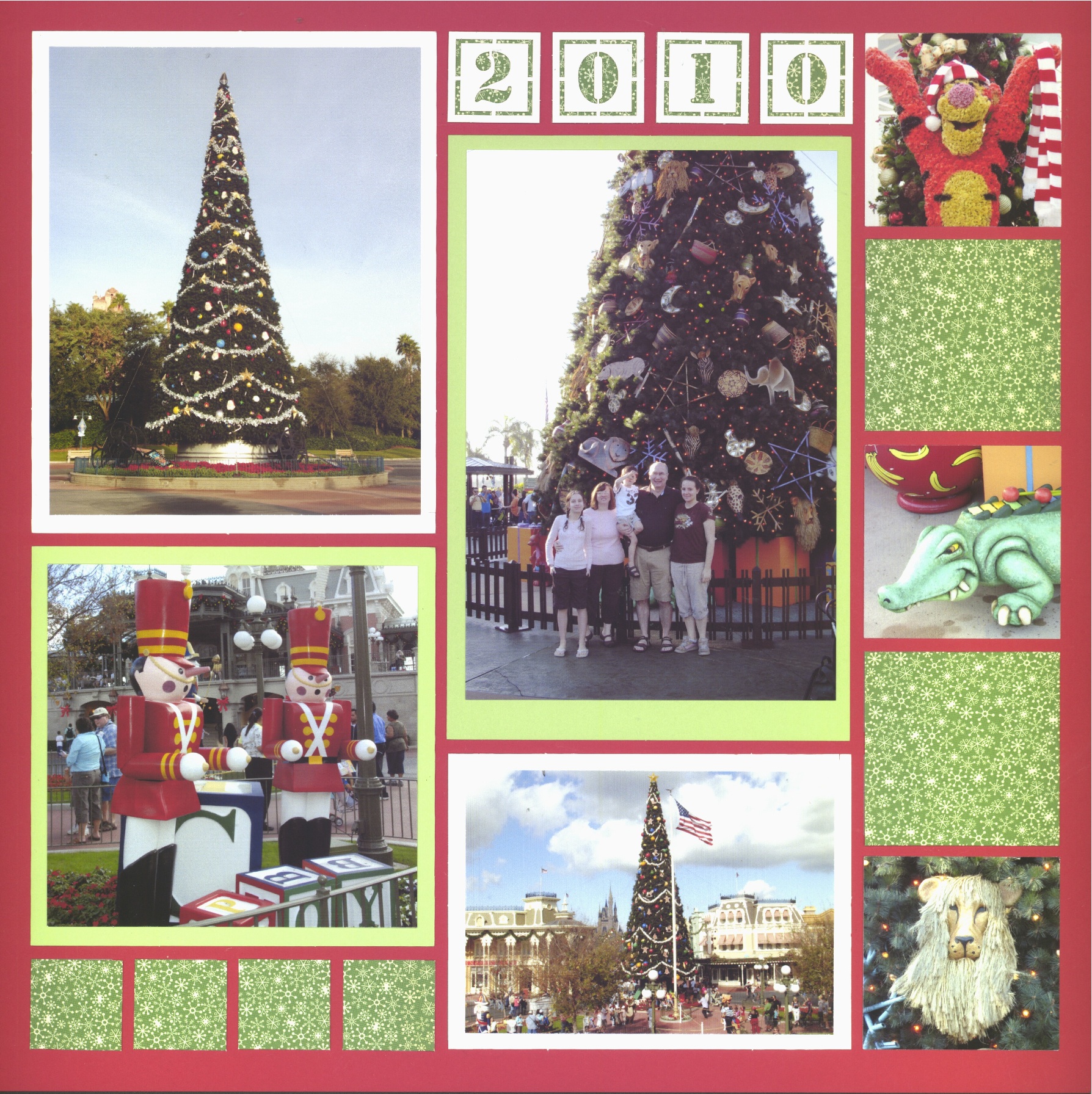 "Christmas Around the Parks" by Paije Rodriguez
Are you loving the holiday scrapbook layouts so far? I hope this article makes it easier for you to gather ideas since there is so much to view on the gallery!
Take a look at Pattern #281. I love this layout since there is a border of 2×2 squares on the right side. I chose to have the blocks alternate between photographs and patterned paper which adds interest. You can easily cut these photos with a 2.125 x 2.125 in. punch and it makes it so much faster!
I really like patterns with the 2×2 borders on the side. You can easily make them into a two page spread and it's a fun decorative element.
4. Pattern 274 – A Puppy for Christmas
You can List it with this pattern! This is one of our more simple layouts, but it still has personality. Use the top and bottom design spots for a bold patterned paper. It will definitely grab a lot of attention.
Choose this layout if you only have one photo, such as a portrait, you would like to display. This pattern is very friendly for adding lots of patterned paper and  multiple embellishments without taking away the clean and organized Mosaic Moments™ style.
There are lots of items you can list. Here are some holiday list ideas: your wish lists, gifts you received, holiday traditions, qualities about your family, or what you love about the holiday season.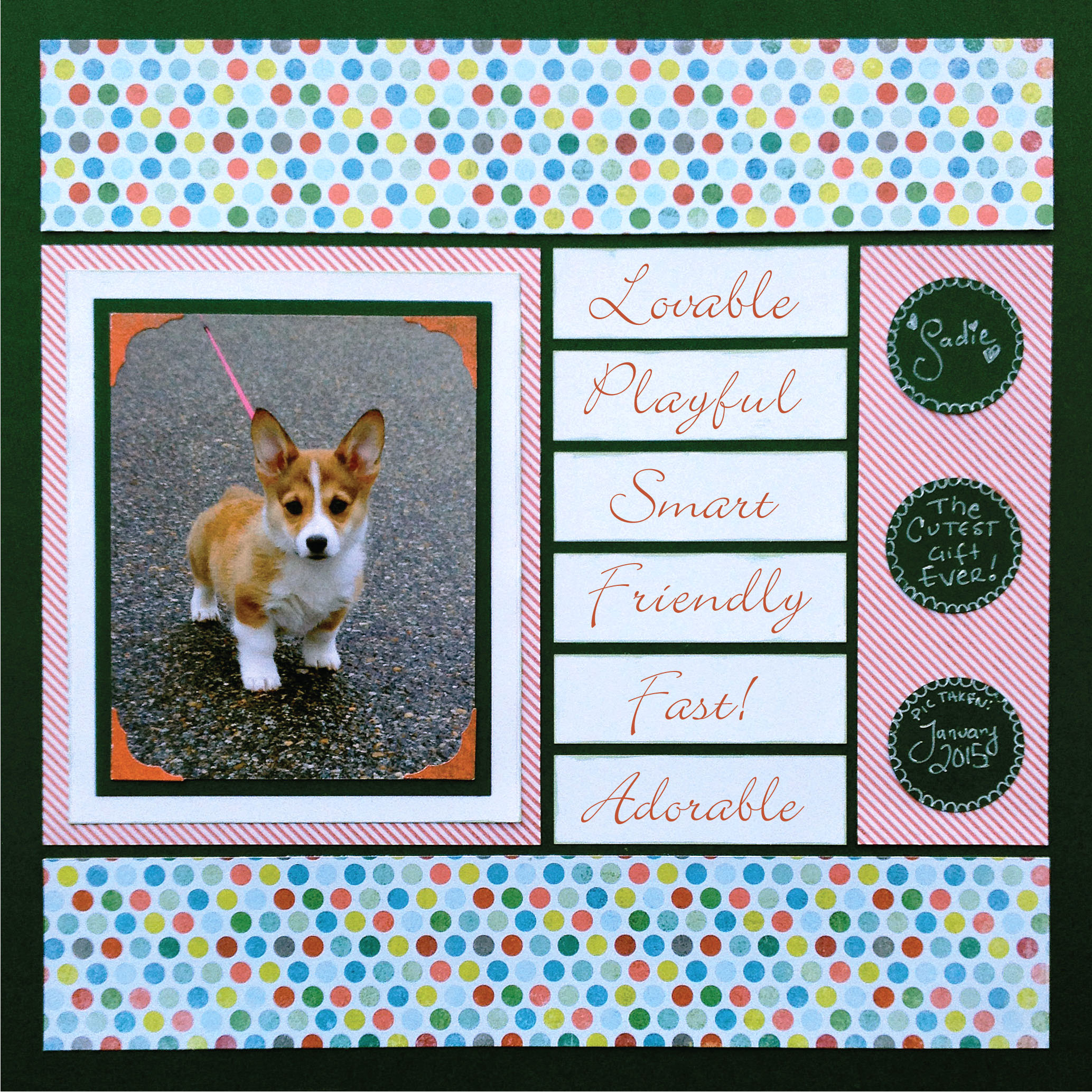 "A Puppy for Christmas" by Paije Rodriguez
5. Pattern 281 – Poinsettia Garden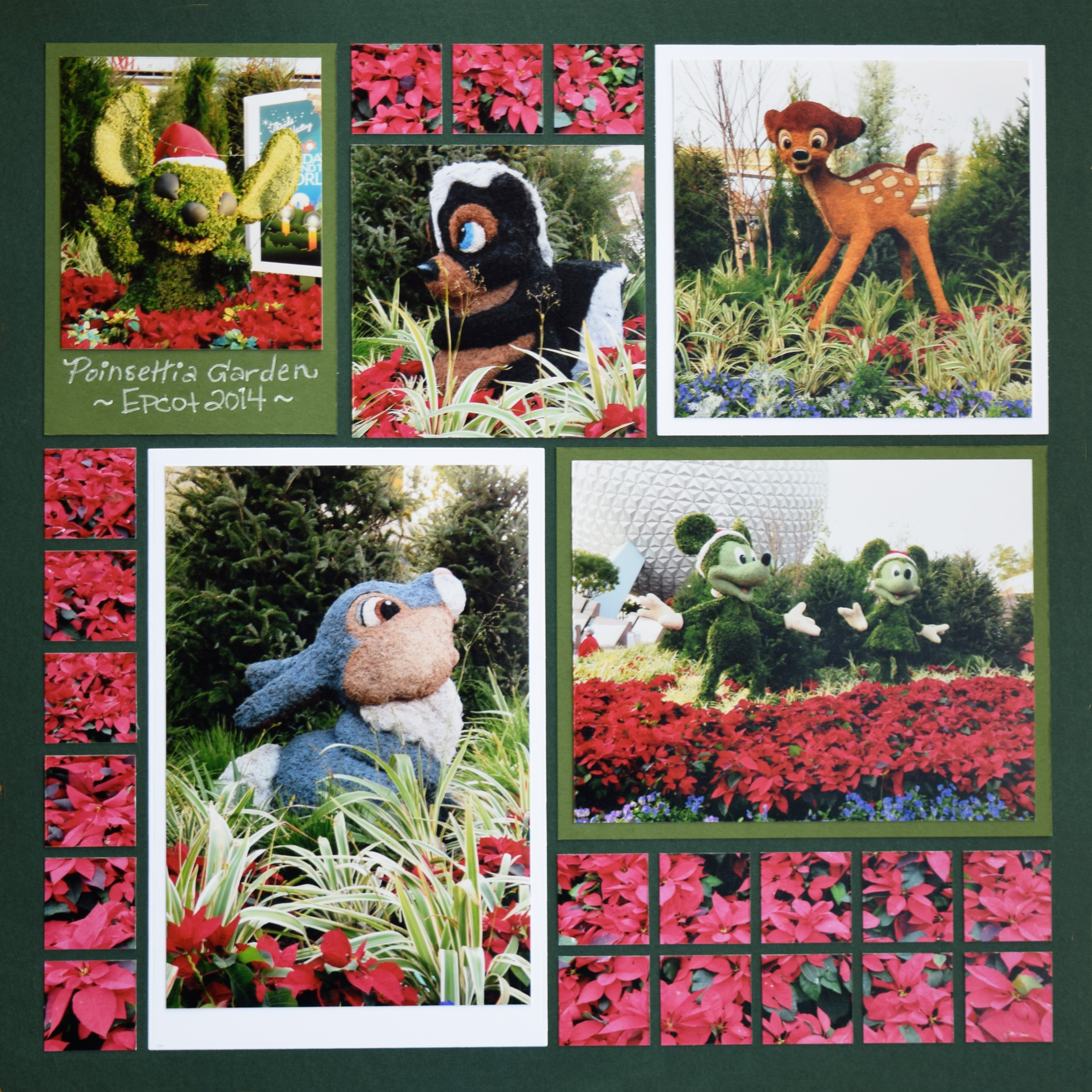 "Poinsettia Garden" by Paije Rodriguez
We love to create pages with pattern 281. This layout has large and medium sized design spots, along with mosaic details. That's a lot of variety on one spread!
On this page, we filled the mosaic design spots with Poinsettias. We love using floral shots since they make a great texture and they are so pretty! If you don't have any photos – grab some holiday patterned paper to add a little pizazz.
I love the blend of larger designs spots with the mosaic detailing.
I hope you enjoyed viewing these Holiday Scrapbook Layouts. Definitely stop by the gallery to get more ideas. We will be taking a break from our articles until January. So, I hope you have a wonderful Christmas and a Happy New Year!