Don't stress about your photos this holiday season! We created a Christmas photo checklist, so you can catch all of your holiday memories on camera. Keep reading to learn why we take less photos on Christmas Day (Gasp!) and check out how we used our holiday list to create a fun layout at the bottom of this post.
WHAT! You don't take pictures on Christmas Day? 
I read a status update by a friend on Facebook one morning, and it took me back a little. She just spent hours transferring photos to her computer, and must have been a little frustrated with the experience. She said she was making a mid year resolution to "Stop taking so many pictures."
My instinctive reaction was, "WHAT? NO!!! Don't take less pictures!"
She continued with, "I mean, really, how many pictures do I need? I'd rather be doing stuff with the family than taking pictures of the family doing stuff without me."
Having a few minutes of early morning quiet time to ponder, her comments turned my mind to this Photo Inspiration.
Several years ago I decided that there were times that I needed to put the camera down and just enjoy time with my family. The first time I put the camera away was Christmas Day. It was the best decision I ever made.
I discovered I could get all the shots I wanted and needed before Christmas Day: Counting down on the advent calendar, playing with the nativity, seeing Christmas lights, Santa's lap, drinking hot cocoa, reading the Christmas story, wearing Santa hats, kids shaking the gifts trying to figure out what is inside, baking cookies, decorating the tree, the gingerbread house…
Christmas Photo Checklist
Do you have a Christmas Photo Checklist? It might be helpful and less stressful to have a list, so you know you haven't missed anything! Here are some ideas you might want to consider:
Children writing notes to Santa
Addressing Christmas cards
Stack of Christmas cards ready to mail (try adding a ribbon tied around the stack)
Putting letter to Santa in the mail
Picking out the tree (or setting up the tree)
Looking at special ornaments
Detail of Ornaments (see photo above)
Decorating the home
Hanging the wreath on your door
Reading Christmas Stories together
Baking or making treats
Plates of Christmas cookies
Decorating a gingerbread house
Putting up the Christmas lights
Assembling gifts/toys (might want to keep these out of the scrapbook for now if the toys are from Santa)
Wrapping
Dressed in pajamas on Christmas Eve
Photo with Santa
Photo in front of the tree
Stockings hung in a row
Making holiday crafts
All dressed up – for party or church
Drinking hot cocoa, eggnog, or spiced cider
The gifts under the tree
Wearing Santa hats
Children sleeping on Christmas Eve
Enjoying a favorite holiday flick
Using Your Photographs on a Scrapbook Page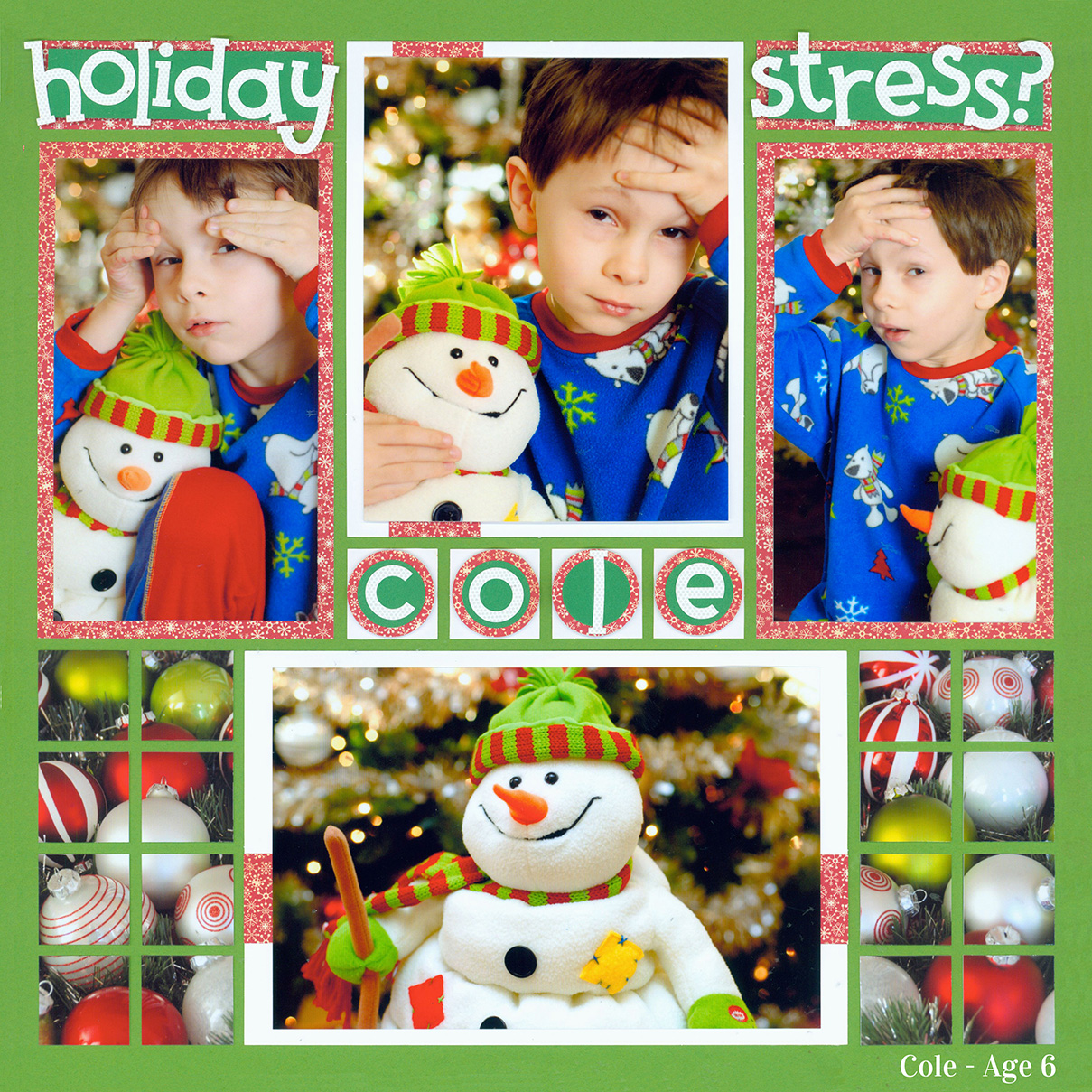 The Scrapbook Page above features funny photos of Cole (Tami's Son). Back in 2010 we bought a new flash for the camera. Cole was having a hard time keeping his eyes open since the flash was very bright. The photos did not turned out as planned. Cole was expected to be smiling happily at the camera – so it seemed like an unsuccessful photo shoot. For years the photos  just sat on the computer.
Four years later, we had a great idea! These portraits of Cole were perfect for a humorous holiday page. It totally worked! We love how he looks "stressed out". The page turned out to be adorable, funny, and a subject everyone can relate to.
Now that you know the history of this page, let's talk about the photographs:
Ornaments – Photographs of ornaments are fabulous for Mosaics! I Highly recommend taking photos of ornaments right before placing them on the tree.
Decorations – Every year Tami brings out her singing Snowmen for the holidays! If you have some fun decor, definitely take photos! Especially if they sing and dance – make sure to get kids' reactions too!
Portraits of Family in Pajamas – Cole was wearing his fun Christmas PJs. This is an adorable idea for any holiday page. Take photos of family members individually and all together for many photo options when you scrapbook your memories.
We hope you have a wonderful holiday and a fabulous new year! You are welcome to print out this list.