featuring the Stamp die set, and Navy Mosaic Moments Grid Paper
…plus the Smile for the Camera Die set
This week our featured die is the new Stamp Die Set on Navy Mosaic Moments Grid Paper. I don't know about you, but postage stamps remind me of postcards and vacations and that's where my theme will go today.
I've taken some of our vacation photos to South Dakota and Custer State Park, Patterned paper and Ephemera from Echo Park (Go See Explore) along with acrylic stamp sets from Echo Park, Hero Arts and Technique Tuesday to create my layout.
Patterns #112 & #258 are used for my pages. The photos I'm using are 3.5" x 5" so most of the spots in these patterns will rely on mats for the photos to fill the area. The bold tone on tone patterns of the papers stand out against the Navy Grid base. The camera themed paper lets me bring in the Smile for the Camera die as another fun element.
From the package of Ephemera pieces I pulled a couple of elements for the page, one was a circle with "Road Trip" that fits into a 3×3 block, a small camera circle to add as a photo corner, and a postcard to fill with some journaling notes.
Stamp Die Set Six Ways:
1. The postcard has a ship stamp but that doesn't fit my theme so a quick change using the inside frame section from the smaller stamp die in red covers it nicely. A white inner square stamped with a camera replaces the boat nicely.
The postcard had a cancelled stamp mark already that is partially covered with the new stamp, so the acrylic stamp came in handy to repair that. Several stamps have been used to add messages to the card.
The three spaces to the right of the postcard seemed perfect to include a few other variations to the stamps
2. White outer frame directly to grid with green center square stamped tree.
3. Red outer frame and center square with white inner frame imbedded, stamped tent.
4. 1" square with outer white frame and stamped campfire center.
5. The large 2×2 die with the inner frame in white mounted on green 2×2 block and photo embedded into the frame.
6. Cut the photo using the stamp die and remove the inner frame and replace with a white frame leaving the outer photo frame in place.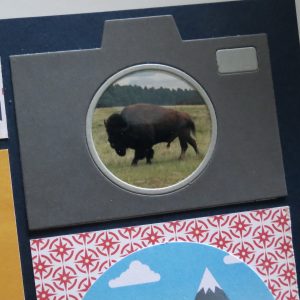 The Smile for the Camera Die is cut in smoke grey and pearl silver then combined the two for two tones. The center circle is filled with another photo.
There are a lot of fun items to scrap with these days that you've been used to using in your traditional scrapbook pages. They can be incorporated into your mosaic layouts too so don't hesitate to find ways you can do that.
I hope you can see that the new Stamp Die Set will give you several variations to play around with and that you can't wait to try it out! Remember, you can show us what you've been creating on the Mosaic Moments Crop & Share Facebook Group 
Andrea Fisher