Tell Your Story
Bible Journaling or Documenting Your Life Lessons
Featuring Sky Blue Mosaic Moments Grid Paper
and the Starflower Die Sets
Bible journaling has really caught on and there are so many styles to pick and choose from. Some people can't imagine even highlighting a verse much less drawing in their Bibles so what I'll show you today may appeal to the scrapper in you to try something different. If Bible journaling doesn't appeal to you at all hang on for some of the other suggestions later in this post.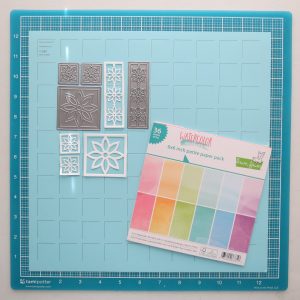 We have two sets of dies that feature the starflower, a 1×3 strip and a 2×2 & 1" square set. I'll be working on the new addition to the Mosaic Moments Grid paper, Sky Blue. It is a beautiful shade of blue leaning into the aqua color range and it works so well with the Watercolor Papers from Lawn Fawn that backs all the tiles.
All my die cuts are in white cardstock and all of my word blocks are also mounted on white cardstock. I have cut all the word blocks just an 1/8" smaller than the mat for a very narrow border.
I have created my word blocks on a series of digital papers (Kimeric Kreations – Shoreline Kit.) Their soft pastel watercolor feel blends nicely with the Sky Blue Grid. They are printed on photo paper for a crisp, glossy look. If you aren't into digital scrapping any light colored cardstock that you can print on will work nicely as well.
The pattern this week is a pinwheel Pattern #250. I have modified the pattern slightly by combining the two sections of three 1" squares and replaced it with the 1×3 starflower die.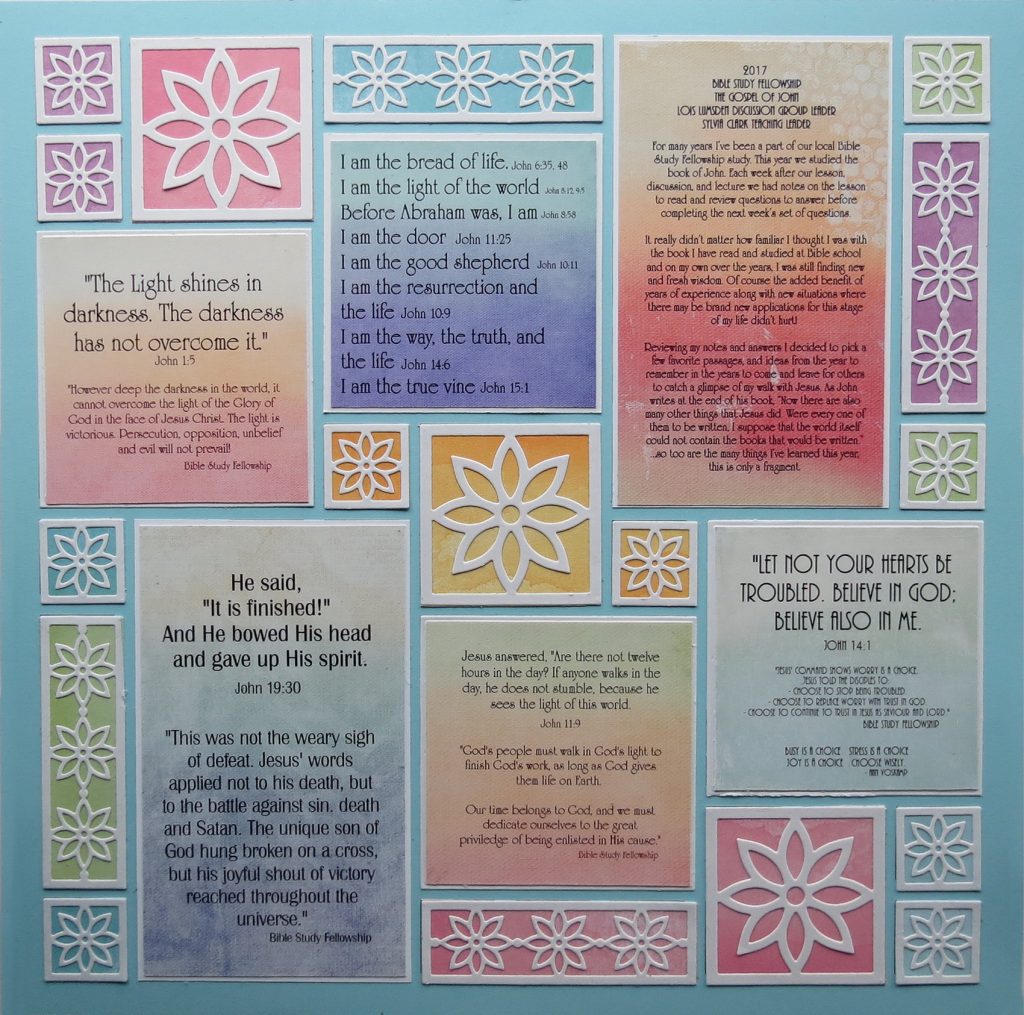 The Bible Journaling:
Tell Your Story
For many years I have participated in an international Bible study. I've learned a lot. I don't always retain as much as I'd like. As I was considering what story I might tell this week I struggled to find one to fit well with our pretty little flower dies. I considered it might be appropriate to try a no photos layout.
Eventually, I landed on this, to pull some of my favorite verses from the last year and fill a page. It will give me something to look back on and reflect upon. I also included snippets from my notes that stood out to me. While I prepared the page for my own benefit, as future generations in my family may browse through my albums, this page will give them some insight into my walk of faith, in my own words. It's a recurring theme of mine to 'tell your story' so others will get to know you, or remember you and maybe even understand you.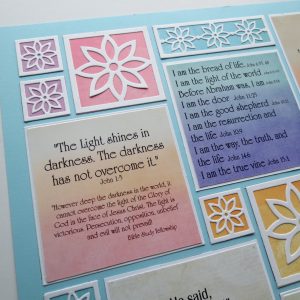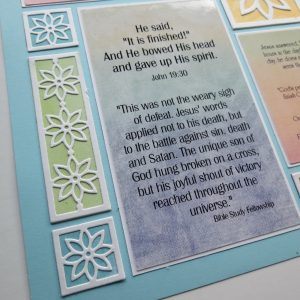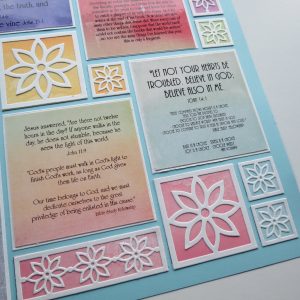 Doing this page has helped me to plan ahead for next year's study in Romans. Instead of thumbing through 30 weeks of studies for profound things to scrap, I'll keep track of them as the year unfolds and plan for next year's layout well in advance.
So if Bible journaling isn't for you let me make a few suggestions for your own journaling type page…with or without photos.
• Have you traveled somewhere with so many things you learned along the way and no way to get it all in pictures? Write it down. Tell What and Where.
• A favorite book with quotes you just love but no one has made them a meme to pin on Pinterest? Write it down. Tell Why.
• Is there a loved one, or maybe yourself struggling with chronic or terminal illness with so many things on your mind? Write it down. Tell What and How.
Get a little more creative, scrap something besides the birthdays, the kids or the last trip you took, get something personal down on paper and get it scrapped. Tell Your Story with a bit of color and out of the box memory making. I think it will help to document your life, especially if you can't say it in pictures!
Thanks for stopping in once again hope you'll share with us the layouts you've been creating and if you are pinning your pages to Pinterest, be sure to give us a shout out so we can pin you too! Find us on Pinterest.
Andrea Fisher