Featuring: Alphabet 4
Nashville No. 5
This two-page layout on Black 12×12 Mosaic Moments Grid Paper is featuring our new Alphabet 4 Die Sets with the Upper, Lower Case Letters and Numbers.
I have used the individual letters as opposed to their 1" blocks and arranged them on the 2×6 block in the pattern to create my title. I really love this new Alphabet 4 and look forward to incorporating all year long!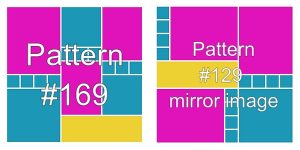 The patterns I am using are a puzzle pattern #129 and columns pattern #169 with similar elements. Pattern #129 is flipped for a mirror image so that the outside borders match each other. Both also have 2×6 and 1" sections. For this layout, I left the squares as a whole strip instead of a series of 1" squares. I wanted to maintain the pattern in the paper as much as I could.
Die Sets A & C are used for photos and mats in the variety of papers that add color and textures to compliment the photos.
• Black 12×12 Mosaic Moments grid paper
• Mosaic Moments Basic and Layered Die Sets A & C
• Black and gold cardstock
• Black & Kraft Mini Dot Reverse Canvas Corp
• My Mind's Eye Stella and Rose Hattie "Buddies" Argyle Paper/ Yellow dot paper
• DCWV Corrugated paper
• Black & Cream Diamonds: The Paper Studio
I've used a pop of color in the layout that comes from the bold yellow in this photo. I chose something a little more muted and with a pattern.
More yellow tones and an additional pattern of diamonds in cream and black for a little bit of a French country feel to pair with our chicken.
Don't you love that Alphabet? It has a vintage feel as well as a crisp modern type look.
Cardstock mats cut with Die Set A in another yellow shade, this time a little darker but still complimenting the patterned paper and the color in the photos. Including a photo of the menu cover adding to the title information.
This photo is matted on corrugated cardstock in tan adding a bit of texture to the page. I liked how the rolling pins on the wall create texture that works nicely with the mat. 
This biscuit is the star of the story and it has to have a prominent place on the page. The fresh, baked biscuit, fried chicken, pimento cheese, pickled jalapenos, and sorghum made our day. "Chicken. Set. Go."
The journal block mat continues with the yellow, black and tan colors and repeats a dot pattern. These colors work well in keeping a trendy, modern and warm rustic feel.
The journal block is cut a full size smaller than the mat it sits on. I've filled the block with the story of how we came across this restaurant quite by accident and the wonderful time we had.
It's important to include your story with your photos to explain why these particular photos are important to you. These photos are from just one portion of our weekend trip with lots of different venues and I want to be sure to get each chapter of the story included to tell it all. (#HollerAndDash)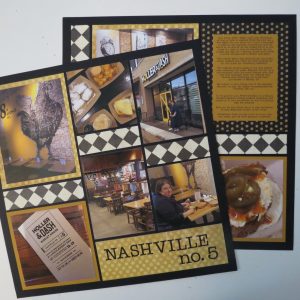 Alphabet 4 is a versatile style that will compliment your scrapbook layouts no matter the subject!
Andrea Fisher