The touch of a cozy Christmas quilt can be achieved with the 5 Sq Blocking Set. This layout is built on a Cedar 12×12 Mosaic Moments grid paper from the Trailblazer Collection with patterned papers from KaiserCraft's Peace & Joy Collection.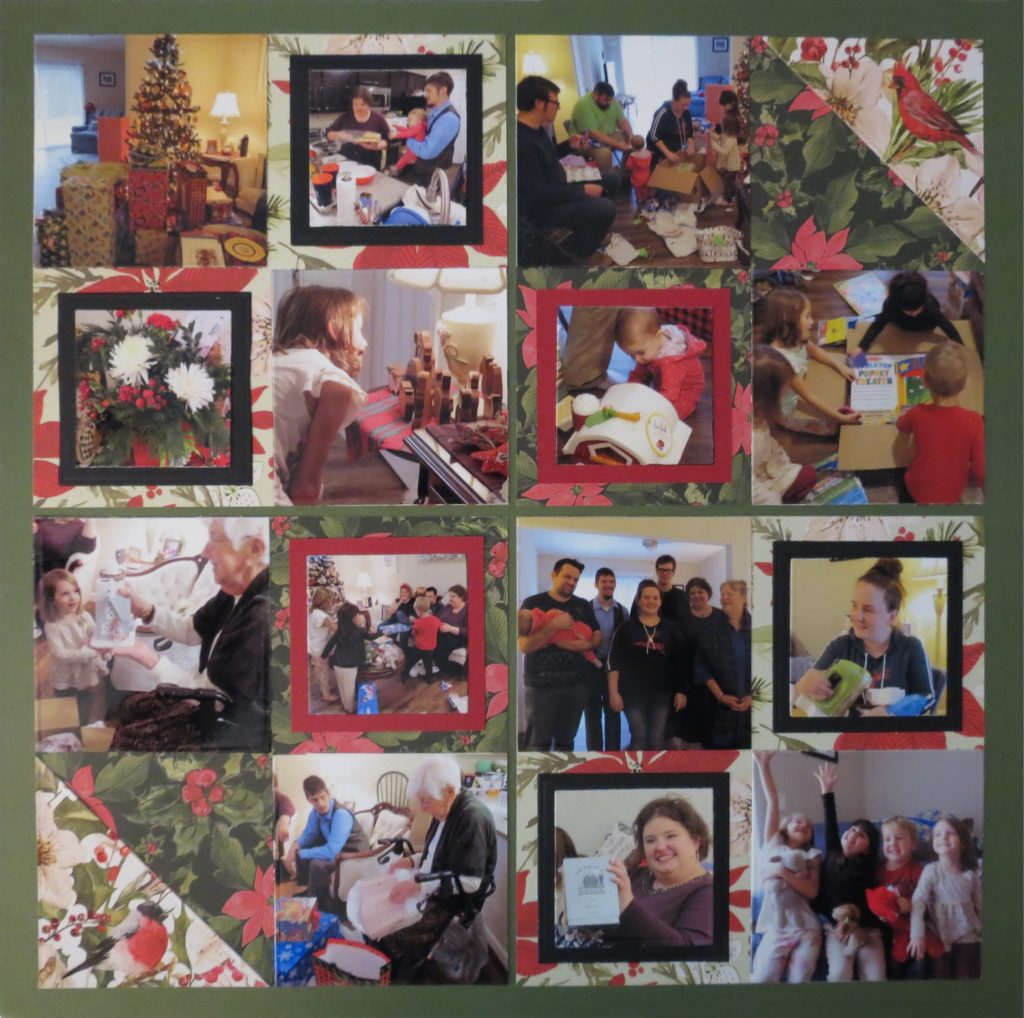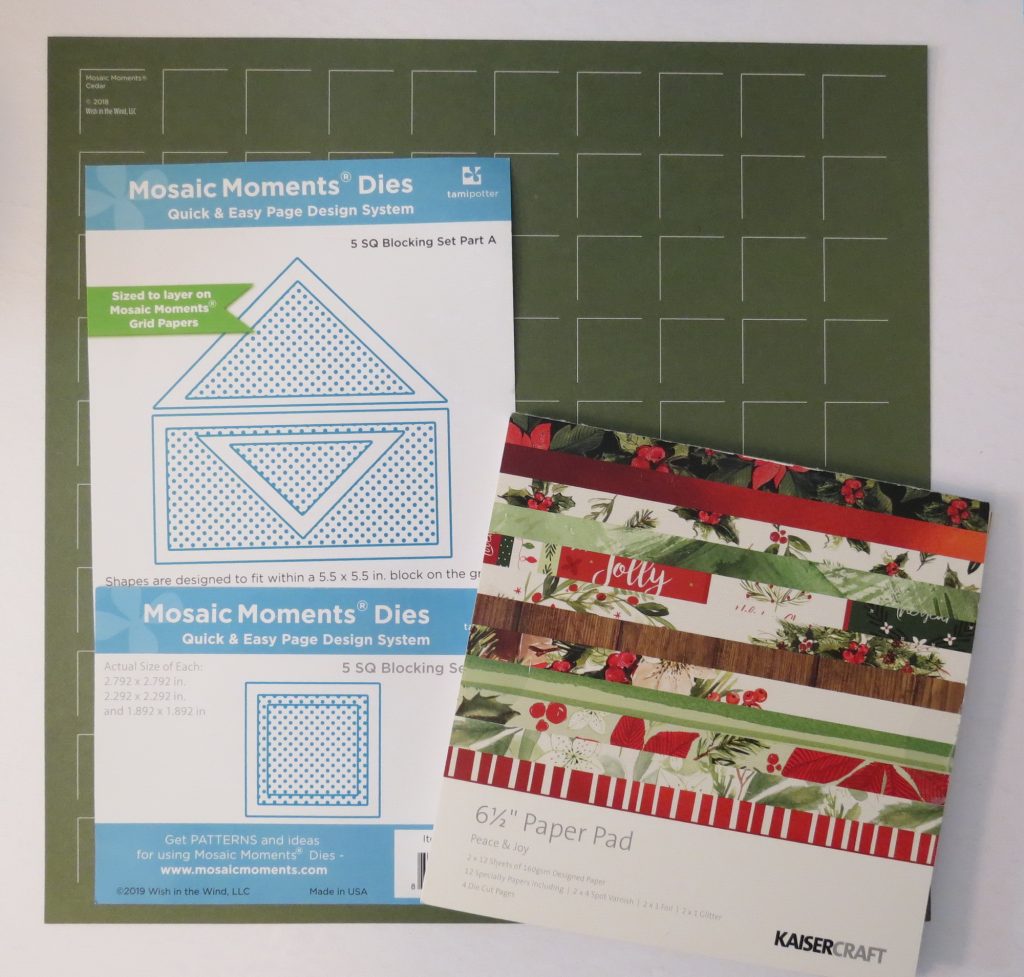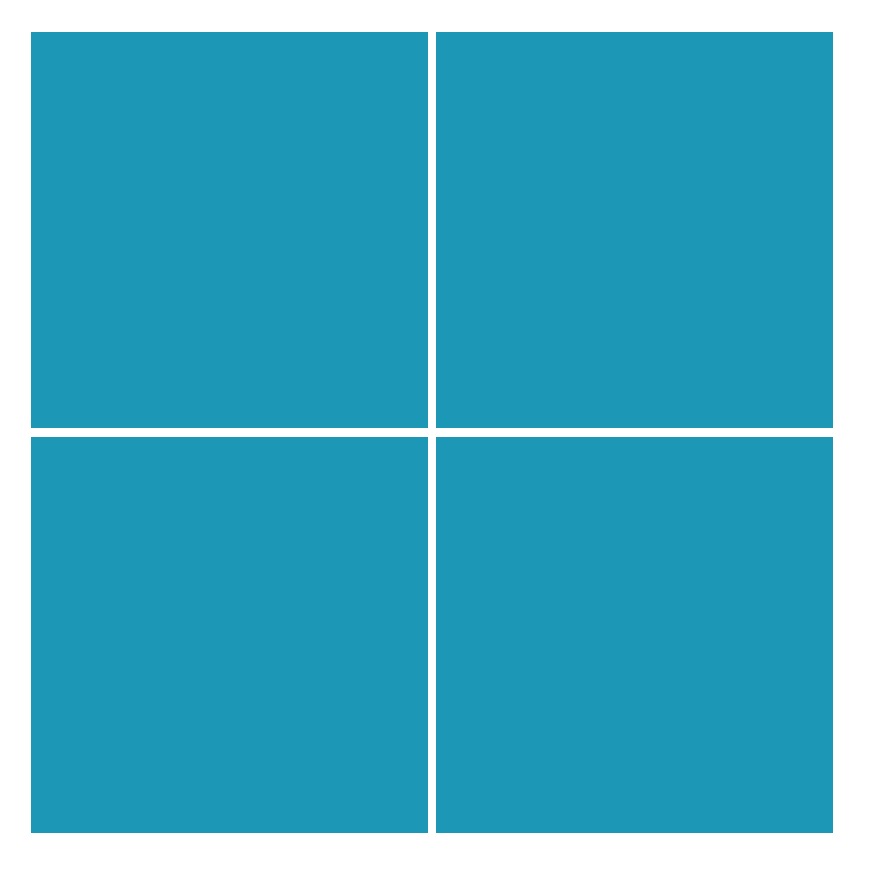 Pattern #431 is an all squares pattern of four 5×5 blocks, just what is required for this die set. I have two pieces each of two patterned papers from Peace & Joy 6.5" paper pad trimmed to 5.5" each and placed into opposite corners of the page. Unlike the pattern, we are not limited to four plain blocks but are able to divide each block into multiple spaces for photos and patterned papers with the use of this new Blocking Set.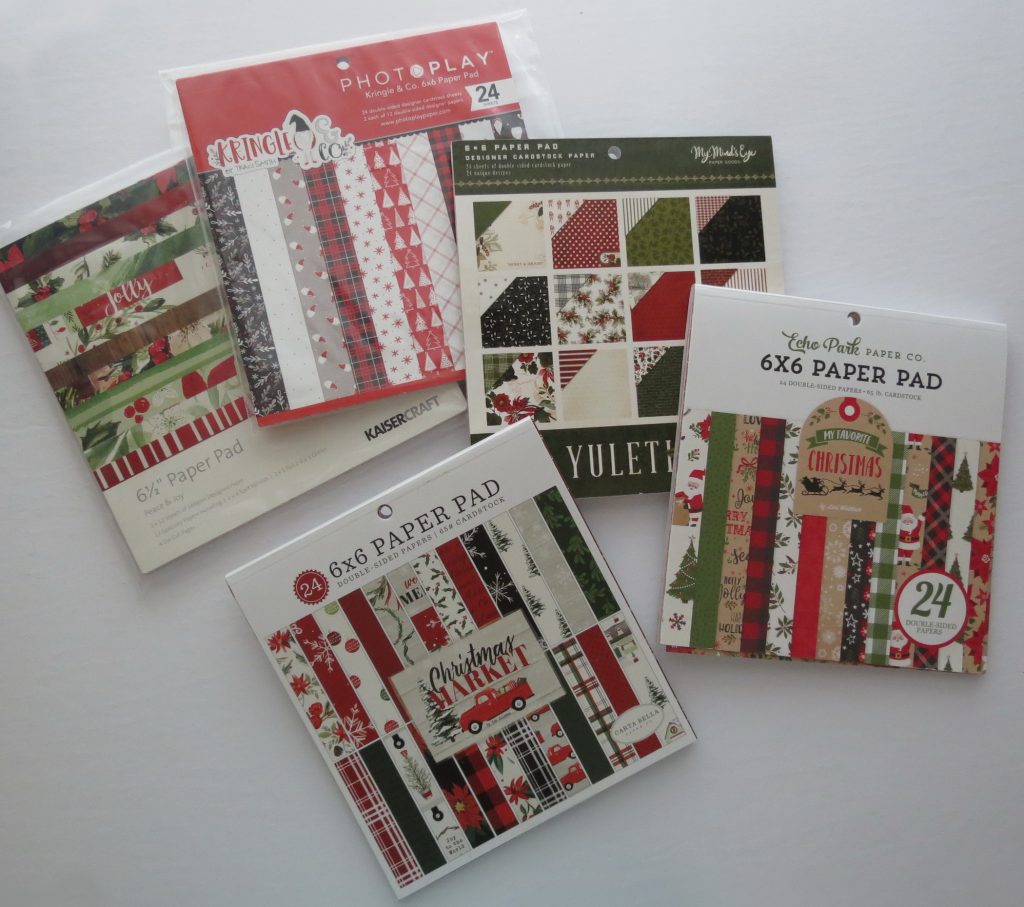 There are a lot of choices for patterned papers this year in the 6×6 size many with the red, white and black color combinations. The papers from KaiserCraft had a little more nostalgic feel a bit more in keeping with this gathering of my family at my Mum's last year in her new apartment, and of course, there were birds, including her favorite, Cardinals.
On each of these sections, I have used the large square die (2.75") to cut two photos, the medium square (2.25") to cut two cardstock mats and the smallest square (1 7/8") to cut two photos to place on the medium mats. These sizes do not fit to the grid they are all new sizes that work together with this new 5 Sq Blocking Die Set. I've used deep red cardstock on the green patterned paper and black cardstock on the lighter paper for the mats.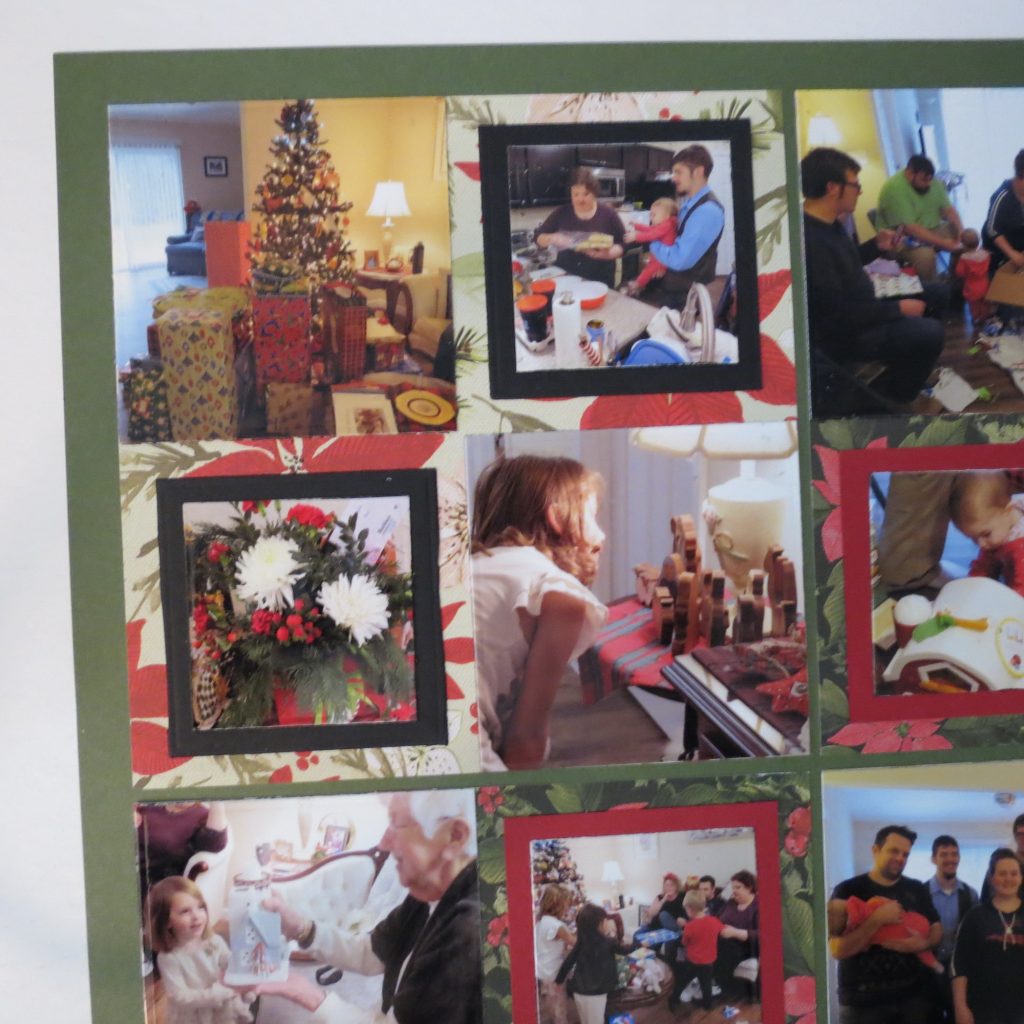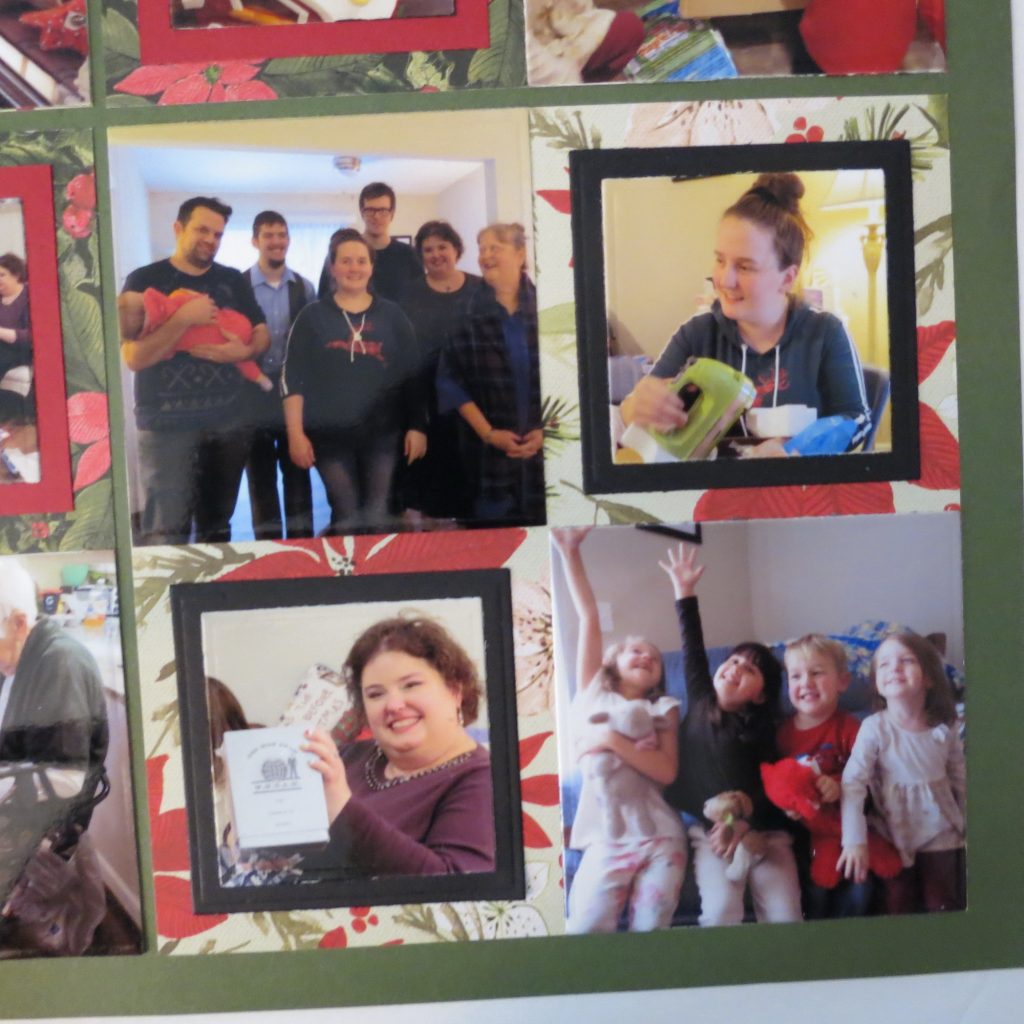 In the top right corner and the bottom left corner, I have not placed a photo but used one of the medium triangles die to fussy cut from another patterned paper to create corners and to be able to see more of the patterned papers and include those delightful birds.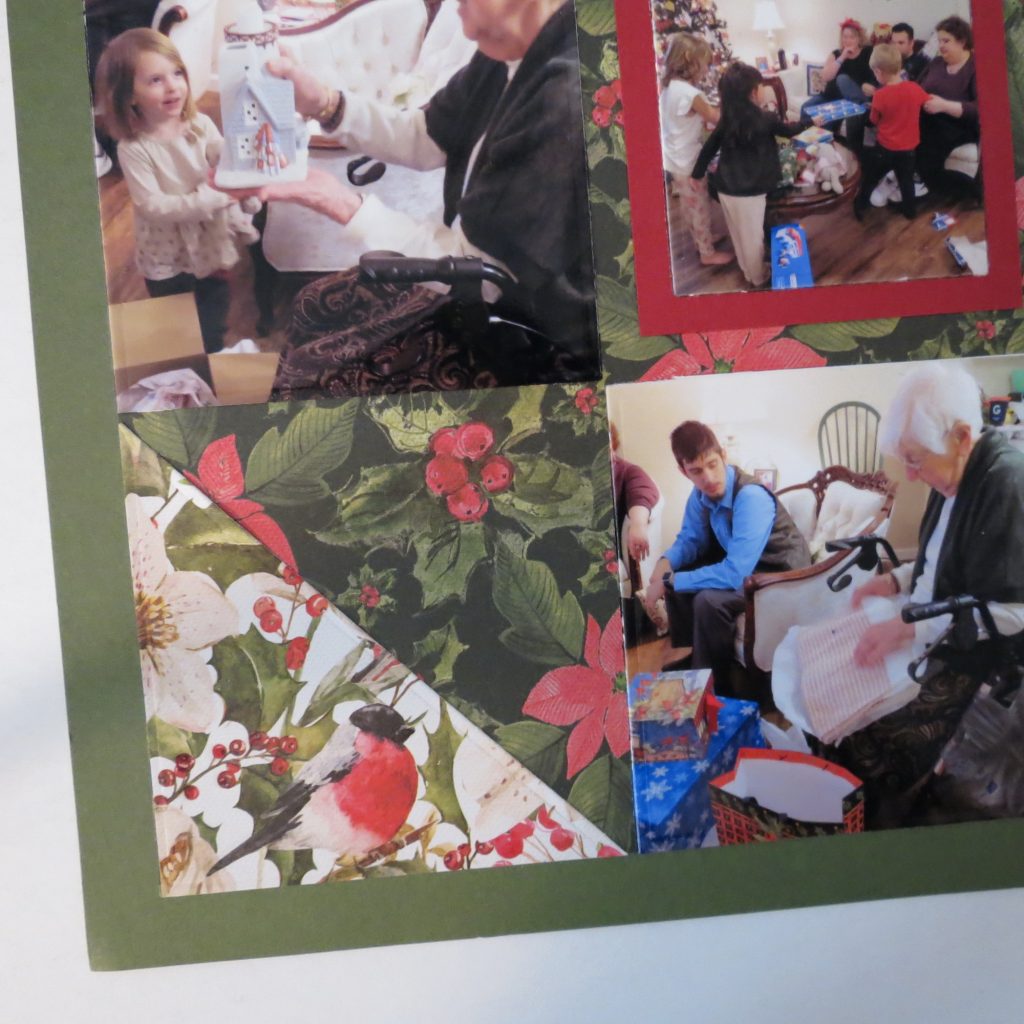 The page comes together easily and allows you to capture and display many photos from your Christmas celebrations. The page as I've laid it out will accommodate 16 photos although I've only used 14.
I prefer to have the separation of the photos for more of a traditional grid look and this is achieved by using different sizes of photos and mats. It isn't as open as it may be on the grid paper, but it does add to the many ways you can create interesting pages on the grid. It also allows you to use multiple choices of patterned paper and show more of it off.
I like using the 6×6 size of papers because the patterns are reduced at this size and work so well on the Mosaic Grid.
TIP: store your 6×6 paper packs with any loose pieces in a quart-sized storage bag, the simple, inexpensive kind without the zip gizmo at the top; it is difficult to get the pad of paper in past that! This keeps the papers from getting mangled. Also they are kept with the collection for future use. I store them in baskets according to theme or style.
I'm sure you will have lots of new ways to create your holiday events with the many new dies from Mosaic Moments. You just might like to try this set, the 5 Sq Blocking Die to change up your look on the grid this Christmas season.
Andrea Fisher