Welcome to "You Are My Sunshine" Mini Album Ideas. Mini Albums can be the perfect way to say "I love you" to someone with photos of a special event, candid moments, or new addition to the family and our RTC Grid Papers are the perfect way to put a mini-album together to give as a gift!! We've had the RTC Grid Papers in basic black, white and ivory, but we will soon have additional colors available, today I'd like to introduce you to one of the new colors, Sunshine, it's a bold and bright color that will compliment your summer photos!!
WHAT YOU WILL NEED:
• This mini album uses one sheet of Sunshine RTC Grid Paper cut into 9-4" squares
• 3 sheets of 12" x 12" cardstock to match or contrast.
• 2-1"x 12" strips of patterned paper in two shades and a few scraps of color papers for fill.
• A flag punch was used to create the sun rays, a corner rounder punch was used for one corner in each photo and a 1" square punch was used for a few random color squares and 1″ photos.
• For the journaling block a journal card, paper and embellishments from one of my digital scrapbooking kits were combined to provide a burst of color, printed on photo paper and trimmed to fit the space making this a bit of a hybrid book.
• A comb spine was trimmed to fit the mini album, but you could use your own style of binding.
WHAT YOU WILL DO:
• The first sheet of cardstock gets trimmed in half (6×12), scored and folded in half again (6×6)
• A 3/8" section is trimmed away from the inside bottom section. This will allow the section to fold up and not interfere with the binding.
• Round the pages to suggest the shape of the sun. (I used a rolling ruler, you may have one left over from the 80's…works perfectly! Cheap too!)
• The next two sheets are trimmed to 7"squares. Save the left-overs for a later project.
• Trim the outside edges to be 1" parallel to the inside pages.
• Line up all the sections and punch the holes for your spine, or binding of your choice.
These photos are from just the other day, when my granddaughter got into her new pool. She was delighted to be out playing with the water and pouring it all over the place. I chose photos that could be divided into several different configurations and some that I could print out as 1" squares to fill spots to tell the story. Others that would be good to do a full Mosaic Moments cut without cutting into the people in the photo. A few additional spots were filled with patterned paper. I think you will see there are many photos sizes that can be used on this 4×4 RTC Grid Paper.
Each of the nine photo grids are applied to each of the sides front and back. I've left the outside covers undecorated…at the moment…but it is another spot that you can add more photos, a title or additional journaling. I think "You are my Sunshine" would be perfect for this one!
The outside section is where the triangles are applied to form my sun rays. This is where the 1" strips of paper and the EK Success Flag punch go to work. I made the strips one inch because that's the space I wanted them to fill. I slid the paper through the punch and adjusted to catch the tip of one edge and keep the top edge straight. If you are careful the "out take" that are between the sections you punch, will have a flag the same size of the one you punched, not wasting any of the paper and only having to punch half as much as you need!
I lined them up along the edge of the pages and the outer edge of the album. The darker color went down first and then the lighter color was placed in between and on top of two darks. I tried a couple of different arrangements, but I liked this one the best. You might find another way more pleasing to you, personalize it!!
This pattern was used to resemble the sun, but done in any color the book style is versatile (Think baseball for Little League, Beach Ball or Sandcastle for time at the Beach, Chinese Lanterns for a romantic dinner out, golf ball for Dad or Granddad for his special day, possibilities are endless.) It also sits up for display as the pages form a nice support to stand.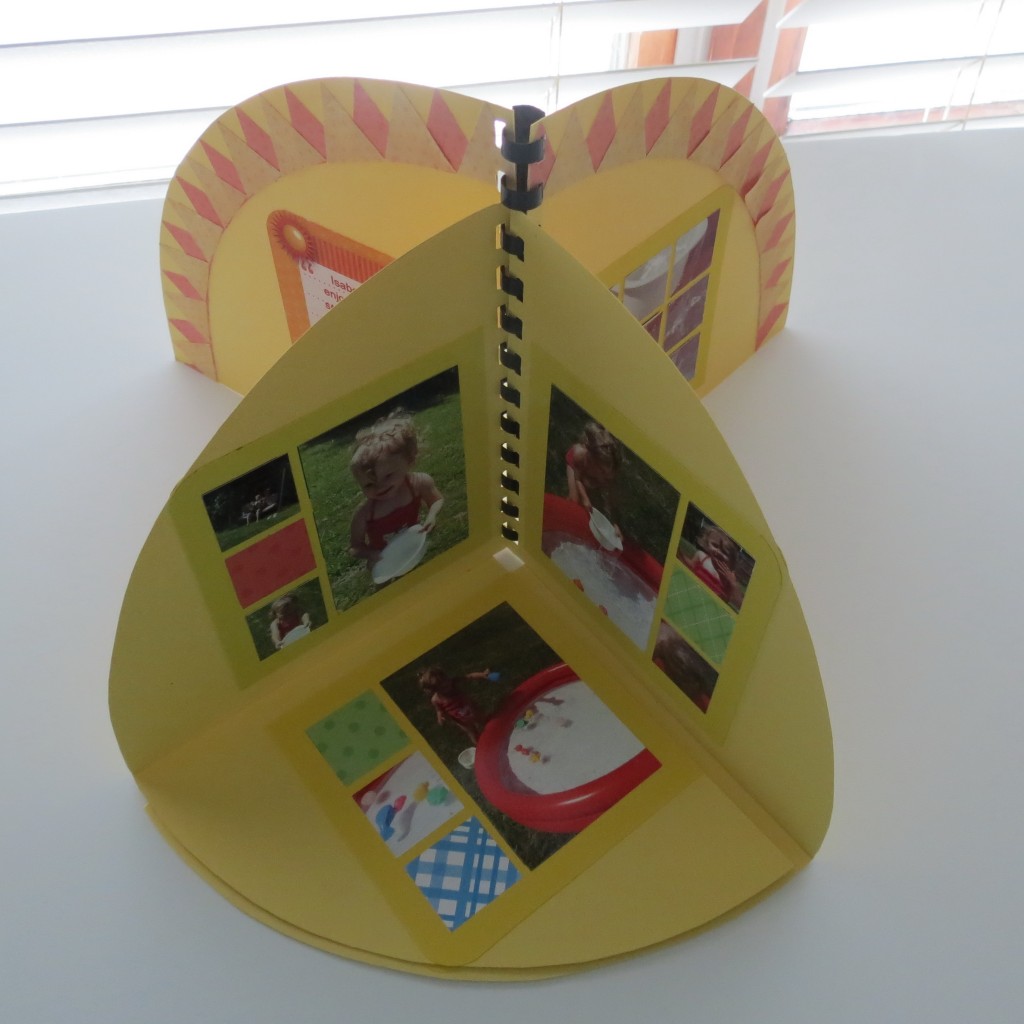 This mini-album will make a perfect size for my Mum, who doesn't get to see the great-grands as much as she'd like, but loves them to death when she does. She will have it on display and show everyone that stops by the loves of her life and pour over it every chance she gets.
I'm sure you can think of a few photos you'd like put into your own mini-album, why not put it together and show us what you've done? You can capture lots of summer fun, tender moments and road trips using the RTC Grids; why not try the new colors for your summer fun? Coming Soon…Sunshine and Bahama Blue!!
thanks for dropping in!!
Andrea Fisher
NOTE:
When I posted this I was still trying to figure out whether I wanted something on the cover or not and if I should add to the inside. I continued to play around and added a few bits to the photos inside to add details of what was happening and a Title to the front. Here's what I added!