Need an idea for an outdoor scrapbook page? The feature page pattern today is a colorful nature walk layout. It's almost summer time and that means many of you will probably be heading outdoors for camping, visiting National Parks, or going for a nice walk on a nature trail.
Outdoor photographs are some of the best for mosaics! Plants and Flowers add texture and interest to mosaics, and landscape pages look gorgeous. Making an outdoor scrapbook page provides great memories of traveling and family time. The featured page (shown above) shows my brother and sister going on a nature walk. This page documents the items they found on a bike path close by.
I wanted this page to have bright colors since it is about my younger siblings. I found some BasicGrey™ pattern paper and a couple of bright stickers that fit perfectly with my theme. I really like the colorful owl and the sticker that says "Bloom and Grow". It represents nature, plus how my brother and sister are learning from their observations. I also chose multiple bright cardstock colors to add extra fun!
Here are all the supplies I used for this page:
Basicgrey™ pattern paper and stickers (Green at Heart Collection)
My outdoor scrapbook page was made with Page Pattern #182: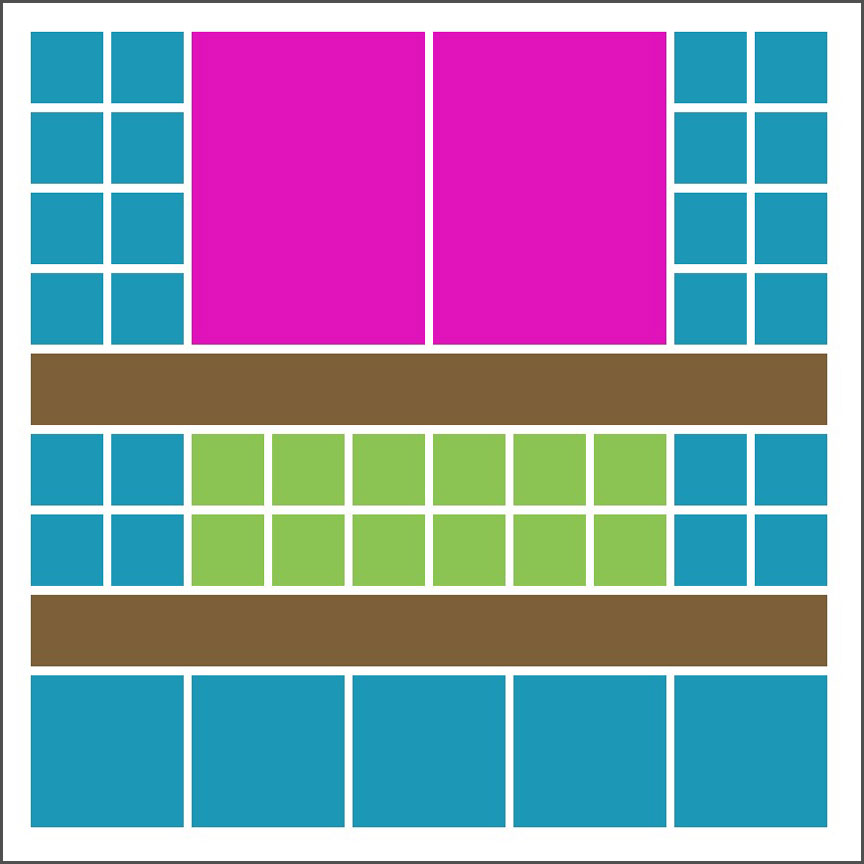 This pattern has four borders. Two of them are long 11.125 x 1 in. strips, one border is made entirely of 1 in. squares, and on the very bottom is a border of 2.125 in. squares. The strip borders are perfect if you have a pattern paper you would like to use. I love the border of 2.125 squares because it allows me to fit a lot of photographs on this page. I used this spot to show some of the things that were found on the nature walk. The mosaic border is a lovely spot for close up detail shots. I used this for a detail shot of leaves and a landscape photo.
The top of the page has two 3.25w x 4.375h blocks. These blocks are perfect for portraits or photos you do not want to cut up. This row also has two columns of 1 in. squares. You can use a detail photo (examples are leaves or flowers) in this spot. I did not have a photograph that would fit here, so I used some 1 in. Paper Tiles. I love how it turned out since all the colors brighten up the page.
I hope you enjoyed this week's page pattern. If you create a page with this pattern, we would love to see it! You can share it on Facebook. Have fun creating your outdoor scrapbook pages this summer!