This page pattern features Fourth of July Scrapbook Ideas. Fourth of July is less than a month away and it's time to show off patriotic scrapbook pages. The layout above features my sister when she was around 4 years old. Aren't these pictures so cute! I decided to create a Mosaic Moments™ page with classic patriotic colors and elements.
Of course you cannot have a Fourth of July Page without red, white and Blue! I incorporated these colors by using Mosaic Moments™ Navy grid paper, plus Red and White Paper Tiles. I also used the "Patriotic Parade" pattern paper from Doodlebug Design™ (we will have this same grid paper on a couple of the NEW PAGE KITS NEXT WEEK!). You can almost never go wrong with these colors together.
For this layout I also used punches to cut out the stars. I also thought it would be fun to add banners. To create the banners, I used 1×3 Paper Tiles and cut a triangle shape on the bottom. This is awesome for the mosaic grid paper since you can't see the lines! I love how it turned out. By the way… we may be coming out with laser cut banners to fit the grid paper next month 🙂 The banners and stars make the page look so festive and bright.
Here all the supplies used to create this page:
Pattern Paper from Doodlebug Design™ (Patriotic Parade collection)
Two different sizes of star punches
Alphabet stickers from Doodlebug Design™
I created this page with pattern #123: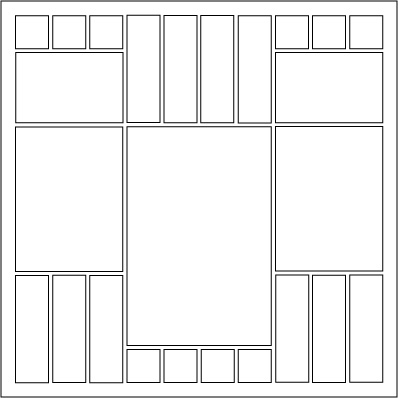 This pattern has three spots for photo striping and has a large focal point. The focal point is the area your eye draws to first. In this case, the focal point is in the center. This block measures 4.375w x 6.625h (perfect size for a full 4×6 photo -no cutting necessary). The photo striping areas make a triangle around the focal point (one area is right above the focal point and next to the bottom corners of it forming a triangular design). Each strip measures 1 x 3.25 inches.
This pattern has three different columns. The left and right columns are the same. Both of a row of three 1 in. squares at the top, followed by a 3.25w x 2.125 h block, a 3.25w x 4.375h block, and they both end with a row of three 1 x 3.25 strips.
The center column begins with a row of four 1 x 3.25 strips, followed by a 4.375w x 6.625h block, and ends with a row of four 1 in. squares.
This pattern is great if you have a large (4×6) photograph you would like to use as a focal point. This could be a portrait, or your favorite photo. Place a photo in this spot that you would like to give the most attention to. The photo strips are great for landscape shots or for pattern paper.