Creating a Winter Wonderland with a Nordic Theme
Featuring the Carpenters Star Die Set
Don't you love that first fresh falling of snow where everything is blanketed in white where not even the snow plows have marred the scene? Well, yes, unless you have to get out in it! Some themes of winter are universal; white pared with just about any 'cool' color will bring that cold crisp feel to our pages.
At Christmas the red and white patterns of Scandinavian sweaters and holiday décor make us think of the cold days of winter, cozy fires and cups of hot chocolate to sip. However, I do love how shades of blue and gray can evoke that northern European winter and show off some of the scenes I love to take in winter, those bare tree branches against the gray skies and white snow drifts below. And today, that's my take on a "Nordic" theme for my scrapbook layout.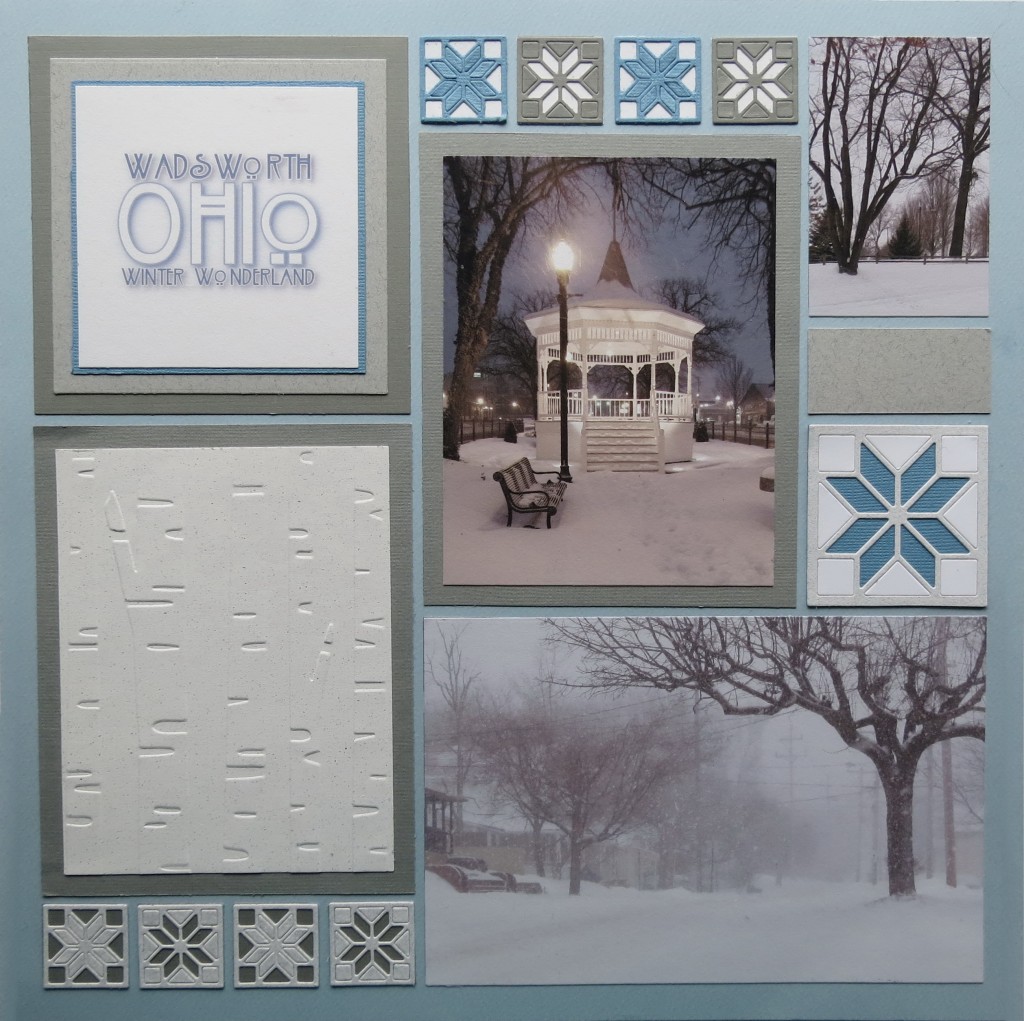 I've selected three photos, and yes, they are in color although it is a bit hard to tell and Pattern #179 for this layout. I did make a bit of a switch in the placement of the four 1″ tiles in the first column to the bottom of the page.
I've included a large panel of embossed birch trees as an element mounted on a gray 4×5 block. I have used several shades of gray on the page from very light to dark as well as a blue/gray flecked white cardstock for the embossed trees. A dusty blue cardstock is used as a small mat around the title, the background for the 2×2 Carpenters Star Cornerstone Tile and in some of the smaller 1" stars. The Mosaic Moments Grid paper used here is one of the newer shades, Spring Water.
One of the things I so love about making my own cornerstones with our dies is being able to have all the cut-out pieces to turn around and use as inlay pieces to complete the pattern in various colors.
There are so many variations you can come up with, or go with the simplicity and clean design of the cornerstone on its own.
You will find a page like this easy to put together with lots of options for your carpenters star dies. Begin your adventure today and bring a bit of world style to your scrapbook pages with this Nordic theme, give them a try!
Andrea Fisher
Our Pinterest page with lots of new ideas and share yours with us on Facebook! Also some Nordic Inspiration here.