How would you tell a story about your hobby? How would you put that story together with photos in a scrapbook layout? I'm sure that some of you have many hobbies and maybe you'd like to cover them all. Here's where I started…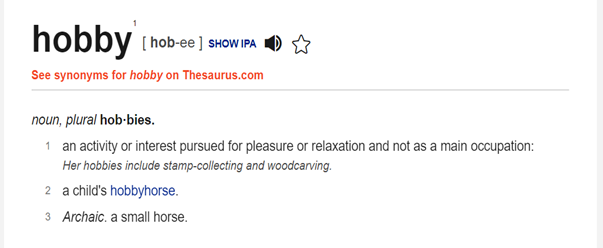 What brings relaxation and pleasure to you? Is it your scrapbooking? Maybe knitting, crocheting, embroidery, gardening, hiking or baking? I have had several over the years, and yes, scrapbooking has been one, but now that I do it as a job…it's work.
Oddly enough, before doing this, I created cards, especially for Christmas as a way to bring in some extra money. It is today, when I can find time, the way I relax and definitely find pleasure. In fact, when I find myself with roadblocks to scrapbooking, taking the time to make a few cards, watch a few videos for card ideas and try something new, brings great pleasure! So, work has become a hobby and a hobby has become work!
Telling Your Story
How should I put this story together? Well…there is the story, of course, the photos, the pattern and grid color are to be determined. Here's some of the things that I thought were important to include in my pictures:
The materials/tools I use
The various cards I make
A process picture…a card or two in the making and finished
The pattern. It has to be able to contain the story, will it be one big paragraph or several smaller spots with snippets of the story or explanations of each picture. How many photo spots do you need? What sizes do you want to use?
The Papers. What grid color will you use? Do you have patterned paper that works to tell your story? Will the colors in the pattern paper determine the grid color or the colors in your photos?
The extras. Are there dies that will enhance your story? Is there a design with specialty dies that would just be perfect?
The Patterns I've chosen are #229 & #500.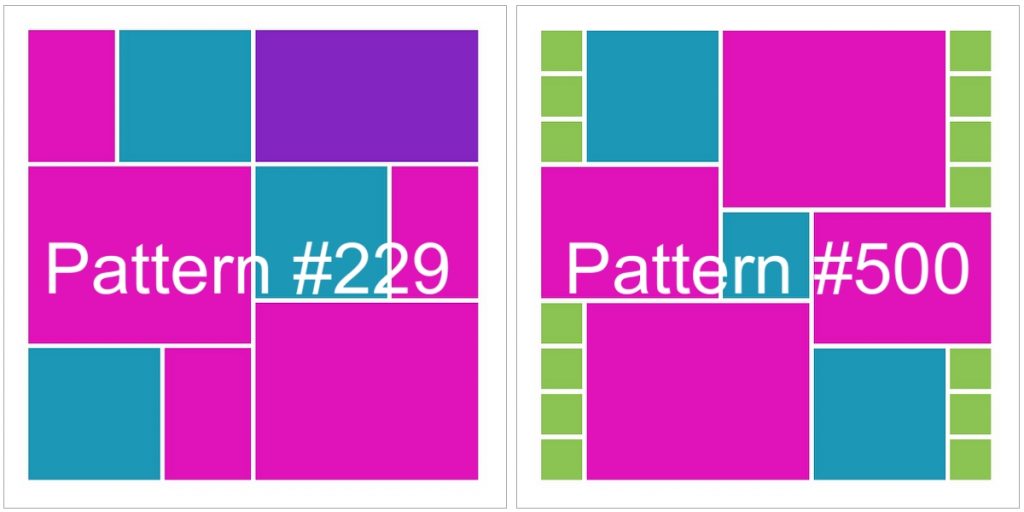 The Grid paper is Sunbrella from the Mosaic Moments Summer Collection.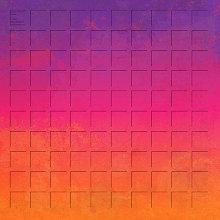 The Story
My journaling:
I've been making cards since I was a kid. My dad was a firm believer that homemade was better. He was the artist and encouraged us to use whatever talents we had to make cards. Eventually graduating from crayons and construction paper to art paper and calligraphy, the cards began to be a bit classier. Then the advent of rubber stamps a whole new world of creativity emerged. The absolute explosion of cardmaking supplies with stamps and dies has made it so much fun to create, and on occasion expensive.
While it certainly has been an outlet for being creative, it has also been one of comfort. When Denny had cancer, we had so many people sent their thoughts and prayers and well wishes to us. They brought meals and so much more. I would sit and answer each with a handmade a card and as I did, I found peace amidst the turmoil of our day to day at the time. It was the best therapy for me at the time.
Today, it's a way to recharge and take a break from my normal routine and dabble in new ways of being creative. Now I've got the grandkids making cards along side of me and sharing my stamps and dies. I don't have time to actually watercolor these days, but cardmaking does allow me to do so on a smaller scale. Maybe one day I'll get back to painting, but for now, this hobby is one that brings me great joy.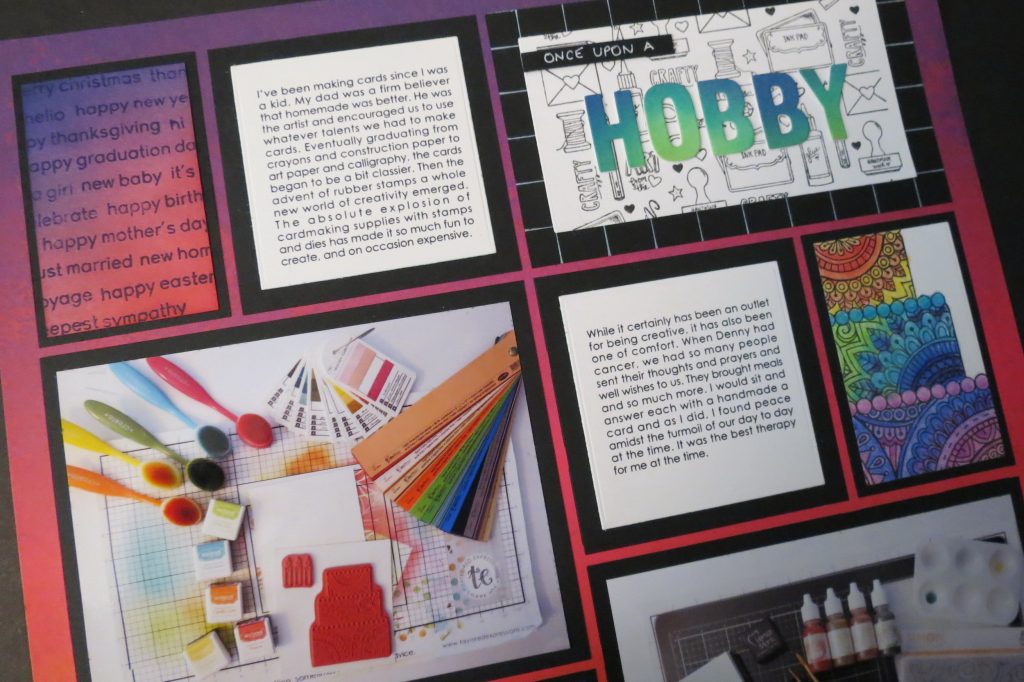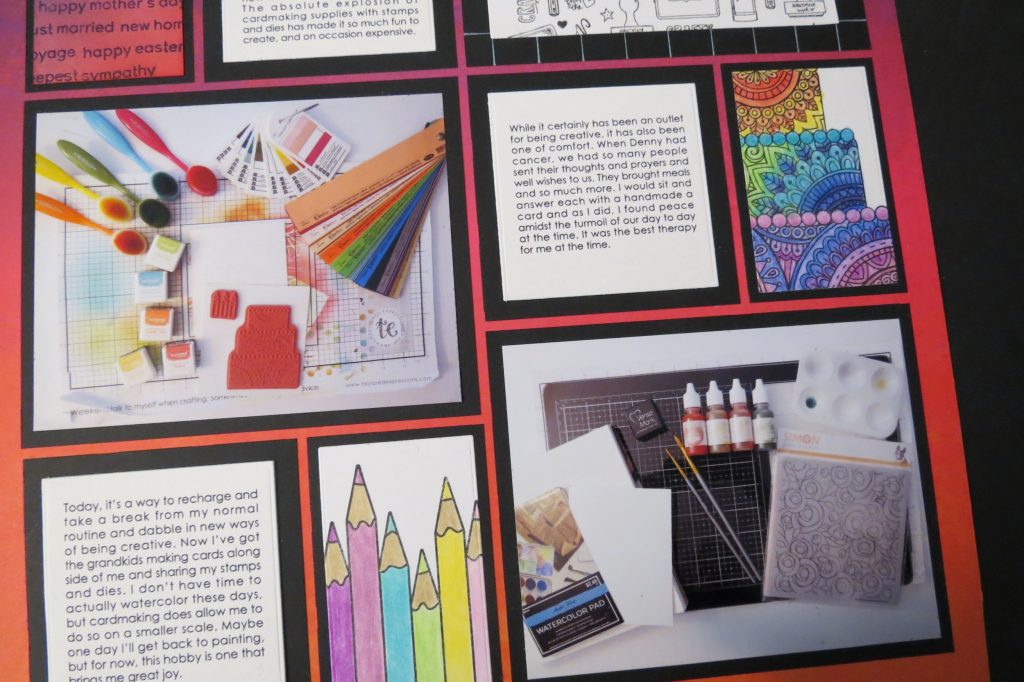 Putting it together
On the first page, I've used Pattern #229 there are three 3×3 blocks and I have divided my journaling into three paragraphs one for each block. I've printed it on white and mounted it on black. Die Set A and the Layering Dies were used.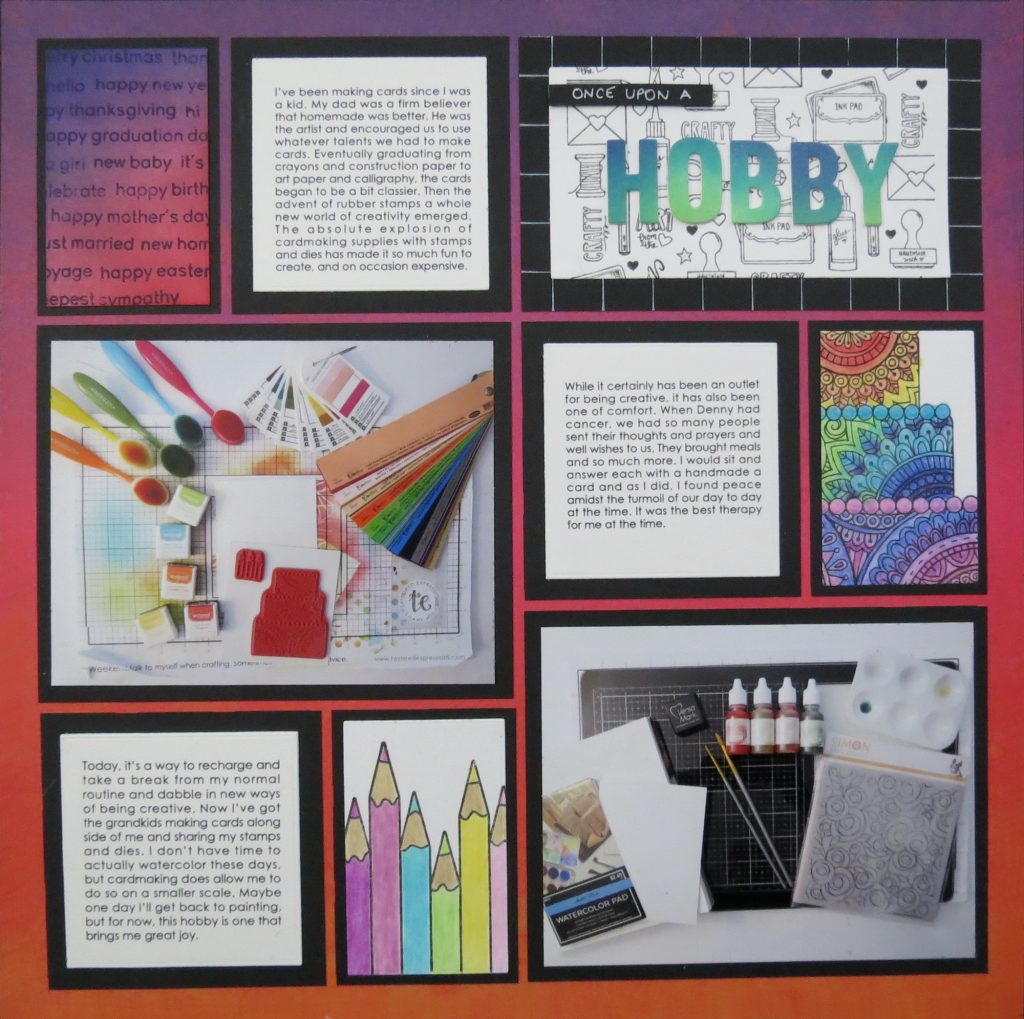 All the photos on both pages are mounted on black cardstock.
There are three 2×3 spaces that I have added stamped images. The first at the top is a series of sentiment stamps stamped in Taylored Expressions Eggplant then several colors blended on top to mimic the grid paper below. The second row 2×3 has a portion of a stamped birthday cake (TE) that I used Prismacolor pencils and Gamsol to blend the colors. The third space is a stamped image of pencils also colored and blended with Prismacolors and Gamsol. I trimmed the images with Die Set C to layer on top of the black base tile.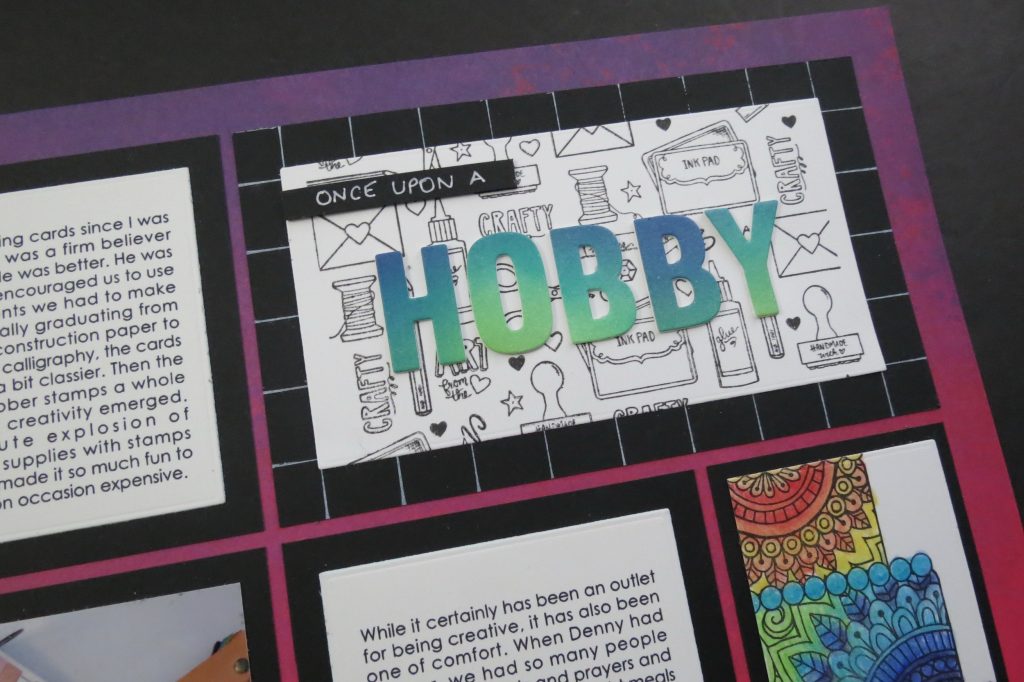 The title block was created with Taylored Expressions Art from the Heart stamp image, black on white and then using TE Inks and blending brushes I took a strip of white cardstock and blended my colors and then cut out the word "hobby" using Paper Rose's Alphabet.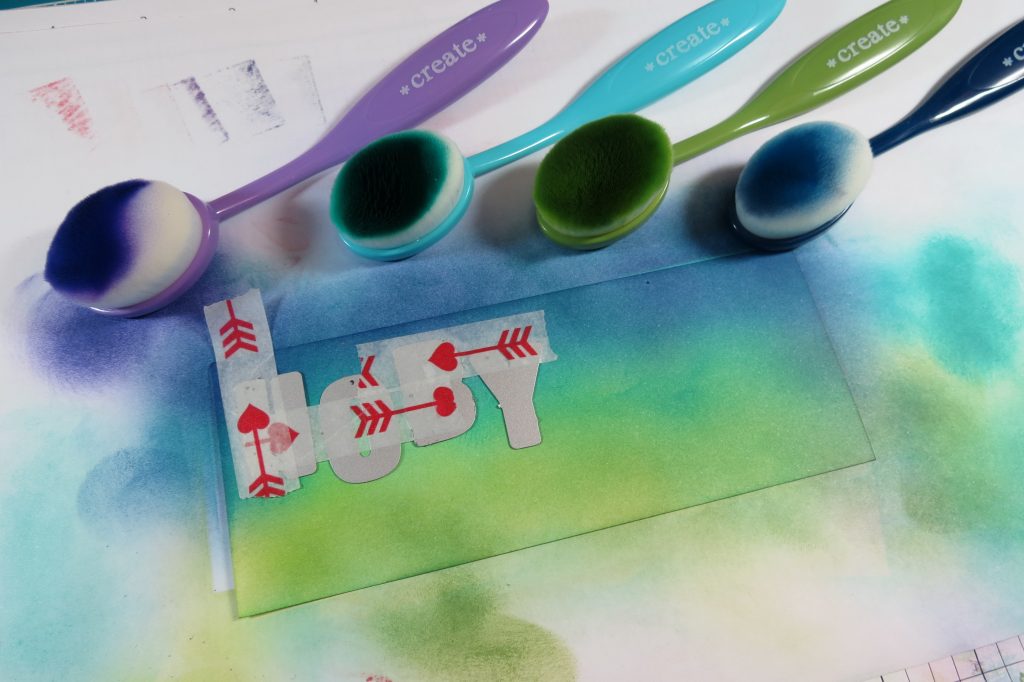 I've mounted the block on a black tile that I stamped a white grid (Simon Says Stamp). I cut three extra sets of letters so that I could stack them and pop them on top of the image, a T-square let me align them easily. I added a small black tag with handwritten 'Once Upon A' in white gel pen. Using scraps, I added a few layers to the strip and aligned the tag, again using a T-square ruler along the left side of the block.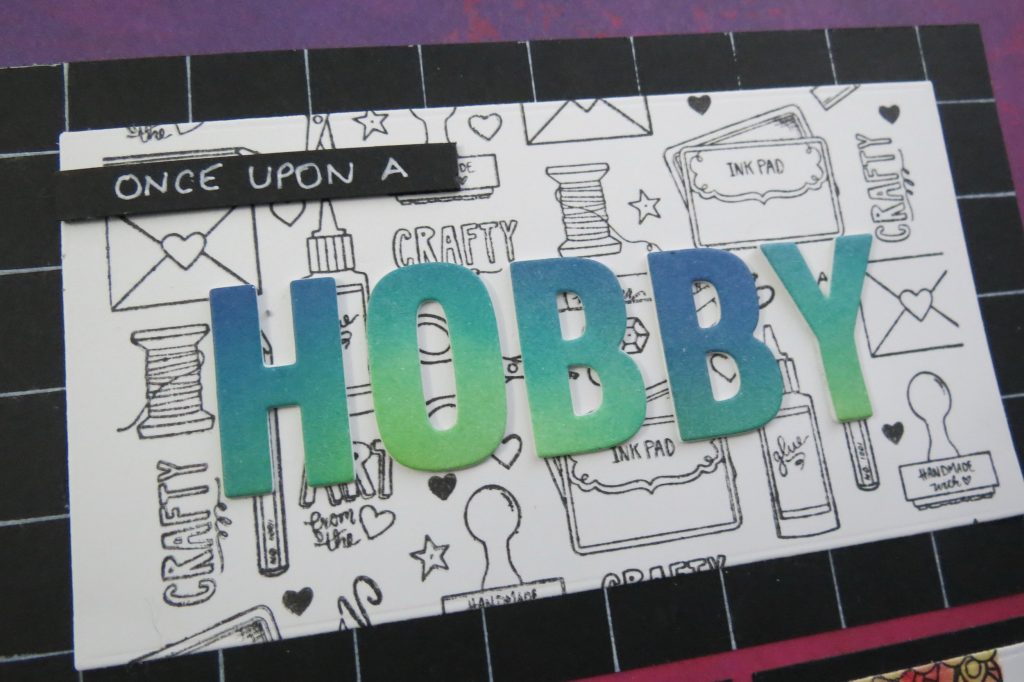 On the second page, Pattern #500, I have samples of the cards I've made, show some of my supplies and then included some of the process of making the cards. One is a watercolor card that I used the leftover pieces to cut 1" squares to fill the 1" spots in the pattern.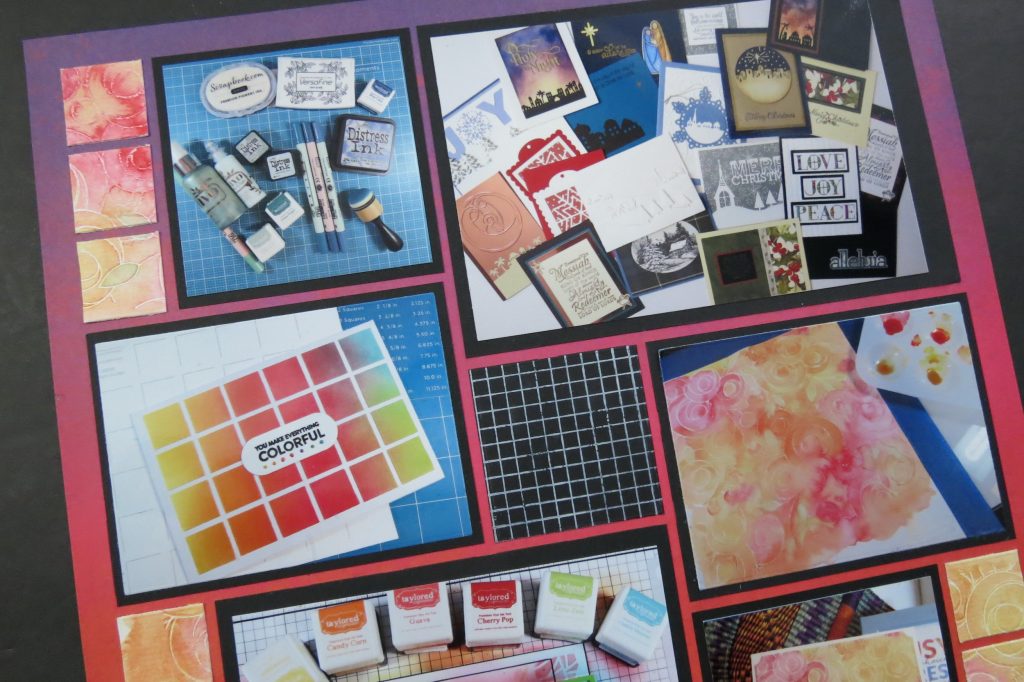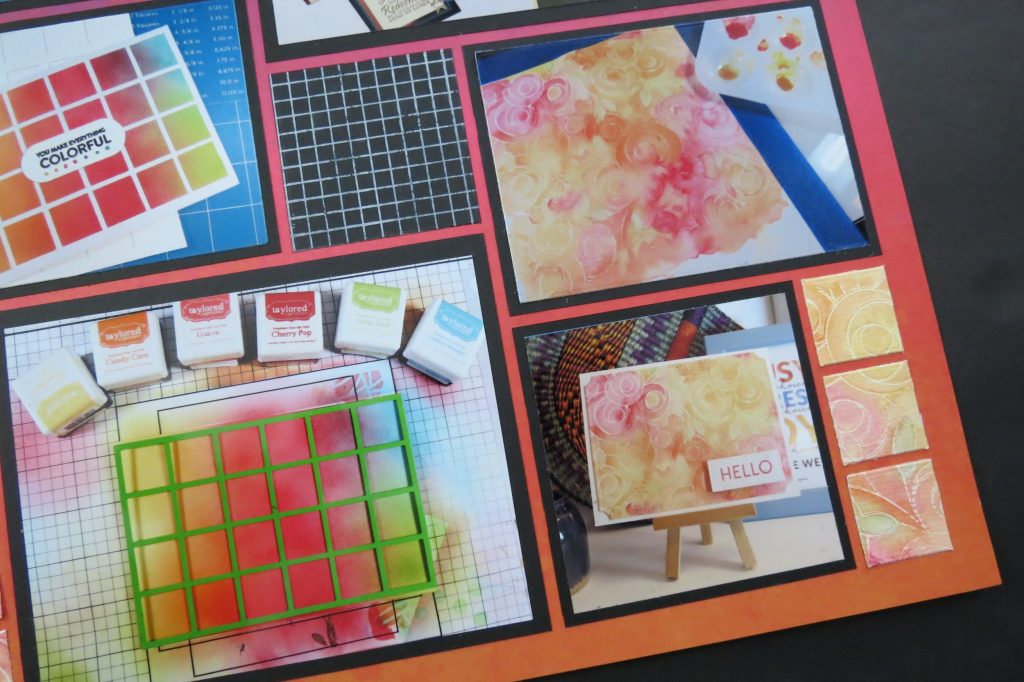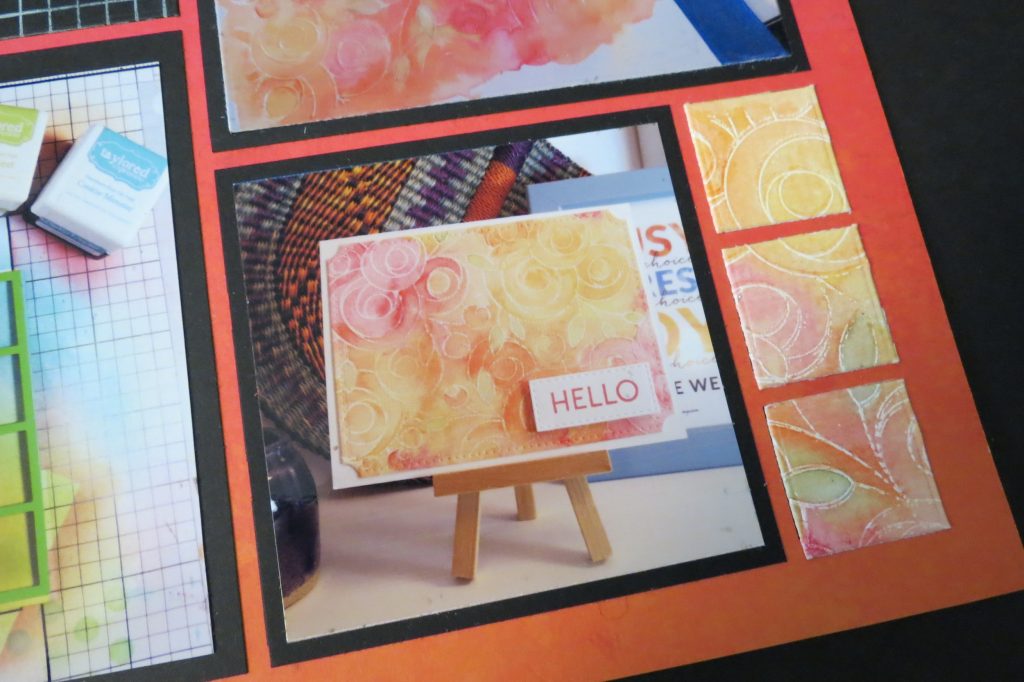 My 2×2 center block is stamped with another grid stamp I have, also in white (Echo Park), but allowing it to be a bit distressed. And, there you have a story about my card making hobby!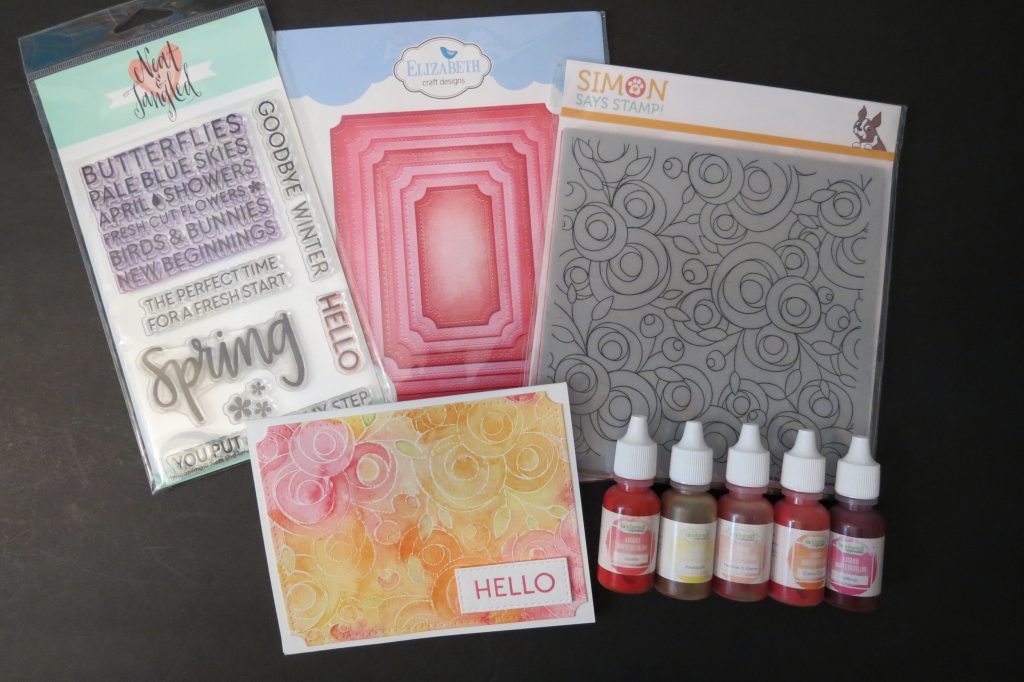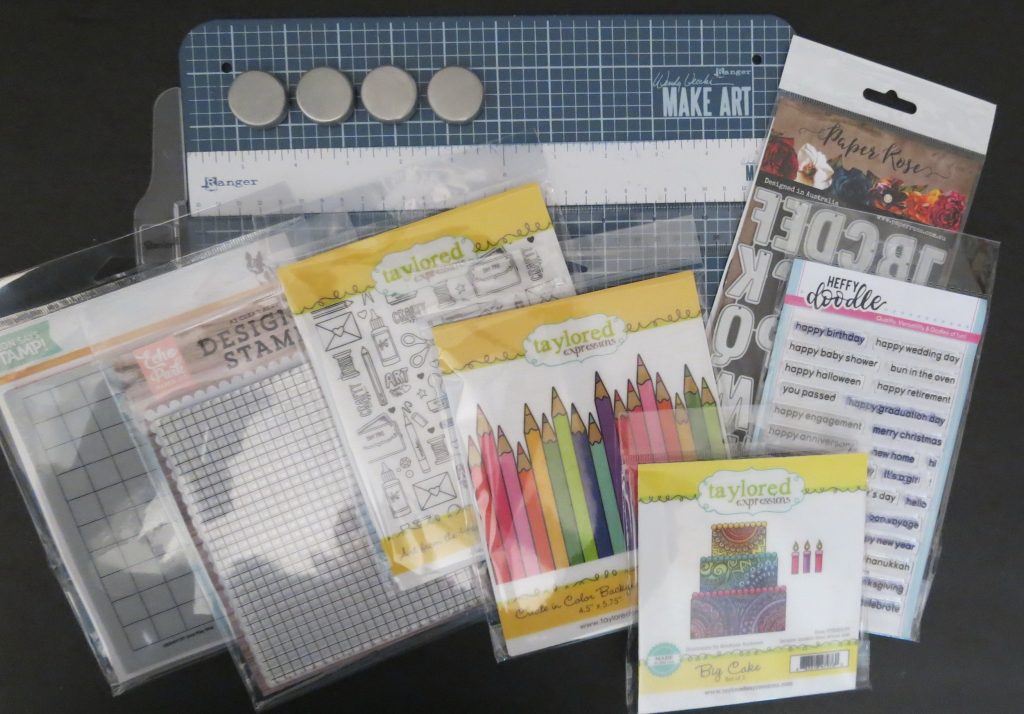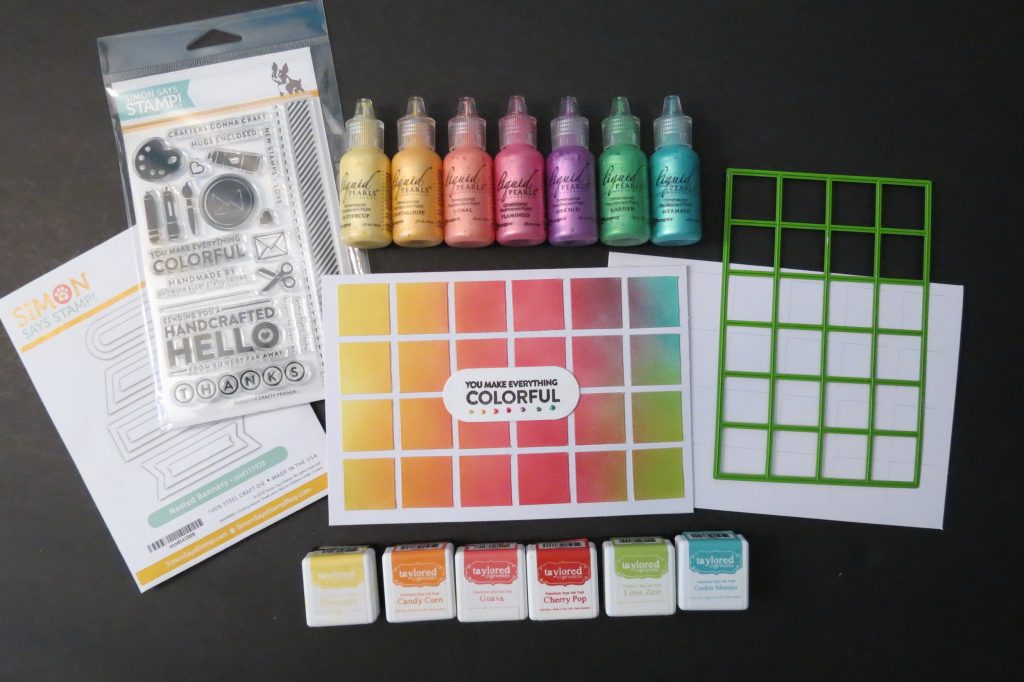 If you aren't sure about putting a page about your hobbies just start with a few of the suggestions I started with and be willing to make some changes along the way. You might be pleasantly surprised with your final results. Take the time and enjoy the process!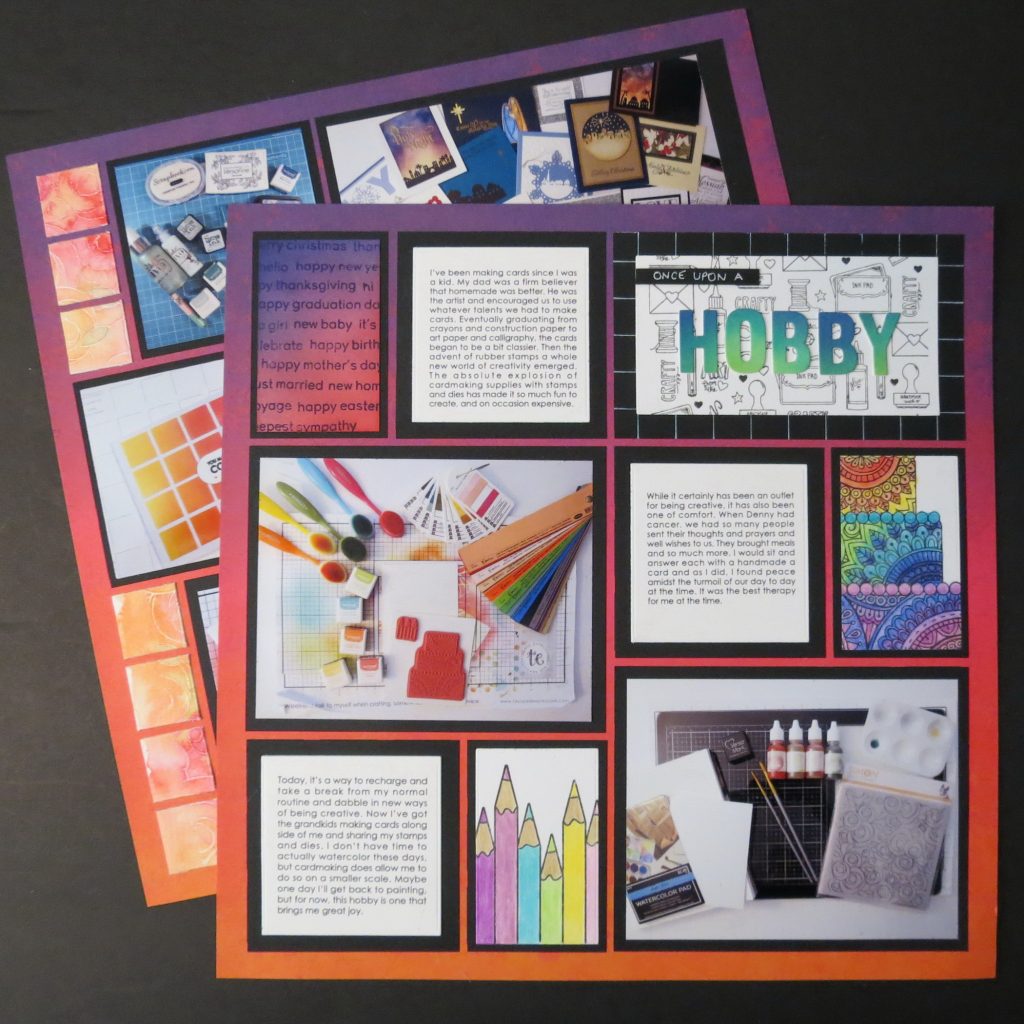 I can't wait to see some of the pages you create with the story of your hobby, be sure to share it with us on Facebook!
Andrea Fisher