Scrapbook supplies are generally feminine or cutesy. It is easy to decorate a page in flowers or adorable animals.
So what do you do when you have photos of a special guy in your life or something else you want to have a definite masculine feel?
We have many layout ideas below to help you out. Check them out: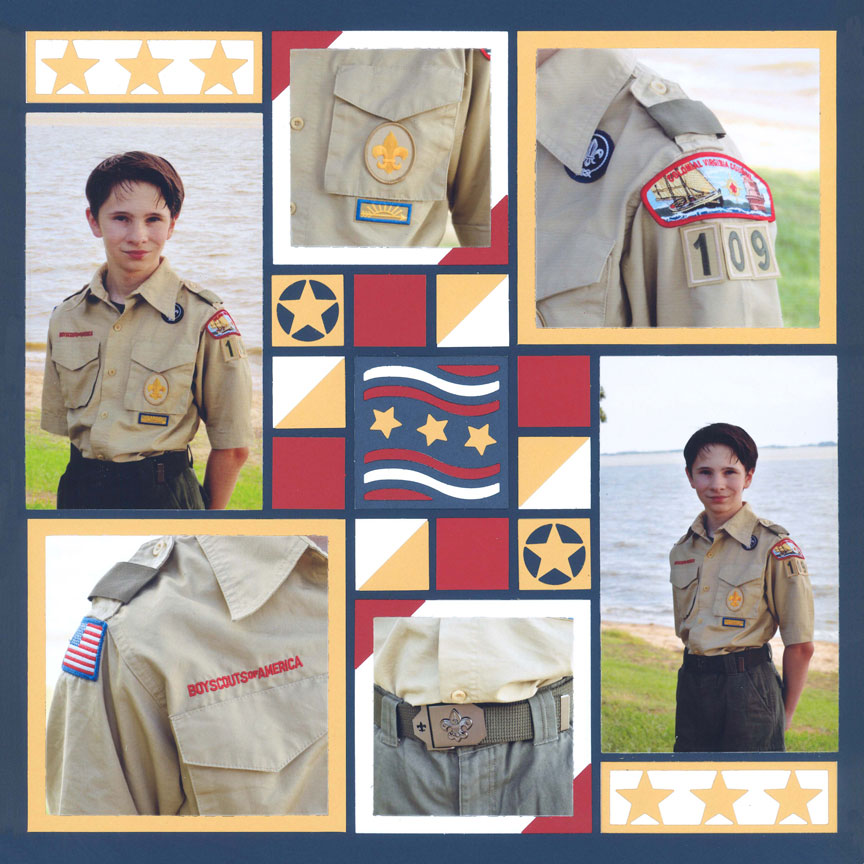 "Boy Scout" by Paije Potter - Pattern #398
Strong graphics, like the stars on this layout, help set the tone for the page.
These crisp, clean dies immediately take on a masculine feel. Paije cut the dies with solid card-stock colors - giving the layout a very graphic look. Also be sure to use darker and bold colors for a masculine feel.
We have lots of decorative dies you could use on masculine pages on snapncrop.com.
Nothing says masculine more than metal.
While Candy did use some metal accents on this page, she created lots of "metal" with paper. She used an embossing folder of metal rivets, rust-colored cardstock, and patterned paper with a rusty-metal patina. She also used dies to cut stencil letters and gears that are traditionally made from metal.
We think any man will love this style!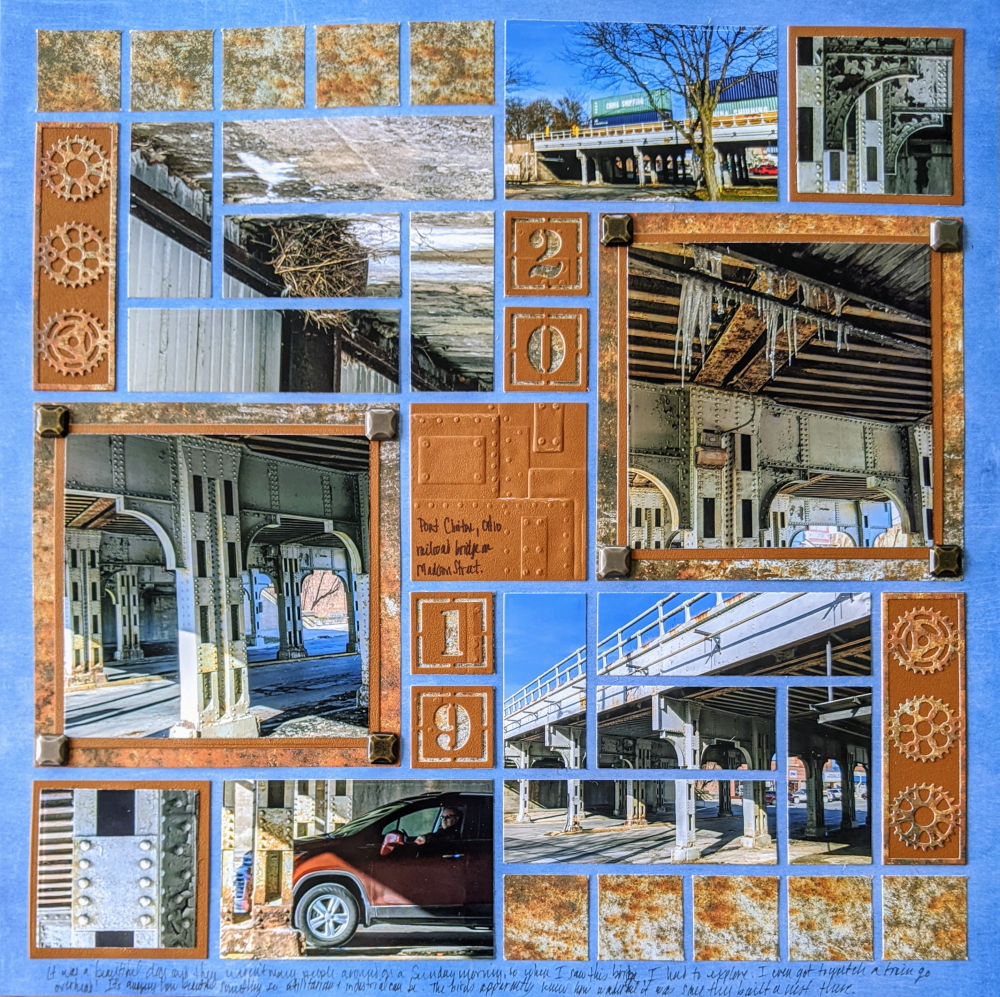 "Under the Bridge" by Candy Spiegel - Pattern #236
3. Emphasize Straight Lines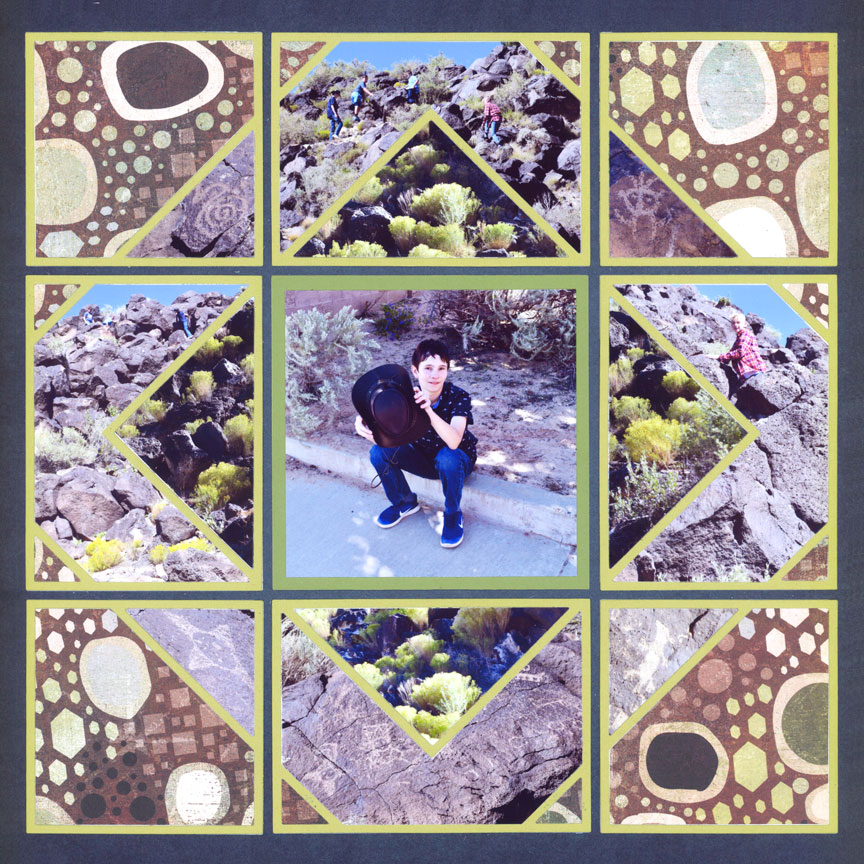 "Petroglyph Monument" by Tami Potter - Pattern #344
Graphic shapes are inherently masculine.
For this layout, Tami created a large diamond on the layout, using the Diamond Mine Dies, to frame the photo of her son. The strong, straight lines accented with earth tone patterns (in the corners) are a natural fit for a masculine page.
Other die collections such as X Factor and Crisscross are also great choices for a masculine feel!
4. Use Words That Resonate with Men
In this layout, Jodi used nature photos from her sons' trip, along with the word "RELAX."
The combination evokes a masculine paradise and guarantees they will enjoy reminiscing about their great adventure. Here, Jodi used the 2x4 and 1x4 'On the Dots' die set to create a panorama.
What a great detail to remember a guys' trip!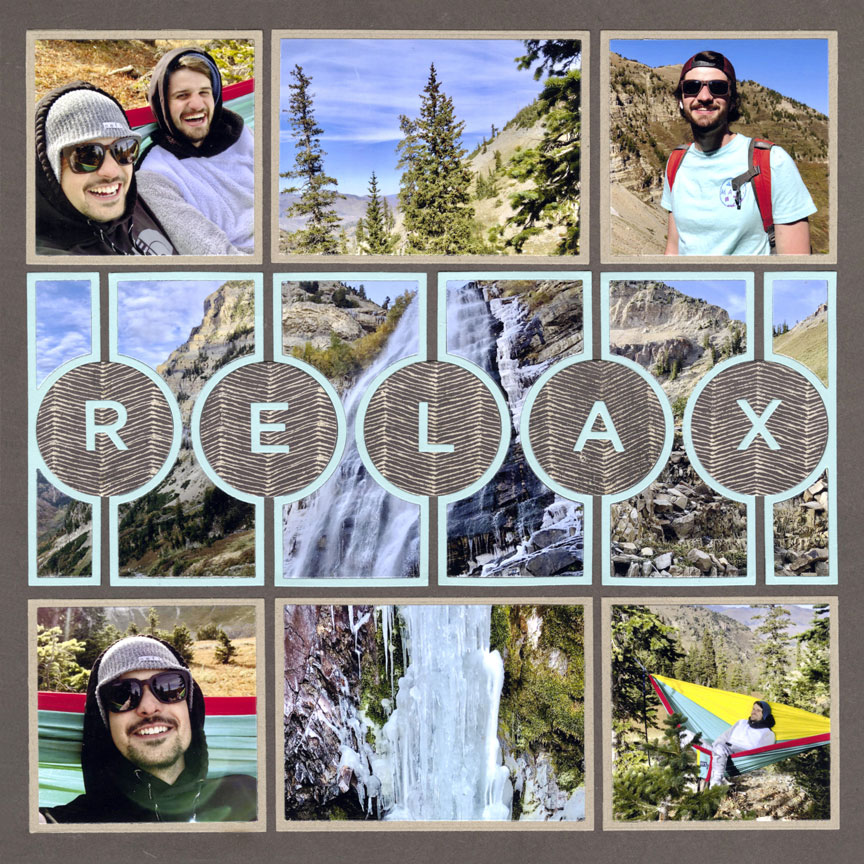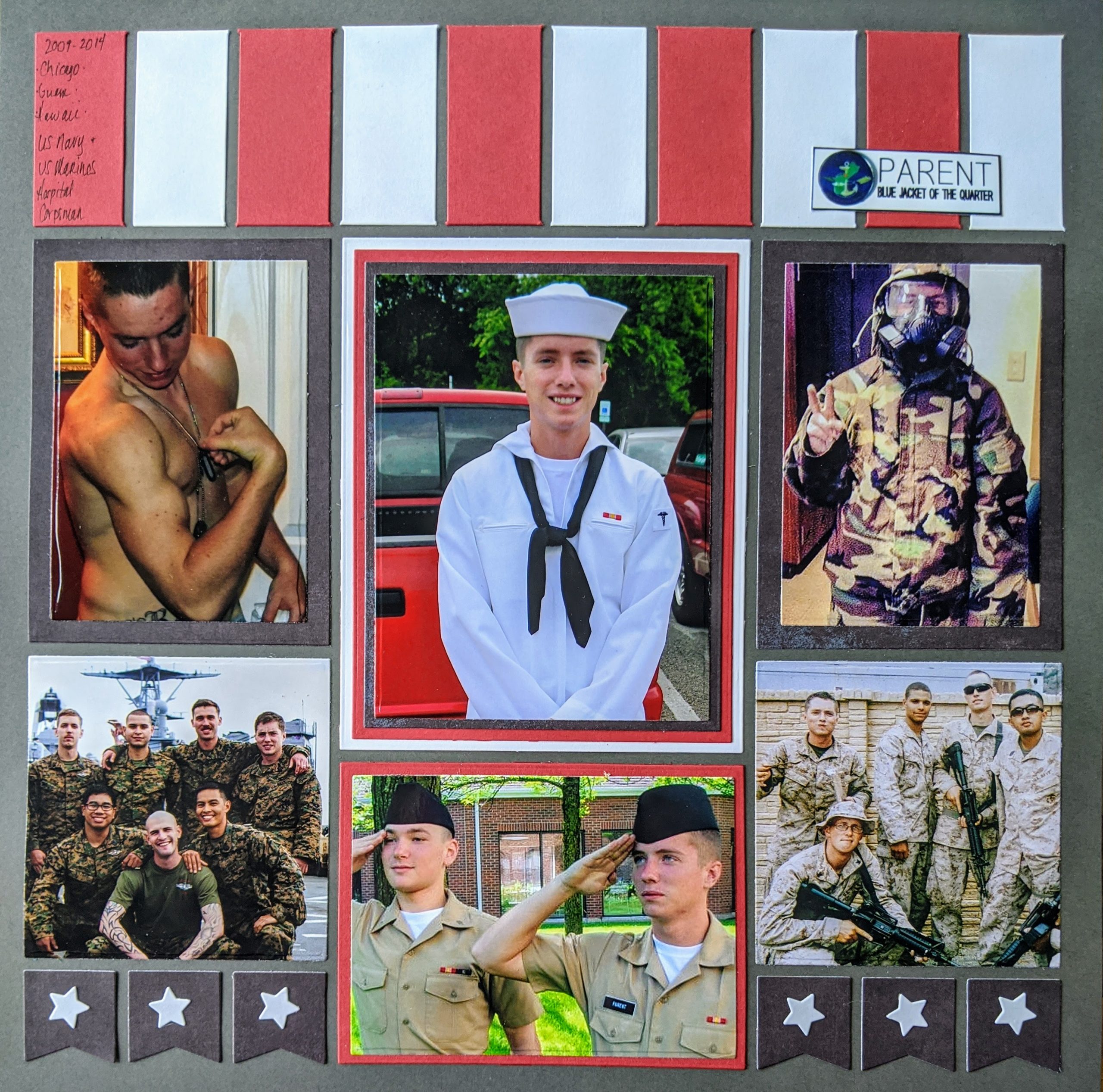 "Christopher in the Military" by Candy Spiegel - Pattern #459
Anything related to the American Flag takes on a masculine vibe.
Here, Candy created red and white stripes at the top of the layout and used blue banners with white stars on top at the bottom to symbolize the flag. This is super easy to create with the strip dies - just cut with two different colors!
The white stars are taken from the Stars N Stripes Die also shown in the Boy Scout layout at beginning of article.
Have you ever thought to use circles for masculine pages?
While circles typically give off a whimsical feel, using darker colors and patterned paper with straight lines keeps this layout all guy. Besides, with a subject like bowling, a giant circle made with the Horizon Dies is ideal.
The horizon dies and even the soleil dies are perfect for sports layouts any guy in your life will love!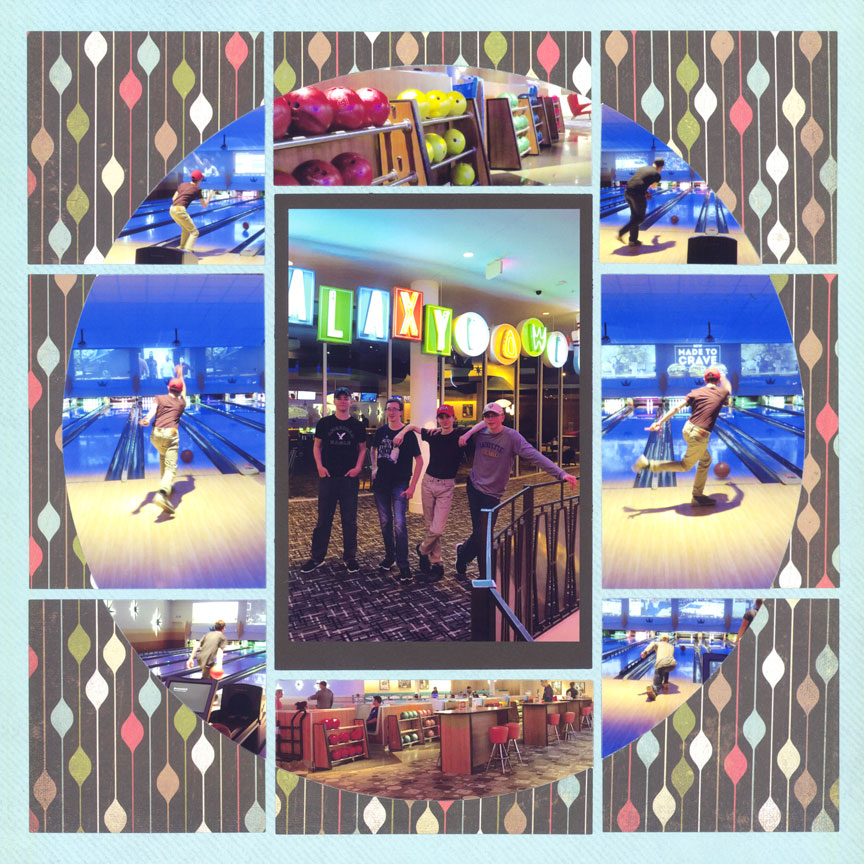 "Galaxy Bowl" by Paije Potter - Pattern #477
7. Experiment with Neutral Colors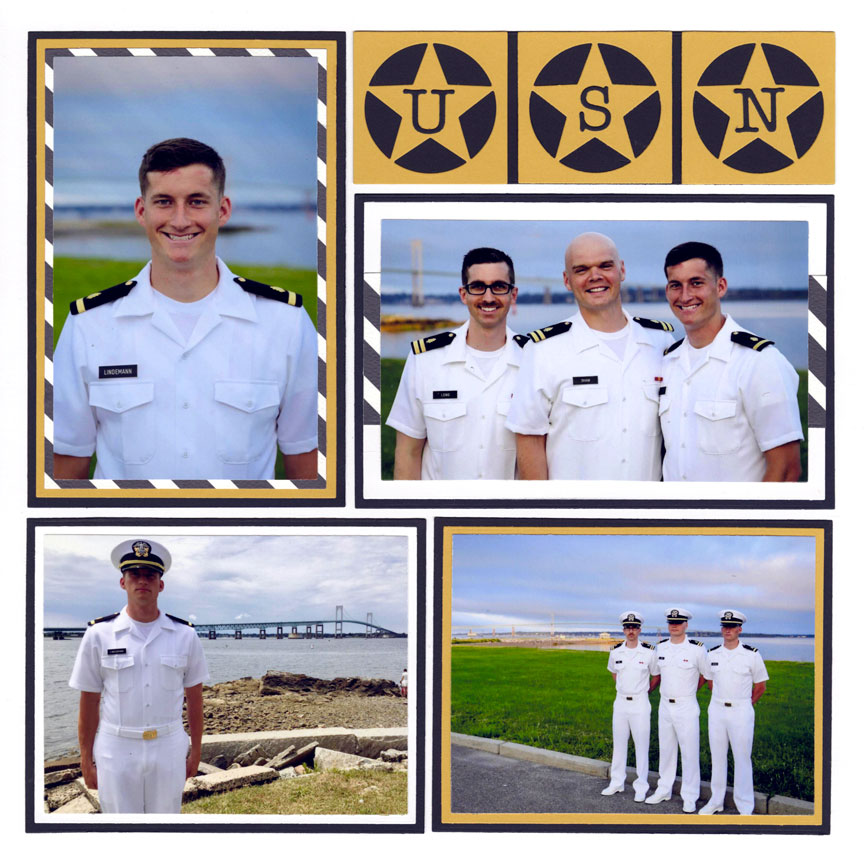 "USN" by Jodi Benson - Pattern #324
Keeping the layout neutral, with white, black, and gold, keeps this page masculine.
Jodi also repeated the strong graphical elements and straight lines as shown in previous layouts. You may also want to try using brown colors for masculine pages with a pop of color such as blue or red.
If you are stuck on color - neutrals are an easy go-to.
If there is a man in your life who loves barbecue - this is the tip for you!
For this layout, Paije used bleached wood grid paper and then added blue and brown card-stocks distressed with chalk ink to give the layout a rustic feel.
Here, Paije emphasized the masculine feel with strong straight lines and shapes created using the X-Factor Dies.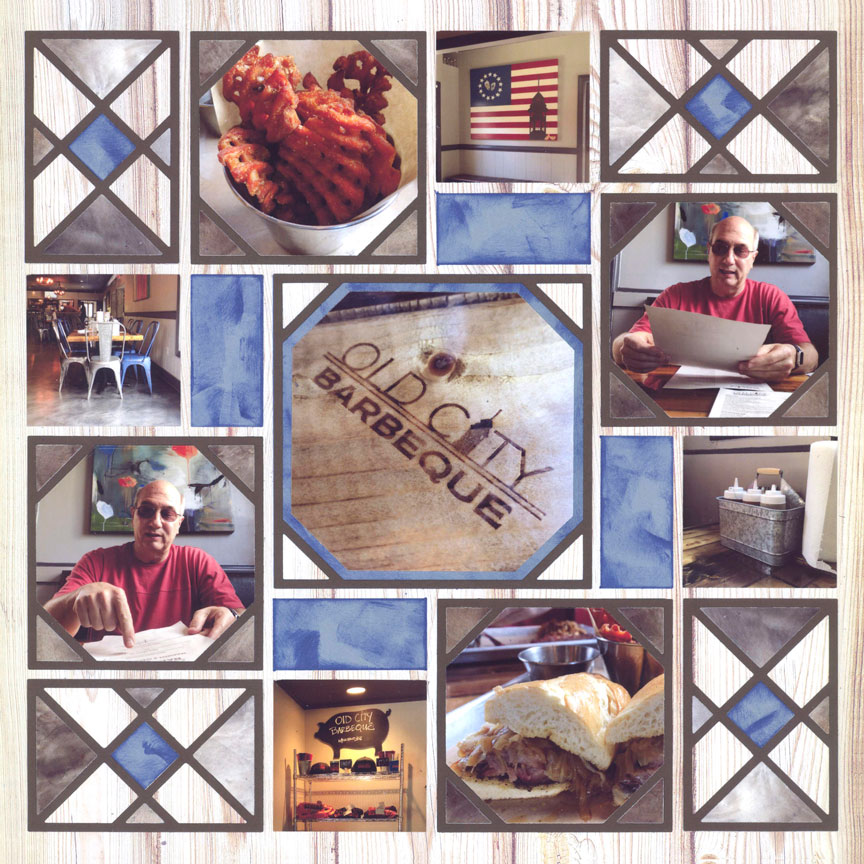 "Old City Barbeque" by Paije Potter - Pattern #340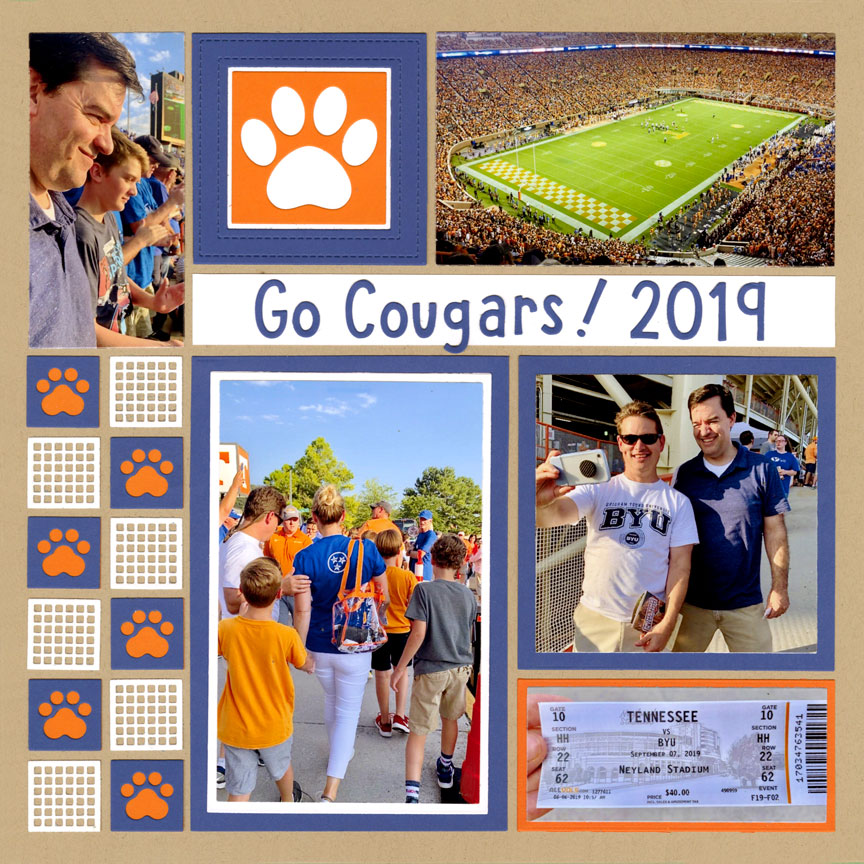 "Go Cougars" by Jodi Benson - Pattern #137 (adjusted)
Guys like sports, but sports pages do not have to have footballs or hockey sticks as accents.
Here, Jodi used the Waffle Die, along with the Paw and Bone Set and the Here Kitty Set, to accent the layout. Plus, she used bold blue and orange colors for a strong sports feel.
Don't forget to take photos of the ticket, like Jodi did here.
10. Try a Panorama for Stadiums
Grid Dies, like the Soft Corner Grid Die shown here, can be used to create the look of a panoramic photo.
These are especially fun with pictures taken from a distance, like at sporting events or races. Next time you are in a stadium, point your camera towards one side of it and take a photo. Continue to rotate your body until you have photos of the entire stadium.
Any sports fan will love the page you create later!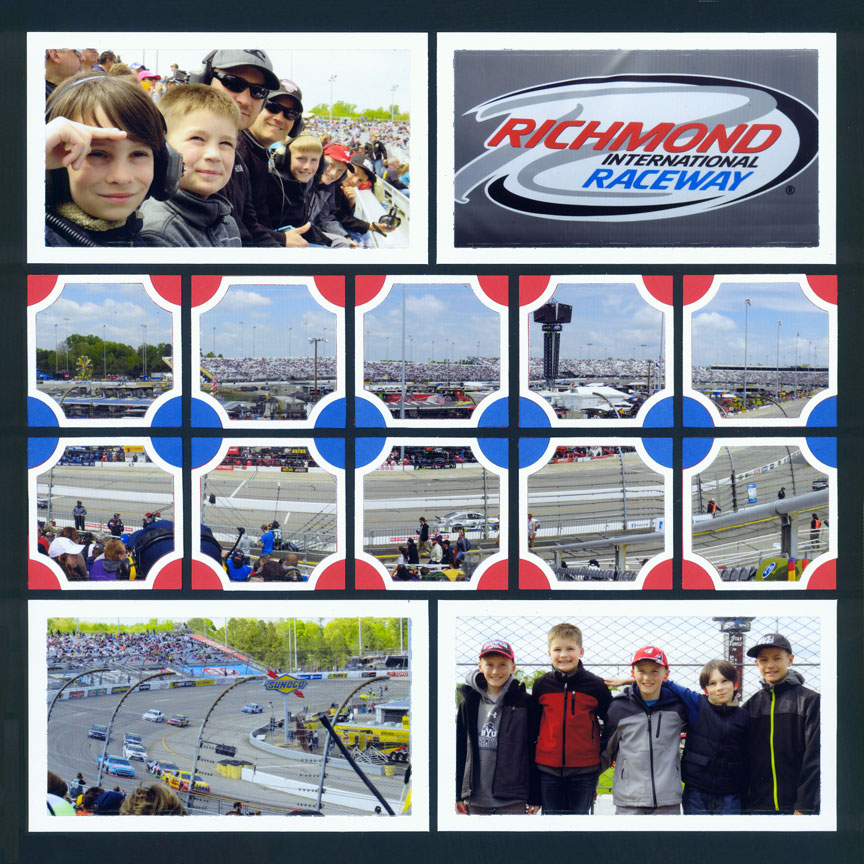 "Richmond Raceway" by Paije Potter - Pattern #425
11. Create Strong Lines with X Factor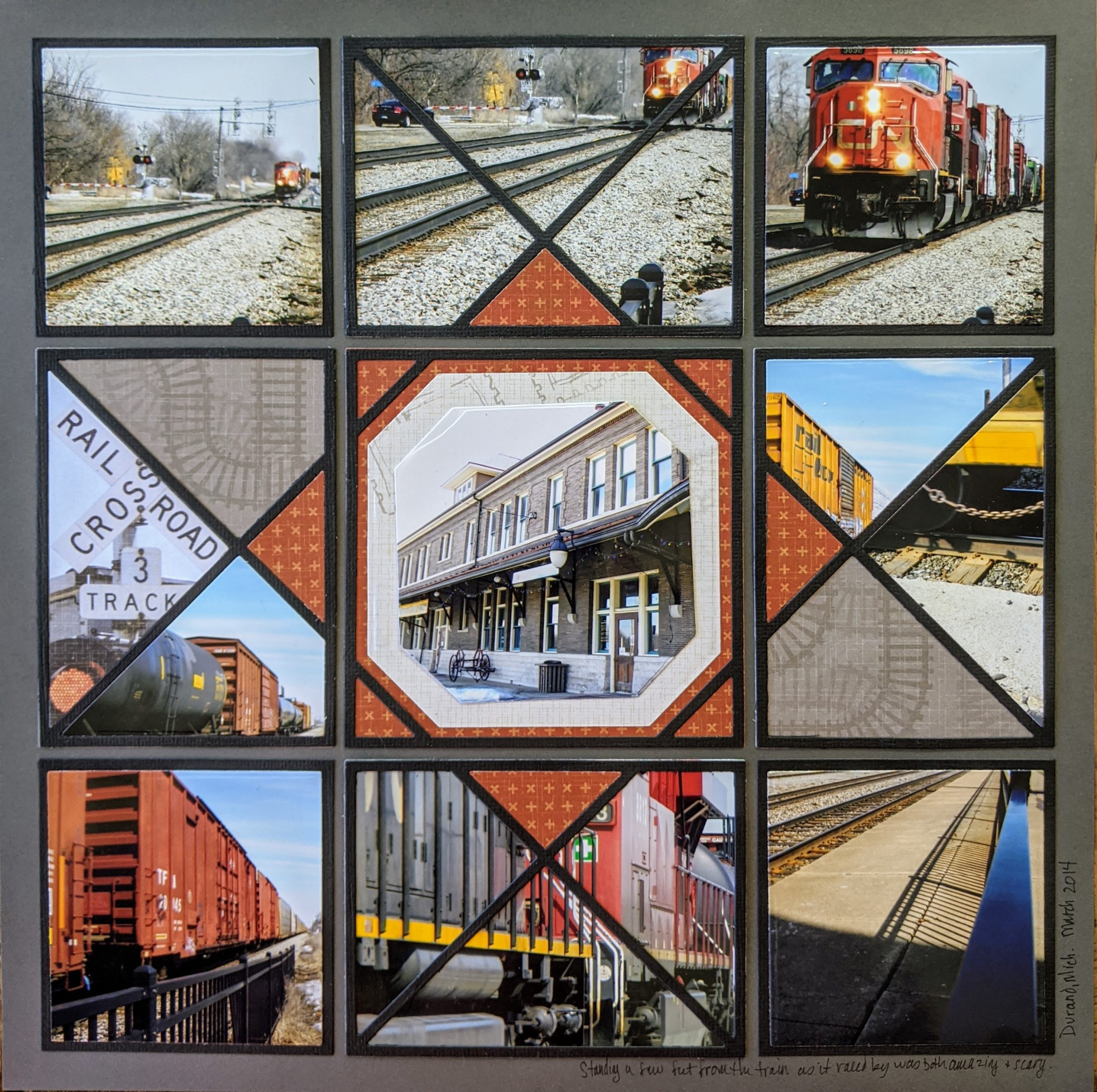 "Durand Train" by Candy Spiegel - Pattern #344
Connect the photos with strong lines using the X-Factor Dies.
Sticking to darker or grayer colors also helps to keep the page masculine. If you do not have enough photos to fill in the entire design, try cutting up patterned paper. The railroad crossing sign in this layout is actually a piece of patterned paper.
X Factor is one of our go-to die collections for masculine pages.
Patterned paper in masculine colors or themes is a perfect way to keep your layout manly.
Here, Danielle's hunting photos are accented by camping paper. Papers featuring darker color schemes and graphic shapes also work well for masculine pages.
Be sure to have some masculine paper in your stash!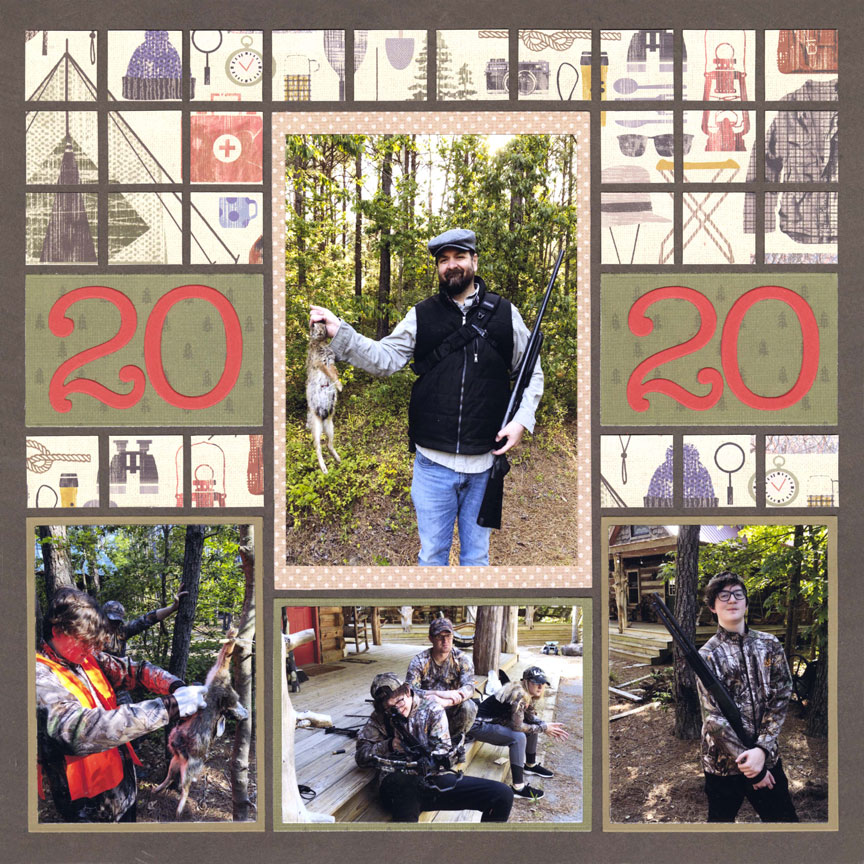 "Hunting Trip" by Danielle Lawson - Pattern #512