Choosing the right colors for a layout is vital to a beautiful, professional looking layout. The right colors will make your photos pop and tie the page together. So, how do you know what is right for your layout?
1. Draw Colors From the Photos
One of the easiest, and practically foolproof method, is to look at your photos and see what colors are in each one. Then, choose a couple of them and find papers that match.
---
Here, the black grid paper is pulled, obviously, from the umbrella. White and pale pink, the color of the rain jackets, are used as accents.
Colors can be based on clothing worn in a photograph. Here, Paije used purple, green and black, just like Buzz Lightyear's costume, to accent the layout.
If you have a lot of subjects on your layout, Just choose one item to use as your inspiration. In the center photo, there is a red and yellow surfboard, which were the chosen colors for this page.
Nature always knows how to combine colors. If you have photos of anything from nature, use the colors on your layout. Here the colors were kept all natural, browns and greens, just like you see in the photos.
2. Select Colors from Pattern Paper
If you scrapbook, you probably hoard pattern paper. It can be cute, unique, beautiful, adorable or silly, but it is perfect to go with your photos. So, make use of it and select your color palette from your chosen paper. Check out these examples to see how.
---
If you look closely at the leaves of this pattern paper, you will see the blue, green and pink used to accent this layout.
You will also notice many of the papers used here are pattern papers. If you are not sure how to mix the different colors and patterns try using a paper pad. Often all of the papers in the pad are designed to coordinate together, so as long as you choose from the same pad, you know they all work.
For this one, Jodi started with the floral print, then matched the shades of blue, yellow and pink to it.
By cutting her own embellishments with Mosaic Moments® dies, everything matches perfectly.
Plaid papers make choosing colors easy as pie. For this one, Paije selected the plaid paper and then used cardstock and grid paper to match. Even the blue she used as a photo mat is one of the colors in the pattern paper.
If using a multi-colored grid paper, such as
Boardshorts
, you can pull the colors for your mats and die cuts from the grid paper. Balance the busy background with a simple color scheme, like all blue mats.
Schools, sports, weddings, birthday parties, theme parks and other events often come with built-in color schemes you can use when scrapbooking these events.
---
For this layout, Paije chose the colors from her sister's wedding -- green, pink and navy -- as her accents on the layout.
The color scheme for this layout came from the logo for Richmond International Raceway. You could also work with the colors of your favorite driver.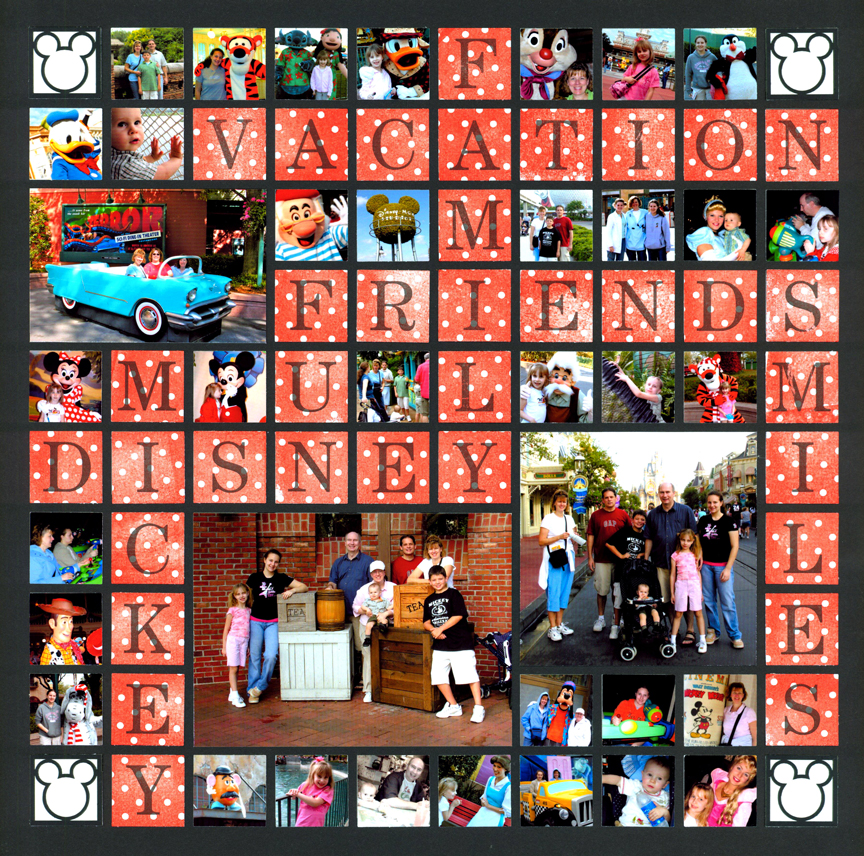 "Disney Vacation" by Tami Potter - Free-styled Layout
Theme parks, like Disney, may have more than one set of colors. If you are focusing on Cinderella and other princesses, you might go for pastel blues, pinks and purples.
If your page is about Winnie the Pooh, you might use golds, oranges and reds.
But, if you are focusing on Mickey Mouse, you can do red, white and black, like Tami did here.
Graduations, sporting events and pages about school can be fun when based on the school's colors. Here, Tami use East Carolina University's color of purple and gold.
4. Get Inspired by the Location
When choosing colors, look closely at everything in the photos. Often you will find inspiration right there.
---
The colors here were inspired by the earth tones of California, such as the brown with a red hue. The background was chosen since it fit with the look of the historic buildings.
On this layout, the restaurant's atmosphere was on the bland side. So Paije chose colors based on a nautical scheme, since it was a seafood restaurant by a shipyard.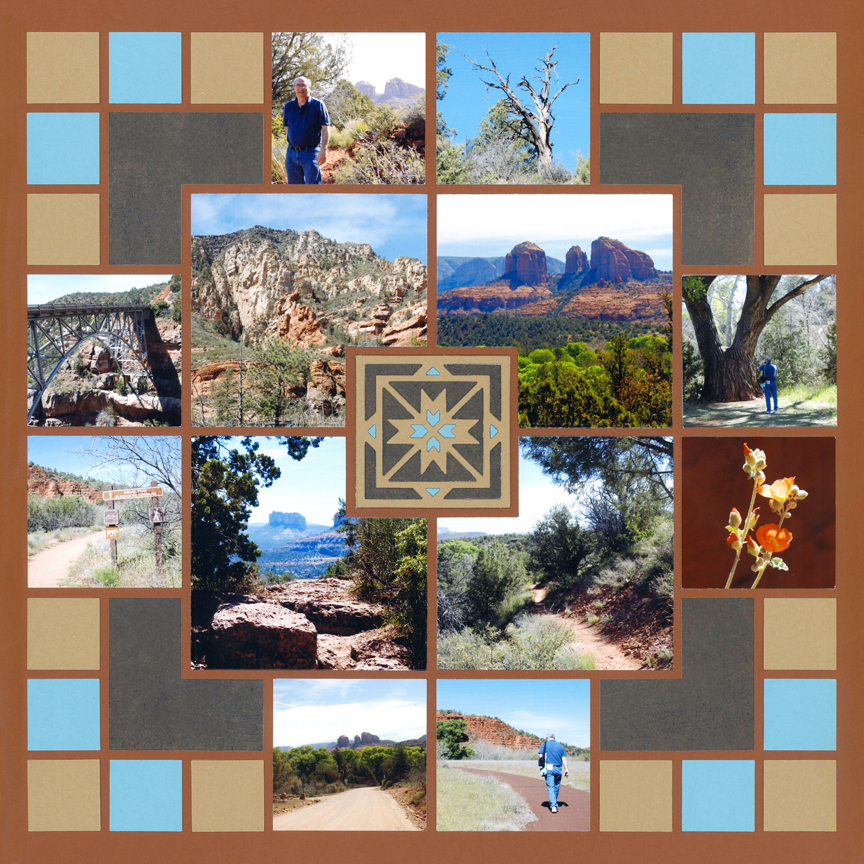 "Sedona" by Paije Potter - Free-styled Layout
Most of the colors on this page were inspired by the earth-tones in the southwest. The blue was added since it reminded Paije of turquoise -- a common gemstone found on southwestern jewelry.
Bright colors, such as the blue and red, were chosen since this theme park also had lots of bright colors.
Primary colors (Blue, Red, and Yellow) are great for pages with young children. They fit perfectly for a layout about Sesame Place - a park themed for pre-schoolers.
We already know seasonal colors, like red and green, orange and black, and red, white and blue, go together. So, make use of that knowledge and create layouts using the colors of the season.
---
Since these photos were taken in the winter time, cool blue tones were chosen for the layout.
For this autumn layout, common fall colors, such as plum and maroon, were selected.
Spring is perfect for pastels and girly colors, like pink and purple.
Use colors of a specific holiday if photos were taken on that day or around that time.
Sometimes recording a special memory requires conveying the mood. You may choose to express the relaxation of the beach, the romance of a romantic date, or the silly fun of a child's birthday party. Regardless, color can help. Learn how below.
---
This page portrays the feelings of calm and tranquil. For this page pastels and some cool colors were chosen. Soft colors often give the feeling of ease.
This page has bright green and a bold blue! It clearly portrays the feeling of fun and childhood!
Not only do the colors on this layout have an outdoorsy feel, and it also gives the feeling of "cozy". A medium brown and dark blue were chosen.
This page shows the feeling of elegance. Purple is considered the color of royalty. The ivory and grey from the flowers adds softness to the page. Although this page has an elegant mood to it, it also portrays a historic feel from the distressed elements.
Many layouts have an underlying theme and the colors can easily be chosen to represent that theme.
---
For these Alice-and-Wonderland-themed photos, the colors were based on the black, white and red of the Queen of Hearts.
While blue and white could also have been chosen, the Alice in the photos would not have stood out as well as she does with the Queen-of-Hearts theme.
For these photos of a Farmer's market, Jodi chose earth tones. This shows the theme of earth, nature and gardens. Had she chosen the bright colors of her photo, the veggies would blend into the background.
Paije chose gray, black and cream to show the theme of classy for her New York layout.
For these photos of Eric Carle Museum, it was a must for Tami to base the colors on his art!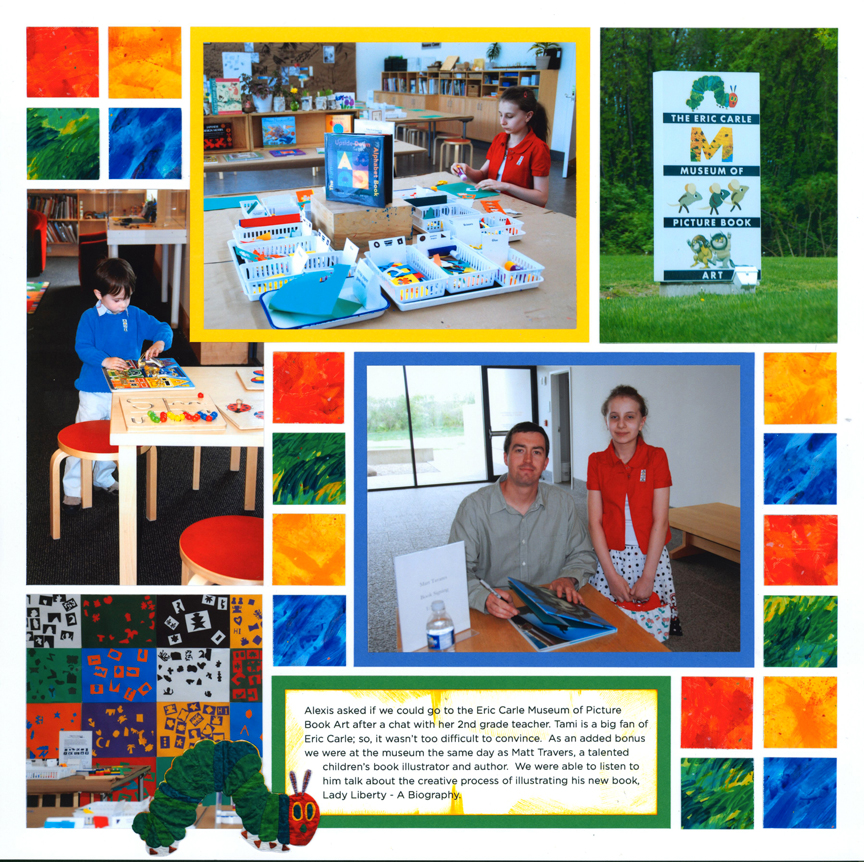 "Eric Carle Museum" by Tami Potter - Free-styled Layout
8. Try a Touch of Personality
Personality can also come through a page through color. Take a look at these examples.
---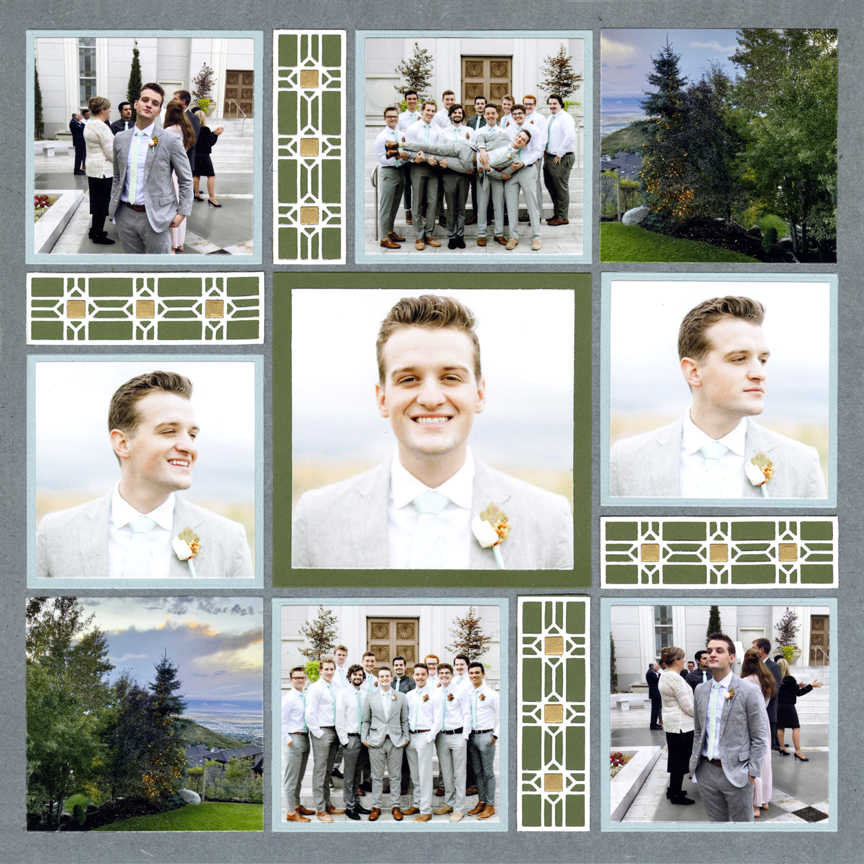 "The Groom" by Jodi Benson - Pattern #448 (mirrored)
This page has very masculine feel due to the dark blue background and green. Plus a little bit of gold was added for the "wedding" theme. The colors chosen have a mature feel.
For pages of adults, it might be more appropriate to use darker or muted tones.
These bright-and-bold colors fit with this girl's personality. Choose colors that fit that particular person. Bright colors are great for an outgoing personality. Pastels are often chosen for someone who is shy and sweet.
Tip: If you are struggling to pick a color, use that person's favorite one. Not only will it fit their personality, but it also helps tell their story.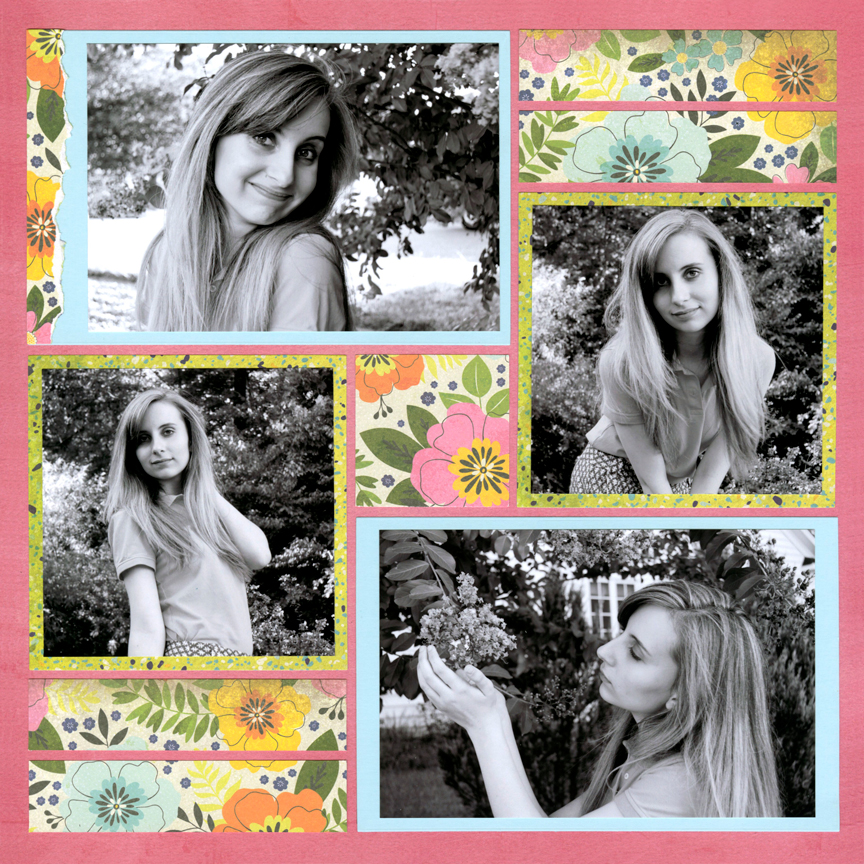 "Alexis 2014" by Paije Potter - Pattern #520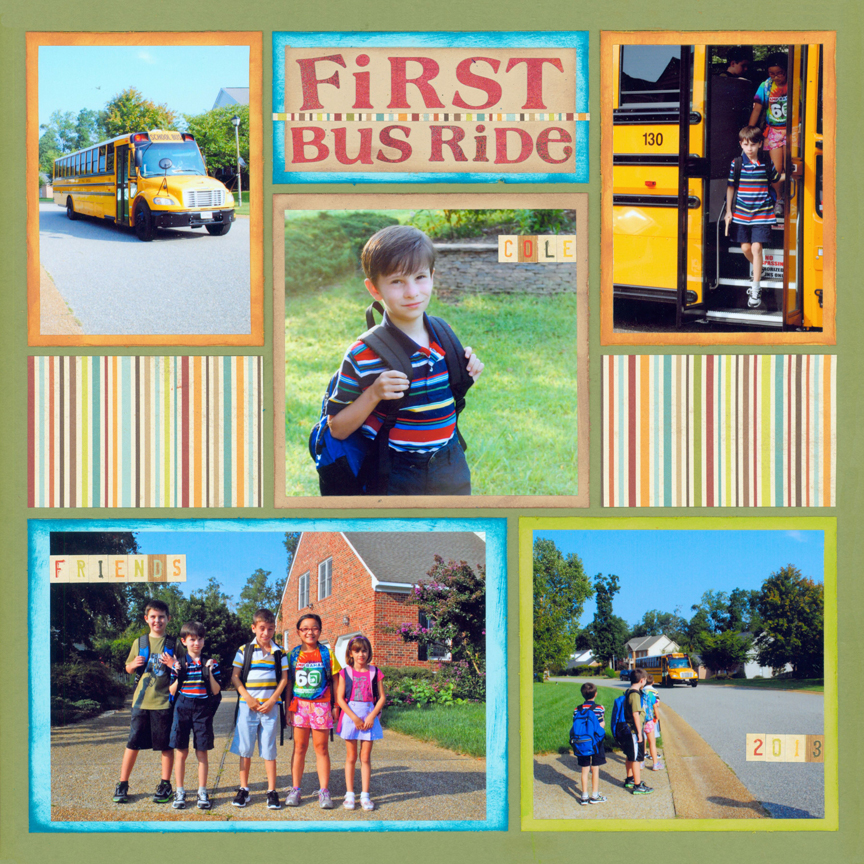 "First Bus Ride" by Paije Potter - Pattern #142
Consider the age of the person on your page. For children, you may want to use brighter hues.
Here, multiple fun-and-bright colors were chosen, which fits perfectly for a grade-schooler.
The younger the child, the brighter the colors. As kids age, it's usually more appropriate to use darker and muted tones.
Of course feminine pages don't have to be pink! Pastel colors work wonderfully for a "girly" layout.
You can choose colors based on the gender of the person. Common feminine colors are warm such as pinks, reds, and yellows. Masculine colors tend to be the opposite - so cool colors such as blue and green.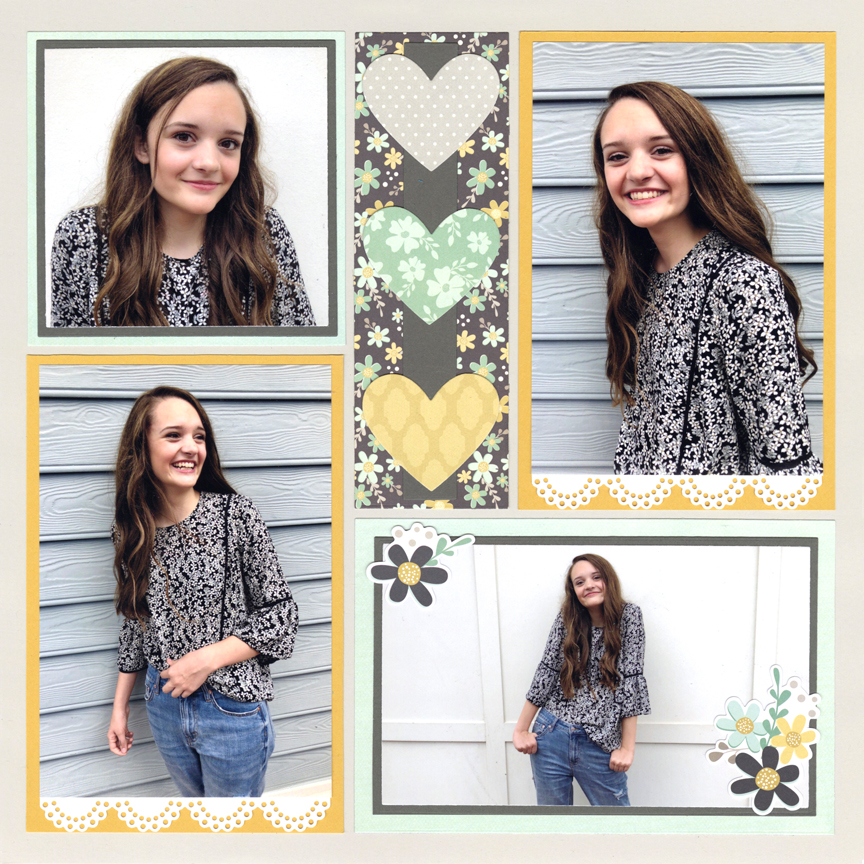 "Sarah" by Jodi Benson - Pattern #257