The photo collage design in this post is a pinwheel pattern. Pinwheels are one of our most used patterns since they are very versatile. They allow you to fit an equal amount of portrait and landscape oriented photographs. The pattern shown today fits up to 8 photographs.
The layout for this page was created with Pattern # 98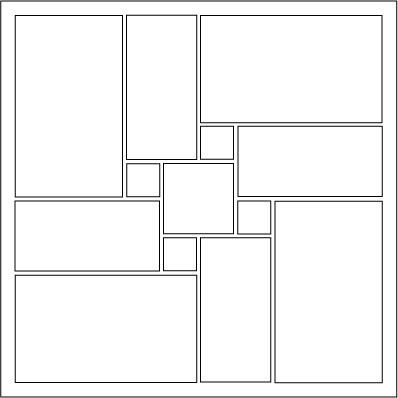 I love this pattern! It is one of my favorite pinwheels. This layout has four spaces to fit 3.25 x 5.5 photos and another four spaces for 2.125 x 4.375 photographs. There is a good amount of space to fit larger photo sizes. Plus, right in the center is a 2.125 square, perfect for a Cornerstone (as shown in the page above). Also on this page is four 1 in. squares circling around the center. You can fit a Four letter Cornerstone, 1 in. photos or pattern paper in these spots.
I like this pattern since you can fit various sizes of photographs. It is great if you do not have many photographs to cut into mosaics, but it's still an interesting design that viewers will love! You may also want to add pattern paper to add interest.
The page I created shows images along the Colonial Parkway in Virginia. There were so many lovely photos and I didn't want to cut them into mosaics. I created this pattern so I could fit more photos on a single page. I used a "calm" color scheme since the page represents a simple drive. I love the pattern paper with the script writing since it helps the page give a tranquil feel.
Here are the supplies I used to create this page:
Oregano Mosaic Moments grid paper (Sadly it is no longer available. Check out Everglade and Dark Spring Green for earth-tone colors)
Blossom Cornerstone (I used a White Cornerstone and colored it with chalk ink)
Pattern paper from Basicgrey™
Light Green Card-stock