Music City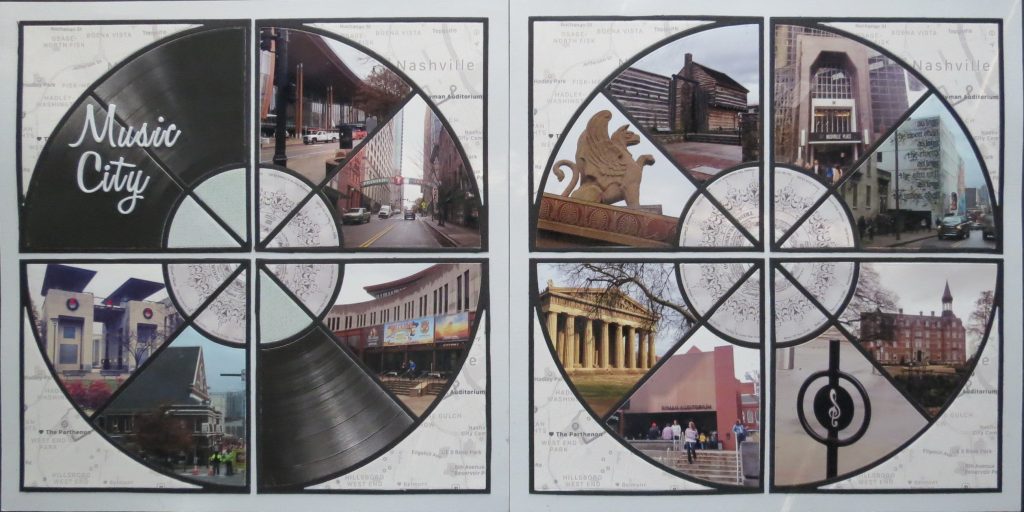 There's a new die for creating a circle design on the grid the Dial Die! I think you'll find this one perfect for larger portions of photos. It is so easy to line the photo on the horizontal or the vertical to fit into each section for a beautiful page.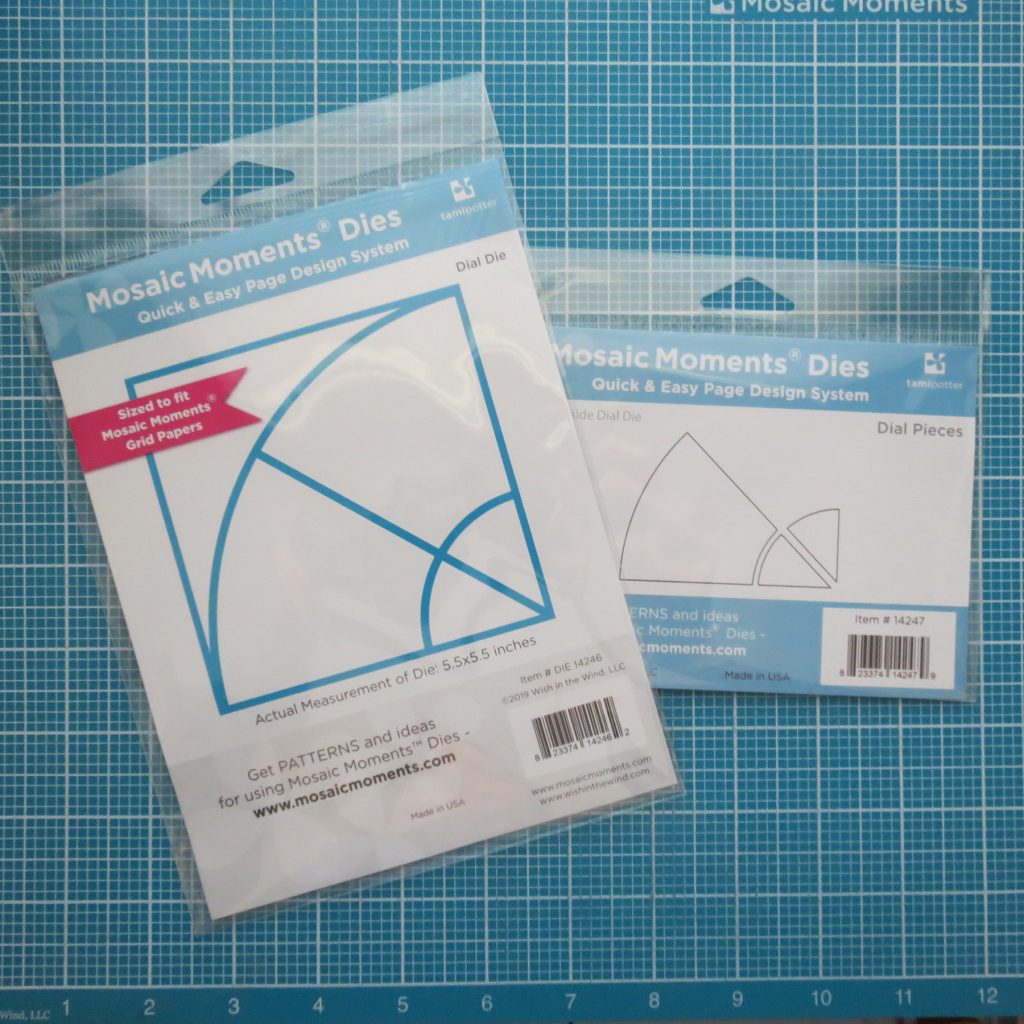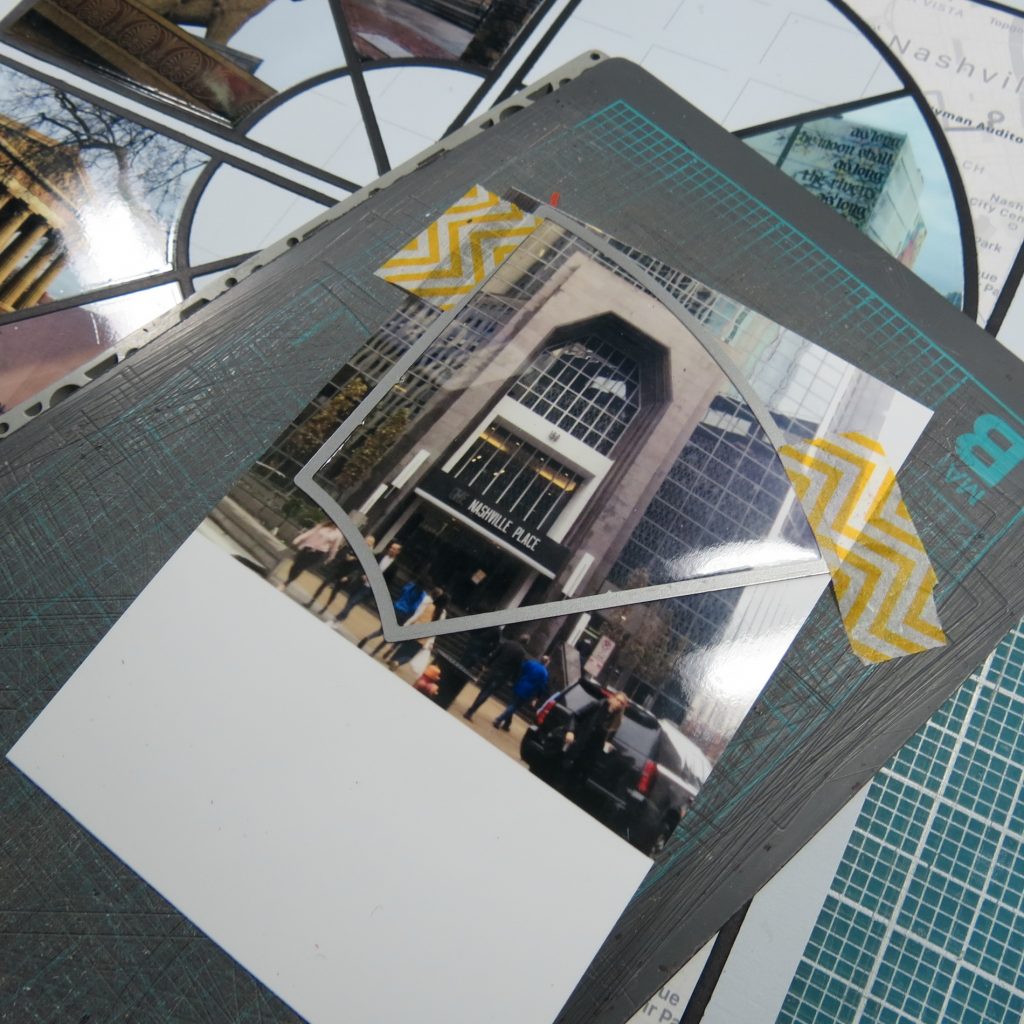 I am enjoying this new Dial Die as I'm able to capture more of my photos in each frame. I print my photos to a 4×4 size and cut them easily in the correct direction to fill each of my open spots.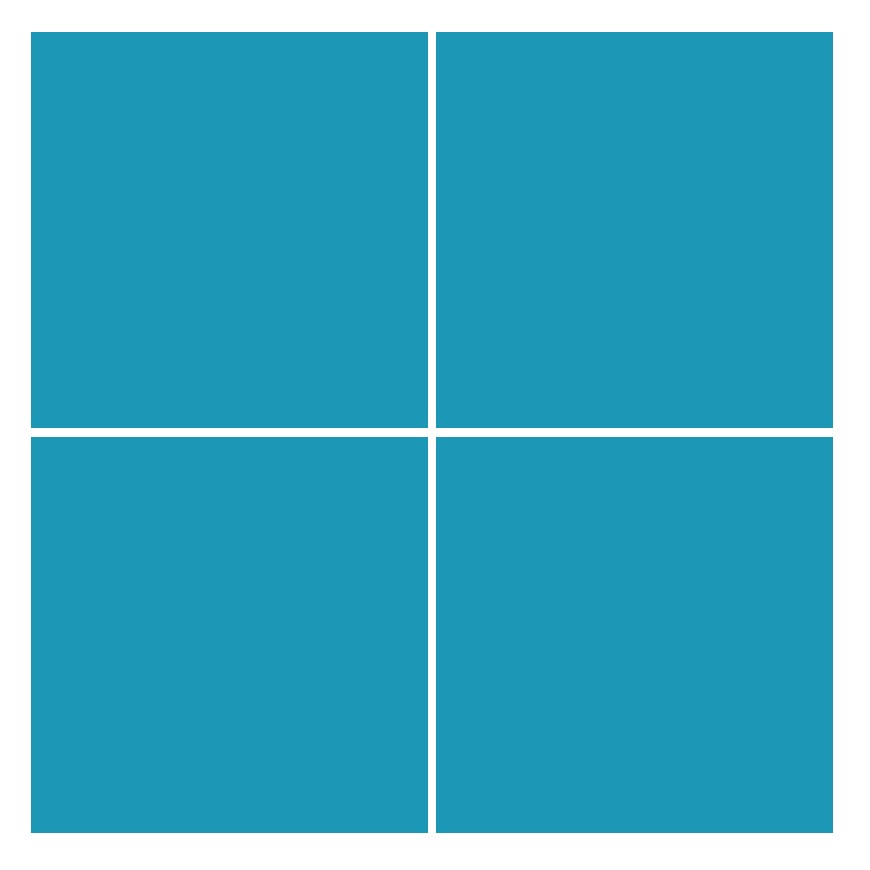 These pages use Pattern #431 and four large squares that will accommodate the Dial Die sections.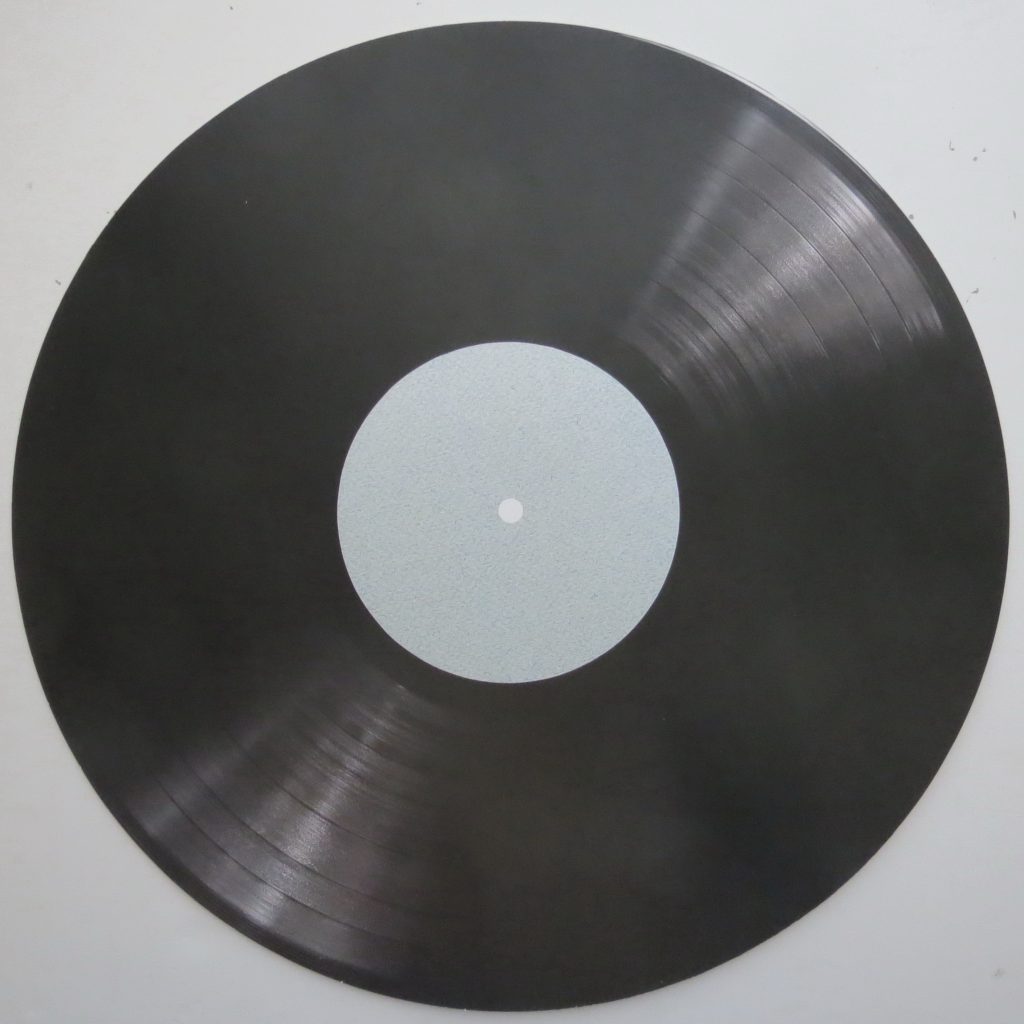 For this layout, I used the vinyl record paper (Ella and Viv Paper Company – 80's Party Collection – 12 Inch Vinyl Record) that was perfect for these Nashville photos. I originally planned to try it out with the Pie Die Set, but it seemed just right for this theme. I cut it into four sections and then cut with the Dial Die. I have used three sections on page one but none on page two.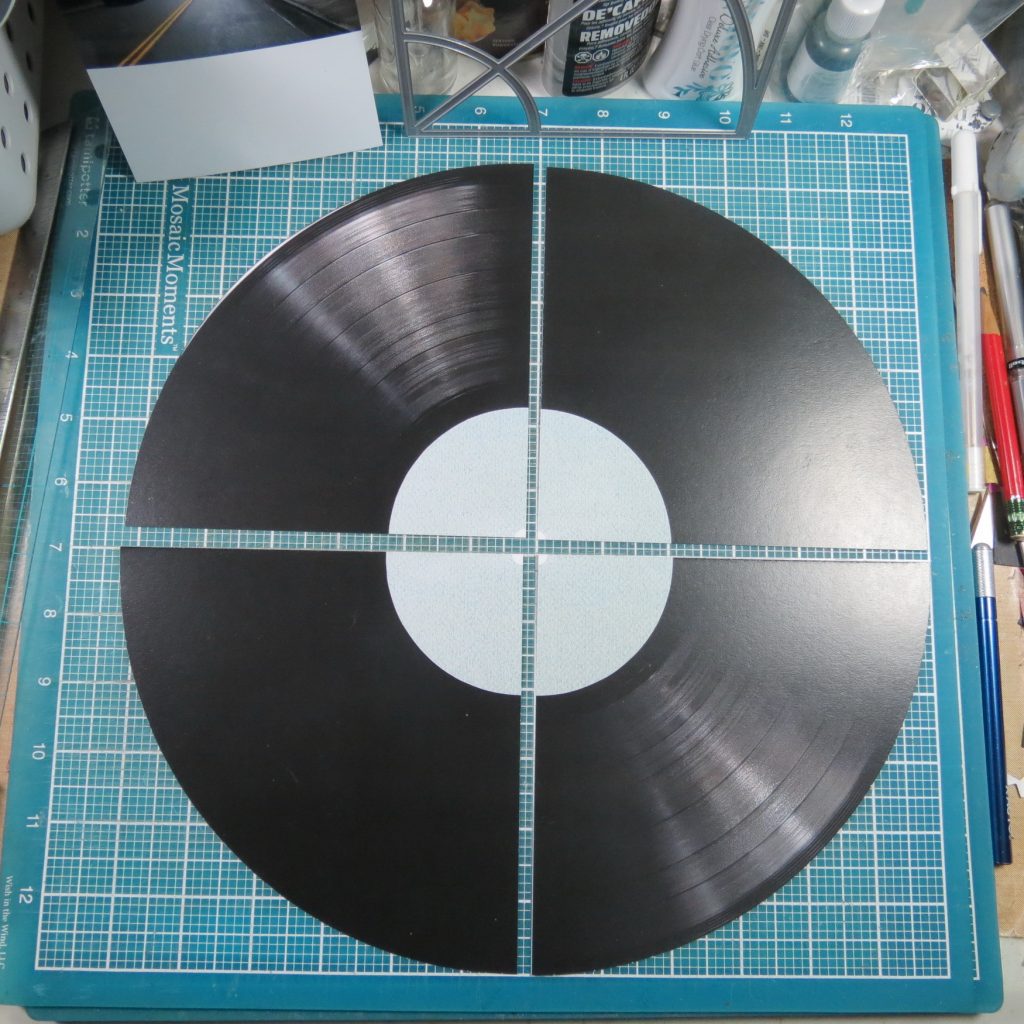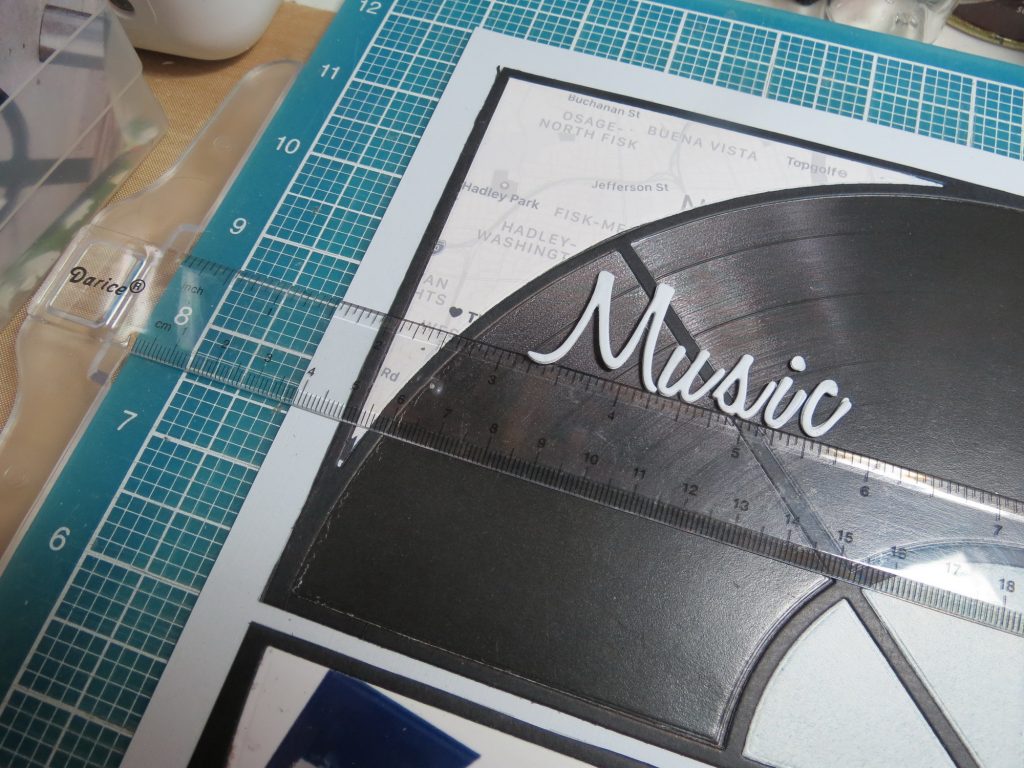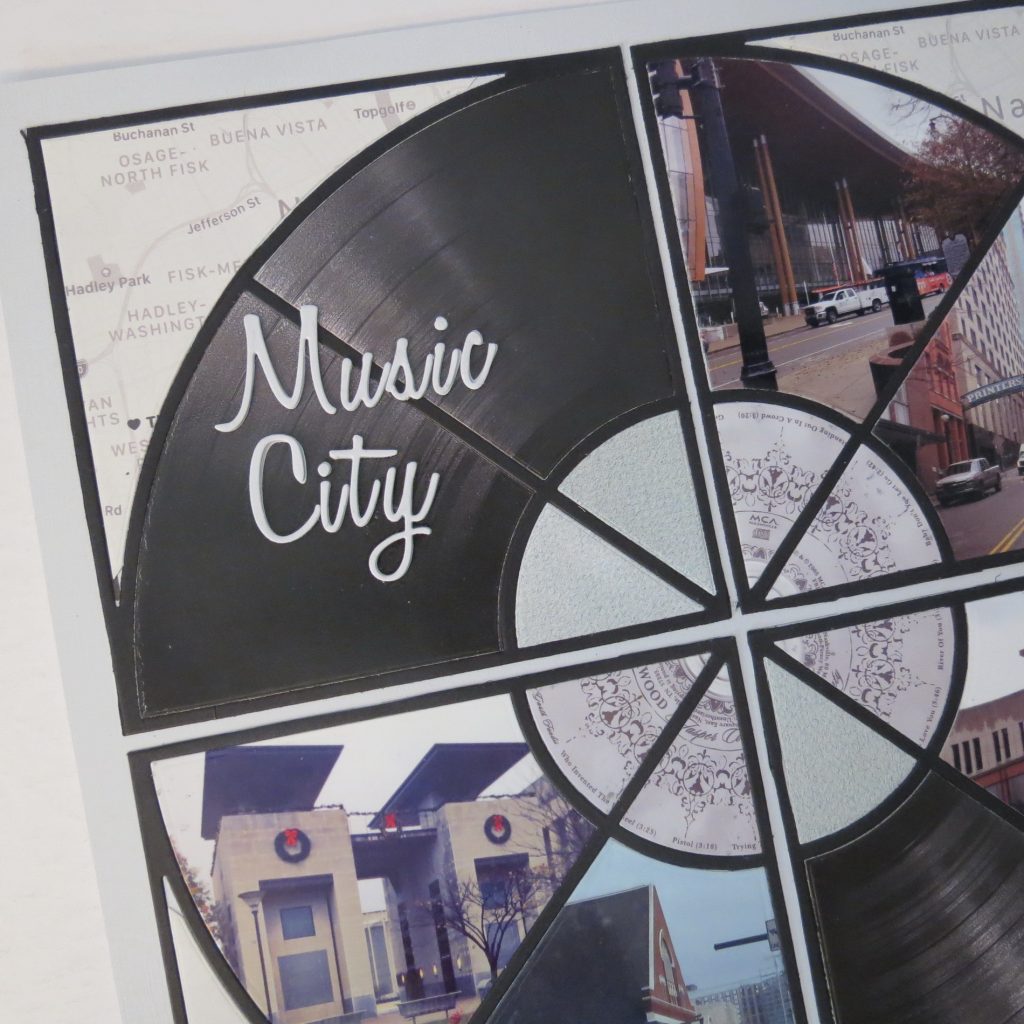 The shine of the vinyl in the spots I kept form the backdrop for my title. Music City is cut in the Alphabet Script (Sizzix – Tim Holtz – Alterations Collection – Thinlits Die – Alphanumeric, Script) that has a retro feel, perfect for Nashville. I cut several letters to stack them for a bolder title presence. I have used a T-square ruler anchored to the side of my grid to arrange the letters and have a guide to get a straight line spaced properly.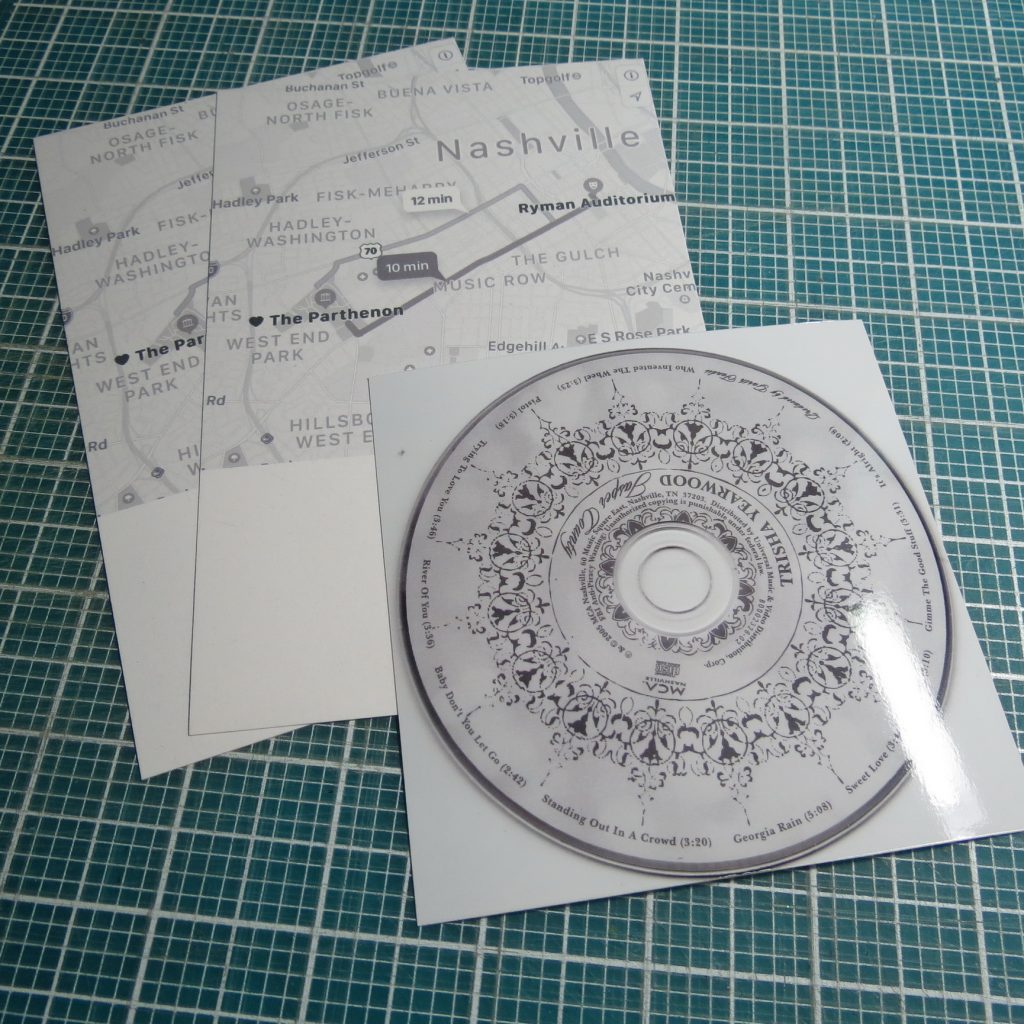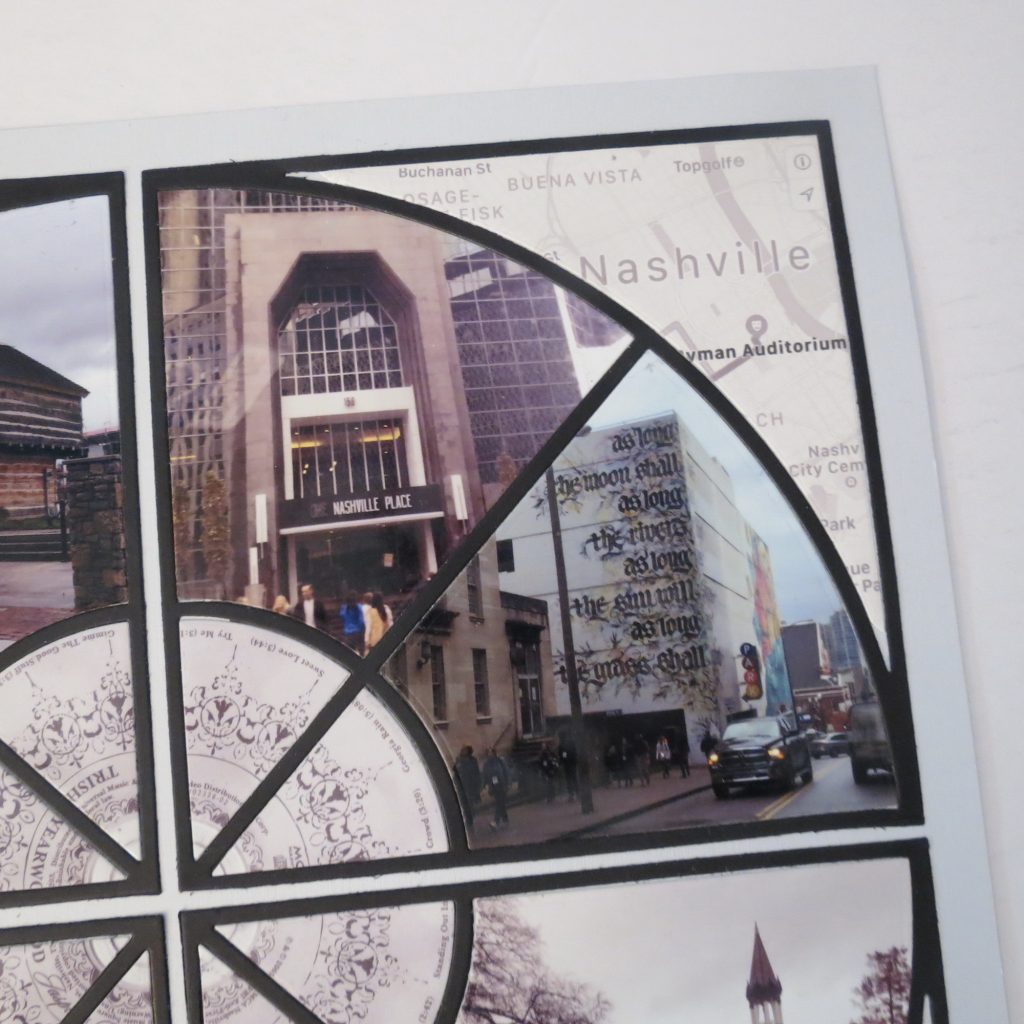 The corner sections are filled with copies of our map I was using to navigate our stops downtown. I turned them to black & white so that I'm getting a moody, feel to the page to match the somber rainy and overcast day. Although there is some color the feel is very monochromatic.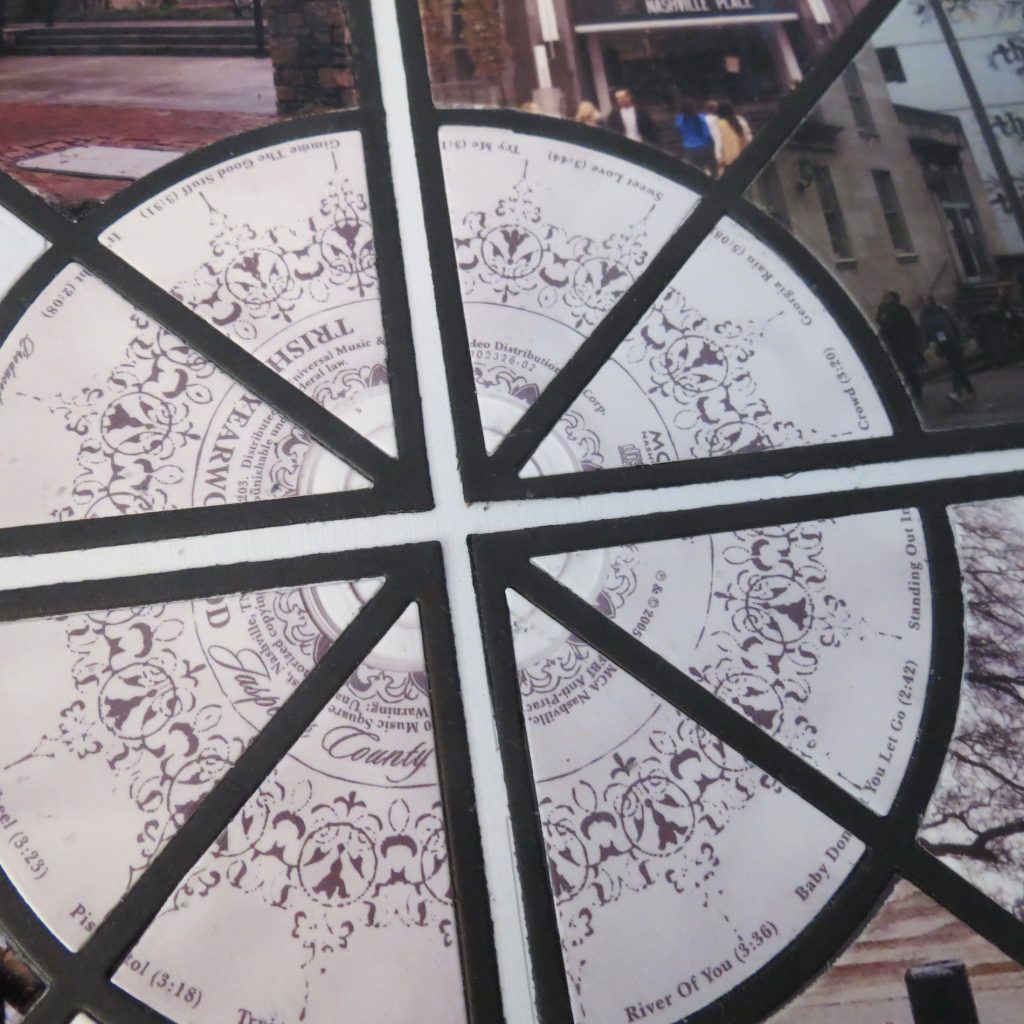 I used a scanned image of a CD disc that I turned to B&W, printed and filled the center on page two and most of the label area on page one. The pale blue label of the scrapbook paper is a good match for the Mist Grid paper and keeps the record looking like a record.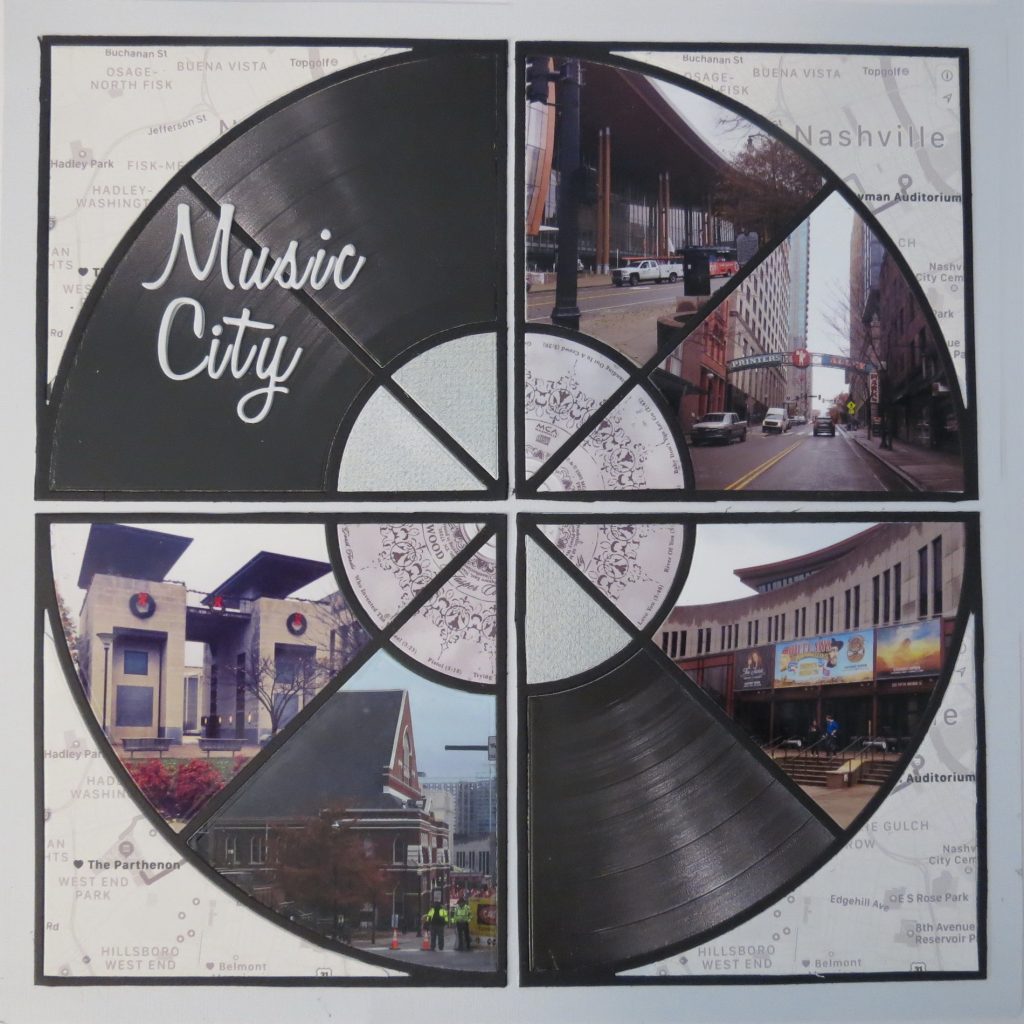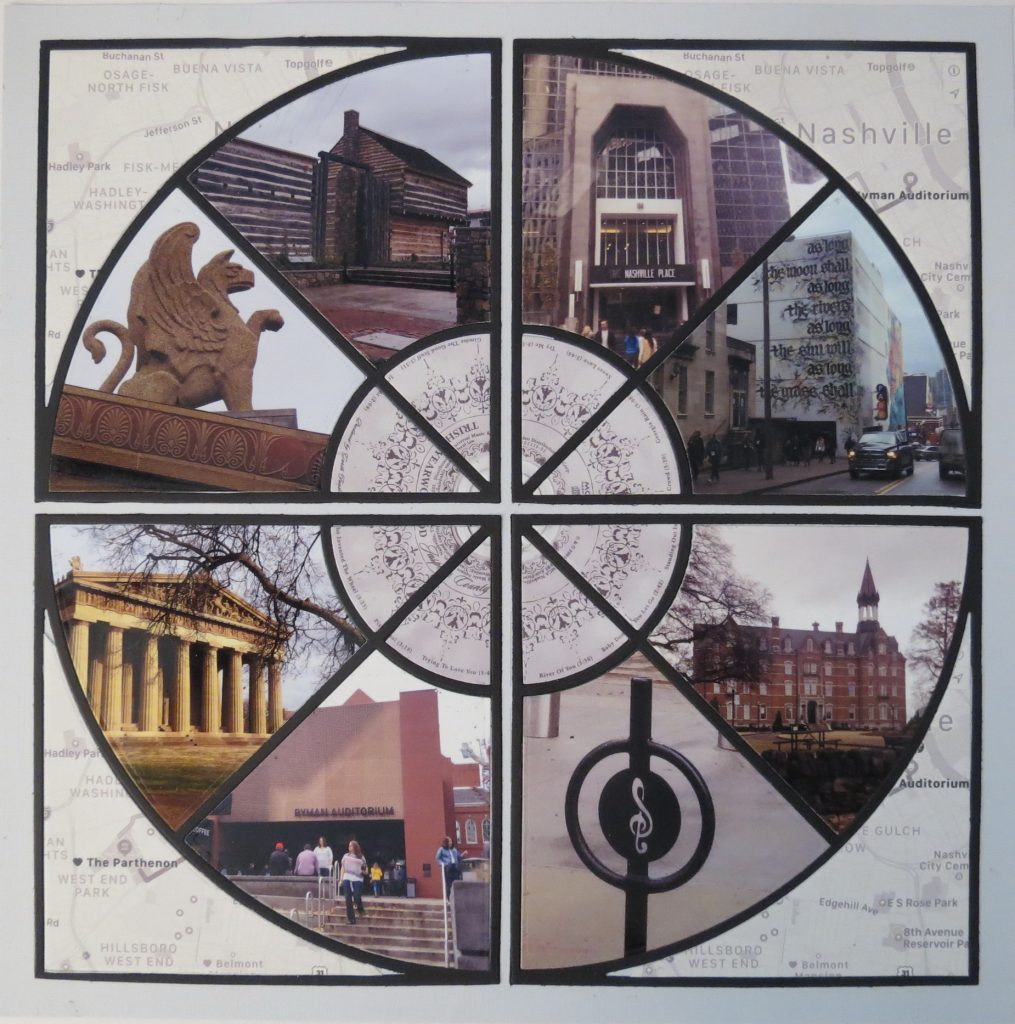 Most of the photos were captured on the fly as we drove around town trying to see the sights, but this wasn't our main destination so these were all bonus shots and well represent that day. The Dial Die was perfect for this group of photos capturing all the glimpses of downtown Nashville. I'm sure if you like a circle on the grid you will find the addition of the Dial Die to your collection the perfect way to see more of your photos.
Andrea Fisher