When you need a collection of dies that give you hundreds of options, create shapes within shapes, and lead the eye from one photo to the next, look to the Crisscross Collection.
This collection, according to some of our designers, is easier to work with and the results are spectacular. Just look at some of the ways to use these dies.
We love the mix of darker photos, those featuring the trees covered with snow, and the lighter photos, those showing the snow on the ground, that Paije used on this layout. The contrast in shades creates a giant crisscross across the layout, that frames the dog.
By rotating the pattern, you get an entirely different look from the same die set. This time featuring horizontal photos.
3. Make a Small Crisscross
Using only the smaller dies in the Crisscross collection can create a smaller crisscross centered around a 2x2 square, like Tami did here.
This treatment also allows for a border around the layout. It's perfect when you have paper you want to showcase.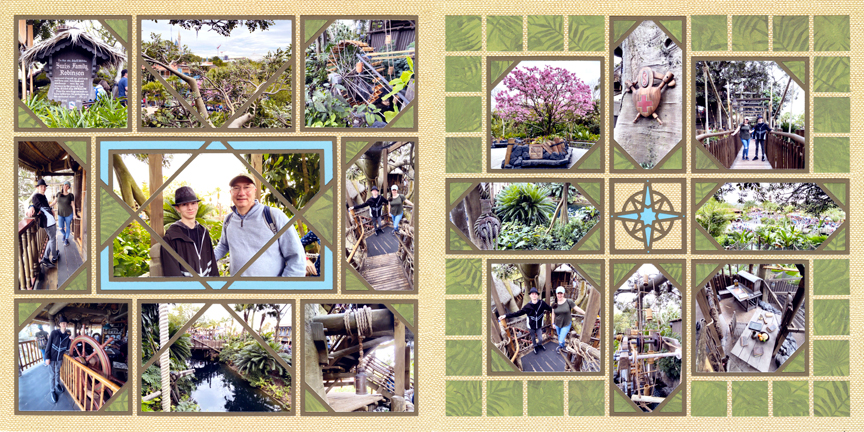 "Swiss Family Tree" by Tami Potter
---
Many times we showcase a single page. However, by using the same grid and patterned papers and light-blue accents, two "single" layouts become a double-page spread.
5. Save it for the Corners
For this design, Danielle replaced the center space with a 4x4 photo. However, by using patterned paper in each of the corners on the other photos, she maintains the crisscross design.
We love how it helps accentuate that center picture.
This design really changes things up ... While the top and bottom rows are the same as some of the other Crisscross designs, the center section has been replaced by a repetitious row of the 2x4 Crisscross Dies. It provides a totally unique look, but the lines still match from corner to corner.
Using the 4x4 Crisscross Die in the center, and the 2x4 Crisscross Die on each side, allows space for a short border.
Using patterned paper for these short borders is a great way to tie colors together on your layout.
8. Create Multiple Crisscrosses
This design uses only the 4x4 Crisscross Set (and a few 1" squares).
However, by alternating patterned paper, which Tami created and printed off on her computer, and photos, it creates multiple crisscross shapes that tell the story.
For this layout, Danielle did a bit of hand cutting to get everything to fit the way she wanted it.
She used the 3.25" x 3.25" square die from Set A and placed it on the photo oriented as a diamond. She then hand cut 1/8" off two adjacent sides to get a 3 1/8" diamond shape that fits in between the 4x4 Crisscross dies.
We can only say, brilliant!