Granny craft days, replaced school days sometimes during the lockdown of 2020. A sure-fire way to create memories is with a few bottles of paint, brushes and three girls 6,4, and 2.
Our girls love to paint, draw, and build with all of my craft supplies. This project had been planned for quite some time…it was to be for baby Oliver when he arrived…almost two years ago…because he was Sheri and David's rainbow baby. Good intentions…unfulfilled. However, miss emmylou wouldn't let me forget! She planned on making one alongside me and taking it home. Now the other girls wanted in on it, so…we did an assembly line production that was captured with many photos that I'm going to create a page that will document some of our activities that kept life interesting while the world outside did its thing.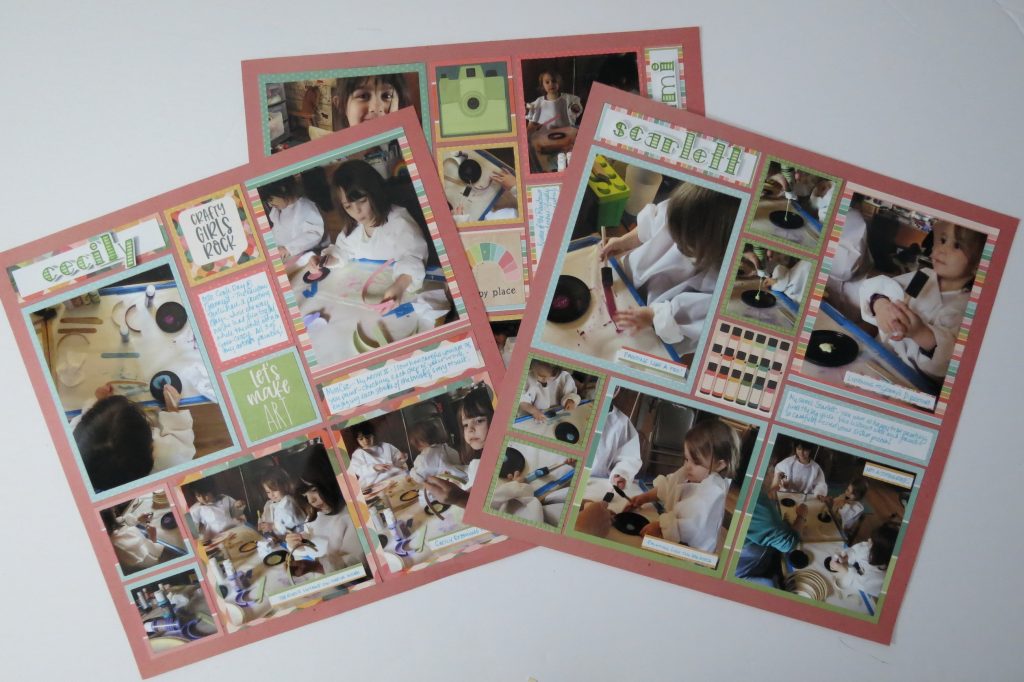 I'm going to include some journaling to help tell the story where ever I can. Be it a paragraph or tags…there's so much to say, but I'm going to rely on the photos contributing to the story of the lockdown of 2020 too!

My grid choice is going to be the new Red Tide from the Nantucket Collection and I'm going to once again rely on the paper selection I used when I showed off the final product that this painting session yielded from Simple Stories Crafty Girl Collection.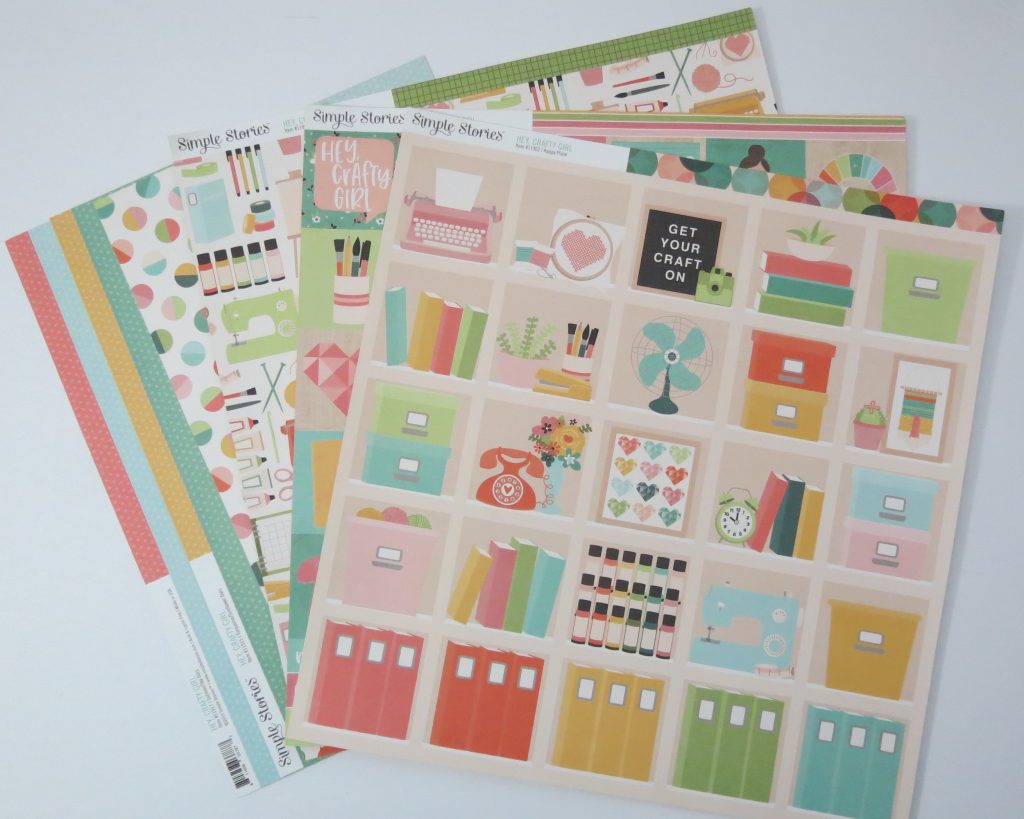 Green, blue, aqua, yellow and pink accents to match the papers will be used as mats for some of the photos and bases for journaling elsewhere.
I want a fair amount of group pictures but also some of those individual shots too to fill my page.
I want to try to arrange the pictures in sort of an order so that as I journal the details, the story unfolds from start to finish alongside of the pictures.
Because I have so many pictures, I have to make choices as what to include, what to exclude. I certainly will be completing a two-page layout and maybe…more. If I want smaller pictures, I can get more on the page, but if the details in the photo are important, then larger spots will work better. A combination of the two might be the perfect choice for you when you are telling your story.
We created an assembly line to paint our rainbows. Emmi and Cecily each had a set of wooden embroidery hoops that I sawed in half and Scarlett had tongue depressor craft sticks to paint. With their tables covered with wax paper taped down with painter's tape, and smocks to wear to keep them clean I set up a color at each spot and planned that we would rotate chairs to go and paint at the next station.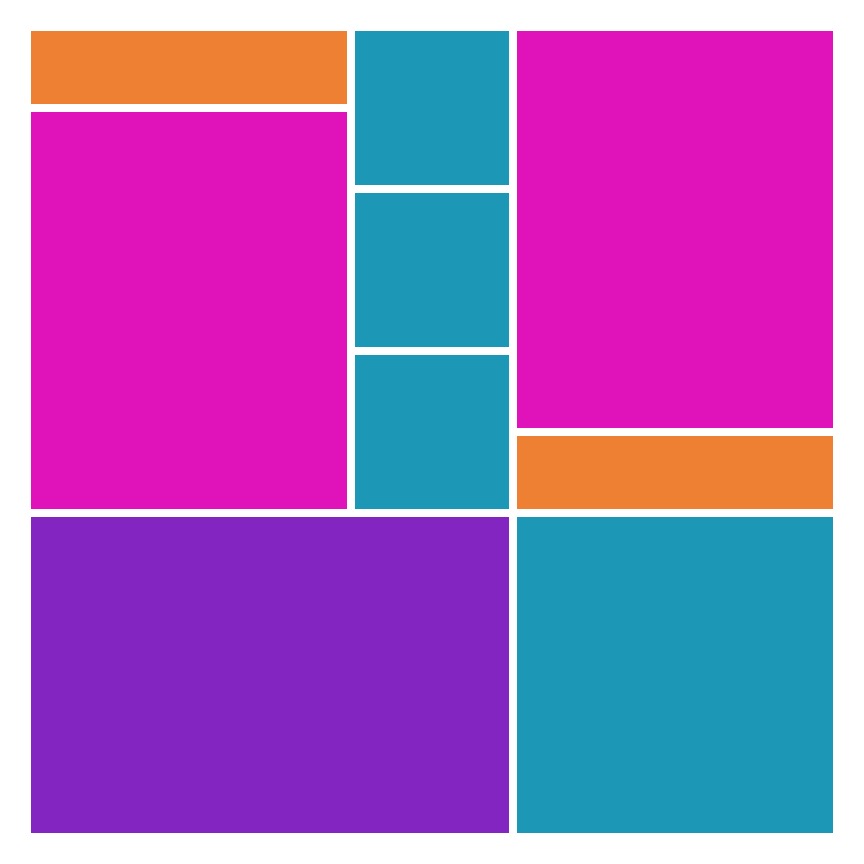 As I sorted through the photos making choices became difficult. I didn't want to favor one girl over the other. So, I decided I would go ahead and do a page for each of the girls, featuring photos of them. I began with Pattern #189 and made a slight adjustment to accommodate the photos I already had printed out.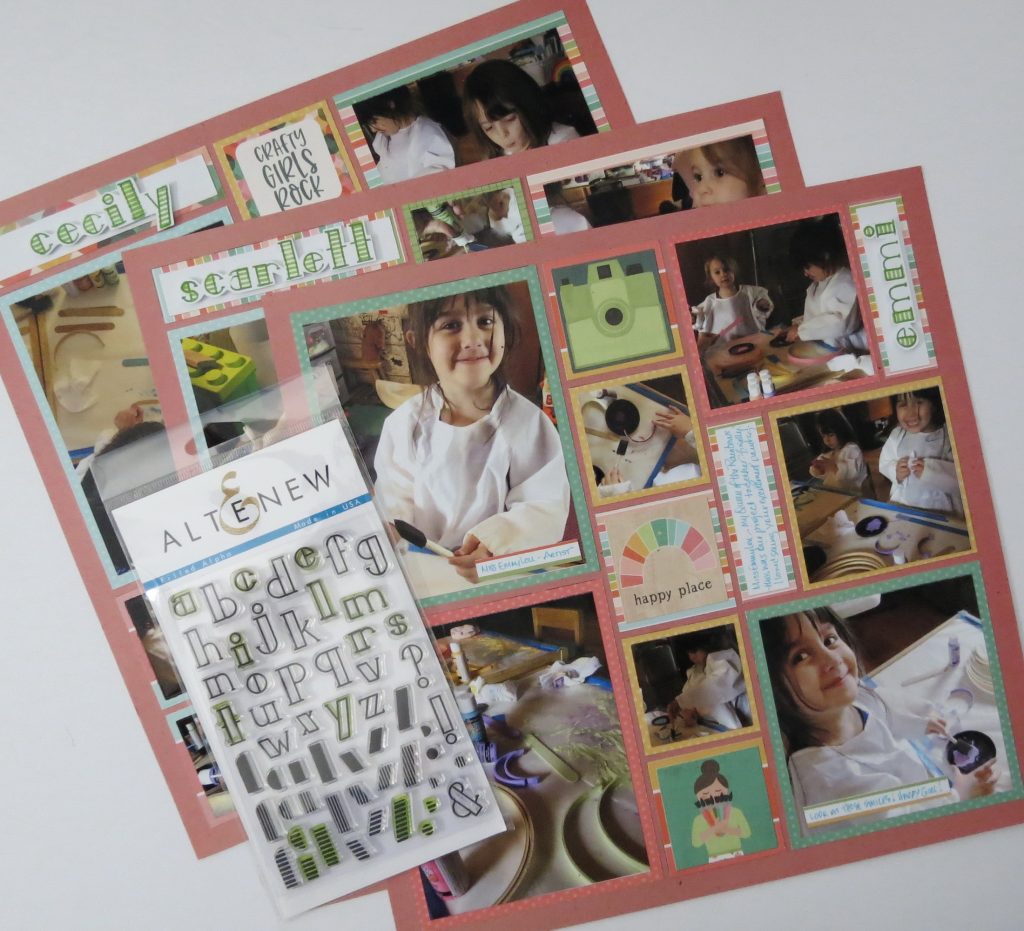 I've used a combination of layered 2×2, 1×3 and 1×4's to add journaling and names as titles. The titles have been stamped with the Altenew Filled Alphabet with Cilantro and Lime Zest inks from Taylored Expressions. Then after fussy cutting them and adding a narrow strip of mounting tape I added them to the white layer on top.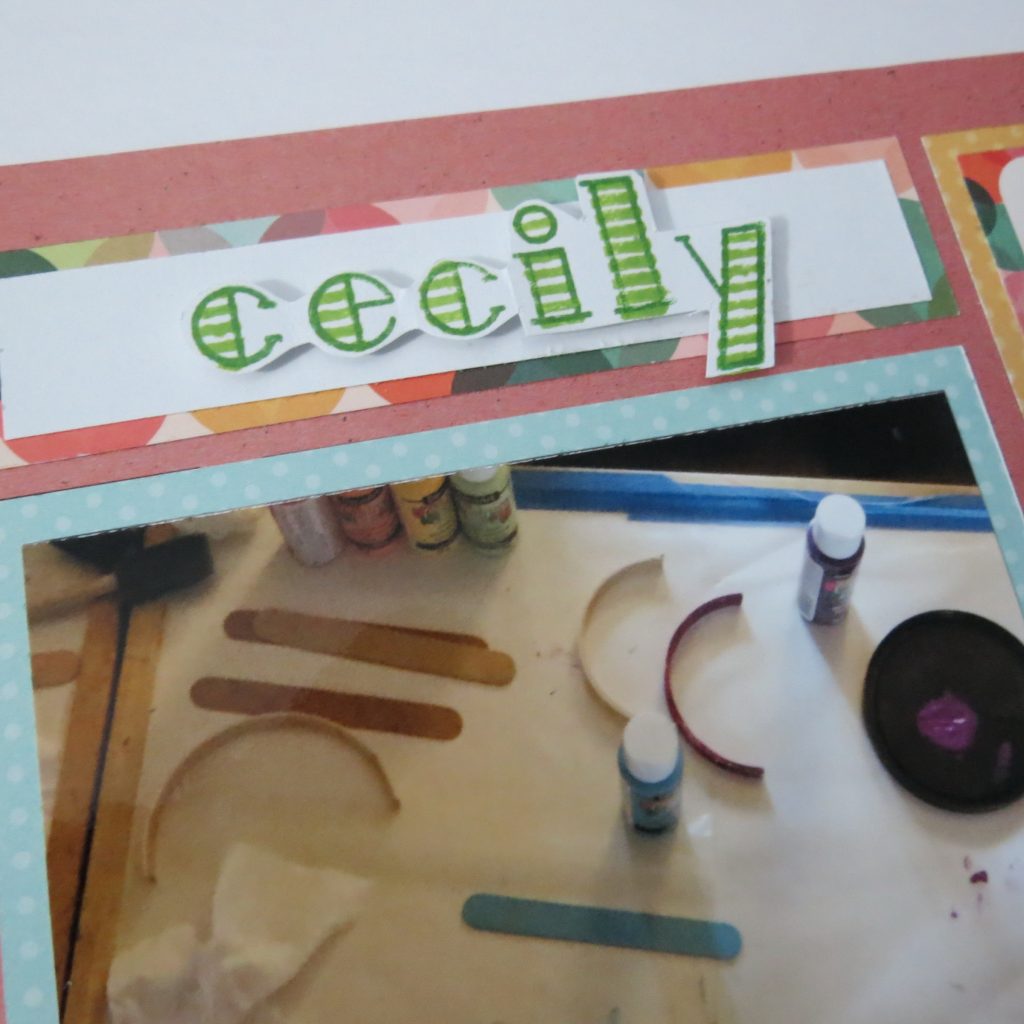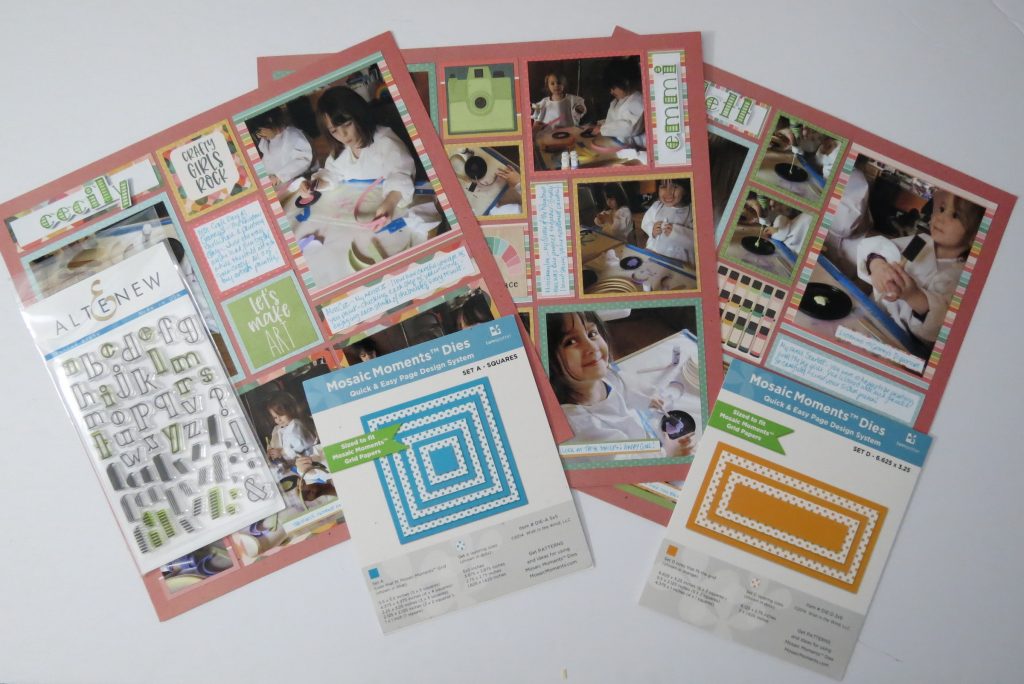 Additional tags with colorful backings are attached on selected photos. This will work in well with the first page I completed for this event that shows off the final page with journal tags. It's like adding a little note for each of the girls.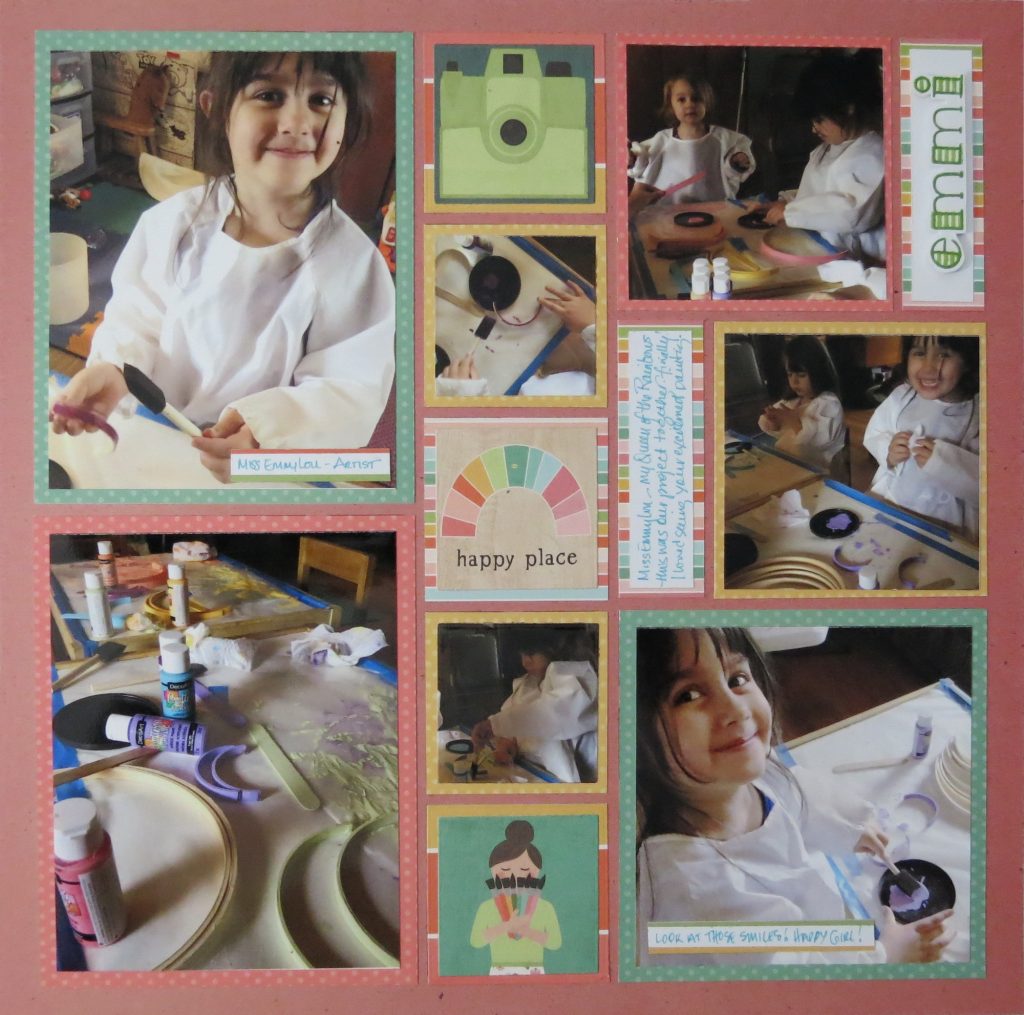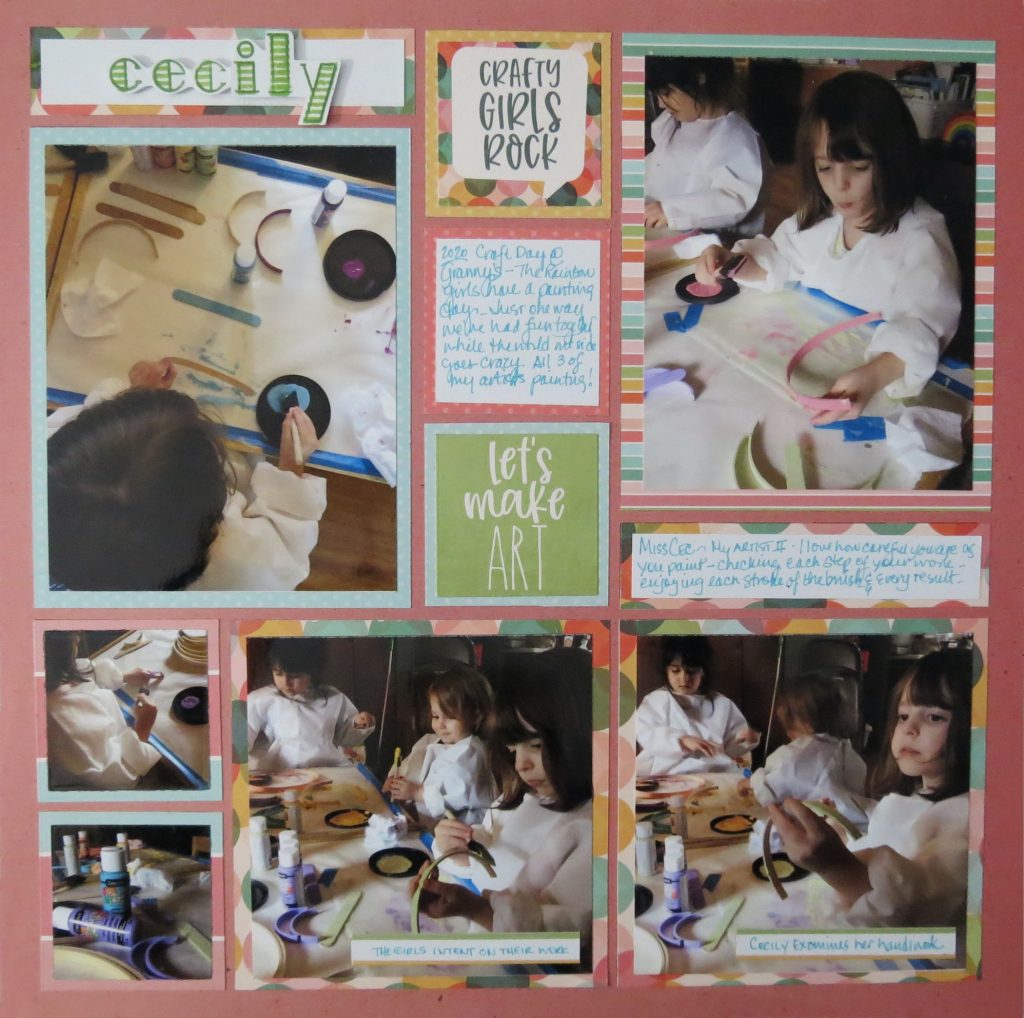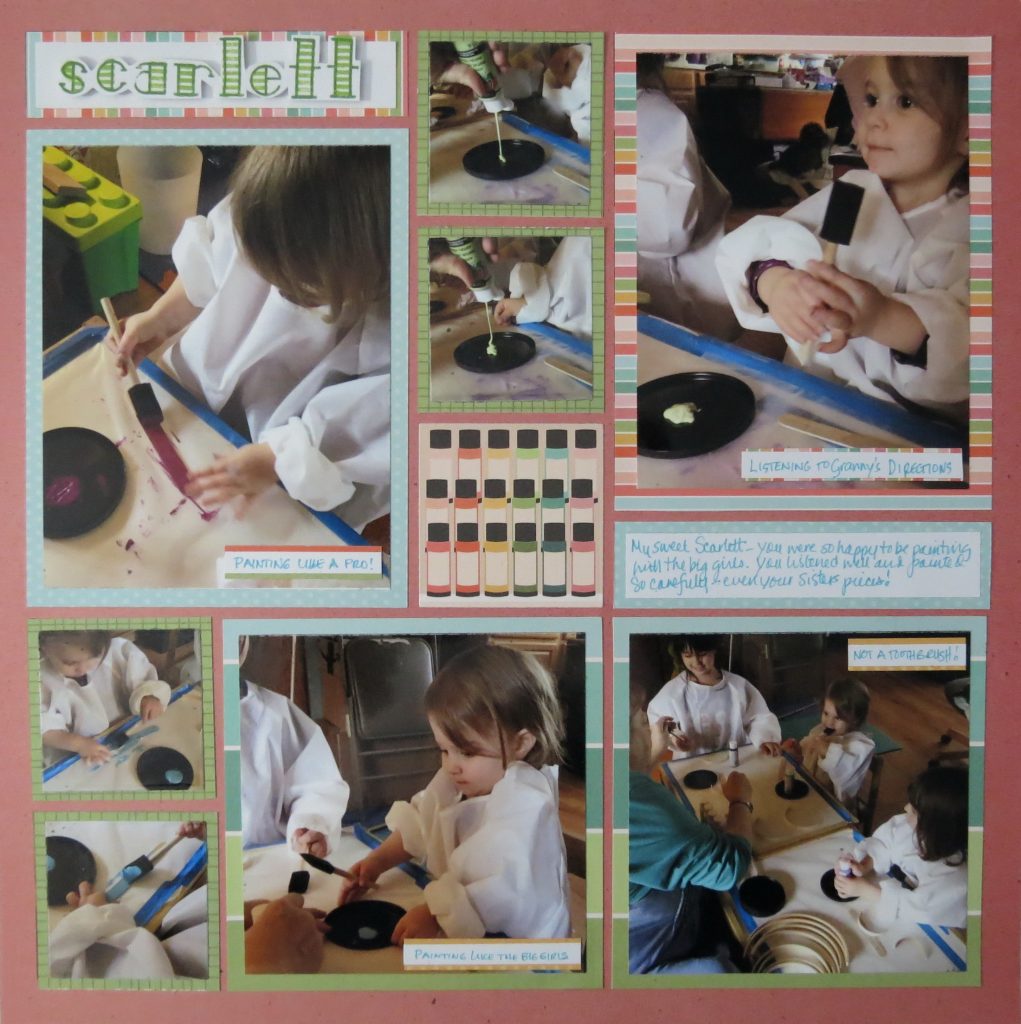 Some of the mats for the 2×2's have been cut from the "scrap" pieces off of the first layout. That half circle arch from the 4×5 Horizons die yielded me two pairs of stripe mats. Several of the 2×2 word squares from the Crafty Girl Collection were just what I wanted to include, and to fit the squares they needed a little bit of trimming so that I can get an even mat all around, and the layering die allowed me to do that trimming easily.
For me, the hallmark of remembering the event is the smiles and the concentration on their faces that show that the world outside and all the adult problems are not theirs. For now, their innocence is intact. Their memory of the days we spend crafting are good ones! There are good memories to remember from the lockdown of 2020 be sure to put them into your albums too!
Andrea Fisher