I have two Christmas ideas for you to try out. One is for a mini-album using 6×6 grid paper and the second is using several Mosaic Moments Dies in a non-grid project.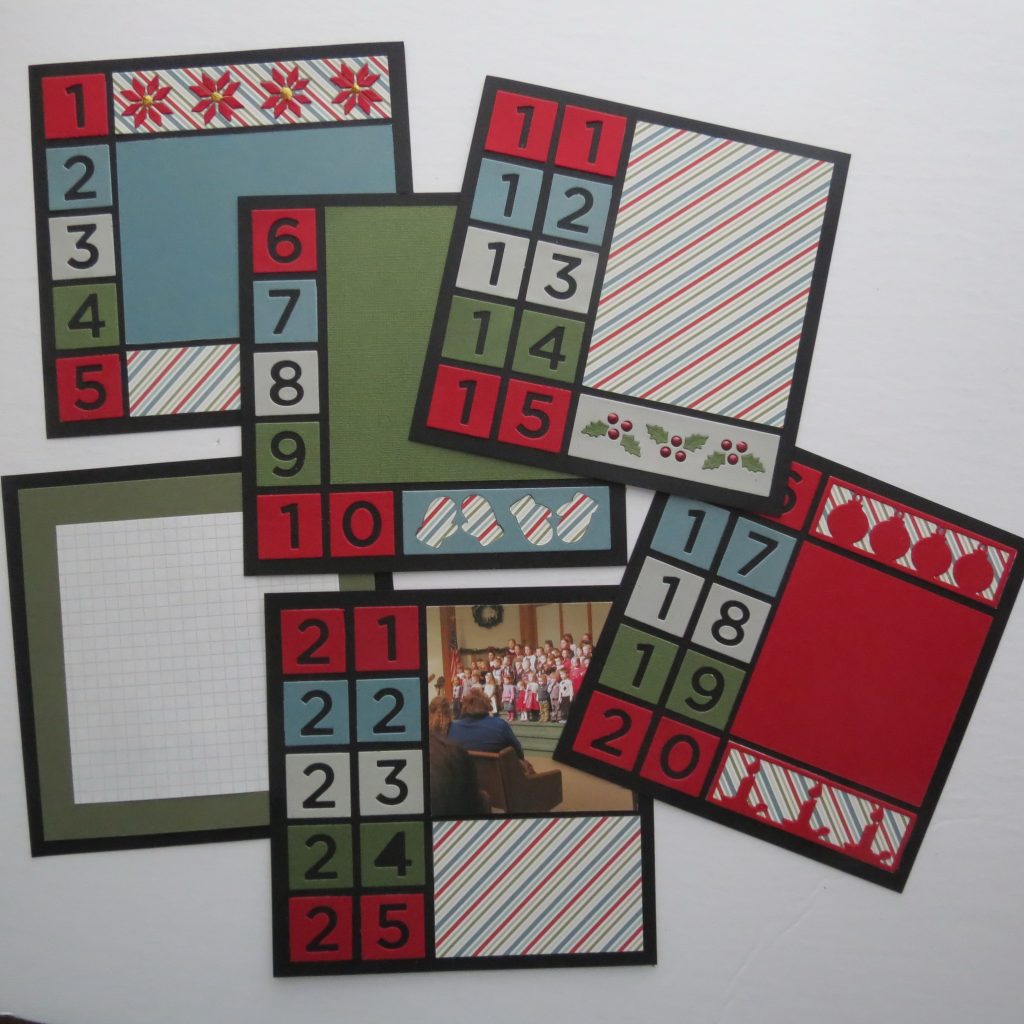 The first is this quick little mini-album that is perfect for putting a few pictures of the days leading up to Christmas to tell that story. In an album, this is something you could add to each year and watch the changes as your family grows or the traditions that you participate in.
10 Quick Steps
1. Begin with a package of 6×6 Mosaic Moments Grid Paper.
2. Choose a Christmas Patterned Paper and coordinating cardstocks.
3. Choose several Christmas dies for embellishing. I used these dies:
4. Cut numbers 1-25 in assorted colors that coordinate with your patterned paper. Attach to the left-hand column of each page. You can get 5 on each page which will leave you with an extra page for additional photos or journaling. I applied directly to the page with no background paper. This meant I had to work on the grids upside down to avoid seeing the trademarks.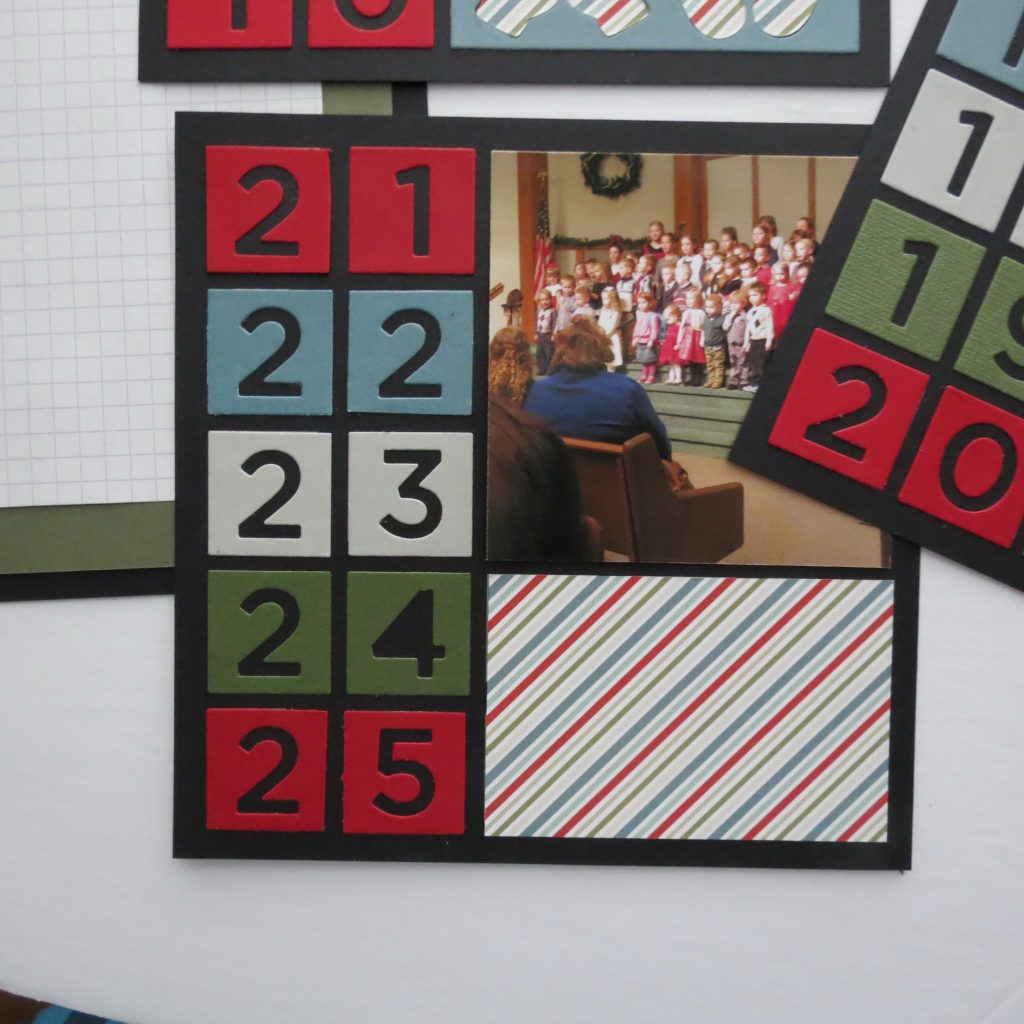 5. With the area that remains on each page determine what size of photo you want to feature. I have chosen to use 3×3's, 3×4's, 4×4's. Mats for these photos were created using the Basic Die Set and I will be able to use either the layering die with each set or the Layering Die Sets for a variety of border options. You also have the option to not use any mats and place your photo directly to the grid.
6. Depending on the placement of your photo spots you can fill 1×3, 1×4 and 2×3 spots with either journaling or any of the Holiday dies you may have to use.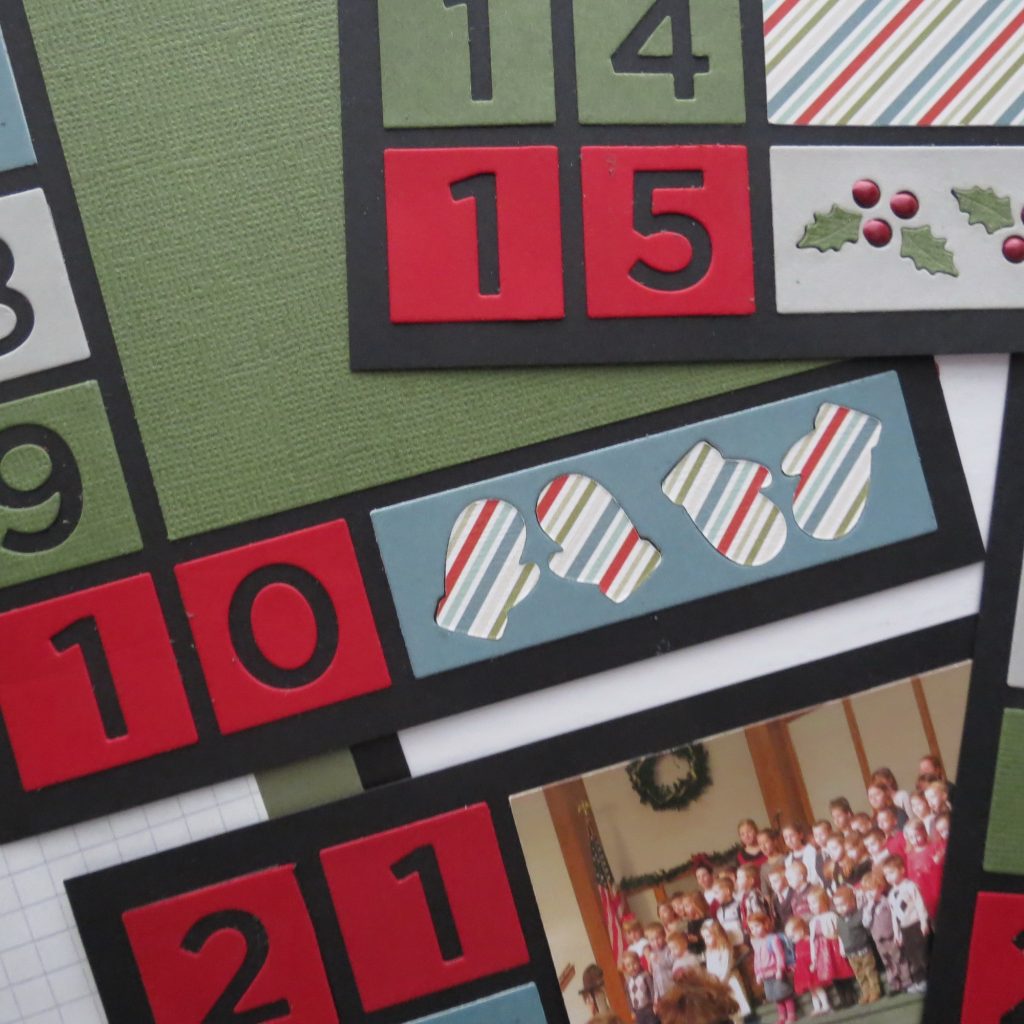 7. Be sure to work in your patterned paper as backgrounds for dies or journaling spots or even mats. If you use a double-sided paper you will be able to flip and use both sides as I did with my mittens.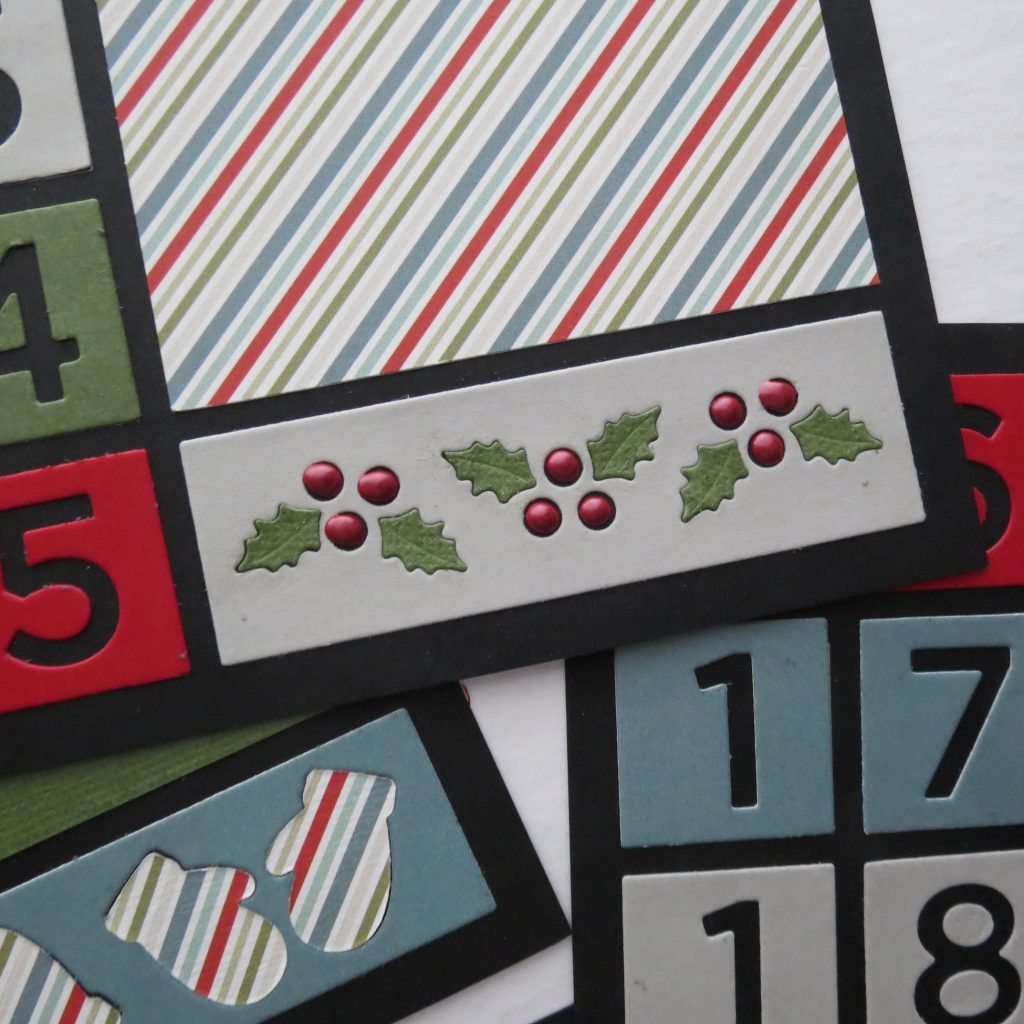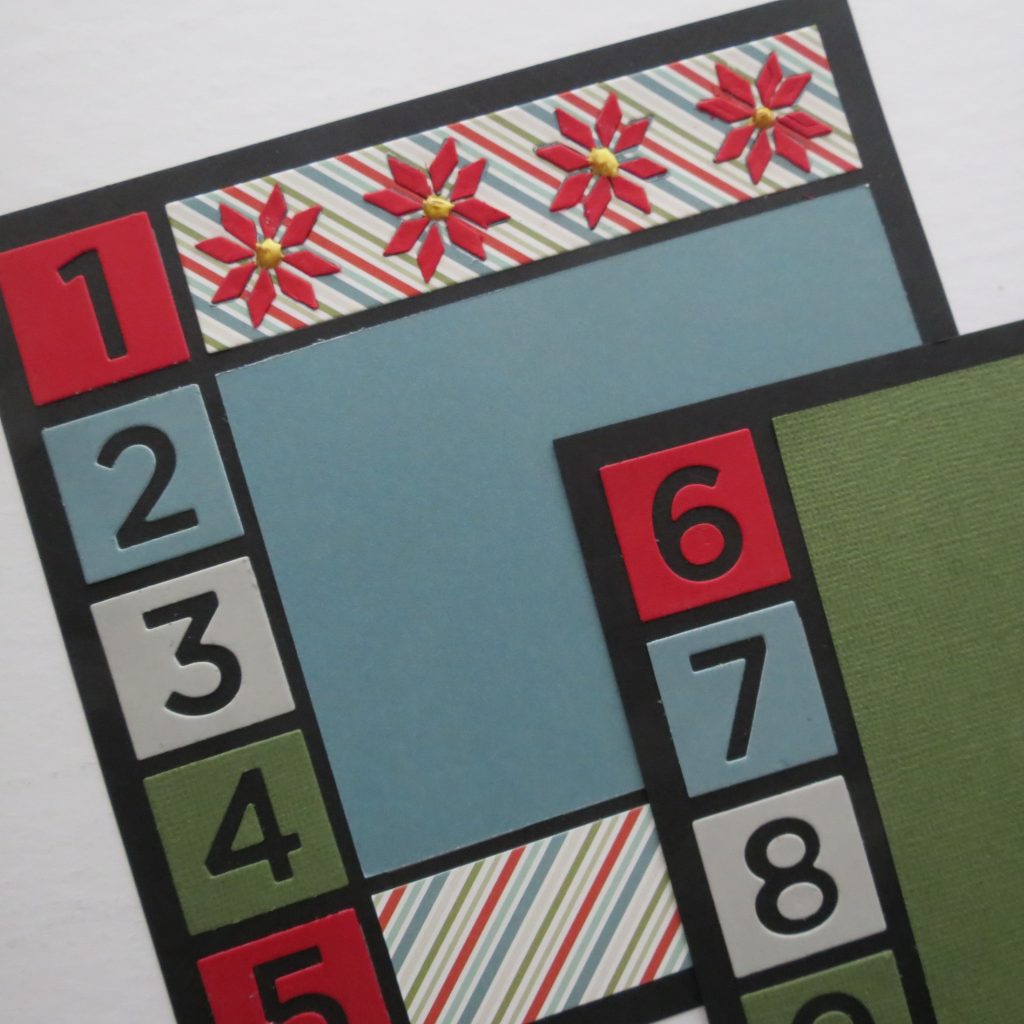 8. The Carpenter's Star die can easily become poinsettias by using red cardstock and adding some gold pearl drops. The holly die leaves were cut in green while Nuvo Pearls fill in for the berries. I will use the ornament row to place my date.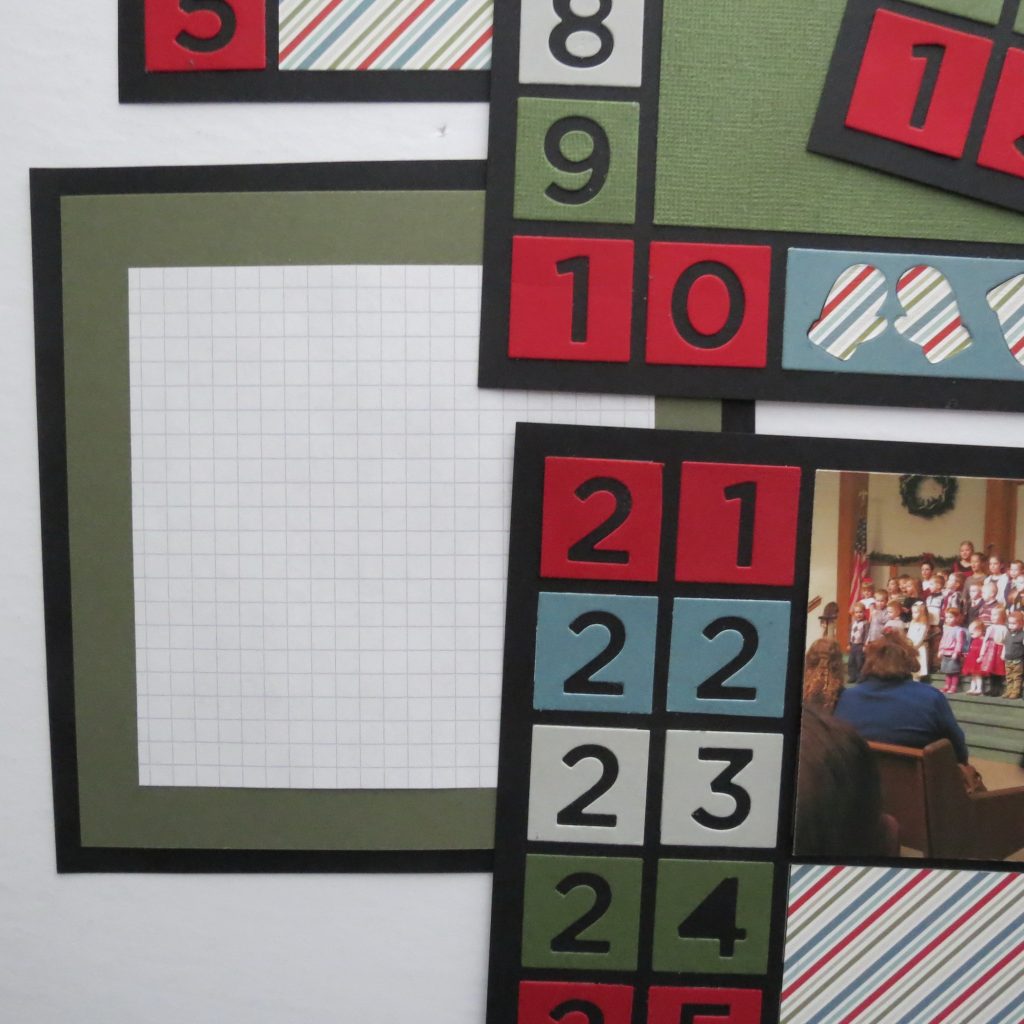 9. Each page will have a blank facing page that you can use any of the dies to add any photo or a matted paper for journaling. These make great places to include more of the information about your family traditions or the activities you are participating in.
10. You have one remaining page to add additional photos or create a title page. Have fun creating something unique!
…and there you have it a quick mini-album to use any way you like!
Have you thought about using your Mosaic Moments dies on something other than a layout? The second project is going beyond the Grid with a Paper Mache House that you will find in most of your hobby or craft stores ready to be decorated.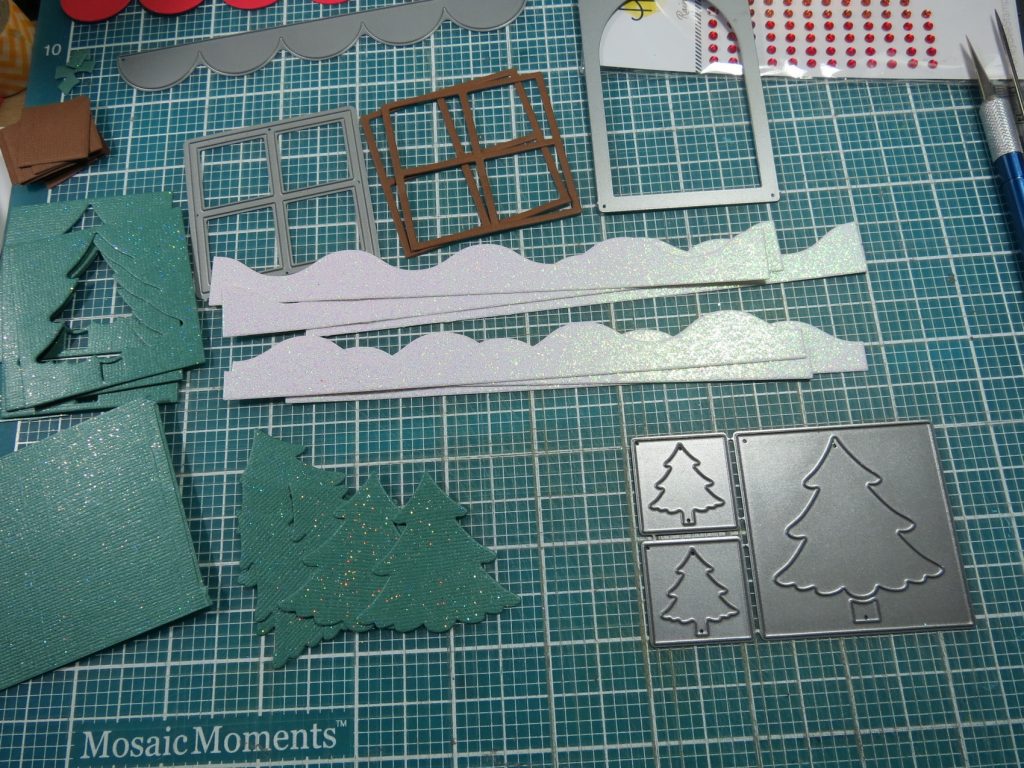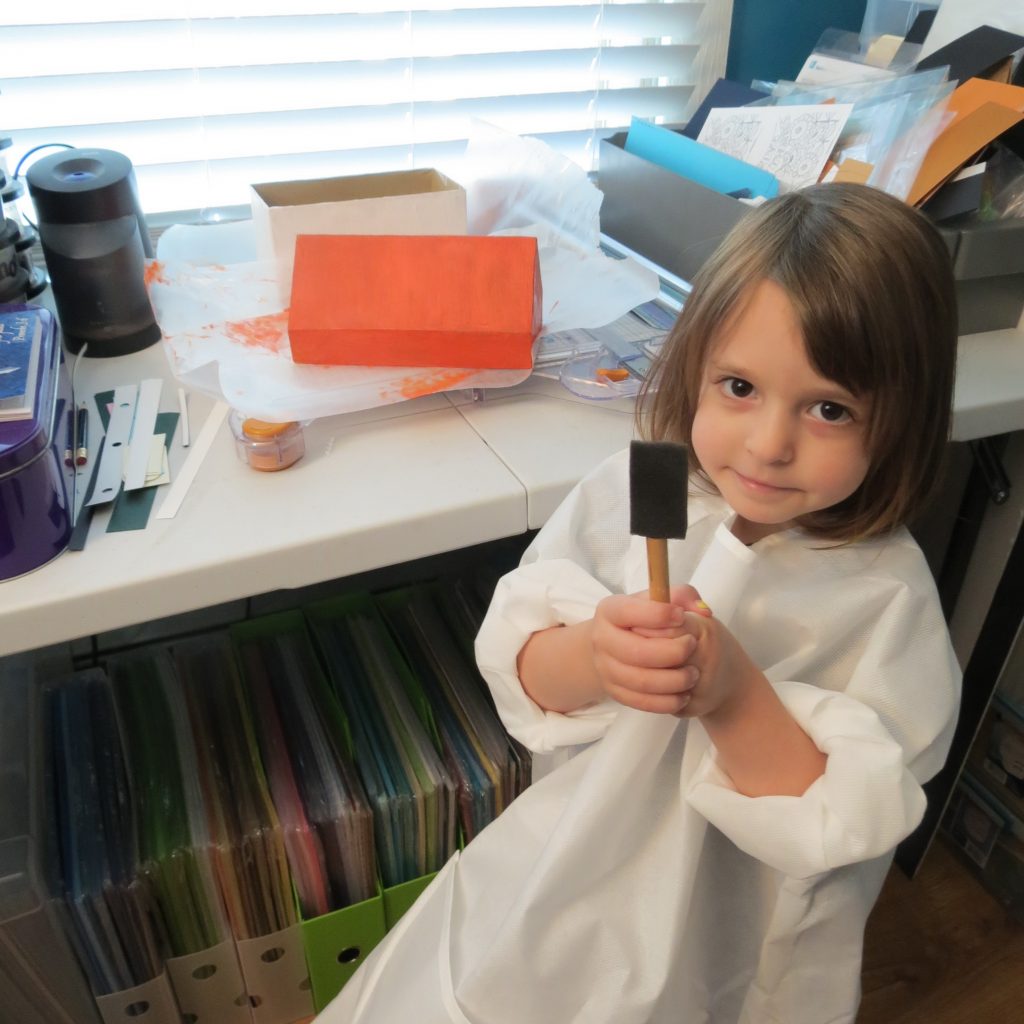 My three-year-old granddaughter was eager to help me out by painting this house in red and white so I let her join in the fun.
We painted it and then I began enhancing it with Die pieces.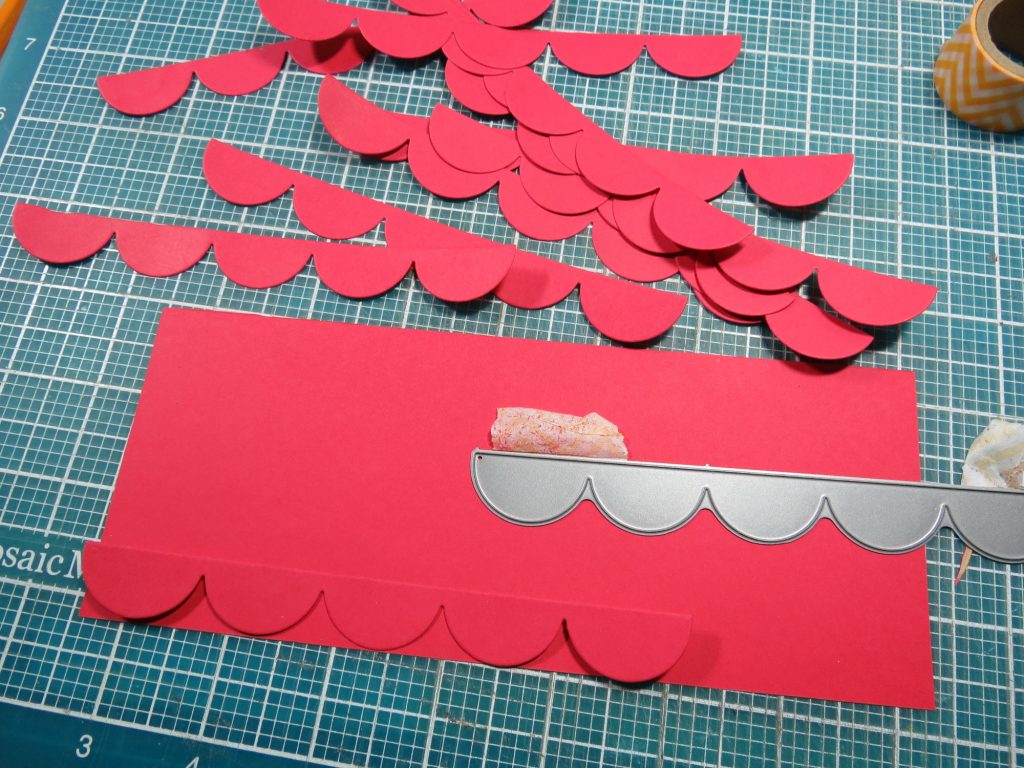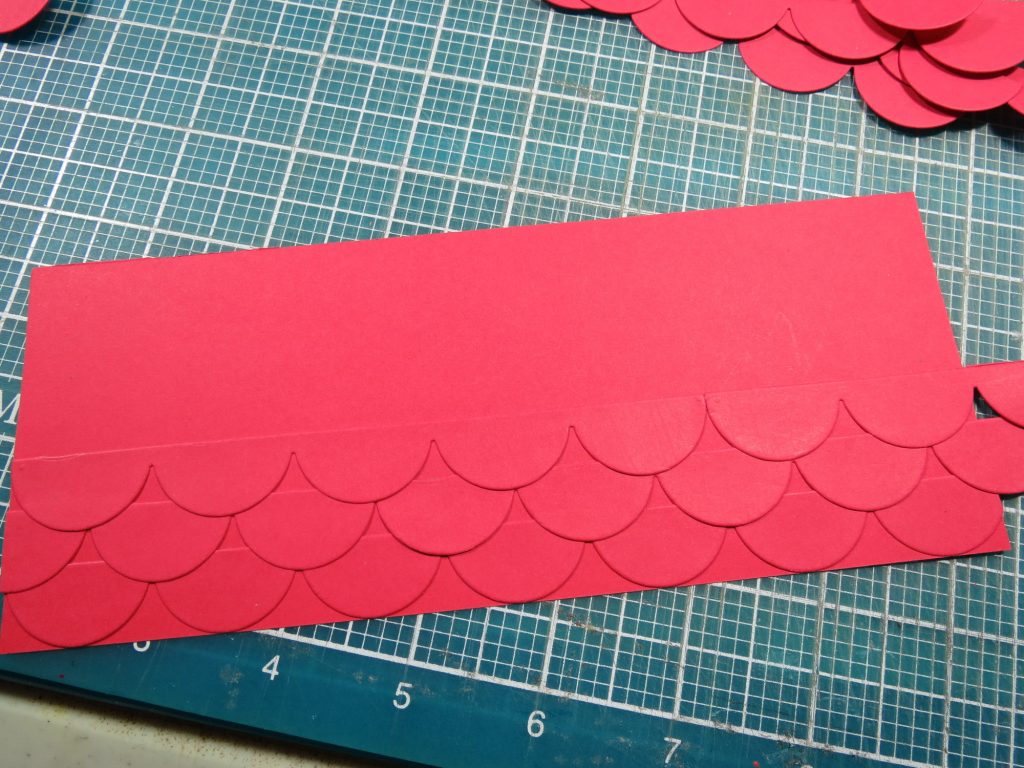 For a nice shingled roof the Scallop Border Die in red was easy to assemble.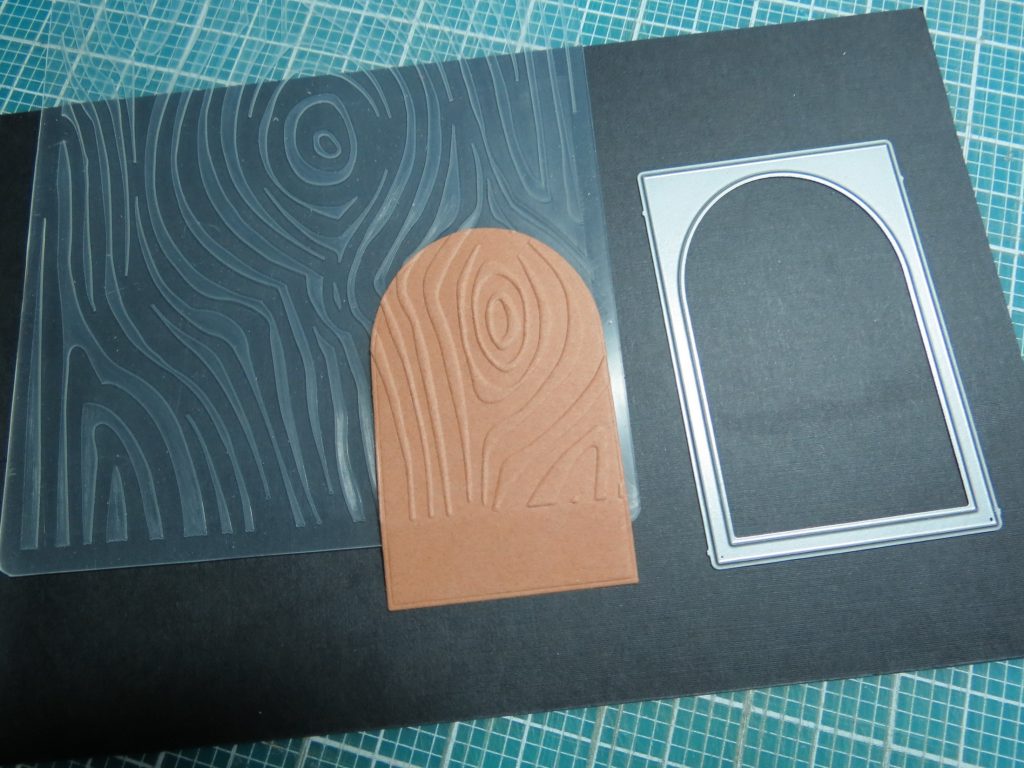 The Arch Die was perfect for a door. I added a bit of wood grain with an embossing folder and trimmed to fit the side of the house. A Nuvo Pearl Drop in Vintage Postbox is the perfect doorknob.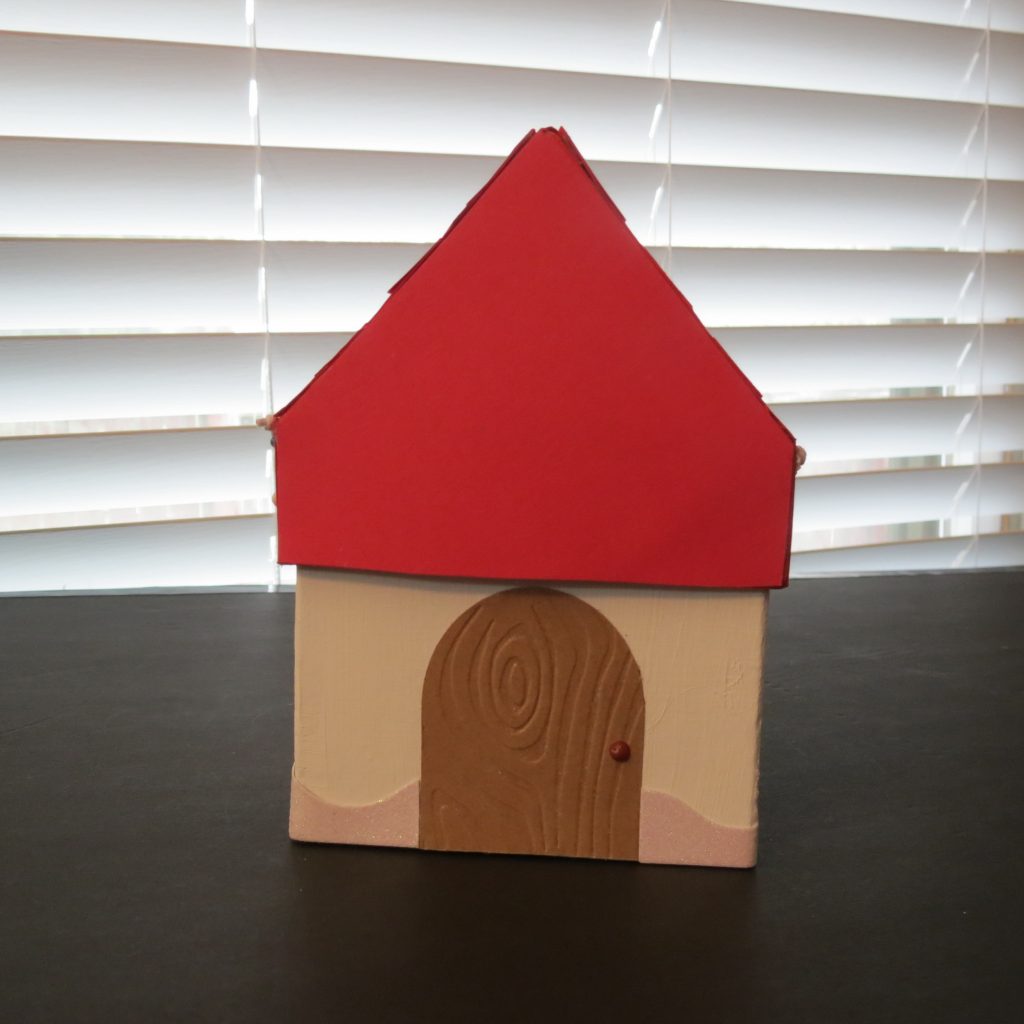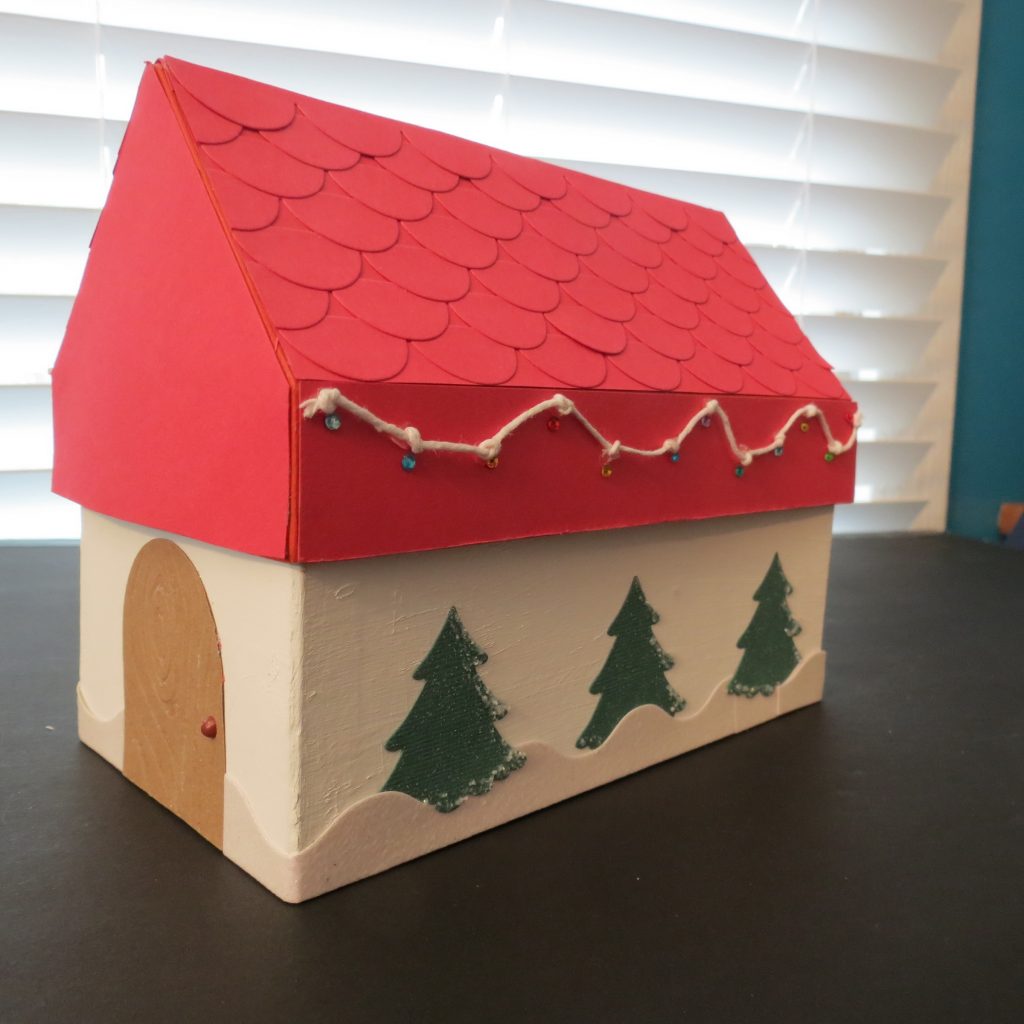 The Fir Tree Die let me edge the house with garden greenery in a glimmer green cardstock and layers of snow were created with the Wave Border Die and glitter cardstock. Additional touches of snow were courtesy of Nuvo Glitter Accents – Fresh Snowfall. I layered a little in the corners of the window frames that I used the Graphics Shapes Set 1 die set.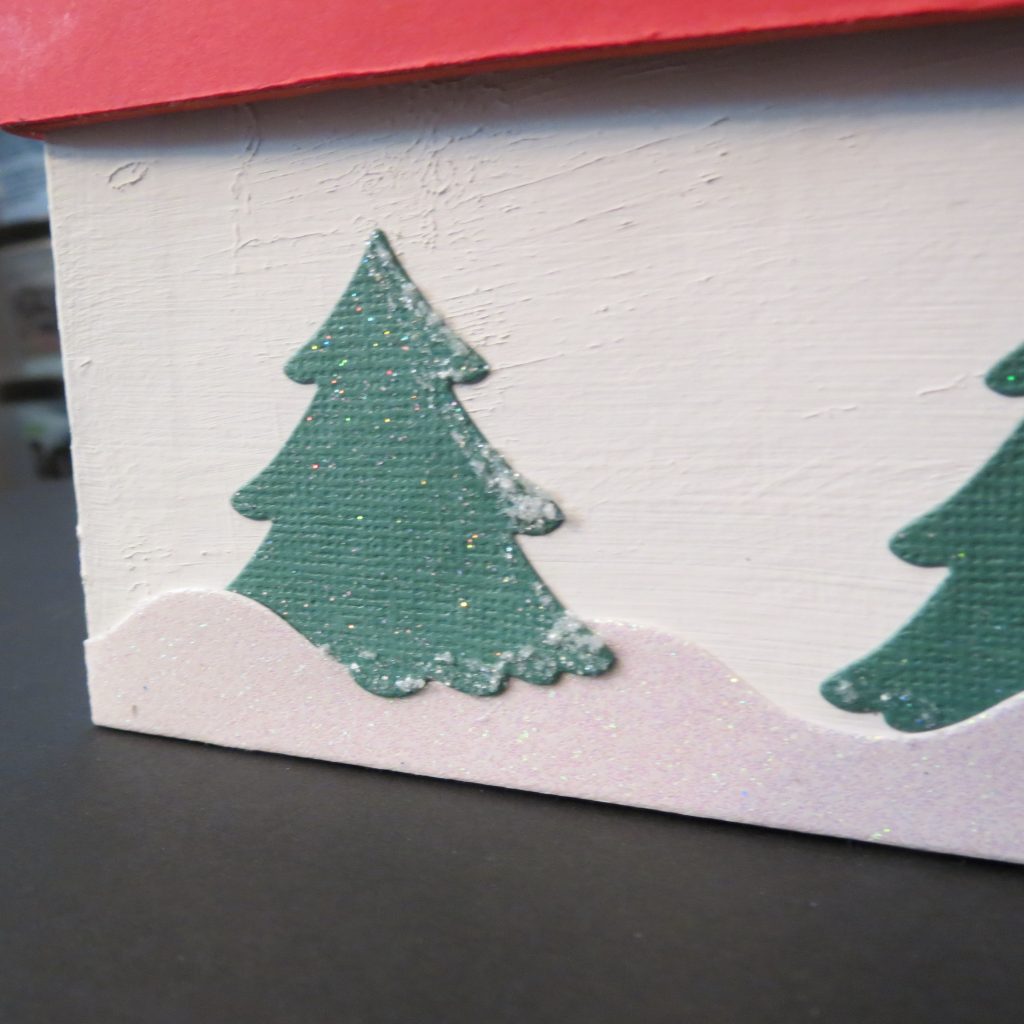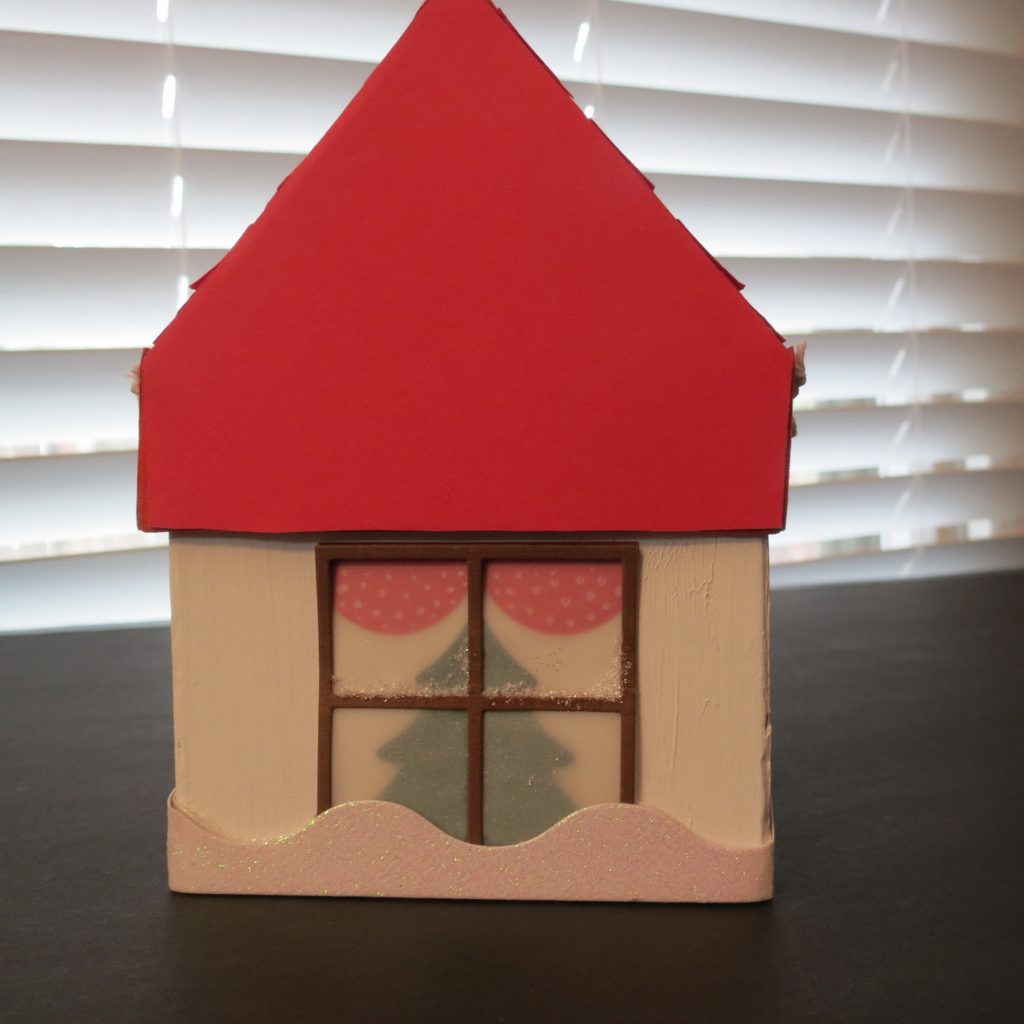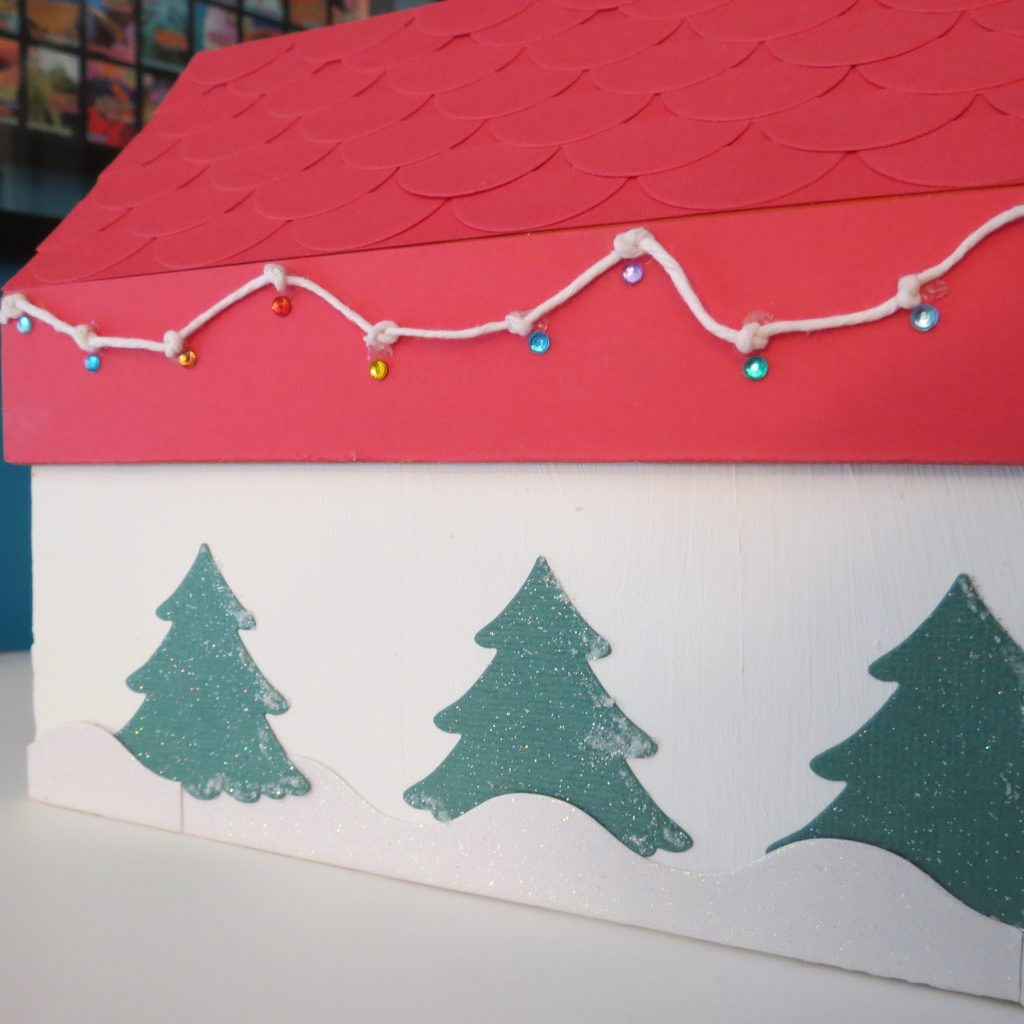 One final touch was the addition of a string of lights on each side of the house. I used a length of twine that was knotted in intervals then gemstones were added at each knot to imitate a string of lights. They really catch the light and shine!
Now with a box like this you may have many purposes for the holidays, but I planned this as a place for my advent pockets and treats to go with it. I created the envelopes with the Nested Pocket Dies, the Basic and Layering dies and Number 4 Die set.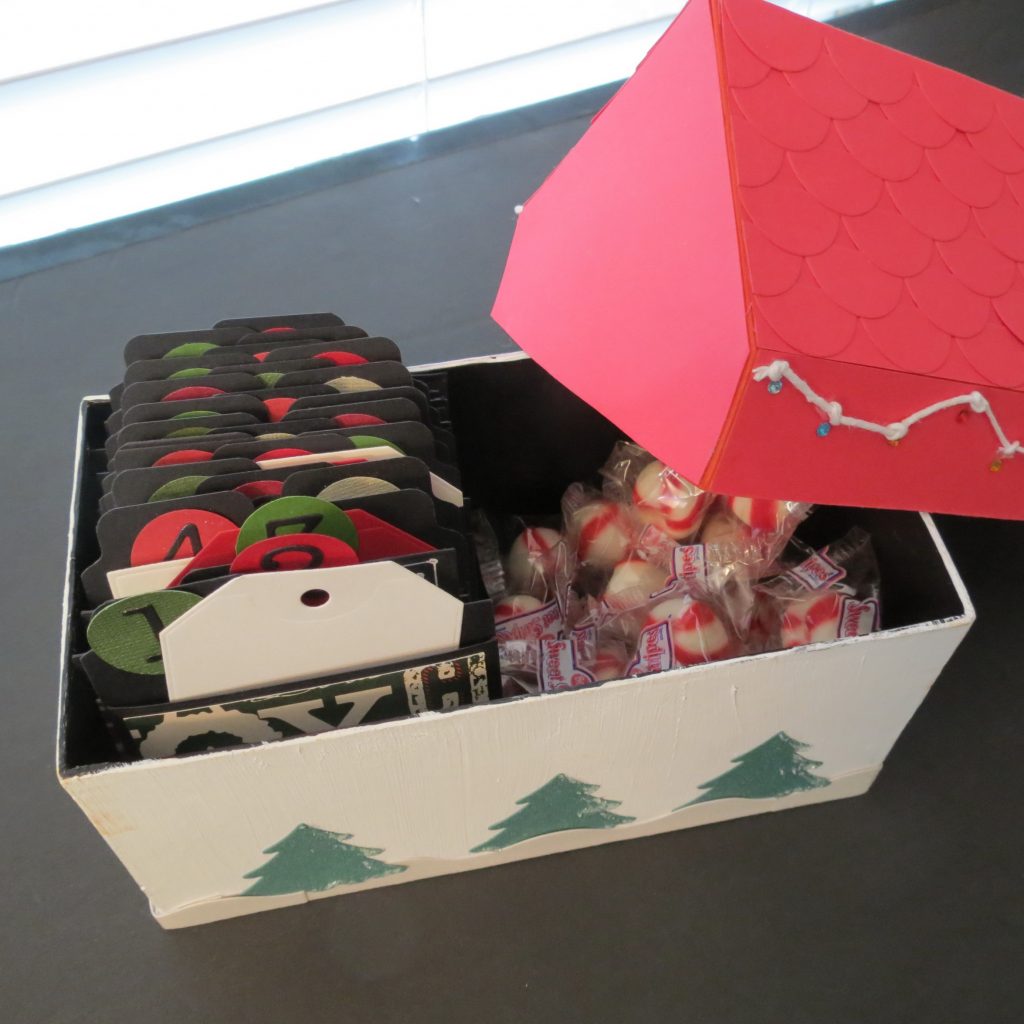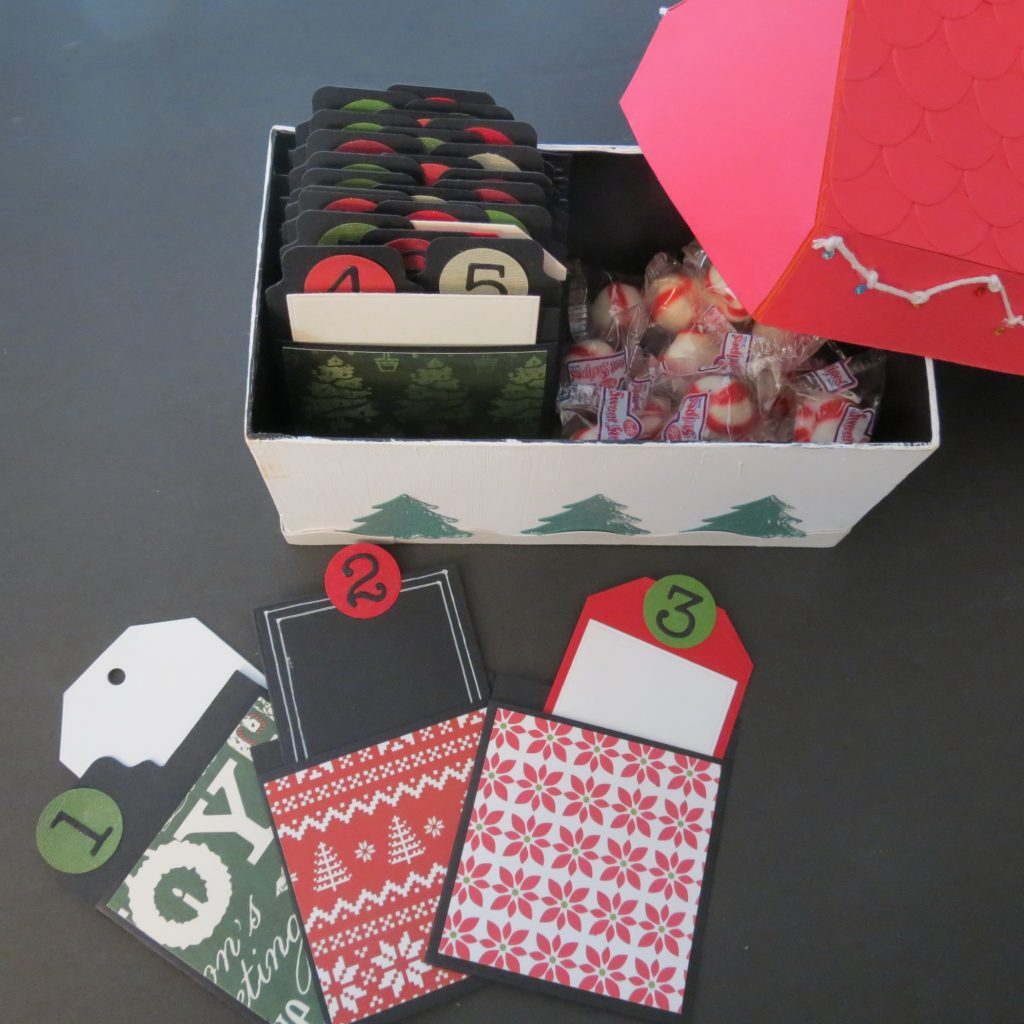 I hope you have an enjoyable holiday season and a very Blessed Christmas!
Andrea Fisher