This week I'd like to introduce you to one of our new RTC colors, Chili Pepper. It is a warm vibrant red-orange (a tomato red shade) that is perfect for all your fall activities, but today I'm going to show a quick Back to School mini album that is easy to assemble and makes a great gift, or it can go together with a series of them to create a full year of school memories.
I've chosen to work with the 4×6 Chili Pepper RTC paper and make a book on the horizontal. Additionally, the Paper Tiles that were used were Cobalt, Deep Peaches and Cream, and Pineapple Bliss.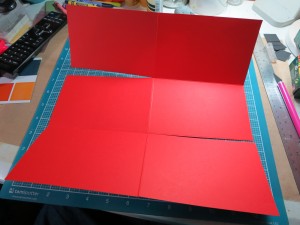 I have scored down the center between the two rows of grids at 6" and at 4" from each edge to create 6 separate grid sections. Two cuts are made at opposite ends and opposite sides.
Fold in the cut pieces and a long center section remains. This is where adhesive is added and then the sections fold over top to seal the sections. You now have a nice little book waiting for photos and embellishments.
The bold color of the Chili Pepper works well with chalkboard tiles. Here, they run vertically along the right hand page. It's a perfect spot for a title, a date, or a word. On the left hand side along the bottom I have a crayon with a blackboard oval where it becomes an additional spot to on which to write.
I used a strip of 1/2″ wide chalkboard tape cut in half (1/4″ wide) and cut with pinking scissors to give a zig-zag pattern to put on the crayons (to resemble a particular crayon brand) then trimmed the excess away. An oval of chalkboard tile is placed in the center area as another spot for a name, date or info.  A 1" tile was shaped to form the point of the crayon and mounted on a 1" square of the chalkboard tiles. I've repeated this on all three pages.
The pattern on each page is different; the paper tiles are placed as mats to hold for photos. The mats match the crayon color and by cropping the photos slightly smaller than the block you will have a nice narrow, colorful border around your photos. Any of the spots can also be used for journaling if desired.
If you were going to make a series of these mini albums to bind together for the school year you may have an overall design you'd like to begin to apply. In this case, it was intended to be a single album so my cover has another chalkboard tile with the title #B2S. With the hash-tag craze I thought it might be a fun way to incorporate a current trend in social media as a memory.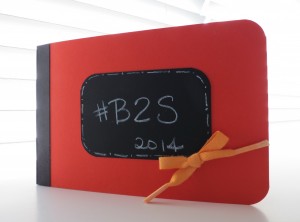 The corners are all punched with a corner rounder punch. I cut a 1 ¼" x 4" section of black cardstock for the spine for a finished look. I scored at ½" and fit the front section first then wrapped it around to the backside. For a look that gives a little nod to the composition books we've all used!!
A final touch was a piece of twill ribbon in Creamsicle tied into a bow. I thought it might make a great way to bind the end, but found it wasn't really needed as it is very sturdy. It was suggested that I use a shoe string to bind the book to fit the theme, but instead I added a bit of the tape to the pinched in half ends of the twill ribbon bow for the shoe lace look.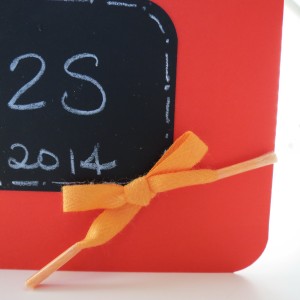 So, stock up on all the new RTC colors so you will have lots to play around with because once you see how easy this was to make…you won't be able to stop!! If you need ideas on what photos to take for your back to school pages be sure to catch last weeks post on that very subject.
I'm so glad to have you stop in to see all our ideas for our Mosaic Moments products and hope that you'll share your work with us on Journella. We'd love to see what inspires you!!
Andrea
more ideas on Pinterest