Memories of Thanksgiving past flood our thoughts as this year for many, Thanksgiving will be different. It might be a good time to go back and scrap those memories as a way to count our blessings.
How do you tell a story about one of your Thanksgiving memories? For me, I started sifting through old photos in search of something notable to build a page. Some years I have forgotten to take pics, some years my motley crew just couldn't behave themselves in any photo and everything was a blur. And of course, there are the photos where the lighting is simply terrible! This is likely why I've rarely scrapped this family gathering.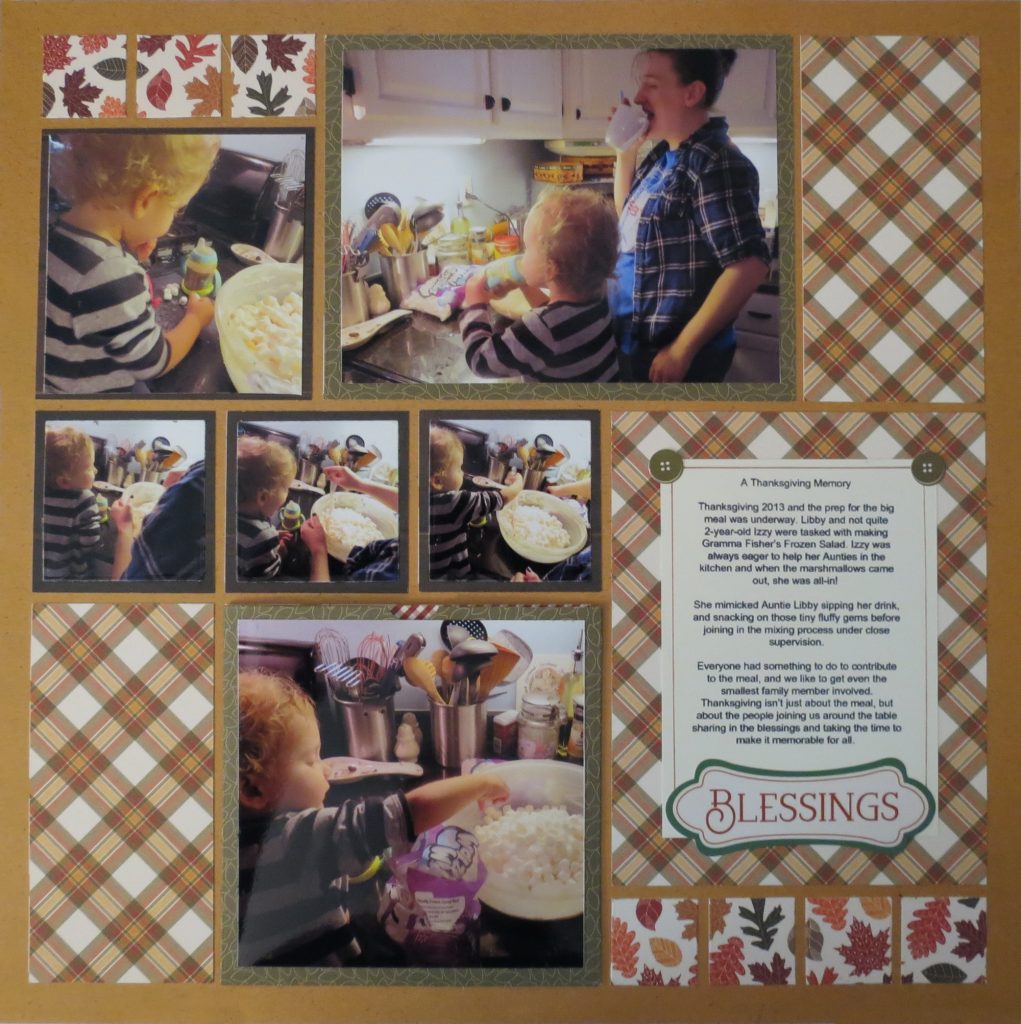 Then I found a series of photos long forgotten that I thought were perfect. A story worth telling. It's one that one day Izzy will like to hear one day. Some food for the Big Day gets prepped ahead of time and this time Izzy is Auntie Libby's helper as the series of photos indicates. The recipe they are preparing is a Fisher Family Tradition that their Gramma began, so this is an opportunity to include the recipe in the layout, one she'll like to have one day, this time tucked neatly inside a pocket made with the 4×4 Nested Pocket Die Set.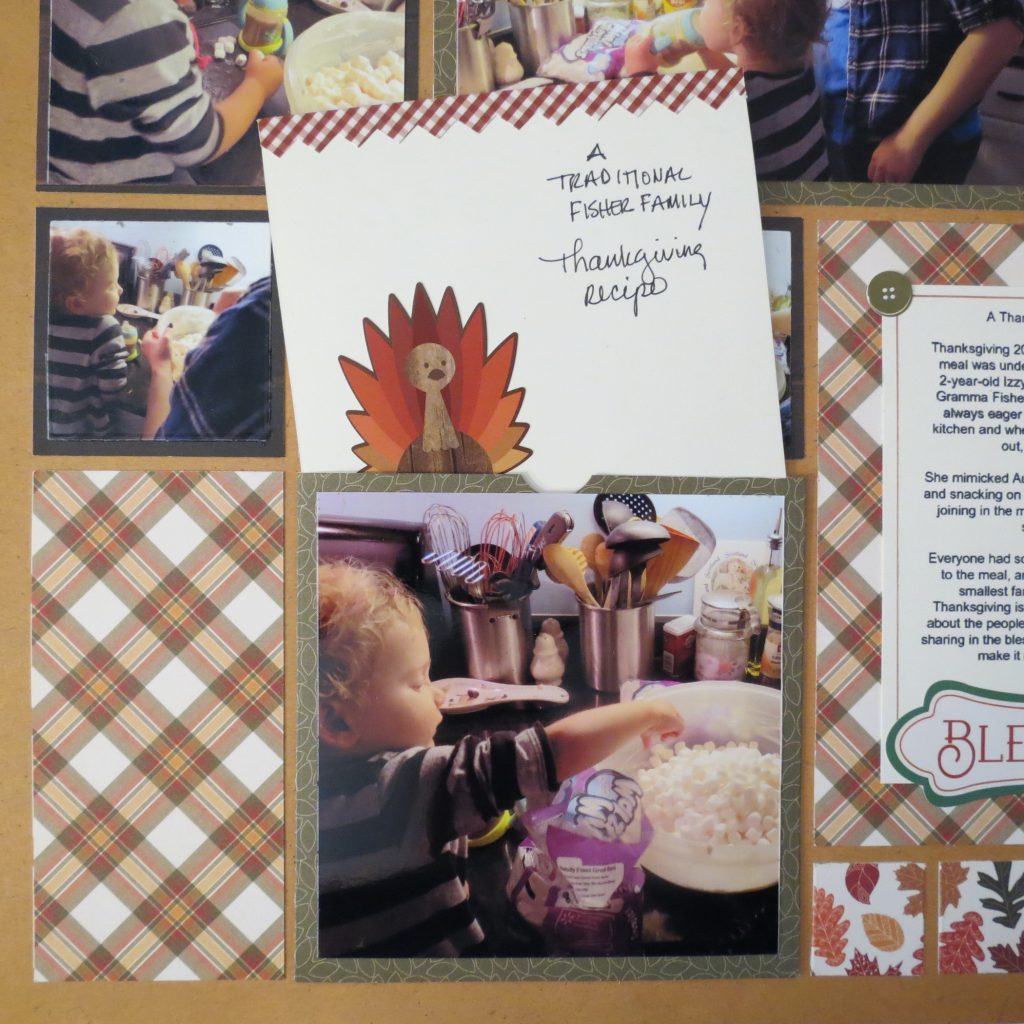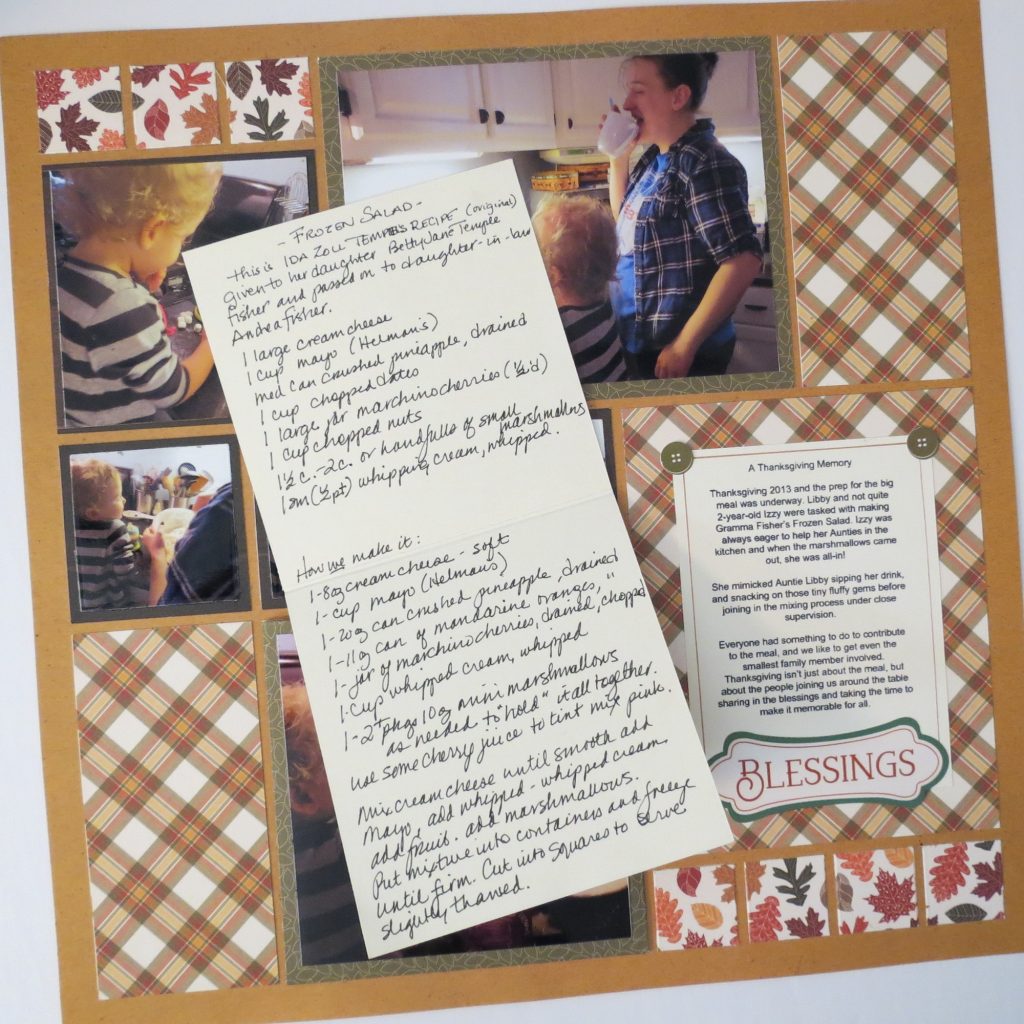 So now for this layout I have a story, a recipe and a series of photos to put it together. Adding a prominent journal block to tell the story is all that remains.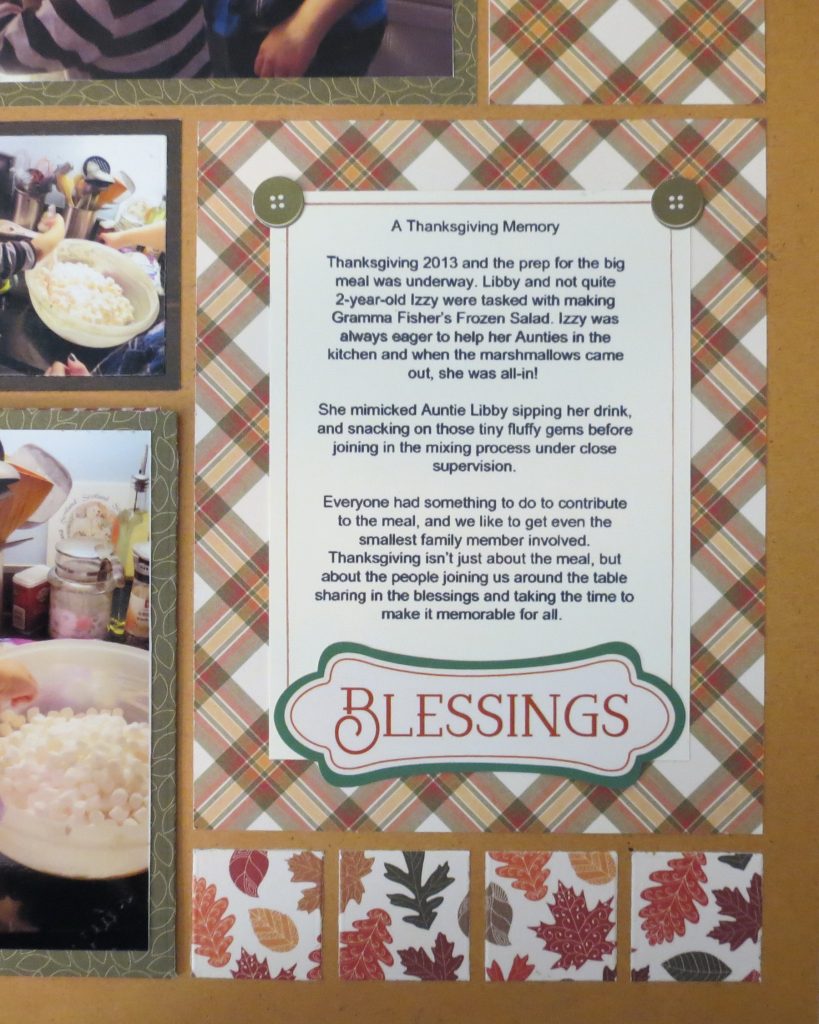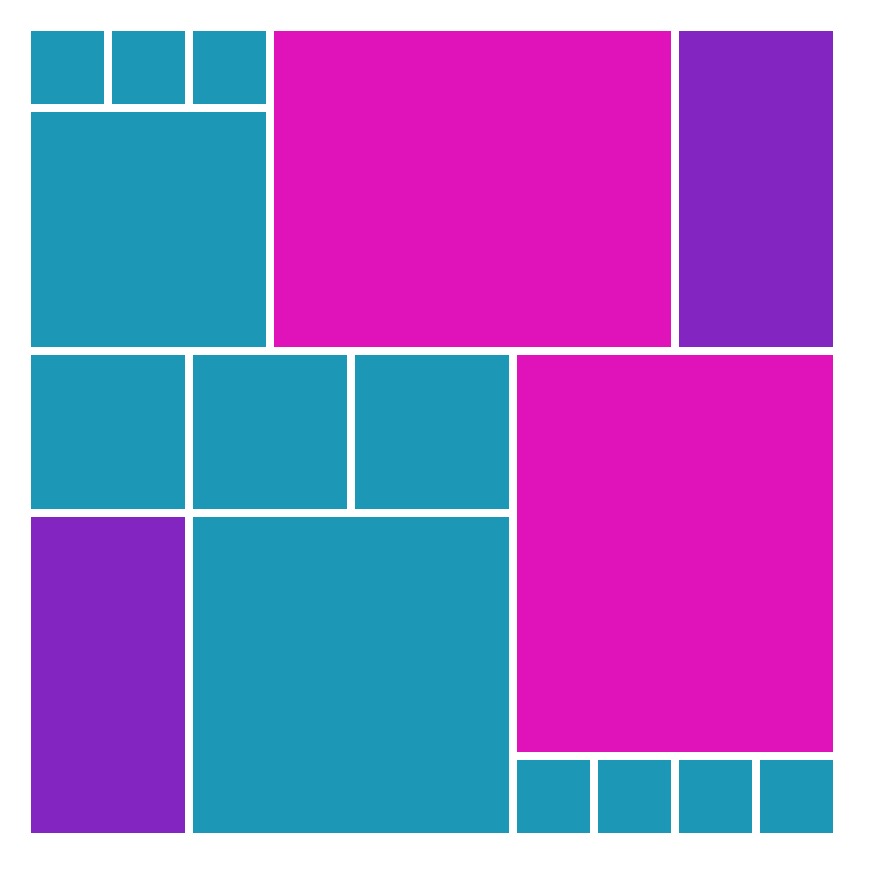 I've chosen Simple Stories Autumn Orchard and a few of the complimentary stickers to add to the Squash Grid Paper from Mosaic Moments newest grid collection, Harvest. My Pattern is #155.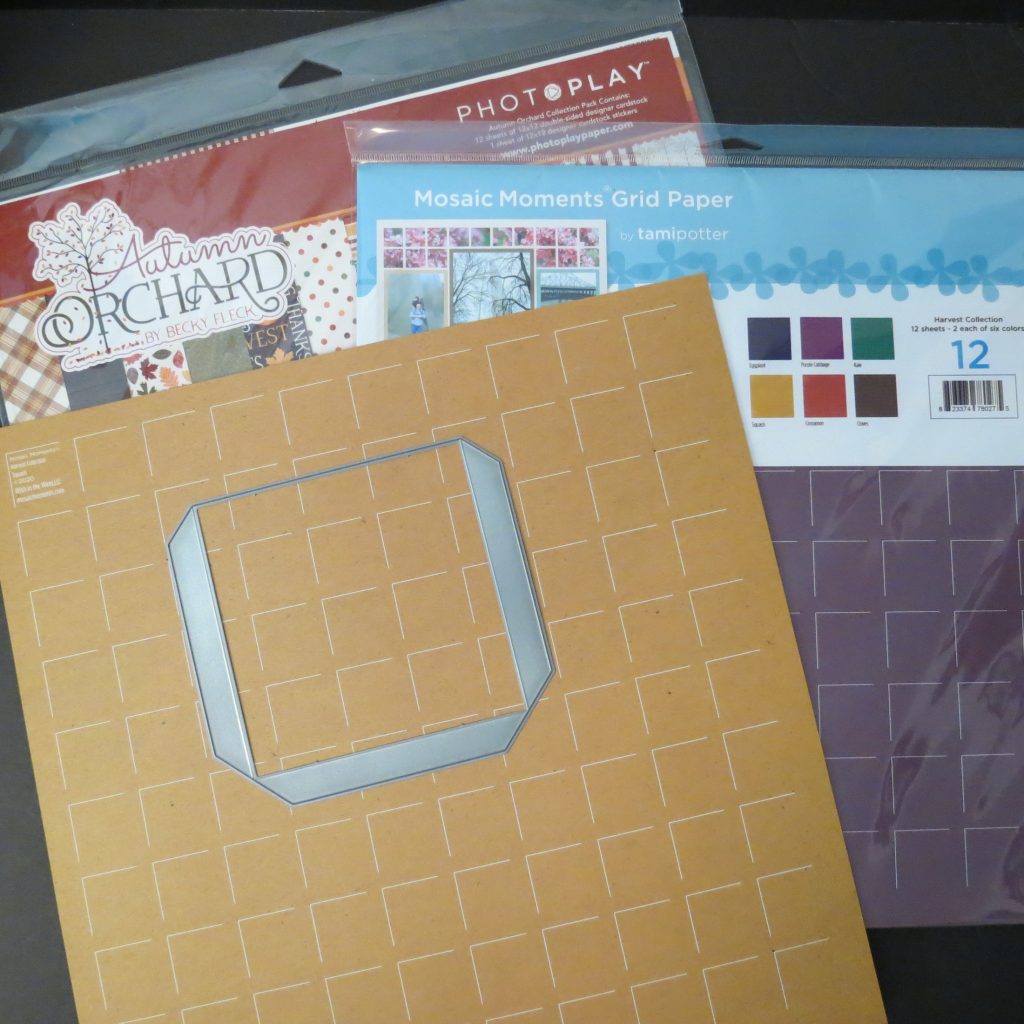 The Journal Block provides info about the event and the Nested Pocket dies creates a hidden pocket where I've placed the original recipe and the current family variation. With a small cut out to make removing the pocket contents easier. Placing another photo from the event on top of the pocket allows more photos documenting the event.
This layout came together fairly quickly once I knew what I wanted to include. It wasn't the first thing I thought of when thinking about this annual holiday, but it is a story I wanted to pass on.
Maybe this year, you too will remember to take photos of the events leading up to the Big Day. Scrap photos of the people baking the pies, decorating the table, making all things ready. Find moments with the littlest people in your family and see things from their point of view, capture the looks on their faces! If you add the telling of the true story of Thanksgiving, include some of those facts in your layout, or drawings from the kids, maybe even pics of them making turkeys by tracing their hands and brightly coloring their creations.
Supplies:
Simple Stories Autumn Orchard patterned papers
Simple Stories Autumn Orchard Collection Elements Stickers
Let's try to find good things to remember of past Thanksgivings and to look for new blessings with this one to tell a new Thanksgiving Memory by getting them all into a scrapbook layout to remember for years to come.
Andrea Fisher