In America, patriotism runs high. We celebrate at every sporting event and parade. But, we can also remember our patriotic spirit while touring National Parks, camping with the Boy Scouts, or attending a military graduation.
Celebrate your love of this country by incorporating some of these clever ideas into your pages.
---
---
---
Not every page needs an American Flag to convey patriotic pride.
Here, Paije used beautiful vintage floral prints in red, cream, navy and gold, along with navy-and-gold stars, to show patriotism. The American colors are strong enough to evoke that spirit without the need of traditional symbols.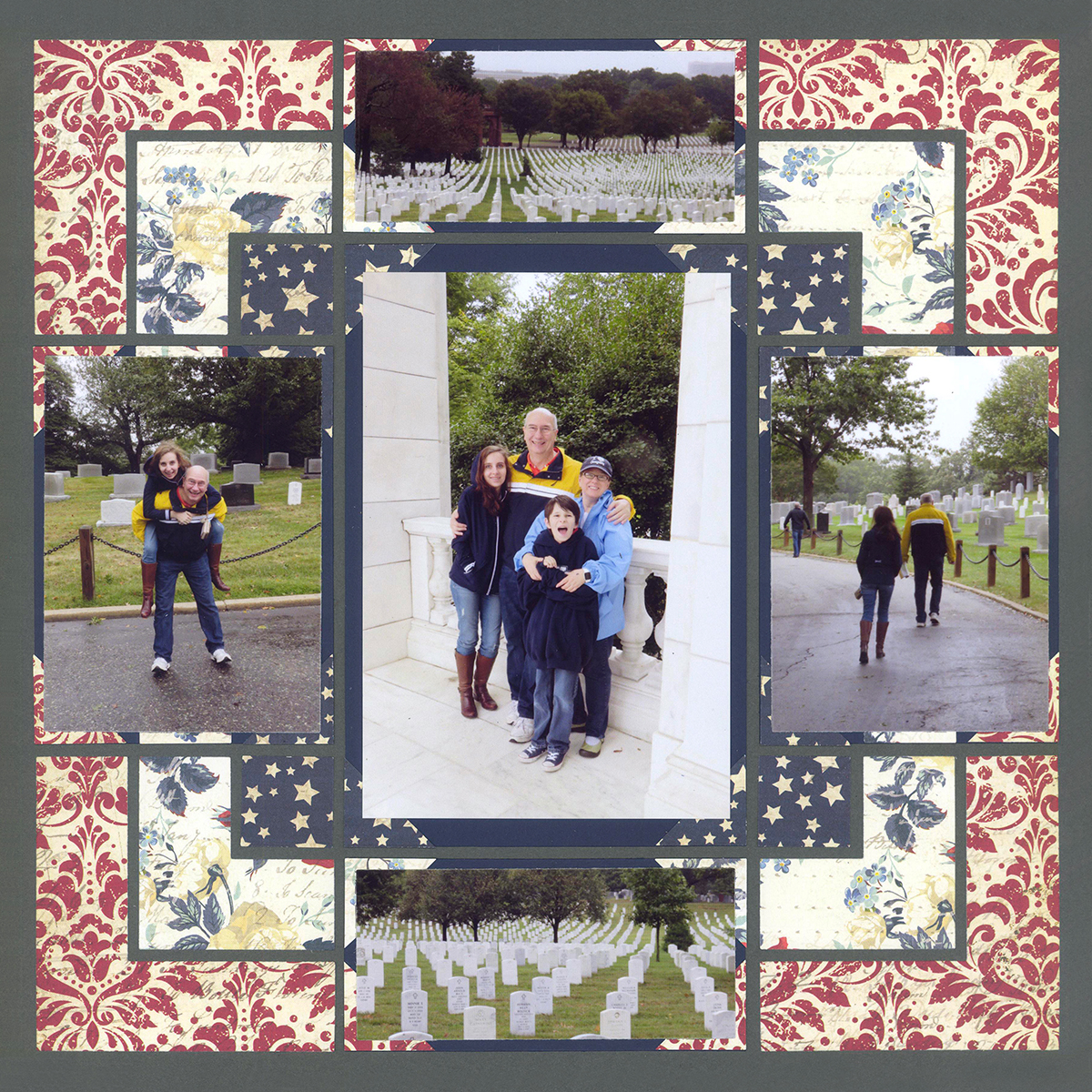 "Arlington Cemetery" by Paije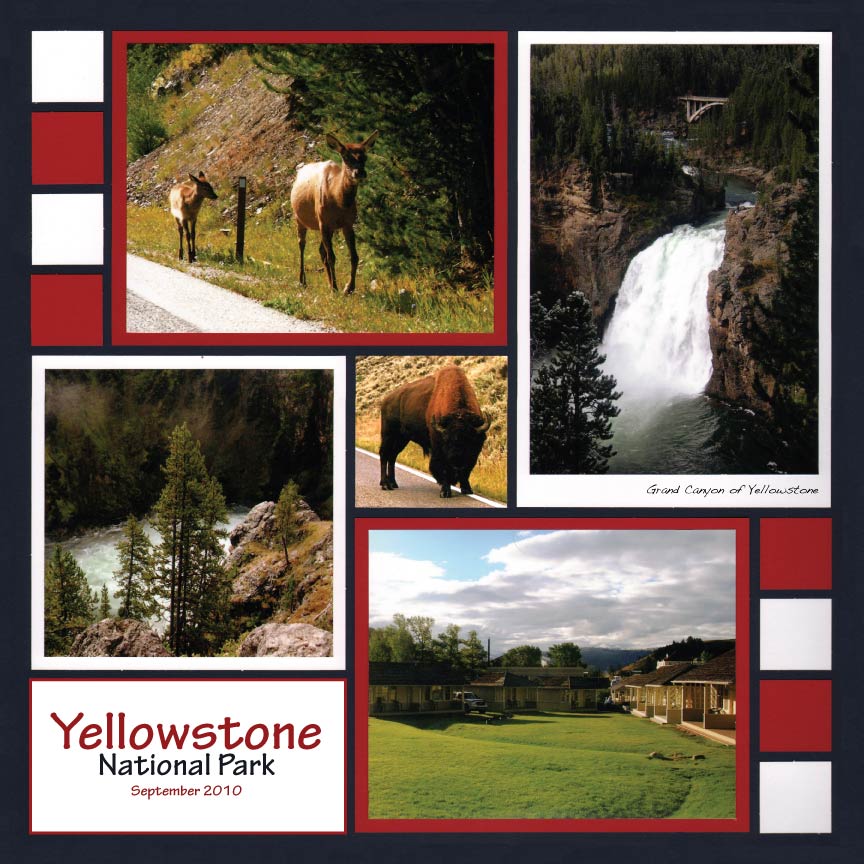 "Yellowstone National Park" by Paije
Deep, rich shades of red often contrast nicely with the landscape photos we take while visiting National Parks. Adding a bit of red and white to a page can also bring out a bit of patriotism.
Here, Paije used brick red and white to convey the American theme without including flags, stars, or other symbols.
A person in uniform always generates lots of photos.
Showcase your loved ones in the military by adding fireworks, stars and flags in red, white and blue, like Jodi did on this amazing layout.
The American Spirit begins at the state level. After all, we are the United STATES of America.
Whether you are photographing the state capitol, monuments or just the city, take the time to include a bit of patriotism in your layout. Here, Tami did it simply by adding red and white on a navy background.
It is an honor to become one of the Boy Scouts of America. So, when someone you love makes it into the organization, you should certainly commemorate the event with a patriotic layout.
We love how Paije added a bit of gold to her design. It adds an entirely new depth the page.
Also, notice how she cut the flag die out using different colors and combined them to tie her entire page together. Although it is the same die Jodi used on the military page above, it looks completely different.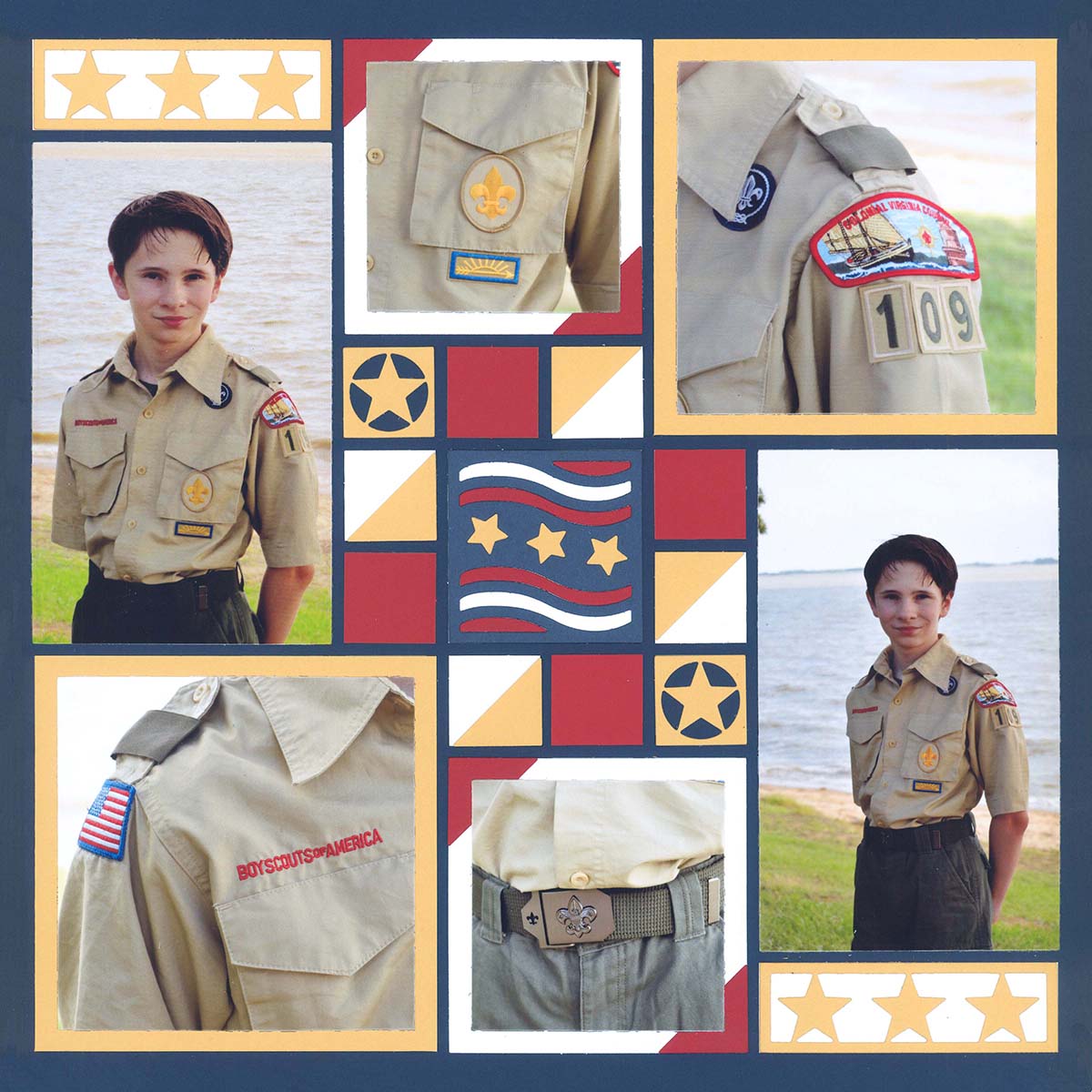 "Boy Scout" by Paije - Page Pattern #398
These photos may remind us of our early history, but they don't, on their own, evoke the patriotic spirit.
Paije used fun stars, navy blue, and red-and-white gingham to bring out the pioneer spirit. One glance and you know this layout has an American Heritage.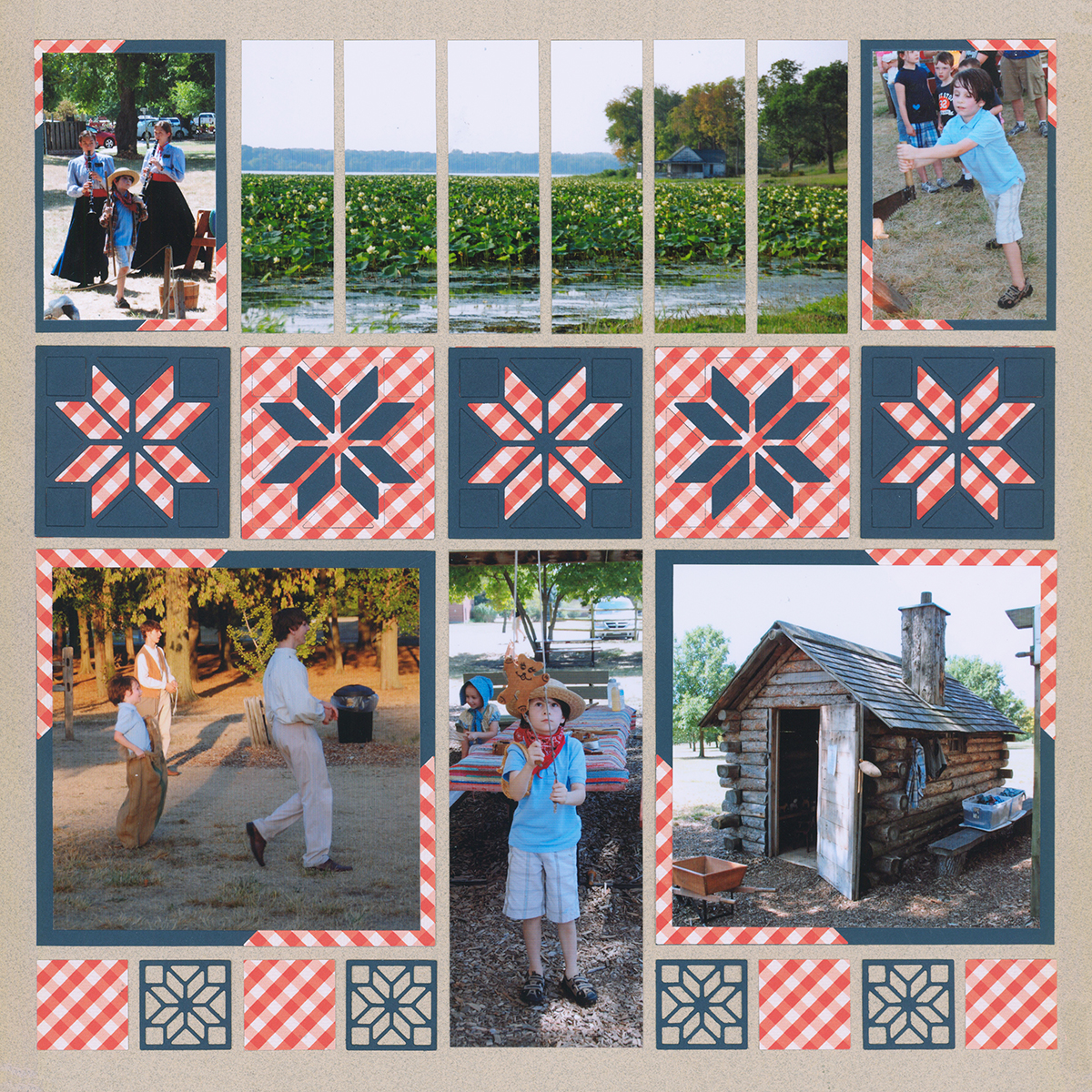 "Historic Nauvoo" by Paije - Page Pattern #195
Celebrate our National Heroes
---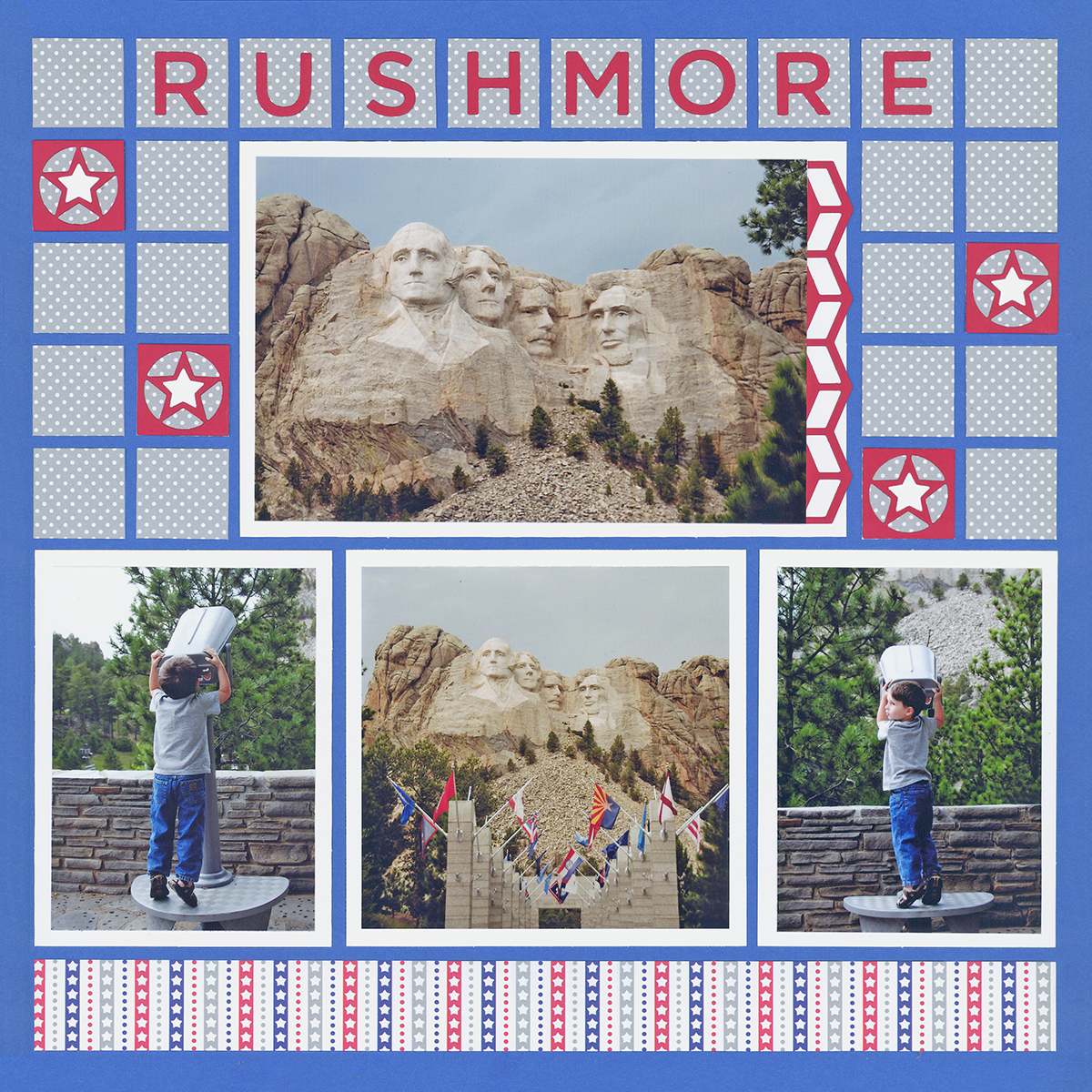 "Rushmore" by Paije - Page Pattern #304
The red, white and blue shades used on this layout were taken directly from the flags in the photo.
Paije added matching patterned paper to carry her patriotic theme throughout the layout.
Accent Bold Stars with Stripes
---
Photos taken on a trip to Washington DC can fill many pages that call for a patriotic flair.
Read the "How To" details for creating these bold multi-layered stars in Andrea's Article: 3 Ways to Scrap the Stars and Stripes.
"World War II Veteran's Memorial" by Andrea Fisher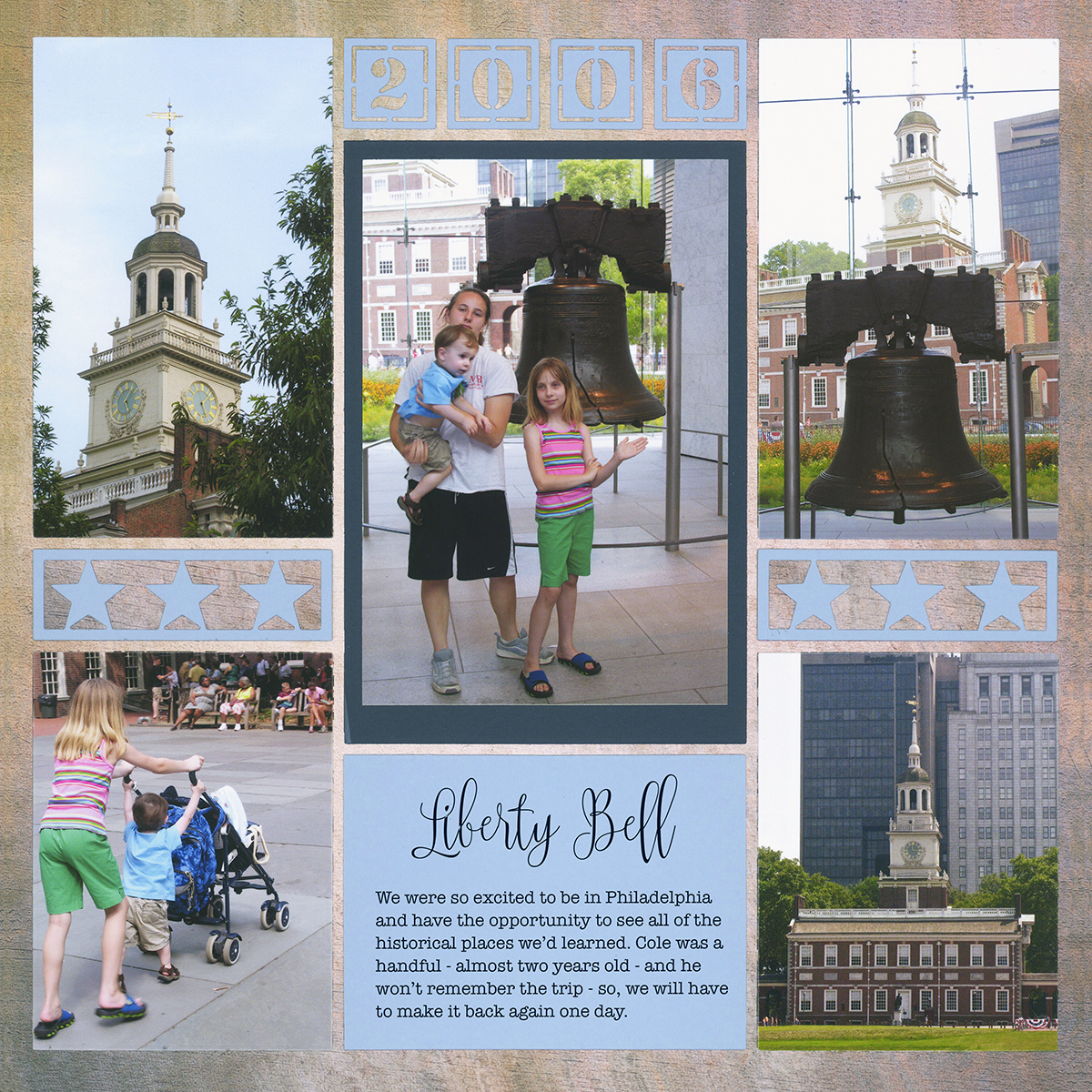 "Philadelphia" by Tami Potter
You can create charming, patriotic pages without using traditional red, white and blue.
Notice how the soft shades of blue and gray on this layout still evoke the American spirit. Tami added stars and an elegant font to enhance the patriotic location of her photos.