Halloween is a fun time for families. We get to dress up, go trick-or-treating, carve pumpkins, attend parties, and enjoy hayrides and maybe even a haunted house or corn maze.
Documenting all of those wonderful experiences on a scrapbook page is a great way to remember and share the spooktacular fun of Halloween.
Here are eight haunting Halloween layouts to inspire you.
---
---
---
Take a few minutes to stage a close-up photo or two, in good lighting, right after everyone is dressed up. That way, you will able to really see everyone's costumes. You might even get some detailed shots of makeup, a mask or accessory.
These will be the layouts you cherish -- the ones that show off how adorable, realistic, funny or scary that costume is.
2. Accent with Patterned Paper
---
Let's face it, Halloween scrapbook paper is amazing. Find a pattern or two that matches the feel of the page you are going for and highlight it on your Halloween layout.
Halloween can be tough to photograph. It is often dark and crowded and our photos are not always perfect. However, by applying a bit of Mosaic Magic, you can make your layouts really howl!
When we cut our photos into 1-inch squares, they miraculously become better. We don't know how, we just know it happens. That's why we call it Mosaic Magic.
By placing a mosaic in the top left and bottom right of this layout, it is perfectly balanced, beautiful and eye catching!
The Soleil Die Set is perfect to capture the feeling of Halloween.
Here, Paije has used it to create a round frame around her main photos. And then she's added in a few detail shots in the corners to add to the excitement.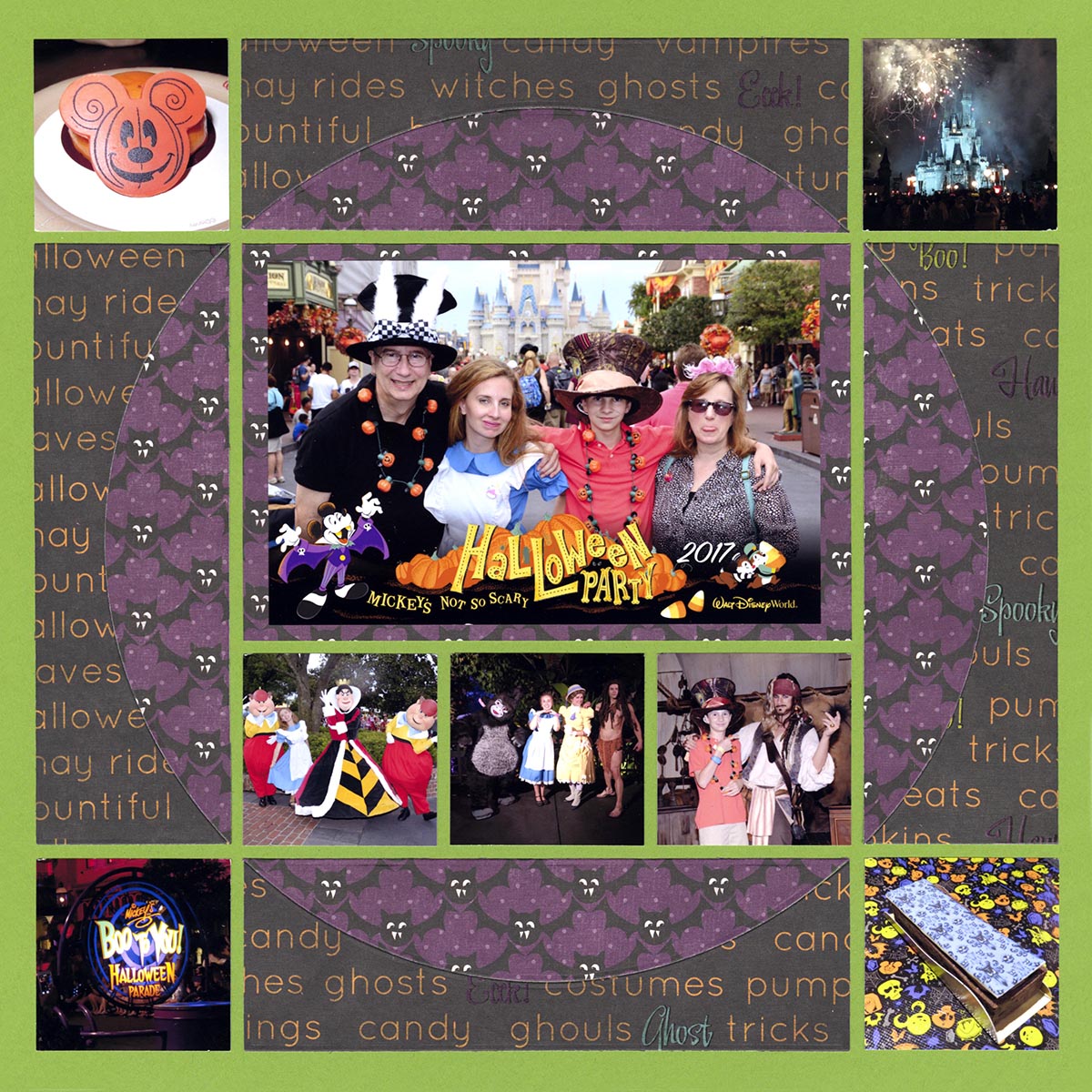 "Halloween Party" by Paije Potter
---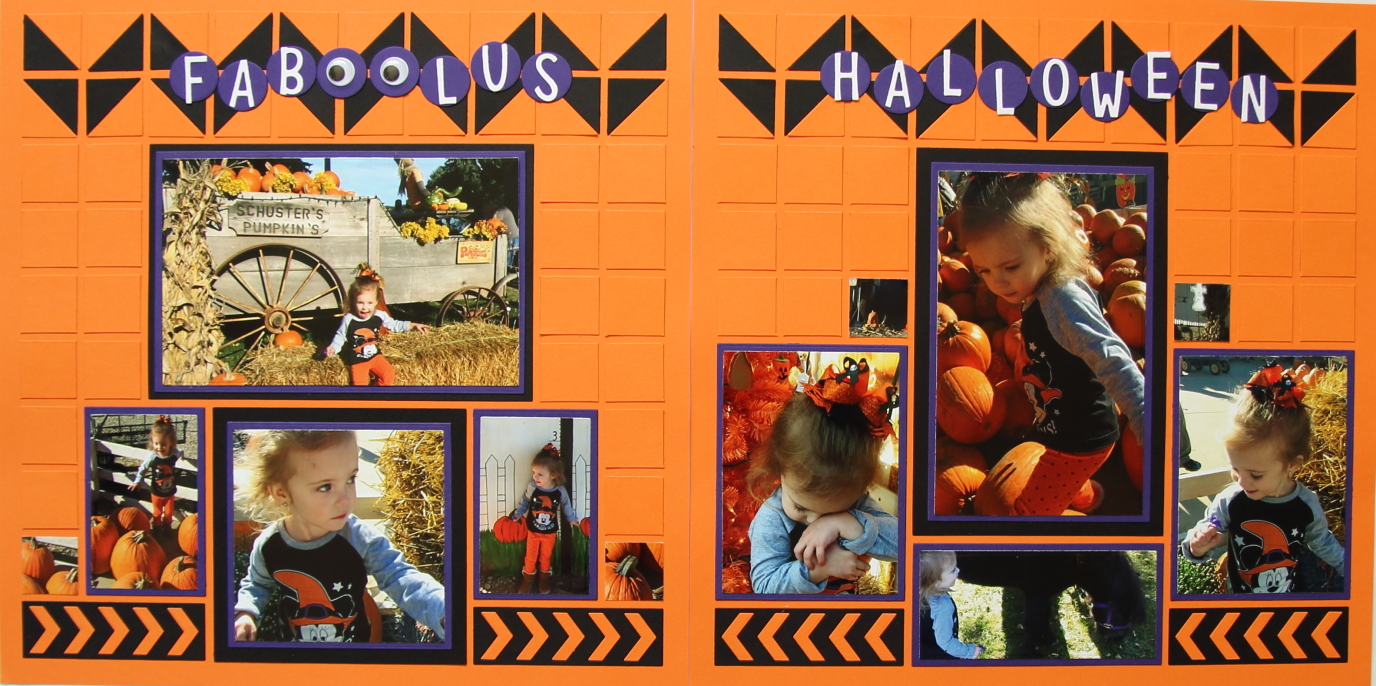 ---
This double layout, with it's batty title and strong colors, was getting a little too busy for the photos to stand out.
So, Candy used the back side of Grid Paper to fill in some of the extra squares on the page. This allows the focus to be on the photos. Remember, all of the Mosaic Moments Grid Paper is gridless on the backside so you can use it for perfectly matched photo mats and die cuts.
The googly eyes make a cute addition to the title.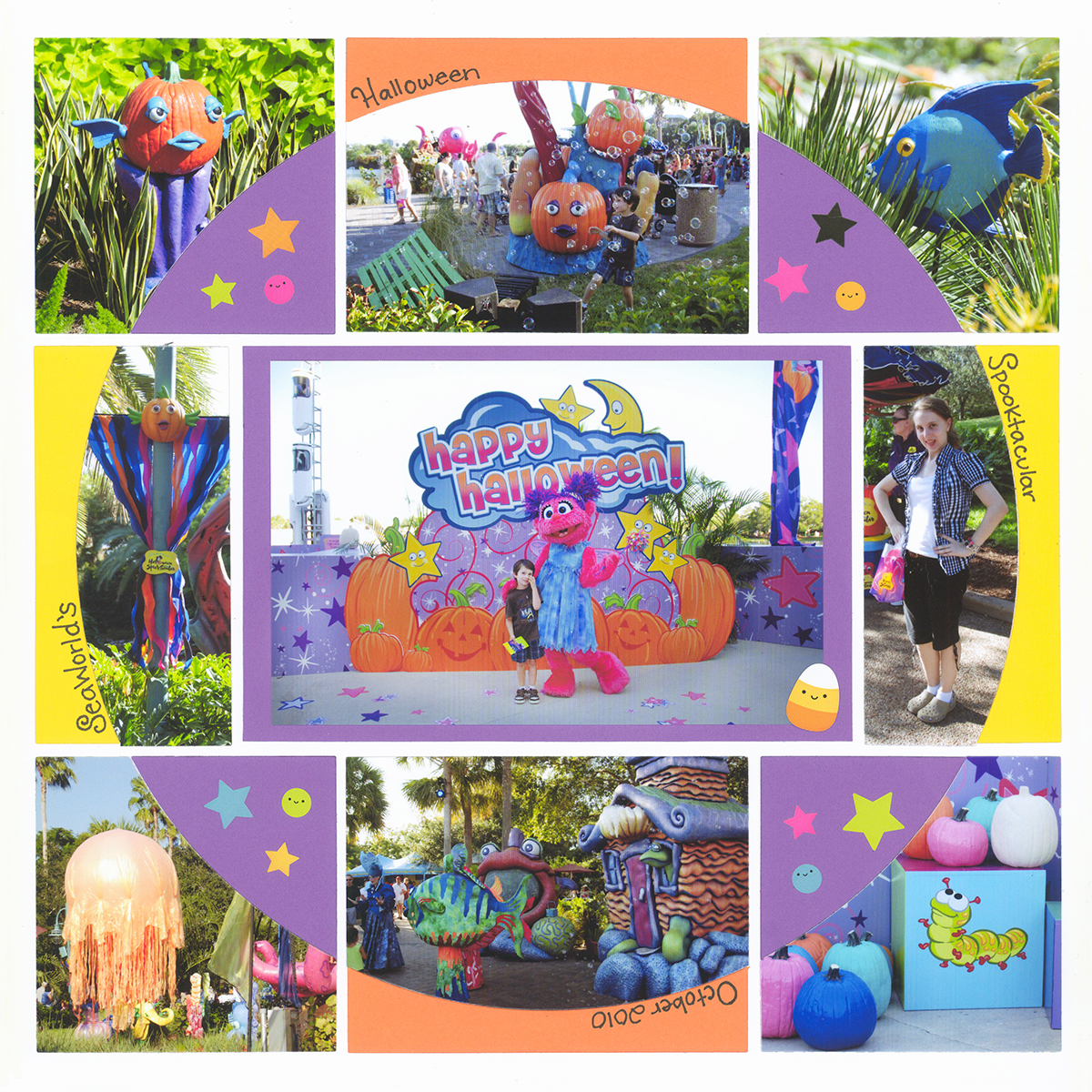 "SeaWorld Halloween" by Paije Potter
Include photos of decorations, displays and special moments on your layout so you remember the spooktacular fun of Halloween.
We love how Paije added a little bit of journaling around the edges of the circle. It's perfect to remember the where and when of this exciting Halloween.
When you have plenty of bootiful Halloween pictures to scrapbook, use dies that maximize the your space, like the 5 Square Blocking Set shown here.
Paije managed to get 16 photos on this single layout. Spooktacular!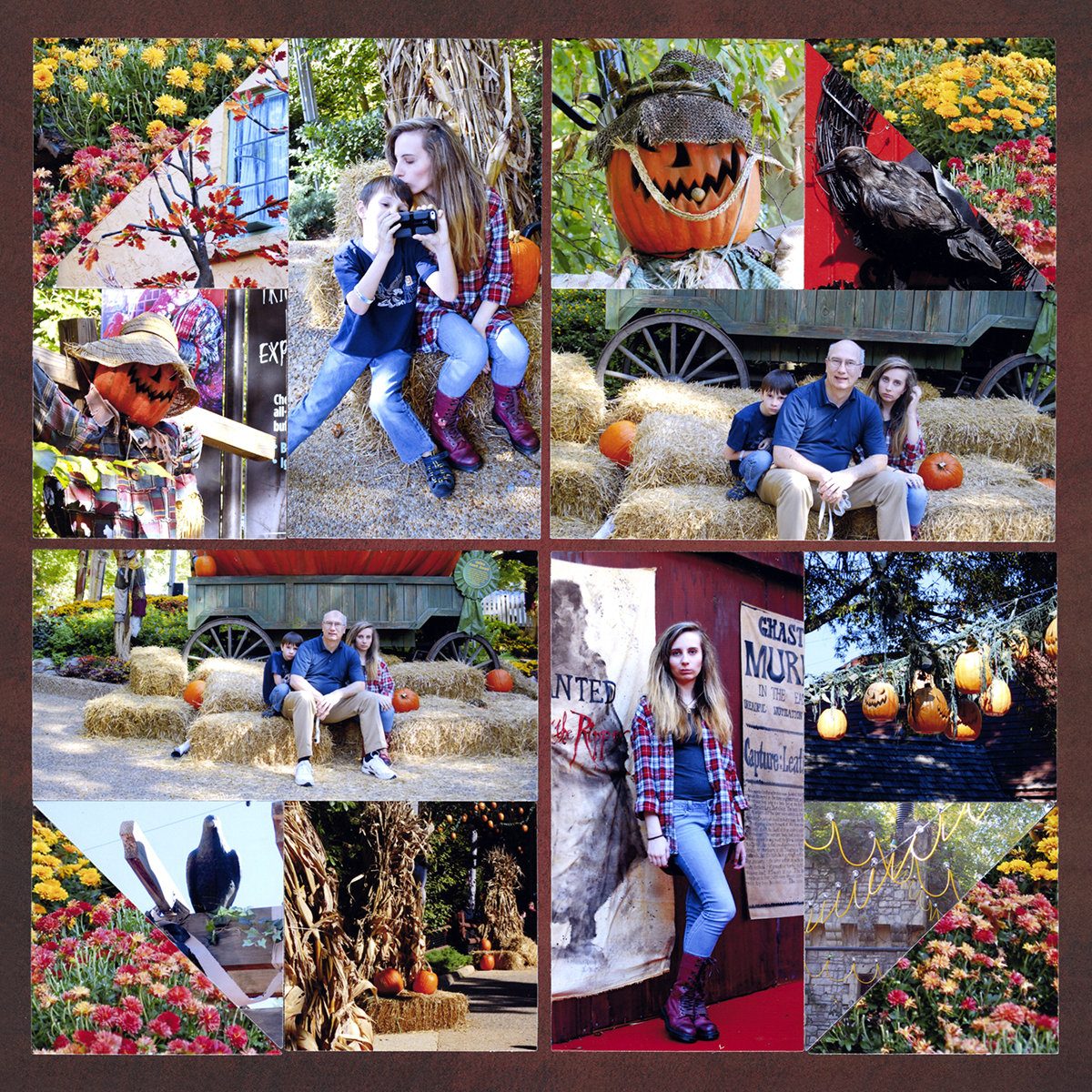 "Howl-O-Scream 2014" by Paije Potter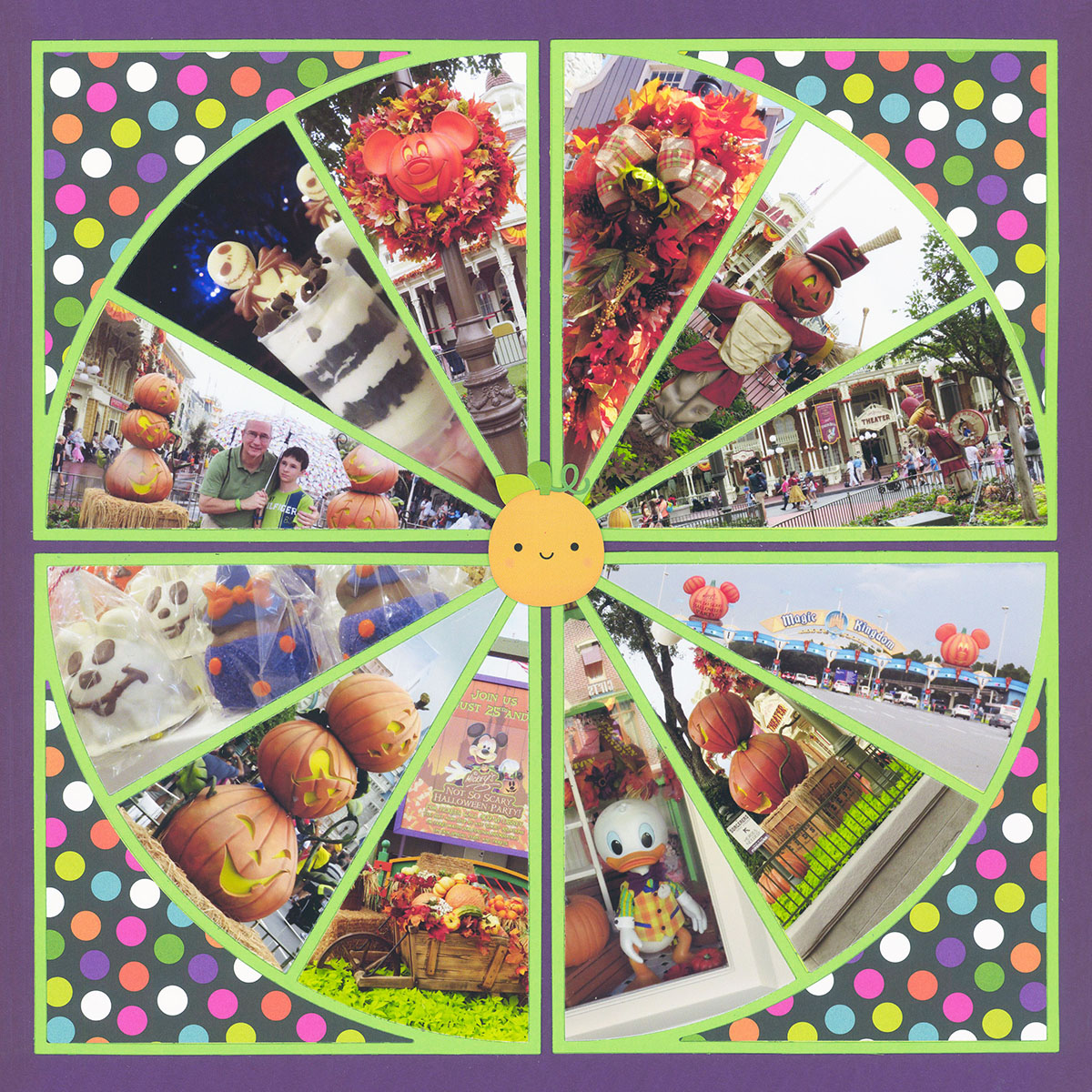 "Disney Halloween" by Paije Potter
When you go somewhere as fun as Disney for Halloween, you need to preserve the fun in your scrapbook.
Here, Paije used the Quarter Pie Die Set to display all of the spooky fun they had at Disney. The set accommodates 12 photos, plus patterned paper to set the tone.
We love the little pumpkin sticker in the middle. It's so adorable.